Analysis of an ankyrin-like region in Epstein Barr Virus encoded (EBV) BZLF-1 (ZEBRA) protein: implications for interactions with NF-κB and p53
Virology Journal
2011
8:422
Received: 3 March 2011
Accepted: 5 September 2011
Published: 5 September 2011
Abstract
Background
The carboxyl terminal of Epstein-Barr virus (EBV) ZEBRA protein (also termed BZLF-1 encoded replication protein Zta or ZEBRA) binds to both NF-κB and p53. The authors have previously suggested that this interaction results from an ankyrin-like region of the ZEBRA protein since ankyrin proteins such as IκB interact with NF-κB and p53 proteins. These interactions may play a role in immunopathology and viral carcinogenesis in B lymphocytes as well as other cell types transiently infected by EBV such as T lymphocytes, macrophages and epithelial cells.
Methods
Randomization of the ZEBRA terminal amino acid sequence followed by statistical analysis suggest that the ZEBRA carboxyl terminus is most closely related to ankyrins of the invertebrate cactus IκB-like protein. This observation is consistent with an ancient origin of ZEBRA resulting from a recombination event between an ankyrin regulatory protein and a fos/jun DNA binding factor. In silico modeling of the partially solved ZEBRA carboxyl terminus structure using PyMOL software demonstrate that the carboxyl terminus region of ZEBRA can form a polymorphic structure termed ZANK (ZEBRA ANKyrin-like region) similar to two adjacent IκB ankyrin domains.
Conclusions
Viral capture of an ankyrin-like domain provides a mechanism for ZEBRA binding to proteins in the NF-κB and p53 transcription factor families, and also provides support for a process termed "Ping-Pong Evolution" in which DNA viruses such as EBV are formed by exchange of information with the host genome. An amino acid polymorphism in the ZANK region is identified in ZEBRA from tumor cell lines including Akata that could alter binding of Akata ZEBRA to the p53 tumor suppressor and other ankyrin binding protein, and a novel model of antagonistic binding interactions between ZANK and the DNA binding regions of ZEBRA is suggested that may be explored in further biochemical and molecular biological models of viral replication.
Keywords
p53
NF-κB
transcription
ankyrin
phylogeny
oncogenes
viral carcinogenesis
viral conditioning
epi-genomics
ping-pong evolution
ASPP2
ASPP1
iASPP
Background
Analysis of viruses, mobile DNA sequences and host genomes reveals evidence that genetic information can be shared resulting in generation of novel hybrid genetic elements. For example, the ubiquitous human pathogen Epstein Barr Virus (EBV), genome structure contains a region co-linear with the vertebrate variable immunoglobulin gene segments including regulatory regions for the myc oncogene, signals for immunoglobulin switch recombination, somatic mutation and coding regions[1, 2]. Similarly, the EBV viral termini contain sequences similar to somatic V(D)J immunoglobulin and T cell receptor recombination sites and the virus encodes a recombinase co-regulated with the host RAG V(D)J recombinase [3–5].
These observations suggest that EBV and other DNA viruses evolve through sharing of genetic information with the host genome termed "Ping Pong Evolution" [1, 2]. In this work, a remarkable example of Ping Pong Evolution between EBV and the host immune system is characterized. The EBV viral protein ZEBRA, Zta encoded by BZLF-1is proposed to result from capture and fusion of exons from two different host immune response genes, the fos/jun transcription factor and IκB immune regulatory proteins. Analysis of host IκB proteins is utilized to present an empirically testable model of ZEBRA binding to NF-κB immune response proteins in which the unstructured carboxyl region of ZEBRA can assume two different structural conformations when bound to NF-κB. In addition, an amino acid polymorphism in this region of ZEBRA is identified that could potentially alter the functional properties of the ZEBRA protein interactions with both NF-κB and the distantly related tumor suppressor p53[6].
Studies of ZEBRA, the lytic switch protein, have demonstrated that the two amino terminal exons of ZEBRA are structurally related to the fos/jun transcription factors and that ZEBRA binding to DNA sites, known as ZRE, is sufficient to activate the viral lytic cycle[7, 8]. The carboxyl region of ZEBRA protein can bind to components of the NF-κB transcription family in vitro and alter NF-κB transcription in vivo[9, 10]. Inactivation of NF-κB transcription is apparently independent of ZEBRA's ability to function as a transcription factor [11–13]. It is not currently known which of these multiple effects of ZEBRA contribute to viral carcinogenesis in a humanized mouse model [14].
One potential outcome of these interactions is that inactivation of NF-κB transcription during viral lytic replication confers a selective advantage upon the virus [15, 16]. NF-κB transcription factors and regulatory IκB proteins are central mediators of both the innate and acquired immune responses [17, 18]. Inactivation of NF-κB could block the innate immune response in B lymphocytes which are the viral host cell. Interaction between ZEBRA and NF-κB can trigger apoptosis of cells expressing ZEBRA [19–21]. Inactivation NF-κB transcription by ZEBRA in host B lymphocytes may also oppose the effects of latency proteins that activate NF-κB transcription, delaying apoptosis and contributing to viral maturation and release from pre-apoptotic host cells.
Other bystander cells such as T-lymphocytes, epithelial cells and macrophages may also be transiently infected with EBV. T lymphocytes in particular express both the EBV CD21 receptor as well as other EBV receptors and express ZEBRA protein [3, 21, 22]. Studies of the effects of transient and stable expression of ZEBRA in T-lymphoblastoid cell lines have confirmed an IκB-like inactivation NF-κB signaling by ZEBRA and increased T lymphocyte apoptosis [21]. Thus, an additional selective advantage of interactions between ZEBRA and NF-κB may be destruction of immune responder cells through transient infection and apoptosis.
Another human gamma herpesvirus, human herpesvirus-8, first identified as the cause of Kaposi's sarcoma, encodes a lytic replication protein which lacks DNA binding but has extensive amino acid similarity to ZEBRA including the carboxyl region of ZEBRA [23–25]. This region of ZEBRA is highly conserved between different viral strains [26]. EBV infected lymphocytes also express a trans-spliced ZEBRA like protein termed RAZ sharing the carboxyl terminal NF-κB binding region of the ZEBRA protein, but lacking the ability to bind DNA or ZRE[15, 27]. RAZ is also expressed in EBV infected T lymphocytes[3, 22].
Remarkably, the carboxyl region of ZEBRA required for interactions with NF-κB transcription and ZEBRA dimerization also binds to p53 tumor suppressor in vitro and alters p53 transcription in vitro[28–30]. The effects of ZEBRA on p53 transcription are stimulatory in some cases such as T-lymphocytes and epithelial cells, but inhibitory in B-lymphocytes[29, 30]. Interactions between ZEBRA and p53 also involve other p53 binding proteins and are more complex than interactions in vivo between ZEBRA and NF-κB [31]. The ability of ZEBRA to interact with both NF-κB and p53 has previously been suggested to result from a cryptic IκB-like region in the carboxyl terminus of the ZEBRA protein[6, 21]. NF-κB and p53 proteins share a common IκB binding region because they are descendents of a common ancestral transcription factor previously termed "proto p53/NF-κB[6]". Since this hypothesis was proposed, the crystal structure of ZEBRA protein has been partially solved including a portion of the carboxyl terminus of the protein interacting with NF-κB and p53[8, 32]. In addition, the interactions between p53 binding ankyrin proteins and NF-κB proteins have been characterized providing additional evidence that regulatory proteins in the ankyrin family, including NF-κB inhibitor proteins related to IκB, bind to both NF-κB and p53 proteins[33].
The recently available partial structure of the ZEBRA carboxyl terminus, and the structures of IκBα and apoptosis-stimulating protein of p53 (ASPP2, previously known as p53BP2) ankyrin proteins are analyzed in this work, building on previous similarities noted between these regulatory proteins[6]. First, it is demonstrated that primary amino acid similarities between the alpha helix regions of ZEBRA and various other ankyrin proteins are unlikely to have arisen by chance or independent parallel evolution but instead appear to represent capture and homologous descent of a terminal exon encoding an IκB domain by ZEBRA. Second, it is shown that the partial crystal structure of ZEBRA is consistent with dimerization of the terminal region of the protein to form an IκB-like stem and loop structure. Finally, individual ankyrin domains of IκBα are shown to have structural similarities to the ankyrins of ASPP2, and thus able to bind to the same region targeted by ZEBRA[6].
Methods
Definition of the ankyrin-like region of ZEBRA protein termed "ZANK"
We previously noted that a region of ZEBRA (Figures
1
,
2
) has primary amino sequence similarity to IκB prior to the determination of the crystal structure of ZEBRA [
6
]. We first used the program PyMOL (Delano Scientific Inc., CA) to define and visualize a region of ZEBRA whose primary amino acid sequence is similar to ankyrin proteins [
6
]. ZEBRA structure was partially solved by x-ray crystallography in 2006 and structural coordinates are available as a protein data-base in the public domain (2C9N.pdb). This region of ZEBRA, termed in this work ZANK "ZEBRA ANKryn-like region" has an alpha-helical stem and carboxyl unstructured region (Figure
1
). In the course of this analysis, The ZANK region of ZEBRA was noted to be encoded by a single exon in all examined EBV strains coinciding exactly with the exon-intron junction of the ZEBRA protein third exon (Figure
2
,
3
). Thus, the p53 and NF-κB binding regions of ZEBRA, termed ZANK, were found to be separate both structurally and genetically from the DNA binding and trans-activation regions of ZEBRA (Figure
4
).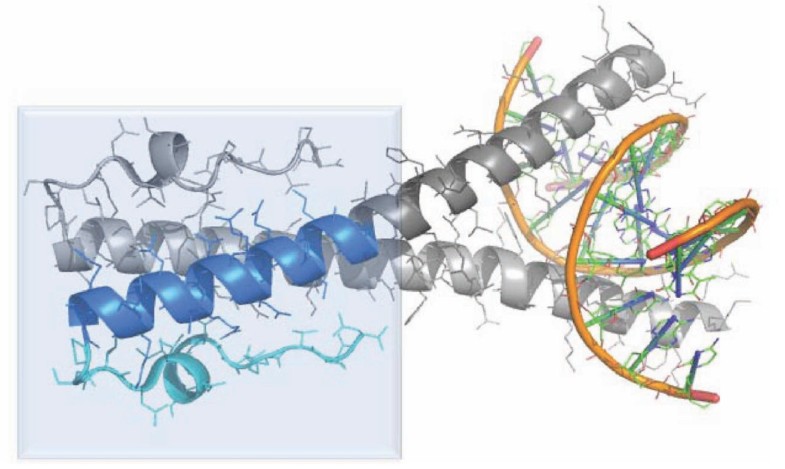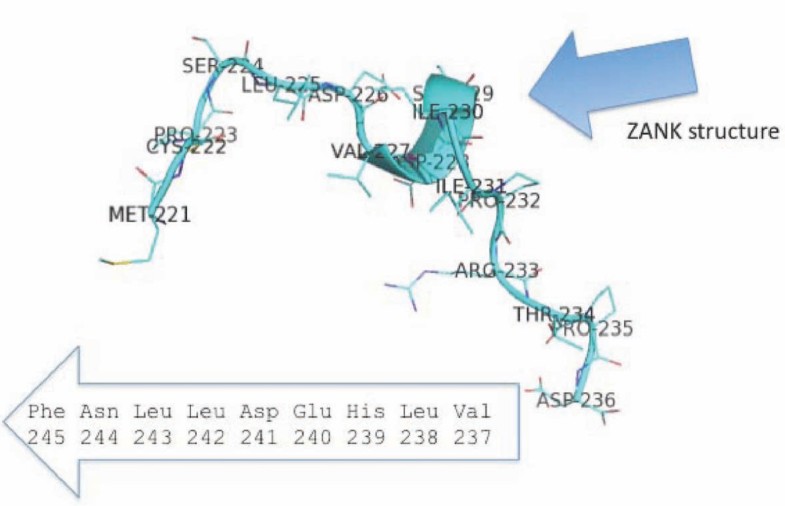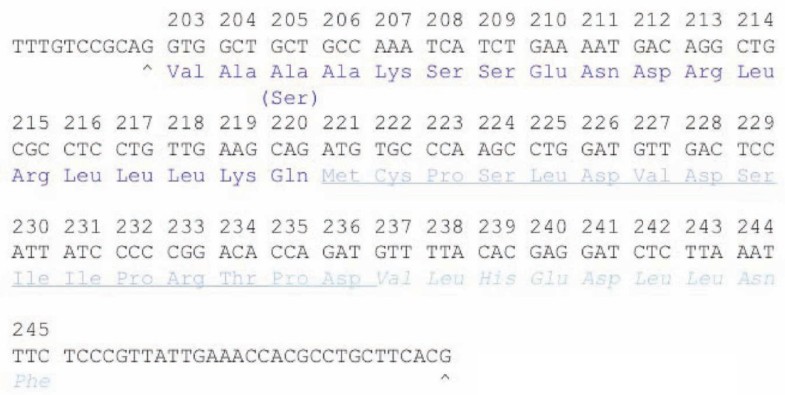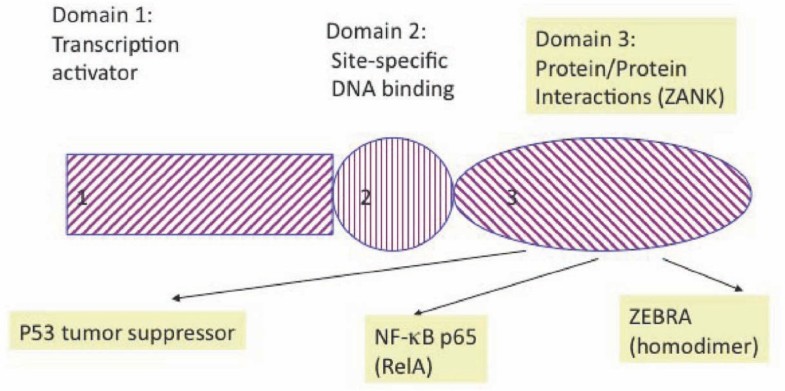 Alignment of ZANK with defined ankyrin proteins
ZEBRA protein and nucleotide sequences are as determined previously[
26
]. Individual ankyrin domains from published IκB and related sequences obtained from genbank were identified using PyMOL and first aligned with ZANK and with each other using standard algorithms such as BLAST as illustrated in the text (Figure
5
) Color scheme for Figure
5
can be found at
http://ekhidna.biocenter.helsinki.fi/pfam2/clustal_colours
). Previously, some primary amino acid similarity between p53 binding ankyrins, IκB ankyrins, invertebrate ankyrins and the ZEBRA carboxyl terminus have been illustrated and suggested to provide a basis for interactions between ZEBRA and ankyrin binding proteins[
6
,
21
]. Individual ankyrin domains in ASPP2 are denoted in this work based on previously reported optimized alignments between the p53BP2 fragment of ASPP2 and IκB. Thus, ank3 of p53BP2 corresponds to IκB ankyrin 3, p53BP2 ank4 corresponds to IκB ankyrin 4, and p53BP2 ank5 corresponds to IκB ankyrin 5 proceeding from the amino to carboxyl termini of both proteins respectively[
6
]. In a more recent naming convention, p53BP2 which was found to be a fragment of a larger protein known as ASPP2 (ankyrin repeat, SH3, and proline rich domain-containing protein number 2 also previously called apoptosis stimulating p53 binding protein 2) to indicate that it is a member of a multi-protein family. Using this nomenclature, p53BP2 ank3 corresponds to ASPP2 ankyrin 1, p53BP2 ank4 corresponds to ASPP2 ankyrin 2, and p53BP2 ank5 corresponds to ASPP2 ankyrin 3 [
34
].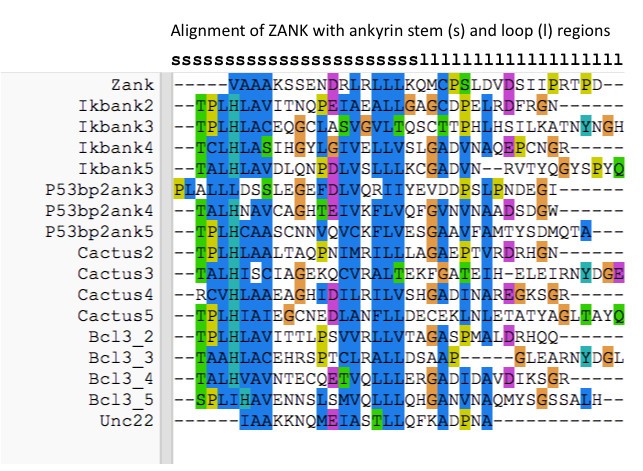 Randomization analysis of ZANK and other defined ankyrin domains
A randomization shuffling strategy was developed to estimate the probability that observed amino acid similarities between ZANK, IκB and other related ankyrins such as invertebrate cactus and unc-22 were not explained by the non-random amino acid composition of ankyrin proteins. The amino acid sequence of each ankyrin was randomized or shuffled and compared to every other possible sequence with the number of equal or better scores to non shuffled sequence shown. Repeated IκB and p53BP2 units of ankyrin are composed of a rigid alpha-helical stem and a less structured more variable loop region that may be under different evolutionary constraints. The borders of each ankyrin stem and loop were identified using PyMOL (Figure
5
). Because of this bi-partite structure, analysis of the stem and loop regions was conducted both together and independently (Figure
6
). Randomization of 10,000 of each stem and loop region was used in this analysis with correction for multiple comparisons. In this analysis, alignment of less than 500/10,000 randomized sequences is comparable to a P value of .05, shown in yellow. Alignment of less than 10/10,000 sequences comparable to a P value of .001 is shown in red.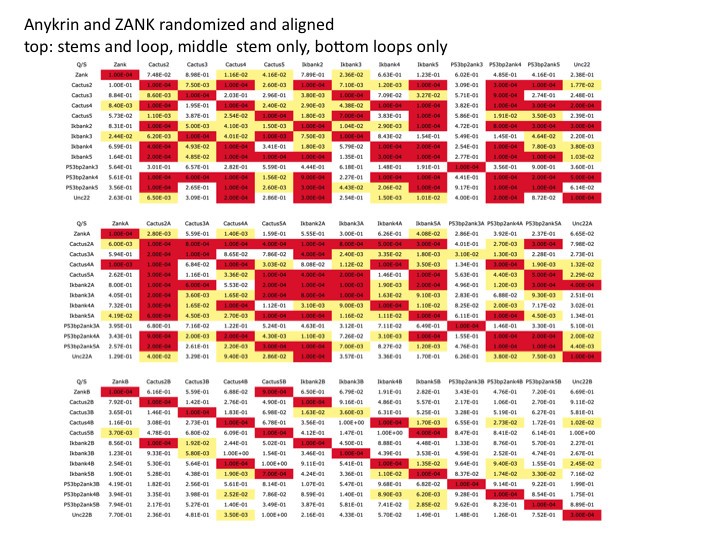 Based on these studies the similarity between putative ZEBRA ankyrin stem and the cactus ankyrin stems 4 is one order of magnitude greater than other ankyrin stems, and this relationship was maintained over a variety of Price Waterman gap values. Also highly unlikely to occur by chance are the alignments between the putative ZEBRA ankyrin stem and the cactus stem 2 and Bcl3 ankyrin 4 stem. In many cases individual ankyrin stems from different ankyrin proteins such as invertebrate cactus, IκB and p53 binding protein were more closely related than adjacent ankyrins from a single protein, for example cactus ankyrin stem 4 and bcl3 ankyrin stem 4 are more similar than cactus ankyrin stem 4 and other cactus ankyrins (BCL3 data not shown). Based upon randomized sequence comparisons shown in the ZEBRA stem-like region is most similar to the stem region 4 of a Cactus ankyrin from the Drosophila fruit fly. Interestingly, the loop region of ZEBRA is most similar to a different loop region from the cactus protein, ankyrin 5 of cactus. However, because of the short length o the ZEBRA stem region and other confounding factors such as apparent functional constraints on stem sequence evolution it was not possible to construct a unique rooted phylogeny of individual ankyrin stems using currently available alignment software (data not shown).
Visual inspection of individual ankyrin stem and loop regions (Figure 5) also suggests that the loop regions of all of the cellular ankyrins were less significantly related either to ZEBRA or to each other except in the stem regions. In addition, IκB and cactus ankyrins follow a pattern where alternating ankyrin loops are similar between odd and even numbered repeats, for example ankyrin 3 and 5 loops have more similarity in both amino acid composition and length than to ankyrins 2 and 4 loops from both IκB and cactus. Relationships between individual ankyrin stems and loops thus appear to represent a complicated mixture of functional constraints operating independently of evolutionary descent and shared sequences conserved through descent from a common precursor as will be analyzed in more detail elsewhere.
In silico modeling of structural similarities between ZANK and other defined ankyrin domains
Protein data based files of ZEBRA (2C9N.pdb), IκB bound to NF-κB protein p65 (1lKN.pdb), and the p53BP2 fragment of ASPP2 (1YCS.pdb) were used to generate PyMOL based alignments. Experimentally determined structures were aligned using the "align" feature of PyMOL without any operator adjustments and using molecular coordinates as deposited in respective pdb files without alteration of molecular coordinates. ZANK was superimposed upon adjacent ankyrin domains of the IκBα protein initially solved as a complex with NF-κB p65 and the p53BP2 fragment of ASPP2 p53 binding protein solved as a complex with p53 (p53 structure not shown). A mechanism is proposed consistent with the partial structure of ZANK suggesting that the observed structure of ZANK could act as a dimorphic dimer and interact with adjacent dimorphic regions of NF-κB, and also related ankyrin binding regions of p53. IκBα and IκBα and p53 binding ankyrin proteins, although not identical in primary amino acid sequence, have remarkably similar interactions with NF-κB protein. This analysis is also used to suggest a testable hypothesis where an amino acid polymorphism previously identified between ZEBRA protein from Akata tumor cells and the ZEBRA protein from non-tumorigenic B-958 could modulate the binding interactions between ZEBRA and p53 leading to a more cancer-promoting viral phenotype in the case of the Akata derived ZEBRA.
Conclusions
Characterization of B cell lympho-proliferative disorders haa demonstrated that EBV viral latency proteins can transform and immortalize B-lymphocytes in vitro and in vivo. A causal role of the virus in carcinogenesis is suggested in some tumors because the viral genome sometimes remains in the malignant cell. However, the mechanism of viral carcinogenesis cannot simply be a function of cellular immortalization by the virus since although the vast majority of humans harbor EBV immortalized B lymphocytes, EBV-genome associated cancers are rare [36]. EBV infection may thus also be associated with carcinogenesis not only through cellular immortalization but also through transient mechanisms including destabilization of host genomes[37–40].
A novel role of ZEBRA and ZANK in viral carcinogenesis is suggested in this work. ZEBRA plays a critical role in the viral latent to lytic switch, possibly in part through response to NF-κB and p53 activities by ZANK (Figure 13). Alternating cycles of partial lytic growth triggered by ZEBRA activation and ZEBRA DNA binding followed by ZANK interactions with NF-κB and p53 could synergize with genomic instability contributed by cellular or viral recombinase activation in EBV infected cells. Partial cycles of viral activation and inactivation without completion of the viral life cycle could be particularly relevant in the "hit and run" scenario, proposed for viral carcinogenesis and immune dysregulation as proposed in epithelial breast cancers [41–47].
Notably, it is possible that viral inactivation of p53 originates indirectly or as an evolutionary "spandrel." A spandrel refers to a new phenotype generated by alteration of a related developmental pathway. Because of the evolutionary relationship between NF-κB and p53 through descent from a common ancestral transcription factor, an unavoidable consequence of the inactivation of NF-κB by an ankyrin-like region of ZEBRA is a spandrel-like transient inactivation of p53. Restated, the common origins of NF-κB and p53 conserve a similar ankyrin binding region in both proteins, so any viral protein that targets this site on NF-κB proteins could, in parallel, affect p53 generating new p53 dependent phenotypes. This may in part contribute to the selective loss of the IκBα locus in tumors, a conserved feature of several EBV associated tumors[48, 49]. The ZANK spandrel effects on p53 are maintained because of a selective benefit to the virus from related transient inactivation of the NF-κB transcription family and the innate immune system, as well as effects of ZANK on regulation of ZEBRA DNA binding.
Mutant p53 proteins were first characterized as oncogenes because their presence was associated with tumor phenotypes including tumor growth and resistance to apoptosis[50–52]. Surprisingly, wild type p53 was later shown to be a tumor suppressor through the effects of the protein as a DNA-binding transcription factor, rather than a tumor promoter. These contradictory effects could result from opposing tumor promoting spandrel effects between numerous viral proteins such as ZEBRA and mutant p53 proteins, versus tumor suppressing DNA binding gene activation by wild type p53 protein. Thus ZANK might augment the effects of mutant p53, not directly related to p53 DNA binding, but rather due to effects on structurally similar regions of NF-κB proteins required for cellular proliferation.
From an evolutionary perspective, it is likely that EBV encoded ZEBRA protein and a related protein in Human Herpes Virus 8 diverged from other BZIP DNA binding proteins such as Fos/Jun through viral capture of a terminal exon encoding a single ankyrin-like stem and loop. This domain was capable of dimerization into a structure resembling adjacent IκB ankyrins, and was subject to positive selection through interactions with NF-κB proteins. However, because of the shared ankyrin binding domain between NF-κB and p53 proteins an unfortunate consequence of NF-κB inhibition by ZANK would also unavoidably be inactivation of p53. This could be particularly important as a pathogenic mechanism of EBV-related genomic instability in epithelial cells and T lymphocytes that do not support the establishment of viral latency or replication but can sustain a limited form a viral lytic growth that includes high levels of expression of a trans-spliced protein "RAZ" containing ZANK, but without the DNA-binding transcriptional activity on ZRE. In this context, these cells are "dead end hosts" in their inability to support viral replication but can nevertheless suffer the pathophysiological and molecular consequences of viral infection.
Viral pre-conditioning by common viral pathogens has been indirectly implicated in the clustering of human cancers both geographically and temporally based upon indirect evidence in human cancers that defective or abortive replication of common viral pathogens can account for clustering of cancers[53]. In the "viral conditioning" scenario, abortive cycles of viral replication can promote genomic instability. A model is presented here for the specific case of EBV. In the case of EBV and, potentially, other common viruses that interact with both NF-κB and p53, transient lytic gene expression in both B lymphocytes and non-B cells could provide a mechanism for this viral pre-conditioning where defective or aborted viral replication contributes to malignancy as supported by indirect epidemiologic evidence[54–56]. These effects of ZANK could be of particular importance not only in B lymphocytes but in epithelial and T cell infection in which the virus expresses lytic gene products but in most cases does not establish latency[57]. In these cell types transient inactivation of the tumor suppressor p53 would occur in the context of activation of endogenous somatic recombination pathways, potentially resulting in re-arrangement, instability and mutation of endogenous oncogenes.
In summary, we have demonstrated that ZEBRA is a hybrid protein resulting from viral capture of both a Fos/Jun like transcription factor and a polymorphic IκB-like ankyrin carboxyl terminus. Primary sequence and structural similarities are evident between the carboxyl terminus of ZEBRA protein and the conserved stem regions of IκBα and p53BP2/ASPP2 ankyrins. It is suggested that a shared binding pocket in NF-κB is in turn bound by all of these ankyrin proteins and that ZANK is analogous to a "master key" capable of fitting into both NF-κB and p53 protein "locks". In the case of ZEBRA, protein binding to NF-κB provides a selective advantage to the virus through inactivation of the immune response against the virus during viral lytic replication, simultaneously and unavoidably altering the activation of p53.
Declarations
Acknowledgements
LYG would like to thank Dr. Leslie Krueger for helpful discussions regarding EBV "hit-and-run" hypothesis and Dr. David H. Wagner for conversations and ideas regarding NF-kappa B and other topics including autoimmunity. Dr. Dreyfus (DHD) has been supported in the past by NIH training grants T32-GM07288 and T32-AI07365. DHD acknowledges helpful discussions with Dr. Hans Helmut Niller, University of Regensburg, Germany, Jill Countryman, Yale School of Medicine, New Haven CT, and Dr. Cedric Feschote, University of Texas, Austin as well as members of the Weizmann Institute in Israel (in alphabetical order) Drs. Boris Brumshtein, Moshe Oren, Zippi Shakked and Joel Sussman. DHD and LYG are co-founders of a Keren Pharmaceutical Inc., San Mateo, CA. DHD is Assistant Clinical Professor, Department of Pediatrics, Yale School of Medicine, New Haven, CT and a member of the Center for Allergy, Asthma, and Clinical Immunology (CAAI), Waterbury, CT. and JC and YL are associated with Yale University, however none of the observations, proposals and/or conclusions of this work are related to the operations of Keren, Yale, or CAAI.
Authors' Affiliations
(1)
Department of Pediatrics, Yale SOM, New Haven, USA
(2)
Department of Statistics, Yale University, New Haven, USA
(3)
Keren Pharmaceutical, San Mateo, USA
Copyright
© Dreyfus et al; licensee BioMed Central Ltd. 2011
This article is published under license to BioMed Central Ltd. This is an Open Access article distributed under the terms of the Creative Commons Attribution License (http://creativecommons.org/licenses/by/2.0), which permits unrestricted use, distribution, and reproduction in any medium, provided the original work is properly cited.