A glance at subgenomic flavivirus RNAs and microRNAs in flavivirus infections
Virology Journal
2016
13:84
Received: 16 March 2016
Accepted: 17 May 2016
Published: 28 May 2016
Abstract
The family Flaviviridae comprises a wide variety of viruses that are distributed worldwide, some of which are associated with high rates of morbidity and mortality. There are neither vaccines nor antivirals for most flavivirus infections, reinforcing the importance of research on different aspects of the viral life cycle. During infection, cytoplasmic accumulation of RNA fragments mainly originating from the 3′ UTRs, which have been designated subgenomic flavivirus RNAs (sfRNAs), has been detected. It has been shown that eukaryotic exoribonucleases are involved in viral sfRNA production. Additionally, viral and human small RNAs (sRNAs) have also been found in flavivirus-infected cells, especially microRNAs (miRNAs). miRNAs were first described in eukaryotic cells and in a mature and functional state present as single-stranded 18–24 nt RNA fragments. Their main function is the repression of translation through base pairing with cellular mRNAs, besides other functions, such as mRNA degradation. Canonical miRNA biogenesis involves Drosha and Dicer, however miRNA can also be generated by alternative pathways. In the case of flaviviruses, alternative pathways have been suggested. Both sfRNAs and miRNAs are involved in viral infection and host cell response modulation, representing interesting targets of antiviral strategies. In this review, we focus on the generation and function of viral sfRNAs, sRNAs and miRNAs in West Nile, dengue, Japanese encephalitis, Murray Valley encephalitis and yellow fever infections, as well as their roles in viral replication, translation and cell immune response evasion. We also give an overview regarding other flaviviruses and the generation of cellular miRNAs during infection.
Keywords
FlavivirusMicroRNAsSubgenomic flavivirus RNAsUntranslated regionViral replication
Background
MicroRNAs (miRNAs) are a class of molecules first observed in 1993 in Caenorhabditis elegans, where it was shown that the level of LIN-14 protein was regulated by a 22 nucleotide (nt) small RNA (sRNA) transcript generated from the gene lin-4 [1]. Further studies in Caenorhabditis elegans characterized a second sRNA originating from the gene let-7, which suppressed lin-14, lin-28, lin-41, lin-42 and daf-12 heterochronic gene expression [2]. Moreover, it was observed that the let-7 sRNA sequence is conserved among many species, suggesting a putative function for this sRNA [3]. These small single-stranded RNA molecules (18–21 nt) that were first described as sRNA are presently known as miRNAs [4].
Eukaryotic miRNAs are generated by transcription of the cellular genome through different pathways, and more than 2000 human miRNAs have already been identified [5]. In addition, there is evidence for 1098 novel human miRNA candidates [6]. miRNA genes (miR genes) are located in variable genome regions, such as the intronic or exonic sequences of protein-coding genes and intronic or exonic sequences of noncoding RNAs [7]. The majority of intronic miRNAs within protein coding genes are transcribed by the same promoter of the gene. However, approximately one-third of intronic miRNA transcripts have independent promoters, indicating that they may be transcribed by a separate and controlled mechanism or pathway [8]. In this regard, common features of known RNA polymerase II and III promoters, such as transcription start sites, CpG islands, conserved transcription factor binding sites and A/B box sequences, have been identified upstream of intronic miRNAs and are predicted to function independent of host gene transcription [9]. All these features indicate that miRNA expression may be regulated by transcription factors, enhancers, silencing elements and chromatin modification [10].
miRNAs can be found in plants, fungi, mammals and viruses [11]. In viruses, miRNA production depends on the eukaryotic cell machinery and viral genome composition: DNA or RNA [12]. The first report that described miRNAs of viral origin used a cell line infected with Epstein-Barr virus, a DNA virus [13]. Since this report, studies employing DNA viruses to investigate viral miRNA generation and function have increased substantially. On the other hand, there are fewer studies investigating viral miRNA from cells infected with RNA viruses [14–16]. Therefore, we gathered here the published information on non-coding RNA (viral subgenomic RNAs, viral small RNAs, viral miRNAs and human miRNAs) synthesis and function during flavivirus infections. First, it is important to review some concepts on miRNA biosynthesis and function in eukaryotic cells.
Eukaryotic microRNA biogenesis and functions
miRNA biogenesis
In canonical biogenesis, miRNAs are transcribed from miR genes as a primary miRNA (pri-miRNA) transcript by RNA polymerase II, the same enzyme that catalyses cellular mRNA transcription. Similar to cellular mRNA, the pri-miRNA has a cap at the 5′ end and a polyadenylated tail at the 3′ end [
17
]. This first transcript is longer than 70 nt [
18
] and is frequently several kilobases, bears one or more hairpin structures and can be processed into one or several distinct miRNAs (polycistronic transcription unit) [
7
] (Fig.
1
). This initial transcript is metabolized by a microprocessor complex containing the RNase III Drosha and the co-factor DiGeorge critical region 8 (DGCR8), originating a second transcript named precursor miRNA (pre-miRNA) [
19
]. This process occurs cotranscriptionally, as evidenced by the processing of miRNAs from unspliced introns [
20
,
21
]. DGCR8 appears to be able to recognize the target RNA, pri-miRNA, through interactions with the ssRNA-dsRNA junction (SD junction) as well as the stem of the hairpin. This interaction directs Drosha activity, enabling the cleavage of the pri-miRNA at an approximately 11 bp site from the SD junction, generating a hairpin structure of approximately 65 nt, pre-miRNA [
22
–
24
] (Fig.
1
). The pre-miRNA is then recognized and exported from the nucleus by exportin-5, a nucleocytoplasmic transport factor, in a Ran-GTP dependent manner [
25
]. Once in the cytoplasm, the pre-miRNA has the loop structure removed, releasing a dsRNA of approximately 22 nt. This process is mediated by a complex composed of the RNase III Dicer, which mediates the cleavage, and a dsRNA-binding protein (TRBP or PACT) [
7
]. The dsRNA is incorporated into the pre-RNA induced silencing complex (pre-RISC), where strand selection based on the thermodynamic properties of the duplex takes place. One strand is degraded in the cytoplasm (passenger strand, miRNA*) and the other strand (guide strand, miRNA) remains incorporated in the RISC, which has a protein from the Argonaute family (Ago1-4) as its core constituent [
26
]. All Ago proteins, in association with the miRNA guide, can repress mRNA translation [
26
], but only Ago2 has the ability to cleave the target mRNA in mammals [
27
]. Through base pairing, miRNAs have the ability to form dsRNA with cellular mRNA and may either suppress its translation or induce its degradation [
28
]. The interaction of miRNA:mRNA is strongly dependent on nucleotides 2-8 located at the 5′ end of the miRNA; this region is named the seed sequence or seed region [
29
]. Usually, the seed region binds to the 3′ untranslated region (UTR) of cellular mRNA, but it can also bind to other regions, such as exons [
30
].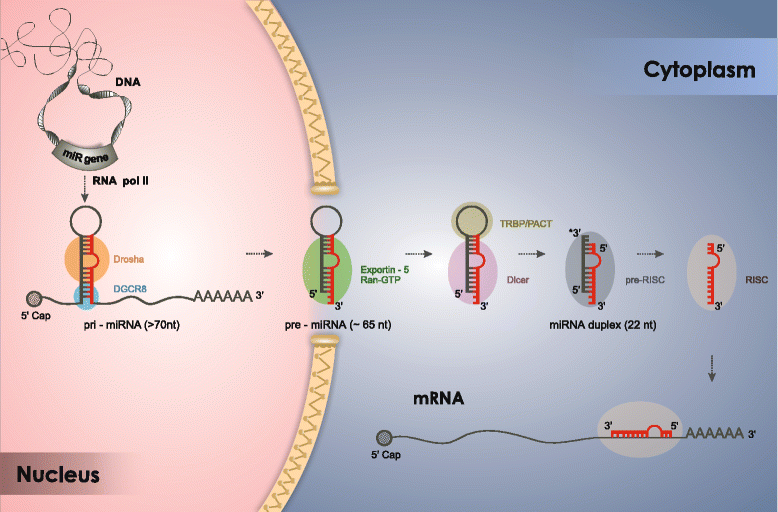 There are some miRNAs that are generated by different routes, in which not all proteins and factors used in the canonical pathway are required. They can be generated by Drosha/DGCR8- or Dicer-independent pathways. These non-canonical Drosha/DGCR8-independent miRNAs can be derived from introns, small nucleolar RNAs (snoRNAs), endogenous short hairpin RNAs (shRNAs) and transfer RNAs (tRNAs) [31].
In vertebrates, despite the many reports of non-canonical miRNA biogenesis pathways, most of the functional miRNAs seem to undergo canonical processing, and only approximately 1 % of conserved microRNAs are produced by Drosha- or Dicer-independent pathways [32].
To distinguish between miRNA and siRNA, we considered that both molecules have interfering roles in gene expression, either through perfect or imperfect base pairing with the mRNA target [33]. Furthermore, in mammalian cells, the RNA interference (RNAi) machinery is shared by the miRNA and siRNA pathways, and there is only one Dicer enzyme [34]. On the other hand, in insect cells, the interfering machinery is separated. In Drosophila cells, Dicer-1 is preferentially used to produce miRNA, while Dicer-2 is responsible for generating siRNA [35]. The C6/36 cell line (from Aedes albopictus mosquito), which will be referred to at many points in this text, is RNAi defective due to the lack of Dicer-2 activity [36].
miRNA functions
Among the key roles of miRNAs are gene expression control and mRNA degradation [37]. Complementing their role in gene expression regulation, miRNAs also interact with RNA-binding proteins (RBP), inhibiting the interaction between RBP and mRNA [38]. The classical function of miRNA is post-transcriptional gene expression control; thus, this molecule, besides being involved in the regulation of physiological processes [39], can also be associated with pathological disorders [40, 41]. In addition, miRNAs are present in blood and may be useful as biomarkers for diagnosis and prognosis of several pathologies [42–44]. miRNAs are also involved in somatic cell reprogramming or pluripotent cell maintenance [45], cell cycle control [46], erythropoiesis [47], apoptosis [48, 49], neurogenesis [50], insulin secretion [51], cholesterol metabolism [52], immune responses [53] and viral replication [54]. Interestingly, it has also been shown that miRNAs have roles similar to cellular messengers and signalling molecules [55]. Fabbri et al. [55] showed that specific miRNAs (from tumour cell lines) bind to murine toll-like receptor (TLR)-7 and human TLR-8 in immunological cells, inducing the activation of nuclear factor kappa B (NF-kB) and, consequently, the production of prometastatic inflammatory cytokines. Furthermore, viral miRNAs produced during viral infection may inhibit the viral immune response, which includes inhibiting cytotoxic lymphocyte recognition and modulating the expression of cytokines and chemokines of infected cells [56].
sfRNA and miRNA in flavivirus infection
Flaviviruses are small spherical viruses of approximately 50 nm with an electron-dense core of approximately 30 nm, surrounded by a lipid envelope composed by two viral proteins: envelope (E) and membrane (M) [57]. The envelope mediates the binding and fusion during viral infection and is the major antigenic determinant, whereas the M protein is a small proteolytic fragment of the prM protein. The flavivirus genome consists of a positive ssRNA containing a cap at its 5′ end but no poly-A tail at its 3′ end. It has a single open reading frame (ORF) flanked by UTRs at its 5′ and 3′ ends [58]. Although both UTRs of flavivirus RNA exhibit great variability, conserved regions and secondary structural conformations are found [59]. Their functions are not completely clear, but they are involved in viral translation, transcription and replication regulation [60, 61]. The UTRs may contain binding sites for viral and cellular proteins and sequences for RNA cyclization [62–64]. Interestingly, flaviviruses transmitted by mosquitoes and ticks have different sequences and secondary structures (hairpin loop) in the 3′ UTR, probably representing an adaptation to the vector [65–67]. The translation of the single ORF of the flavivirus RNA genome produces a large polyprotein cleaved co- and post-translationally by viral and host proteases [68]. The polyprotein is cleaved into 10 proteins, three of which are structural (C, prM and E) and located in the N-terminal region and seven of which are nonstructural proteins (NS): NS1, NS2A, NS2B, NS3, NS4A, NS4B, and NS5 [58]. All these features are shared among the members of the flavivirus genus: Japanese encephalitis virus (JEV), Murray Valley encephalitis virus (MVEV), West Nile virus (WNV), dengue virus (DENV), yellow fever virus (YFV), tick-borne encephalitis virus (TBEV) and Saint Louis encephalitis virus (SLEV), just to mention a few.
In the last few decades, with the development and improvement of molecular biology, microarray and next-generation sequencing techniques, new small non-coding RNAs and miRNAs have been discovered and characterized. The possibility of RNA viruses, which do not possess a nuclear DNA stage in their replication cycle, encoding miRNAs once the first steps in miRNA biogenesis take place in the nucleus has been highly discussed. To investigate this possibility, Rouha et al. [69] modified the TBEV (strain Neudoerfl) genome by genetic engineering. This modification consisted of the insertion of a known heterologous miRNA hairpin precursor from herpesvirus 4 (miR-BART2) in the 3′ UTR of a wild-type TBEV strain. The mutant and wild-type TBEV were introduced into BHK-21 cells by electroporation, and the levels of miR-BART2 were measured by real time PCR and Northern blotting. The results showed an increase in this miRNA 24 and 48 h post infection (hpi). To investigate the role of Drosha, the authors knocked down Drosha protein expression and observed that it was involved in this process. Therefore, this work corroborates the thesis that RNA viruses with an exclusively cytoplasmic replication cycle have the potential to encode functional miRNAs [69]. In support of this idea, Shapiro et al. [70], using a different model (recombinant Sindbis virus producing miRNA), suggested the existence of a cytoplasmic microprocessor of pri-miRNAs and showed that RNA viral infection induced Drosha relocalization to the cytoplasm.
Viral UTRs have hairpin structures that are believed to act as pre-miRNAs, which can be processed by Dicer or Ago cellular proteins, originating a mature and functional miRNA-like molecule that may contribute to virus and host cell mRNA regulation. Consequently, it has been suggested that viral miRNA biogenesis is Drosha-independent because RNA virus replication takes place in replication complexes located in the cytoplasm, and Drosha is located in the nucleus [
15
,
16
]. RNA viruses are susceptible to degradation by the host RNA decay machinery, and the viral suppression of host exonucleases is crucial for viral pathogenesis [
71
–
74
]. In addition, as a consequence of host cell response against the viral infection, several exonucleases and endonucleases are produced to circumvent the accumulation of viral RNAs in the cytoplasm [
71
]. Therefore, the viral fragments generated by exonucleases, such as subgenomic flavivirus RNAs (sfRNAs) derived from the 3′ UTR, are suggested as one of the sources for viral miRNAs [
15
,
16
] and are required to repress the cellular RNA decay machinery [
75
–
77
]. A hypothetical model of flavivirus miRNA-like sRNA biogenesis is presented in the Fig.
2
.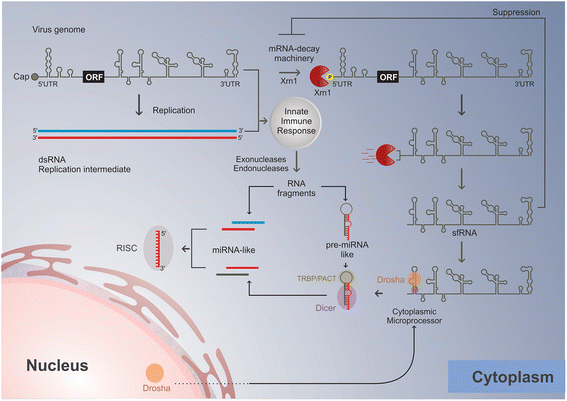 To understand the role of viral miRNAs, it is important to briefly introduce the sfRNAs, which are also generated during viral infection. sfRNAs can act as decoy molecules for Dicer and Ago2 [78] or as a source of viral miRNAs [75]. The generation of sfRNAs from flaviviruses was first characterized during Murray Valley viral infections [79] and was later found in Japanese encephalitis virus [80] and West Nile virus [81] infections. However, Pijlman et al. [82] was the first to characterize a host 5′- 3′ exoribonuclease 1 (XRN1) degrading the viral genomic RNA and, consequently, potentially generating sfRNAs (from the 3′ UTR) during West Nile, yellow fever and dengue virus infections. In flavivirus RNA, the 5′ end of the 3′ UTR has conserved secondary structures where the XRN1 stalls, resulting in incomplete degradation of the genomic RNA and generation of the sfRNAs [82, 83]. The sfRNAs, in turn, are able to generate viral miRNA-like molecules through a non-canonical pathway [15, 16]. Further details on the mechanism and structures involved in the generation of sfRNAs can be found at Chapman et al. [84] and Chapman et al. [85].
All available information regarding flavivirus-derived sfRNAs and virus-derived small RNAs (vsRNAs) by the time of submission of this manuscript is summarized in Table
1
. In the following sections, more detailed information on West Nile, dengue, Japanese encephalitis, Murray Valley encephalitis and yellow fever viruses will be presented. Experiments that were carried out solely in silico are not included in Table
1
.
Table 1
Viral sfRNA and small RNA in flavivirus infection.
Virus

sfRNA

Small RNAa

Host system

Function

Reference

WNV

600 nt

MEF

Scherbik et al., 2006

WNV

525 nt

BHK-21 and mice

Facilitated viral replication and viral pathogenicity

Pijlman et al., 2008

WNV

525 nt

MEF and mice

Viral evasion

Schuessler et al., 2012

WNV (replicon)

Vero, BHK-21, S2, U4.4 and Ap61

Suppression of RNAi machinery

Schnettler et al., 2012

WNV

19 – 29 nt

Culex (pipiens) quinquefasciatus

Brackney et al., 2009

WNV

19, 21 and 28 nt

DC from WT mouse, lymph node and spleen cells from IFNRab −/− mice

Possible involvement with IFN response

Parameswaran et al., 2010

WNV

KUN-miR-1 (21 nt)

C6/36, Aag2

Targets GATA4 mRNA

Hussain et al., 2012

DENV-2

(replicon)

400 nt

BHK-21

Pijlman et al., 2008

DENV-1

DENV-2

DENV-3

DENV-4

430 nt

180, 270, 429 nt

410 nt

390 nt

Vero, BHK-21, A549, HepG2, C6/36 and mouse brain

Possible role in viral life cycle and pathogenesis

Liu et al., 2010

DENV-2

429 nt

Vero and BHK-21

Cytopathogenicity and apoptosis

Liu et al., 2014

DENV-2

Huh7

Interference with translation of antiviral interferon-stimulated mRNAs

Bidet et al. 2014

DENV-2

Huh7 and primary monocytes

sfRNA binds TRIM25

Manokaran et al., 2015

DENV-2

17 and 22 nt

Huh.7

Parameswaran et al., 2010

DENV-2

27 nt

21 nt

C6/36

Aag2 and Aedes aegypti

Scott et al., 2010

DENV-2

13-19 nt

24–30 nt

Aedes aegypti

Hess et al., 2011

DENV-2

vsRNA-1 (22 nt)

vsRNA-2 (27 nt)

vsRNA-3 (20 nt)

vsRNA-4 (21 nt)

vsRNA-5 (23 nt)

vsRNA-6 (21 nt)

Aedes aegypti

Aag2, C6/36 and Vero

Regulation of RNA replication by targeting NS1 (vsRNA-5)

Hussain and Asgari, 2014

DENV-4

21 nt

12–36 nt

U4.4

Vero and Huh7

Schirtzinger et al., 2015

JEV

521 - 523 nt

BHK-21 and C6/36

Modulation of viral replication

Lin et al., 2004

JEV

BHK-21

Regulation of viral RNA replication and translation

Fan et al., 2011

JEV

BHK-21, C6/36 and A549

Inhibition of the induction of IFN-beta

Chang et al., 2013

MVEV

600 nt

Brain of infected mice (C3H/HeJ and C3H/RV) and Vero

Urosevic et al., 1997

MVEV

500 nt

BHK-21

Pijlman et al., 2008

YFV

300 nt

BHK-21

Pijlman et al., 2008

YFV

235, 330 and 630 nt

330 nt

BHK-21, Vero, SW13

C6/36

Silva et al., 2010

SRV

500 nt

BHK-21

Pijlman et al., 2008

TBEV

22 nt

IDE8

Schnettler et al., 2014

LGTV

22 nt

IDE8

Schnettler et al., 2014
Further considerations on flavivirus-derived sfRNAs and miRNAs
Pijlman et al. [82] identified the production of sfRNA species as a unique feature of the flavivirus genus. Production of sfRNA was not observed during the infection of a virus belonging to another genus of the Flaviviridae family [82], although a similar mechanism based on the stalling of XRN1 was proposed to be involved in the generation of much longer non-coding RNAs (~9.6–12.5 kb) in the case of hepatitis C and bovine viral diarrhoea viruses [77]. Another flavivirus investigated by Pijlman et al. [82] was Saumarez Reef virus (SRV), which is transmitted by ticks but cannot induce encephalitis. SRV also produces a sfRNA of approximately 500 nt, but the role of this molecule in SRV replication was not investigated [82]. In fact, all members of the flavivirus genus that have been investigated to date regarding the production of sfRNAs during infection (DENV, YFV, MVEV, WNV, JEV, SRV, TBEV, Modoc virus, Apoi virus, Rio Bravo virus, Montana myotis leukoencephalitis virus, Yokose virus, cell-fusing agent virus, Culex flavivirus) have shown positive results [75, 110], despite the fact that not all flaviviruses present the same secondary structures in the 3′ UTR [111].
vsRNAs have also been identified in tick-borne flaviviruses. To elucidate the antiviral role of RNAi in ticks, Schnettler et al. [112] studied the vsRNA profile of an Ixodes scapularis-derived cell line (IDE8) either infected with a tick-borne flavivirus (TBEV or Langat virus) or transfected with the corresponding replicon. In both cases, vsRNAs were for the most part 22 nt long, scattered throughout the genome and mapped in similar proportion to the sense and antisense strands. Additionally, a higher frequency of vsRNAs was derived from the 5′ and 3′ ends of the genome. The knockdown of genes identified by phylogenetic analysis as homologous to either Dicer-2 or Ago2 followed by either Langat virus infection or its replicon transfection allowed the identification of Ago30 and Ago16 as mediators of antiviral activity against this virus. In the same work, an inhibitory effect of the sfRNA on the RNAi machinery was also reported [112].
In addition to the ones that have been previously cited, many in silico predicted flavivirus-derived miRNAs can be found in the Vir-Mir database. The methodology used to build up the Vir-Mir database was based on the prediction of candidate hairpin structures compatible with the characteristics of known pre-miRNAs from the genomic sequences of 2266 viruses available at the time in the GenBank database. Afterwards, additional filters also based on the characteristics of known miRNAs, such as GC content, core minimum free energy (MFE), hairpin MFE and ratio of core MFE to hairpin MFE, were applied to reduce the number of false positives [113]. In total, the Vir-Mir database lists 171 flavivirus-derived miRNA candidates that have been predicted using this strategy [114].
Furthermore, a study by Brackney et al. [115] notes the role of RNAi in WNV genetic diversification in infected Culex (pipiens) quinquefasciatus mosquitoes. The midgut of infected mosquitoes (NY99 strain) collected at 7 and 14 days post infection (dpi) was used in the construction of a small RNA library. The size of the sRNAs, which mapped to WNV genome, ranged from 19 to 29 nt, but the most abundant sizes were 20, 21 and 22 nt. Considering that the RNAi machinery is sequence-specific, and mutations in the target dsRNA sequence can compromise its efficiency, the target regions of RNAi in the WNV genome were evaluated. Mutations were detected in both viral targets: NS5 (7 and 14 dpi samples) and 3′ UTR (14 dpi samples). In conclusion, the authors suggest a correlation between RNAi machinery activity and viral evolution (positive selection), which reinforces the importance of the mosquito to WNV diversification [115].
As a final remark, it is important to remember that the different flaviviruses present variations in their 3′ UTRs, such as deletions and/or duplications of conserved structures. Just to cite an example, Bryant et al. [116] reported the existence of a 16 nt duplication, which created in tandem repetition of a conserved hairpin, stem-loop and pseudoknot RNA structure, in 19 YFV isolates from South America [116]. Taking this into consideration and the fact that sfRNAs may be the source of viral miRNAs by a non-canonical pathway, as previously suggested by Hussain et al. [15] and Roby et al. [75], variations in the 3′ UTR may have an impact on the different expression patterns of non-coding RNAs observed for the different viruses.
Human and murine miRNAs modulated during flavivirus infection
Recently, several studies have shown an intimate relationship between RNA virus infection, miRNAs and host response [
117
,
118
]. During viral infection, cells can alter the miRNA profile involved in physiological functions and establish an antiviral state. Human miRNAs have been described as regulators of gene expression in viral replication and host immune responses [
119
]. For this topic, all available information on human and murine miRNAs produced in response to flavivirus infection was gathered. However, only the miRNAs with confirmed function through biological assays, such as the use of mimic miRNAs, miRNAs inhibitors and/or luciferase reporter vectors, are presented in Table
2
. The use of an asterisk to identify the passenger strand has been replaced in miRBase by the use of either -5p or -3p which identify the arm of the hairpin precursor from which the mature miRNA originates. However, the nomenclatures seen in the text follow the information as presented in the original articles.
Table 2
Function of human and murine miRNAs modulated during flavivirus infection
| Flavivirus | miRNA | Host system | Function | Reference |
| --- | --- | --- | --- | --- |
| WNV | Hs_154 | HEK293, SK-N-MC, Huh7, Huh7.5 and mouse brain | Modulates the apoptotic response | Smith et al., [120] |
| WNV | miR-532-5p | HEK293 and mouse brain | Suppresses genes SESTD1 and TAB3 | Slonchak et al., [121] |
| DENV-2 | miR-146a | PBMC and THP-1 | Dampens IFN-β production by targeting TRAF6 | Wu et al., [118] |
| DENV-1, 2 and 3 | miR-30e* | U937, HeLa and PBMC | Up-regulates IFN-β and ISG expression | Zhu et al., [123] |
| DENV-2 | miR-150 | PMBC | Regulates SOCS1 expression | Chen et al., [126] |
| DEN-2 | miR-223 | EAhy926, HepG2 and Vero | Represses STMN1 | Wu et al., [127] |
| DENV-2 and 4 | Let-7c | Huh7 | Modulates BACH1 and HO-1 expression | Escalera-Cueto et al., [124] |
| JEV | miR-29b | BV-2 and primary microglial cells | Microglia activation by targeting TNFAIP3 | Thounaojam et al., [130] |
| JEV | miR-155 | BV-2, mouse primary microglial cells, mouse and human brains | Inhibits SHIP1 expression and promotes IFN-β expression | Thounaojam et al., [131] |
| JEV | miR-155 | CHME3 | Represses IFN-β production | Pareek et al., [132] |
| JEV | miR-15b | BV-2, U251, HeLa and mouse brain | Represses RNF125, a RIG-I inhibitor | Wu et al., [127] |
| JEV | miR-146a | CHME3 | Down-regulation of TRAF6 expression | Sharma et al., [133] |
Conclusion
In conclusion, regarding the Flavivirus genus, by the time this review was finished, there was experimental evidence for the existence of viral miRNAs derived from WNV and DENV and viral sfRNA from all members of this genus where it has been investigated.
The identification of viral miRNAs with immunomodulatory activities increases the potential targets for therapeutic approaches. On the other hand, molecules that "neutralize" virus-derived miRNAs could be used to eradicate miRNA-mediated escape, favouring the course of the immune response to the viral infection. Additionally, finding viral mutants in miRNA sequences or viruses that are defective in the production of sfRNAs may provide information for the rational development of vaccines using attenuated flaviviruses. Moreover, the discovery and characterization of viral miRNAs/sfRNAs contribute to the development of tools for studying the cellular mechanisms involved in virus-host interaction, viral RNA turnover and viral pathogenicity associated with flavivirus infection.
Both types of molecules, miRNAs and sfRNAs, are strongly associated with the modulation of host cell gene expression and immune response during flavivirus infection. Human miRNAs are also closely linked to the regulation of viral replication. Taking this into account, both human and viral miRNAs could play an important role as biomarkers of viral infection prognosis and pathogenicity, as well as diagnostic tools and potential therapeutic targets.
Abbreviations
Ago, argonaute; AKT, RAC -alpha serine/threonine-protein kinase; ARMC8, armadillo repeat containing 8; BACH1, BTB and CNC homology 1, basic leucine zipper transcription factor 1; bp, base pair; C, capsid; CAPRIN1, cell cycle associated protein 1; CCL, C-C motif chemokine ligand; CPEB3, cytoplasmic polyadenylation element binding protein 3; CTCF, CCCTC binding factor; DENV, dengue virus; DF, dengue fever; DGCR8, DiGeorge critical region 8; DHF, dengue haemorrhagic fever; dpi, days post-infection; dsRNA, double stranded RNA; DSS, dengue shock syndrome; E, envelope; ECOP, EGFR-coamplified and overexpressed protein; EZH2, enhancer of zeste 2 polycomb repressive complex 2 subunit; FAM116A, family with sequence similarity 116, member A; G3BP, GTPase Activating Protein (SH3 Domain) Binding Protein; GATA4, transcription factor GATA-4; GBP1, guanylate binding protein 1; gRNA, genomic RNA; HO-1, haeme oxygenase-1; hpi, hours post-infection; IFN, interferon; IL, interleukin; IRAK, interleukin 1 receptor associated kinase; IRF, interferon regulatory factor; ISG, interferon-stimulated gene; ISG15, interferon-stimulated protein, 15 kDa; ISG56, interferon-induced 56 kDa protein; IkBα, nuclear factor of kappa light polypeptide gene enhancer in B-cells inhibitor, alpha; JAK, Janus kinase; JEV, Japanese encephalitis virus; Ldbr, lariat-debranching enzyme; M, membrane; MAVS, mitochondrial antiviral signalling protein; MCP-1, Monocyte chemoattractant protein-1; MEF, Mouse embryonic fibroblast; mESCs, mouse embryonic stem cells; MFE, minimum free energy; miR genes, miRNA genes; miRNA, microRNA; MOI, multiplicity of infection; MVEV, Murray Valley encephalitis virus; MxA, myxoma resistance protein 1; ncRNA, non-coding RNA; NF-kB, nuclear factor kappa B; NOD2, nucleotide-binding oligomerization domain containing 2; NS, nonstructural; nt, nucleotide; OAS1, 2′-5′-oligoadenylate synthetase 1; ORF, open reading frame; PACT, protein activator of the interferon-induced protein kinase; PBMC, peripheral blood mononuclear cells; PBS, primer binding sequence; PI3K, phosphatidyl inositol 3-kinase; piRNA, PIWI pathway small RNA; pre-miRNA, precursor miRNA; pre-RISC, pre-RNA induced silencing complex; pre-tRNA, transfer RNA precursor; pri-miRNA, primary miRNA; prM, pre-membrane; qPCR, quantitative polymerase chain reaction; qRT-PCR, quantitative reverse transcription polymerase chain reaction; RAB11A, RAB11A, member RAS oncogene family; RASSF5, Ras association domain family member 5; RBP, RNA-binding protein; RIG-I, retinoic acid-inducible gene 1; RNAi, RNA interference; RNF125, ring finger protein 125; RT-PCR, reverse transcription polymerase chain reaction; SD junction, ssRNA-dsRNA junction; SESTD1, SEC14 and spectrin domains 1; sfRNA, subgenomic flavivirus RNA; SHIP1, Src homology 2-containing inositol phosphatase 1; shRNA, short hairpin RNA; siRNA, small interfering RNA; SLEV, Saint Louis encephalitis virus; SMAD2, SMAD family member 2; snoRNA, small nucleolar RNA; SOCS1, suppressor of cytokine signalling 1; sRNA, small RNA; SRV, Saumarez Reef virus; ssRNA, single stranded RNA; STAT, signal transducer and activator of transcription; STMN1, stathmin 1; TAB3, TGF-beta activated kinase 1/MAP3K7 binding protein 3; TBEV, tick-borne encephalitis virus; TLR, toll-like receptor; TMD3, transmembrane domain 3; TNFAIP3, tumour necrosis factor alpha-induced protein 3; TNF-α, tumor necrosis factor alpha; TRAF6, TNF receptor-associated factor 6; TRBP, human immunodeficiency virus (HIV)-1 transactivating response (TAR) RNA-binding protein; TRIM25, tripartite motif-containing 25; usRNA, unusually small RNA; UTR, untranslated region; vsRNA, virus-derived small RNA; WNV, West Nile virus; XRN1, 5′- 3′ exoribonuclease 1; YFV, yellow fever virus; ZNF536, zinc finger protein 536.
Declarations
Acknowledgements
The authors would like to thank Wagner Nagib de Souza Birbeire for the graphic design in Figs. 1 and 2 and to FIOCRUZ for the financial support.
Authors' contributions
LB, ALPM, MNA and CNDS. Concept, design and manuscript writing. All authors read and approved the final manuscript.
Competing interests
The authors declare that they have no competing interests.
Open AccessThis article is distributed under the terms of the Creative Commons Attribution 4.0 International License (http://creativecommons.org/licenses/by/4.0/), which permits unrestricted use, distribution, and reproduction in any medium, provided you give appropriate credit to the original author(s) and the source, provide a link to the Creative Commons license, and indicate if changes were made. The Creative Commons Public Domain Dedication waiver (http://creativecommons.org/publicdomain/zero/1.0/) applies to the data made available in this article, unless otherwise stated.
Authors' Affiliations
(1)
Laboratório de Virologia Molecular, Instituto Carlos Chagas (ICC/FIOCRUZ-PR), Curitiba, Brazil