Transcriptome analysis of symptomatic and recovered leaves of geminivirus-infected pepper (Capsicum annuum)
Virology Journal
2012
9:295
Received: 21 May 2012
Accepted: 21 November 2012
Published: 27 November 2012
Abstract
Background
Geminiviruses are a large and important family of plant viruses that infect a wide range of crops throughout the world. The Begomovirus genus contains species that are transmitted by whiteflies and are distributed worldwide causing disease on an array of horticultural crops. Symptom remission, in which newly developed leaves of systemically infected plants exhibit a reduction in symptom severity (recovery), has been observed on pepper (Capsicum annuum) plants infected with Pepper golden mosaic virus (PepGMV). Previous studies have shown that transcriptional and post-transcriptional gene silencing mechanisms are involved in the reduction of viral nucleic acid concentration in recovered tissue. In this study, we employed deep transcriptome sequencing methods to assess transcriptional variation in healthy (mock), symptomatic, and recovered pepper leaves following PepGMV infection.
Results
Differential expression analyses of the pepper leaf transcriptome from symptomatic and recovered stages revealed a total of 309 differentially expressed genes between healthy (mock) and symptomatic or recovered tissues. Computational prediction of differential expression was validated using quantitative reverse-transcription PCR confirming the robustness of our bioinformatic methods. Within the set of differentially expressed genes associated with the recovery process were genes involved in defense responses including pathogenesis-related proteins, reactive oxygen species, systemic acquired resistance, jasmonic acid biosynthesis, and ethylene signaling. No major differences were found when compared the differentially expressed genes in symptomatic and recovered tissues. On the other hand, a set of genes with novel roles in defense responses was identified including genes involved in histone modification. This latter result suggested that post-transcriptional and transcriptional gene silencing may be one of the major mechanisms involved in the recovery process. Genes orthologous to the C. annuum proteins involved in the pepper-PepGMV recovery response were identified in both Solanum lycopersicum and Solanum tuberosum suggesting conservation of components of the viral recovery response in the Solanaceae.
Conclusion
These data provide a valuable source of information for improving our understanding of the underlying molecular mechanisms by which pepper leaves become symptomless following infection with geminiviruses. The identification of orthologs for the majority of genes differentially expressed in recovered tissues in two major solanaceous crop species provides the basis for future comparative analyses of the viral recovery process across related taxa.
Keywords
Differential expressionGeminiviruses Pepper golden mosaic virus Plant defenseRecovery
Background
Geminiviruses are a large and important family of plant viruses that infect a wide variety of crops around the world. The family Geminiviridae is divided into four genera (Mastrevirus, Curtovirus, Begomovirus, Topocuvirus) based on genome organization (mono- or bipartite), insect vector (whiteflies, leafhoppers, treehoppers), and host range (monocotyledonous or dicotyledonous plant species). Geminiviral genomes are composed of circular, single-stranded DNA (ssDNA) molecules encapsidated in twin icosahedral virions for which the family is named [1, 2]. The ssDNA viral genomes are transcribed, replicated, and encapsidated in the nuclei of infected cells. Geminiviruses also traffic within and between host cells moving systemically throughout the infected plant and are dependent on host machinery for both replication and movement [3, 4].
Species of the genus Begomovirus are transmitted by whiteflies (Bemisia tabaci Genn.) and distributed worldwide causing diseases in horticultural crops such as tomato and pepper [5–7]. Crop losses of up to 100% have been reported for geminivirus diseases [8]. Pepper golden mosaic virus (PepGMV) is one of the most important and widely distributed Begomovirus throughout Mexico and infects several Solanaceae crops including pepper (Capsicum annuum), tomato (Solanum lycopersicum), and tomatillo (Physalis ixocarpa) [8–10]. The bipartite genome of PepGMV encodes six proteins. The DNA-A component encodes proteins involved in replication (Rep and REn), trans-activation (TrAP), and the capsid protein (CP) whereas viral DNA-B encodes proteins related to movement (NSP and MP) [10]. PepGMV infection results in bright yellow mosaic symptoms on leaves that is associated with twisting and distortion of leaves and fruits, stunted plants, and reduced yield [11].
In studies under controlled conditions, symptom remission has been observed on PepGMV-infected pepper plants [
12
]. Thus, in the pepper-PepGMV recovery system, pepper plants show severe symptoms around 9 to 10 days post-inoculation (dpi) (Figure
1A,B
, "Symptoms"). Following this initial expression of disease symptoms, newly emerged leaves show a reduction in symptom severity (Figure
1C
, "Pre-Recovery"). By 20 dpi, the third set of emerging leaves is nearly symptomless (Figure
1D
, "Recovery"). This process has been termed symptom remission or recovery [
12
,
13
]. Similar observations with several plant viruses were reported as early as 1928 [
14
] and more recently, in plants infected with geminiviruses [
15
–
17
]. In PepGMV-infected pepper plants, the concentrations of viral ssDNA and viral mRNA in recovered leaves are dramatically reduced compared to the viral nucleic acid concentrations in severely symptomatic leaves [
12
,
13
]. Based on the presence and characterization of small RNA of viral origin (svRNA), as well as the levels of methylated viral DNA by host methylation machinery, the recovery process has been associated with transcriptional and post-transcriptional gene silencing mechanisms [
13
]. However, little is known in the pepper-PepGMV recovery system with respect to changes in host gene expression that occur during infection.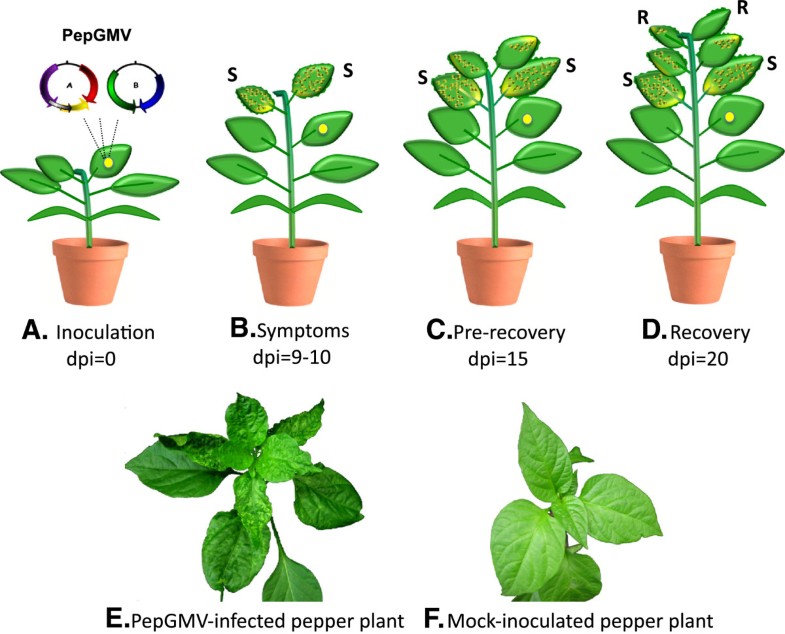 For organisms with no publicly available genome sequence, such as pepper, transcriptome analyses can provide major insights into genes involved in important biological processes. Deep transcriptome sequencing technologies, such as pyrosequencing provided through the Roche/454 sequencing platform [18], is a powerful tool for the identification of transcripts and transcript variation in plant-pathogen interactions [19–21]. In this study, transcriptional variation in pepper during PepGMV infection was analyzed in healthy (mock), symptomatic, and recovered pepper leaves. To provide insight into the geminivirus-host molecular interactions in the pepper-PepGMV recovery system, we employed next generation transcriptome sequencing of viral-infected pepper leaves and through differential gene expression, identified key transcripts (genes) involved in this phenomenon. We report a total of 309 differentially expressed (DE) genes in the pepper-PepGMV recovery system with major differences in up- and down-regulated genes observed between healthy (mock) and symptomatic or recovered tissues. Of these, 246 have a known function including genes that are associated with defense responses such as pathogenesis-related (PR) proteins, reactive oxygen species, jasmonic acid, and ethylene signaling pathways. A set of genes with a novel role in defense responses were also identified thereby expanding our understanding of the molecular interactions that underlie the PepGMV-pepper recovery system.
Conclusions
Virus-induced gene expression in plants has been studied in many host-virus models, including several geminivirus [32, 36, 38]. In most cases, however, the models permit examination of changes between healthy or non-inoculated plants and the infected, symptomatic tissues [38]. The pepper-PepGMV recovery system affords the opportunity to examine susceptibility and recovery in the same system. Quantification and comparison of transcript abundances using deep transcriptome sequencing and the C. annuum reference transcriptome [23] allowed us to analyze the transcriptional status of PepGMV-infected plants during the initial symptom stage and subsequent recovered condition. Modification of transcript levels for many genes occurs prior to the appearance of symptoms with the highest peak of expressed genes observed around 6 dpi. Newly emerged leaves are nearly symptomless (recovery stage), thus analysis of DE genes suggests that several elements related to the defense machinery of the plant (PR proteins, reactive oxygen species, as well as jasmonic acid and ethylene signaling pathways) may contribute in pepper-PepGMV recovery system along with the previously reported PTGS and TGS mechanisms. Interestingly, novel genes, such as Pepper-RRP1 and histone proteins, were identified which may have a role in plant defense. The results presented in this study provide valuable information for our understanding of the underlying molecular mechanisms by which PepGMV-infected pepper plants recover from geminiviral infection.
Abbreviations
CaRT:

Capsicum annuum Reference Transcriptome
M:

Mock-inoculated tissue
PepGMV:

Pepper golden mosaic virus
PHYVV:

Pepper huasteco yellow vein virus
PTGS:

Post-transcriptional gene silencing
qRT-PCR:

Quantitative reverse transcription PCR
R:

Recovered tissue
ROS:

Reactive oxygen species
S:

Symptomatic tissue
ssDNA:

Single stranded DNA
svRNA:

Small RNA of viral origin
TEV:

Tobacco etch virus
TGS:

Transcriptional gene silencing
TRV:

Tobacco rattle virus.
Declarations
Acknowledgements
This work was supported by Secretaría de Agricultura, Ganadería, Desarrollo Rural, Pesca y Alimentación (SAGARPA) and Consejo Nacional de Ciencia y Tecnologia (Conacyt) [11806]. We acknowledge support from Conacyt-Mexico to Elsa Góngora-Castillo (Ph. D. fellowship). We acknowledge and thank Dr. Robin Buell for critical reading of the manuscript and helpful comments. We would also like to acknowledge the anonymous reviewers that made important suggestions to improve this manuscript.
Authors' Affiliations
(1)
Departamento de Ingeniería Genética, Carretera Irapuato-León, Centro de Investigación y de Estudios Avanzados del I.P.N (Cinvestav)-Unidad Irapuato, Irapuato, México
(2)
Laboratorio Nacional de Genómica para la Biodiversidad (Langebio), Cinvestav-Irapuato, Carretera Irapuato-León, Irapuato, México
Copyright
© Góngora-Castillo et al.; licensee BioMed Central Ltd. 2012
This article is published under license to BioMed Central Ltd. This is an Open Access article distributed under the terms of the Creative Commons Attribution License (http://creativecommons.org/licenses/by/2.0), which permits unrestricted use, distribution, and reproduction in any medium, provided the original work is properly cited.