Cross-border spread, lineage displacement and evolutionary rate estimation of rabies virus in Yunnan Province, China
Virology Journal
2017
14:102
Received: 1 February 2017
Accepted: 25 May 2017
Published: 3 June 2017
Abstract
Background
Rabies is an important but underestimated threat to public health, with most cases reported in Asia. Since 2000, a new epidemic wave of rabies has emerged in Yunnan Province, southwestern China, which borders three countries in Southeast Asia.
Method
We estimated gene-specific evolutionary rates for rabies virus using available data in GenBank, then used this information to calibrate the timescale of rabies virus (RABV) spread in Asia. We used 452 publicly available geo-referenced complete nucleoprotein (N) gene sequences, including 52 RABV sequences that were recently generated from samples collected in Yunnan between 2008 and 2012.
Results
The RABV N gene evolutionary rate was estimated to be 1.88 × 10−4 (1.37–2.41 × 10−4, 95% Bayesian credible interval, BCI) substitutions per site per year. Phylogenetic reconstructions show that the currently circulating RABV lineages in Yunnan result from at least seven independent introductions (95% BCI: 6–9 introductions) and represent each of the three main Asian RABV lineages, SEA-1, -2 and -3. We find that Yunnan is a sink location for the domestic spread of RABV and connects RABV epidemics in North China, South China, and Southeast Asia. Cross-border spread from southeast Asia (SEA) into South China, and intermixing of the North and South China epidemics is also well supported. The influx of RABV into Yunnan from SEA was not well-supported, likely due to the poor sampling of SEA RABV diversity. We found evidence for a lineage displacement of the Yunnan SEA-2 and -3 lineages by Yunnan SEA-1 strains, and considered whether this could be attributed to fitness differences.
Conclusion
Overall, our study contributes to a better understanding of the spread of RABV that could facilitate future rabies virus control and prevention efforts.
Keywords
Rabies virusEvolutionary dynamicsViral phylogeographyYunnanChinaN gene
Background
Rabies has one of the highest mortality rates of infectious diseases in humans, and kills almost 60,000 persons each year [1]. It is caused by the rabies virus (RABV), a virus that belongs to the genus Lyssavirus within the family Rhabdoviridae, and which is distributed almost worldwide, in particular in developing countries [2]. Asia has the highest global incidence of rabies, accounting for more than 80% of total cases [3], and China is one of the countries with the highest number of human rabies cases. Dogs are the principal vector of human rabies (98% of human cases result from dog bites) and can spread the virus across national borders and over long distances [4–6]. The RABV migration patterns can be reconstructed by analysing virus gene sequences in a phylogeographic framework, which has the potential to inform public health decisions [4].
Several major geographically-distinct clades of RABV species in nonflying mammals have been identified based on phylogenetic analyses of the RABV N gene; these are the African, cosmopolitan, Arctic-related, Asian, and Indian subcontinent clades [7, 8]. Viruses of the latter three clades circulate in Asia: (i) Indian subcontinent clade viruses are found in southern India and Sri Lanka; (ii) Arctic-related clade viruses have been reported across a large region, from Russia and central Asia to eastern Asia [9, 10]; (iii) Asian clade viruses are mainly distributed in Southeast Asia [8]. In a recent study, Guo et al. demonstrated that RABV sequences from Southeast Asia belong to three distinct clades, SEA-1 (China and Indonesia), SEA-2 (South China and the Philippines), and SEA-3 (Malaysia, Vietnam, Laos, Cambodia, and Thailand) [11]. In previous work, we sequenced 52 new RABV isolates sampled between 2008 and 2012 in Yunnan province, China. Two lineages of the clades identified in Yunnan were closely related to strains from North or South China, whilst another lineage was closely related to SEA strains [12]. Consequently, Yunnan Province was identified as a potential focal point in the region for the spread of endemic RABV across Southeast Asia. An increasing incidence of rabies cases has been reported in Yunnan, occurring in only one county in 2000 but in 77 counties in 2012 [12].
In this study, we used a Bayesian phylogenetic molecular clock approach to explore the spatio-temporal history of RABV in Yunnan, an area of China that borders three countries (Vietnam, Laos, and Myanmar) in Southeast Asia. The second aim of this study was to examine possible causes of the apparent RABV lineage displacement event that occurred in Yunnan, in which two of the three RABV lineages disappeared after 2011.
Results
Lineages of the three main Asian clades circulate in Yunnan
Consistent with previous analyses, a phylogenetic analysis of the N gene from nonflying mammals identified six distinct clusters in Asia, which exhibited clear spatial structure: the Indian subcontinent, cosmopolitan, Arctic-related, Southeast Asia-1 (SEA-1), SEA-2, and SEA-3 lineages (Fig.
1
) [
7
,
8
,
11
,
13
]. The geographic locations of the different clusters of Asian RABV, SEA-1–3, are shown in Fig.
1a
. Clade SEA-1, the most widespread clade across China, has been isolated in both North and South China and includes a single cluster from Indonesia (yellow highlight in Fig.
1b
). Clade SEA-2 is mainly distributed in South China, South of the Yangtze River (Fig.
1a
), with a single cluster in the Philippines (green highlight in Fig.
1b
). Clade SEA-3 is widely distributed in Southeast Asian countries, including Myanmar, Thailand, Laos, Vietnam, Cambodia, and Yunnan Province in China. Phylogenetic analysis showed that the post-2000 Yunnan epidemic was caused by lineages from all three SEA clades (Fig.
2a
).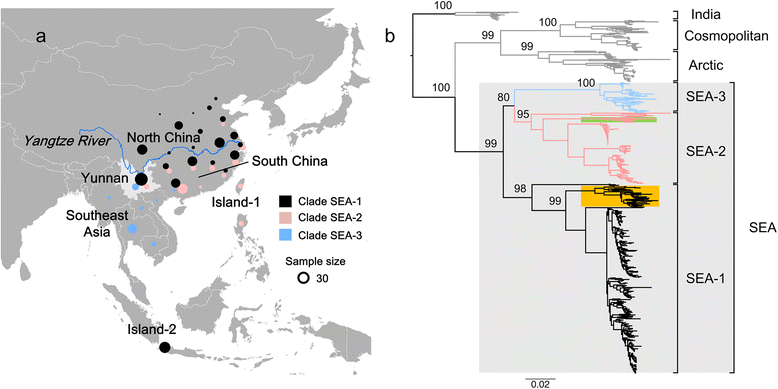 Temporal and spatial dynamics of RABVs in China and Southeast Asia
Our estimate of the evolutionary rate of the N gene of RABV is 1.88 × 10−4 (95% highest posterior density, HPD: 1.37 × 10−4 –2.41 × 10−4) substitutions per site per year. This is highly consistent with previous estimates [8, 14], and was used to calibrate the timescale of Asian RABV epidemic history.
We find strong Bayes factor support for introductions of RABV into Yunnan from North and South China (Table
1
and Additional file
1
: Figure S1). Migrations from North to South China and vice versa, and from Southeast Asia to South China, are also well supported (Table
1
). In contrast, the lineage migration link between Yunnan and Southeast Asian countries is less well supported but still significant (Table
1
). Combined, this provides significant support for a role of Yunnan as a connector of the RABV epidemics in North and South China with those in Southeast Asia. A visualisation of the well-supported pathways of RABV migration in Asia is provided in Additional file
1
: Figure S1.
Table 1
Overview of the significant migration links between locations
| From | To | BF | PP** | BFsub* | PP* |
| --- | --- | --- | --- | --- | --- |
| North China | South China | *** | 39.86 | *** | 36.25 |
| South China | North China | *** | 29.31 | *** | 30.06 |
| North China | Yunnan | *** | 9.86 | *** | 10.09 |
| South China | Yunnan | ** | 9.55 | ** | 10.46 |
| Southeast Asia | South China | *** | 10.25 | *** | 10.82 |
| Yunnan | Southeast Asia | * | 1.16 | * | 1.10 |
The Bayesian stochastic search variable selection (BSSVS) analysis provides information on the statistical support for each possible migration link among location pairs, but does not inform on the relative magnitude of viral movement. For this, we quantified the expected number of virus movements between locations (Markov jumps; Table 1). This shows that the bulk of virus flow is between North and South China (69.17%, Table 1). Further, almost equal amounts of virus lineage migration out of North (19.84%) or South (24.58%) China seed the RABV epidemic in Yunnan, and little more than 1% of all migration events are directed from Yunnan towards Southeast Asia. The imbalance between RABV import and export from Yunnan is reflected in the difference between the number of virus lineage movements from and to Yunnan, which is −6.1 (95%BCI: −3 to −8). The only other well-supported migration link (from southeast Asia to south China) accounts for another 10.25% of the Markov jumps. Similar patterns were obtained using a downsampled dataset with a maximum of 20 sequences per area per year (Table 1), which suggests that the results here do not appear to be driven by heterogeneous sampling.
The estimated number of independent RABV introductions into Yunnan is 7 (95% Bayesian credible interval: 6 - 9). This includes five well-supported clusters (>85% posterior support) of at least two lineages sampled in Yunnan (Fig. 2a). The SEA-3 Yunnan lineages (YN-B) are separated from the other SEA-3 strains by a long branch representing almost 140 years of evolution (Fig. 2a and c). Such a long period of undetected circulation in Yunnan is highly unlikely, and indicates that a substantial part of the SEA-3 diversity is not represented among the available data in GenBank and/or escapes detection by current surveillance programs. The tMRCA estimate of the YN-B clade is 1991.7 (95%HPD: 1969.6–2003.4). Given the increased awareness after 2000 it can be assumed that RABV circulation in Yunnan was rapidly detected after that date. If RABV was detected within 1 year, the finding that 97.9% of the YN-B root node tMRCA 95% HPD predates 2001 suggests that it is very likely that RABV was introduced into Yunnan from SEA on multiple occasions (at least two or three) (Fig. 2c). However, the 95%HPD interval of this clade's tMRCA extends to almost mid-2002 and the epidemic started in 2000, meaning that on the basis of these timings the possibility of one introduction event cannot be dismissed. The tMRCAs of the four other Yunnan clades are more recent (Fig. 2b). Given that each represents one introduction event, this shows that these lineages entered Yunnan within a rather narrow time window starting from around 2000, which is consistent with previous observations [12].
Different sites evolved under diversifying selection in the three Asian RABV lineages
The overall d
N
/d
S
ratio for the N gene of RABV in Yunnan was low (0.047), suggesting that strong purifying selection has been the main evolutionary pressure acting on RABV [
15
]. Interestingly, the branch-specific d
N
/d
S
values for RABV clades SEA-2 and SEA-3 in Yunnan were higher (0.056) than that for branches in clade SEA-1 (0.009). We applied two likelihood ratio tests (LRTs) that compare codon substitution model M7 (no positive selection) against model M8 (positive selection allowed) in order to detect positive selection at the 5% level. For the SEA-1 clade, the LRT statistic comparing M7 and M8 was 2 In
L
 = 2 × (In
L
M8
- In
L
M7
) = 11.28; thus the null hypothesis of no positive selection could be rejected. For clades SEA-2 and SEA-3, they were 2 In
L
 = 2 × (In
L
M8
- In
L
M7
) = 185.50. Some sites in the N gene (sites 90, 128, 135, 379, 397, and 426) were identified with both the M8 model in CODEML and the FEL method in HYPHY as being positively selected (Table
2
). Overall, these results are indicative of positive selection acting at these sites. We then compared the amino acid sites that vary between the SEA-1, SEA-2, and SEA-3 clades (Table
3
). The SEA-2 lineages carry six different N-gene AAs and the SEA-3 strains seven AAs, when compared to SEA-1 lineages. Two of these differences with respect to SEA-1 strains are shared between the SEA-2 and SEA-3 lineages: S42T and S397G (Table
3
). It is of note that the SEA-3 AA residues at positions within linear epitopes (sites 375 and 379) are different from those in SEA-1 strains, in particular because both sites were subject to diversifying selection according to at least one method (Tables
2
and
3
). The SEA-2 lineages, on the other hand, share their AA residues at these epitope positions with SEA-1 strains.
Table 2
Positively selected sites in the N gene in Yunnan
| | M7 | M8 | | | |
| --- | --- | --- | --- | --- | --- |
| Clade | InL | InL | χ 2 | P | BranchdN/dS |
| SEA-1 | −2551.03 | −2545.39 | 5.63 | 0.06 | 0.009 |
| SEA-2 & SEA-3 | −4395.09 | −4302.34 | 92.75 | <0.01 | 0.056 |
Table 3
Key variable sites between the clade SEA-1, clade SEA-2, and clade SEA-3 viruses, Yunnan Province
Amino acid position in the N protein

Clade

42

90b,c

110

128b,c

135b,c

157

254

375b,a

379b,c,a

397

426b,c

SEA-1

S

T

E

L

S

N

R

T

L

S

S

SEA-2

T

N

D

L

S

S

K

T

L

G

S

SEA-3

T

T

E

V

A

N

R

M

V

G

A
Discussion
Rabies remains one of the most dangerous but neglected diseases in developing countries, especially in Asia and Africa, where >95% of human cases occur [16]. In this study, we used Bayesian phylodynamic methods to investigate the spatiotemporal aspects of RABV evolution in Asia with a focus on the role of the Yunnan province of China in the regional epidemic history of the virus. For this we used publicly available time-annotated near complete viral genomes, as well as N gene sequences whose locations and dates of sampling were known. The former were used to estimate gene-specific evolutionary rates, which allowed us to put a timescale on virus migration history.
Results from the evolutionary reconstructions show that the reemergent RABV lineages in Yunnan since 2000 contain representatives of the three main Southeast Asian clades (Fig. 2a). Interestingly, no SEA-3 strains were detected after 2010 and only one SEA-2 lineage was found in 2011 in Yunnan, even though the surveillance efforts covered the same geographical area throughout the entire sampling period (2008–2012) [12]. Conditioning on the representativeness of our sampling for the Yunnan RABV epidemic, this indicates that the YN-B and YN-C strains were unable to maintain sustained transmission chains. This can either be a stochastic variation or represent differences in adaptation to the epidemiological environment in Yunnan, which might enable SEA-1 to outcompete the SEA-2 and SEA-3 strains. The consensus amino acids of two antibody-binding sites that have been positively selected in the SEA-3 clade differ from those in SEA-1 lineages, which is consistent with the hypothesis that the apparent lineage displacement of SEA-3 by SEA-1 lineages is linked to differences in "pre-adaptation" [17] to the Yunnan epidemiological environment. The AA consensus residues at the antibody-binding sites are shared between SEA-1 and SEA-2 strains, which means that fitness differences linked to immunogenic properties cannot explain the apparent SEA-2 lineage displacement. Thus, a mixture of neutral lineage dynamics (the disappearance of SEA-2) and selection (the disappearance of SEA-3) may have been at play. More research is, however, needed to test and validate the hypothesis of a relationship between lineage displacement and fitness differences. For example, the SEA-2 and SEA-3 clades harbor the same consensus residue difference with respect to the SEA-1 strains at positions 42 and 397, but there is no information about the potential impact of this on the virus's replicative fitness. Finally, this evaluation is limited to the N gene, and cannot detect an impact of AA substitutions in other genes.
The lineage migration analyses revealed that there is no well-supported RABV migration from China to other countries other than migration via Yunnan. Complementary to its role as a funnel for RABV migration from north and south China to southeast Asia, Yunnan also acts as a sink region for domestic RABVs. Previous work has associated RABV dissemination with patterns of animal trade and dog relocation [18–21]. However, our results also show that a completely effective screening at best would have prevented only 1 strain from starting a chain of infections every two years (Additional file 1: Figure S3). Even though these estimates represent a lower boundary, the large number of screenings required to detect a positive case indicates that alternative intervention efforts based on early detection and large-scale preventive vaccination campaigns likely are more effective in containing RABV spread.
Import of RABV into south China from southeast Asia was the only well-supported immigration link into China. The temporal dynamics of the YN-B lineage however, indicates that the sample of the SEA-3 genetic diversity in GenBank likely is incomplete. This, together with the frequent clustering of the YN-B clade as an outgroup to the other SEA-3 strains (Figure 2a and c), likely accounts for the failure of the phylogeographic analysis to detect a well-supported link for RABV import into China from SEA via Yunnan. It also follows that the high ratio of expected within-country movements versus international movements (Table 1), represents an upper limit. Nevertheless, it is clear that in China within-country circulation accounts for more infections than virus importation.
Conclusion
This work provides new insights into the spatial diffusion patterns of RABV across large-scale regions in Asia. The main limitation of this work is the lack of a genome-wide perspective on RABV evolution, which is a consequence of the lack of large numbers of publicly available RABV sequence information for genes other than the N gene. However, as recombination in RABV is rare, our N-gene based results may be representative of the whole genome, similar to that seen for hepatitis C viruses [22].
Abbreviations
BSSVS:

Bayesian stochastic search variable selection
FEL:

Fixed-effect likelihood
HPD:

Highest posterior density
LRT:

Likelihood ratio test
RABV:

Rabies viruses
Declarations
Acknowledgements
We thank the hundreds of Yunnan Institute of Endemic Diseases Control and Prevention staff and local health workers in Yunnan Province who collected data during 2008–2012. H.T is supported by the National Natural Science Foundation of China (81673234), the Fundamental Research Funds for the Central Universities, and the National Key Research and Development Program of China (2016YFA0600104). B.V. is supported by the Bijzonder Onderzoeksfonds KU Leuven (BOF) (No. OT/14/115). S.D. is supported by the Fonds Wetenschappelijk Onderzoek (FWO, Flanders, Belgium).
Funding
Funding for this study was provided by the National Natural Science Foundation of China (81673234), the Bijzonder Onderzoeksfonds KU Leuven (BOF) (No. OT/14/115), the VIROGENESIS project (receiving funding from the European Union's Horizon 2020 research and innovation program under grant agreement No 634650), the Fundamental Research Funds for the Central Universities, and the National Key Research and Development Program of China (2016YFA0600104). SD is a post-doctoral research fellow funded by the Fonds Wetenschappelijk Onderzoek (FWO, Flanders, Belgium).
Availability of data and materials
All data analyzed for the purposes of this manuscript are included in this article.
Authors' contributions
HT, SD, and BV performed analyses, YZ, YF, QY, WY, YZ, LD, and HZ conducted surveillance. YZ, YF, WY, YZ, and HZ conducted sequencing. HT, SD, BV, and OP wrote the manuscript. HT and HZ conceived the study. All authors read and approved the final manuscript.
Competing interest
The authors declare that they have no competing interests.
Consent for publication
Not applicable.
Ethics approval and consent to participate
Not applicable.
Publisher's Note
Springer Nature remains neutral with regard to jurisdictional claims in published maps and institutional affiliations.
Open AccessThis article is distributed under the terms of the Creative Commons Attribution 4.0 International License (http://creativecommons.org/licenses/by/4.0/), which permits unrestricted use, distribution, and reproduction in any medium, provided you give appropriate credit to the original author(s) and the source, provide a link to the Creative Commons license, and indicate if changes were made. The Creative Commons Public Domain Dedication waiver (http://creativecommons.org/publicdomain/zero/1.0/) applies to the data made available in this article, unless otherwise stated.
Authors' Affiliations
(1)
Yunnan Institute of Endemic Diseases Control and Prevention, Yunnan Provincial Key Laboratory for Zoonosis Control and Prevention, Dali, China
(2)
Department of Microbiology and Immunology, Division of Clinical and Epidemiological Virology, Rega Institute, KU Leuven - University of Leuven, Leuven, Belgium
(3)
State Key Laboratory of Remote Sensing Science, College of Global Change and Earth System Science, Beijing Normal University, Beijing, China
(4)
Ministry of Education Key Laboratory for Biodiversity and Ecological Engineering, College of Life Sciences, Beijing Normal University, Beijing, China
(5)
Department of Zoology, University of Oxford, Oxford, UK