Oncolytic parvoviruses: from basic virology to clinical applications
Received: 4 August 2014
Accepted: 3 December 2014
Published: 29 January 2015
Abstract
Accumulated evidence gathered over recent decades demonstrated that some members of the Parvoviridae family, in particular the rodent protoparvoviruses H-1PV, the minute virus of mice and LuIII have natural anticancer activity while being nonpathogenic to humans. These studies have laid the foundations for the launch of a first phase I/IIa clinical trial, in which the rat H-1 parvovirus is presently undergoing evaluation for its safety and first signs of efficacy in patients with glioblastoma multiforme. After a brief overview of the biology of parvoviruses, this review focuses on the studies which unraveled the antineoplastic properties of these agents and supported their clinical use as anticancer therapeutics. Furthermore, the development of novel parvovirus-based anticancer strategies with enhanced specificity and efficacy is discussed, in particular the development of second and third generation vectors and the combination of parvoviruses with other anticancer agents. Lastly, we address the key challenges that remain towards a more rational and efficient use of oncolytic parvoviruses in clinical settings, and discuss how a better understanding of the virus life-cycle and of the cellular factors involved in virus infection, replication and cytotoxicity may promote the further development of parvovirus-based anticancer therapies, open new prospects for treatment and hopefully improve clinical outcome.
Keywords
Oncolytic parvovirusesParvovirus-based cancer virotherapyParvovirus-based oncolytic vectorsParvovirus-based combination therapy Rodent protoparvovirus Glioblastoma multiformeOncolytic virotherapy clinical trial
Background
The idea to use viruses as tools for cancer therapy arose as early as at the turn of the 20th century, when it was reported that leukemia patients who contracted influenza went into clinical remission. Although anecdotal, these observations prompted intensive investigation of treatment strategies based on viruses with inherent anticancer activity, leading to the launch of the first clinical trials in the 1950s and 60s. Despite early promise, concerns regarding safety and a lack of efficacy caused a diminishment in oncolytic virotherapy research during the years that followed. However, with dramatic advances in our understanding of molecular biology and virology and the advent of genetic engineering, the last two decades have brought with them a resurgence of interest in the field (for a review on the history of oncolytic virotherapy see [
1
]). Virotherapeutics can be subdivided into two groups: (i) replication-deficient virus vectors, which are used to deliver therapeutic genes to the target tumor, and (ii) replication-competent oncolytic viruses (OVs). The latter possess the ability to selectively infect, replicate in and destroy tumor cells, while sparing their normal counterparts. In addition to their direct oncolytic effect, OVs induce antitumor immune responses. Importantly, the balance between antitumor and antiviral immune reactions plays a major role in the efficiency of OV-mediated tumor suppression. Figure
1
summarizes major advantages and limitations of oncolytic virotherapy. For a general introduction to the field we redirect the readers to these excellent recent reviews [
2
,
3
]. As a result of their oncosuppressive abilities demonstrated in numerous preclinical models, no fewer than twelve OVs are currently being evaluated in clinical trials against a number of different cancers. In particular, a modified herpes simplex virus (HSV) (OncoVEX GM-CSF) [
4
] and reovirus (Reosyn, Reolysin) [
5
] have reached phase III clinical trials against recurrent melanoma and head and neck cancer, respectively, and a recombinant vaccinia virus (JX-594, Pexa-Vec) is currently undergoing evaluation in a randomized phase IIb clinical study against recurrent hepatocellular carcinoma [
6
]. Results are very promising and there is a justified optimism that these agents may be approved by the regulatory agencies in the near future and become real therapeutic options for cancer patients with these diseases. Among OVs, the Rodent protoparvovirus 1 (RoPV) species within the
Parvoviridae
family deserves special consideration for its promising anticancer properties. The RoPV viruses exert striking oncosuppressive effects in various preclinical tumor models, are able to kill tumor cells which resist conventional treatments, and have not been associated with disease in humans, laying the basis for the launch of the first phase I/IIa clinical trial using the rat oncolytic H-1 parvovirus (H-1PV).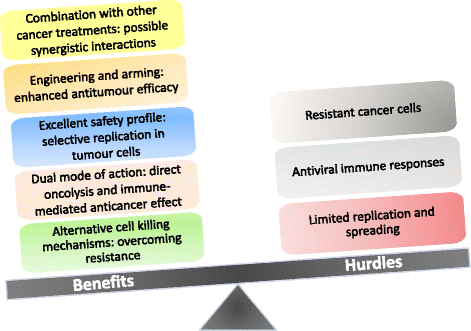 Conclusions
Oncolytic virotherapy of cancer has emerged as a promising alternative to toxic chemotherapy regimens. Among a dozen oncolytic viruses presently tested at the clinical level, rodent parvoviruses (and the H-1 parvovirus in particular) attract considerable attention, due to their remarkable natural oncoselectivity and lack of pathogenicity for humans. In the last two decades, an impressive amount of preclinical data has been accumulated, showing that H-1PV possesses both oncolytic and immunostimulating properties. These give the virus a significant cancer therapeutic potential, either alone or in combination with other agents (e.g. histone deacetylase inhibitors), as revealed in several tumor models. Cancers targeted by RoPVs include glioblastoma multiforme, the most common and aggressive primary brain tumor in humans. The first phase I/IIa clinical trial using an oncolytic parvovirus (H-1PV) was launched in 2011 for patients with recurrent GBM. We trust that this ongoing clinical study will pave the way for subsequent efficacy trials, and prompt the development of next-generation parvovirus-based anticancer therapeutics.
Abbreviations
OVs:

Oncolytic viruses
HSV:

Herpes simplex virus
RoPV:

Rodent protoparvovirus
KRV:

Kilham Rat Virus
MPV:

Mouse Parvoviruses
MVM:

Minute Viruses of Mice
PKC:

Protein kinase C
CRM:

Chromosome region maintenance
SAT:

Small alternatively translated
ER:

Endoplasmic reticulum
MHC:

Major histocompatibility complex
PLA2:

Phospholipase A2
NPC:

Nuclear pore complex
NLS:

Nuclear localization signals
CDK-1:

Cyclin-dependent kinase-1
APAR:

Autonomous parvovirus-associated replication
RPA:

Replication protein A
PCNA:

Proliferating cell nuclear antigen
DDR:

DNA damage response
ATM:

Ataxia telangiectasia mutated
CKI:

Cyclin kinase inhibitor
ROS:

Reactive oxygen species
IFN:

Interferon
DAMPs:

Danger-associated molecular patterns
PAMPs:

Pathogen-associated molecular patterns
NK:

Natural killer
VSV:

Vesicular stomatitis virus
GBM:

Glioblastoma multiforme
MOI:

Multiplicity of infection
EBV:

Epstein-Barr virus
SCID:

Severe combined immunodeficient
DLBCL:

Diffuse large B cell lymphoma
T-ALL:

T cell acute lymphoblastic leukemia
HMGB1:

High-mobility group box protein 1
PDAC:

Pancreatic ductal adenocarcinoma
HDAC:

Histone deacetylase
VPA:

Valproic acid
GMP:

Good Manufacturing Practice
Declarations
Acknowledgements
We thank Michael Dahm, Ottheinz Krebs and Bernard Huber who participated in fruitful scientific discussions. We gratefully acknowledge Jutta Jung for graphics. This work was in part supported by Oryx GmbH, and by grants from the Federal Ministry of Education and Research (BMBF), the Helmholz Association in the framework of the Deutsches Krebsforschungszentrum/Cancéropôle du Grand‐Est Joint Programme in Applied Tumour Virology, and the Deutsche Krebshilfe (grant No. 109826) to AM and JR.
Authors' Affiliations
(1)
Infection and Cancer Program, Tumor Virology Division (F010), German Cancer Research Center (DKFZ), Heidelberg, Germany
Copyright
© Marchini et al.; licensee BioMed Central. 2015
This is an Open Access article distributed under the terms of the Creative Commons Attribution License (http://creativecommons.org/licenses/by/4.0), which permits unrestricted use, distribution, and reproduction in any medium, provided the original work is properly credited. The Creative Commons Public Domain Dedication waiver (http://creativecommons.org/publicdomain/zero/1.0/) applies to the data made available in this article, unless otherwise stated.