Evidence for a novel gene associated with human influenza A viruses
Virology Journal
2009
6:198
Received: 15 October 2009
Accepted: 16 November 2009
Published: 16 November 2009
Abstract
Background
Influenza A virus genomes are comprised of 8 negative strand single-stranded RNA segments and are thought to encode 11 proteins, which are all translated from mRNAs complementary to the genomic strands. Although human, swine and avian influenza A viruses are very similar, cross-species infections are usually limited. However, antigenic differences are considerable and when viruses become established in a different host or if novel viruses are created by re-assortment devastating pandemics may arise.
Results
Examination of influenza A virus genomes from the early 20th Century revealed the association of a 167 codon ORF encoded by the genomic strand of segment 8 with human isolates. Close to the timing of the 1948 pseudopandemic, a mutation occurred that resulted in the extension of this ORF to 216 codons. Since 1948, this ORF has been almost totally maintained in human influenza A viruses suggesting a selectable biological function. The discovery of cytotoxic T cells responding to an epitope encoded by this ORF suggests that it is translated into protein. Evidence of several other non-traditionally translated polypeptides in influenza A virus support the translation of this genomic strand ORF. The gene product is predicted to have a signal sequence and two transmembrane domains.
Conclusion
We hypothesize that the genomic strand of segment 8 of encodes a novel influenza A virus protein. The persistence and conservation of this genomic strand ORF for almost a century in human influenza A viruses provides strong evidence that it is translated into a polypeptide that enhances viral fitness in the human host. This has important consequences for the interpretation of experiments that utilize mutations in the NS1 and NEP genes of segment 8 and also for the consideration of events that may alter the spread and/or pathogenesis of swine and avian influenza A viruses in the human population.
Keywords
InfluenzaAvian InfluenzaInternal Ribosome Entry SiteSwine InfluenzaHuman Influenza
Background
Influenza A viruses have had, and continue to have, an extremely significant deleterious impact on human health [1, 2]. In spite of huge research efforts, the development/deployment of vaccines and more recently anti-viral drugs [3–6], the regular occurrence of global pandemics and yearly epidemics generate levels of morbidity and mortality that unfortunately keep this virus among the "top" human pathogens[7]. However, this research effort has greatly expanded our understanding of influenza transmission [8–10], evolution [11] and pathogenesis [12–14].
Over the years, a large and valuable collection of influenza A virus genomic sequences has been acquired at NCBI [15] and BioHealthBase [16]. It has been mined extensively to correlate pathogenicity with RNA and encoded protein sequences, revealing much about the processes of antigenic shift and drift, the effect of which is that currently circulating influenza A virus may escape, to a greater or lesser degree, the protective effect of our immune system primed against a previous influenza A infection or vaccination. More recently, the application of new technologies to the problem has lead to determination of the genomic sequence of the infamous 1918 influenza A strain [17–19] and its subsequent reconstruction into a viable virus. However, the precise origin of the 1918 pandemic virus is still not clear, nor why it was so virulent.
Our current understanding of the influenza A virus is that it has a segmented (8 pieces) negative sense single-stranded RNA genome, which encodes 11 proteins[20]. Each genome segment is transcribed to produce a single capped mRNA species, which in the case of segments 7 and 8 also undergoes splicing so that each encodes 2 proteins, M1/M2 and NS1/NEP respectively[21]. The segment encoding PB1, a polymerase subunit, also generates an additional protein, PB1-F2, that is not translated from the first AUG of the mRNA, rather the PB1-F2 peptide is produced as a result of translation initiating at an alternate start codon in a different reading-frame to that used for PB1 [22]. The PB1-F2 peptide is present in most, but not all, influenza A virus isolates [23] and is an important virulence factor [22, 24–26]; presumably it has evolved secondarily to the PB1 polymerase gene. However, influenza virulence is not tied to one or a few genes, there are multiple lines of evidence that most if not all of the influenza A proteins contribute to the pathogenicity of the virus in humans [18, 27, 28].
In this paper we provide multiple lines of evidence to support the hypothesis that a large Open Reading Frame (ORF), present on the negative, genomic, strand of influenza A virus segment 8 encodes a protein that provides a selective advantage to viruses that infect humans. As a result of the evolutionary selective process, almost every human influenza A virus isolated in the last 50 years possesses this ORF, excluding those that have recently been acquired from avian or swine hosts. Although we are not the first to observe this ORF, it has been rarely been commented upon by others. It was observed when segment 8 was first sequenced [29] and more recently, the ubiquity of this ORF was briefly noted after we began this work [30].
Discussion
Our hypothesis proposing that a novel gene is encoded by the genomic sense strand of the human influenza A virus segment 8 RNA has a number of significant implications. The first and perhaps simplest consequence is that this genome segment would be ambi-sense, a unique feature in the Orthomyxoviruses. Second, if the maintenance of the 216 codon NEG8 ORF in essentially all human influenza A viruses is because it is translated into a polypeptide that confers a selectable advantage upon the virus, then the conclusions derived from many of the published experiments that used deletion and site-specific mutations to investigate the role of the NS1 and NEP proteins on the replication and virulence of human influenza A viruses would need to be re-evaluated because many of these engineered mutations also interfere with the integrity of the NEG8 ORF [55–59]. The third important implication relates to the fact that this NEG8 ORF is almost universally linked to human influenza A viruses and the associated consequences of its introduction into an avian or swine influenza A virus through co-infection and re-assortment. The 1957 (H2N2) and 1968 (H3N2) human influenza A pandemics arose from antigenic shift events following the introduction of NA and/or HA gene segments into the human influenza A virus circulating at the time [1, 32, 60] with no exchange of genome segment 8; the same segment 8 genotype has circulated in the human population since, at least, the 1918 pandemic and is therefore presumably well-adapted to provide viral fitness when the virus is replicating in humans. Currently, there are 2 zoonotic influenza A viruses, avian-derived H5N1 and swine-derived H1N1, that are potential pandemic viruses and one must consider the effect of the introduction of a human segment 8 into one of these viruses. The avian-derived H5N1 virus is highly pathogenic but transmits to and among humans poorly [14], where as the swine-origin H1N1 virus appears to be far less pathogenic but transmits easily among humans [61]. Since the 167 and 216 codon ORFs are absent from both the H5N1 avian influenza viruses and the new swine-derived H1N1 viruses, the introduction of this NEG8 ORF into either of these viruses by reassortment with a human influenza A virus or by mutation could have very dire consequences. If the highly pathogenic H5N1 avian virus acquired a human influenza A virus genome segment 8 with the 216 codon NEG8 ORF, it might become more easily transmitted among humans; alternatively, if the swine-derived H1N1 virus acquires human influenza A virus genome segment 8 from a currently circulating human H1N1 or H3N2 virus then the novel virus might have increased virulence associated with the NS1 virulence factor [12, 62] or the 216 codon NEG8 ORF. Both of these scenarios potentially have enormous consequences for human health, in part because of the lack of previous exposure of humans to these strains by natural infection or vaccination.
However, the latter appears more likely because both of these H1N1 virus types are apparently now replicating efficiently in humans. Analysis of the sequence of the swine-derived H1N1 genome segment 8 revealed that it contains the same initiating ATG as the human NEG8 ORF and only requires the removal of 2 stop codons, each by a single nucleotide change, to generate the 216 codon NEG8 ORF (Figure
4
). Only 1 nucleotide change is required to produce the 167 codon variant of the NEG8 ORF. The product of a swine-derived H1N1 NEG8 ORF constructed in this way would share 71% amino acid identity with the current human NEG8 protein over the 216 aa.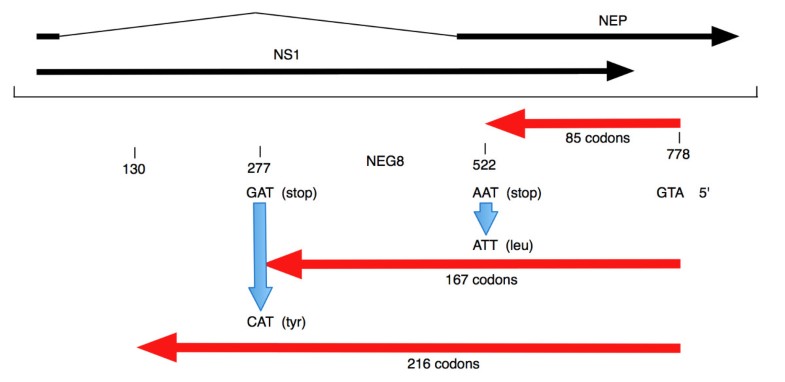 The rather sudden and total replacement of the 167 codon NEG8 ORF by the 216 codon NEG8 ORF after 1947 is especially intriguing. It is interesting to note that a human influenza A virus H1N1 pseudopandemic (low death rates) also occurred in 1947 [63]. This has been attributed to a significant, but non-shift, antigenic change in HA and NA proteins [64]. However, due to a lack of genomic sequence information, it is impossible to determine whether the coincident change to the 216 codon ORF was involved in creating a virus capable of spreading world-wide or whether the pseudopandemic merely coincided with the genetic change and had the effect of seeding that virus type throughout the world. However, the maintenance of the 216 codon NEG8 ORF over many years appears to be a very different matter; very few human non-216 codon ORFs have been isolated and none have persisted, whereas there are multiple examples of the appearance of stop codons in this reading frame for the avian viruses. It is also notable that human-specific selection on amino acid sequence has been observed in the influenza A virus M protein [65].
Since there is no recognized mechanism for the translation of ORFs encoded on the genomic strands of influenza viruses, an obvious question is "how could a NEG8 protein be produced?". The answer is that there are already a number of examples in the literature describing the detection of CTL epitopes from non-traditionally derived proteins (reviewed in [66]), which are produced at low levels. Interestingly, in addition to PB1-F2, the production an additional influenza A peptide (N40, a fragmented version of PB1 protein) has been recently demonstrated[67]. Mechanisms for generation of rare proteins include ribosomal frameshifting (e.g. from the influenza NP gene [68]), non-AUG initiation of translation (e.g. from the influenza HA gene [69]), initiation codon scanthrough (e.g. from the influenza NP gene [70]) and internal initiation of translation (e.g. Hepatitis C virus F protein [71]). Clearly, some of these mechanisms (those that utilize a normal viral mRNA) are not appropriate for translation of an ORF from an influenza A virus genomic RNA, however, these data reinforce the fact that molecular processes are not perfect and that errors in transcriptional and translational events are likely to lead to the production of small amounts of such non-traditional polypeptides, which in turn provide targets for evolutionary forces and may lead to the eventual evolution of novel genes such as PB1-F2 [36] and NEG8. Another mechanism, present in some viruses, is the use of Internal Ribosome Entry Sites (IRES), which are complex structural features present in mRNAs [72, 73] that provide a mechanism for initiation of translation independent of a 5'-CAP; although no such structure is obvious in the 5' end of the genomic RNA of segment 8, the presence of IRES elements are very difficult to predict computationally [74] since they are extremely variable in sequence [75–78].
Normal influenza A virus mRNAs, but not genomic RNAs, are poly-adenylated by stuttering of the polymerase, which is a process integrated with of mRNA transcription[79]. Although polyadenylation stimulates mRNA translation, it is not absolutely required[80]. Therefore the high levels of influenza A virus genomic RNA in infected cells, could be sufficient to allow some translation of the NEG8 ORF even if the RNA is not poly-adenylated.
Finally, although this 216 codon NEG8 ORF is very tightly associated with human influenza A virus infections and may have been a factor in the 1947 pseudopandemic, its role in viral pathogenesis may be very difficult to unravel. First, the NEG8 ORF overlaps with NS1 and NEP genes on segment 8, which makes it a difficult target for deletion and mutagenesis studies, and second, because the NEG8 ORF is not absolutely essential for replication of human influenza A virus in either its 167 or 216 codon form (PB1-F2 and N40 are also not essential) nor present in most animal and avian influenza A viruses, it may be very difficult to correlate an observable phenotype with its presence using animal models.
Conclusion
There is an unusually long (648 nt) ORF on the genomic (negative) strand of segment 8 of current human influenza A viruses. The very high degree of conservation of this ORF and the detection of a CTL response to a peptide fragment of the predicted protein suggests the ORF is expressed. The predominant association of this ORF with human influenza A viruses indicates that an expressed protein may only be an advantage to influenza viruses replicating in humans; this could have very significant implications if the swine H1N1 influenza A virus, which is currently causing a human pandemic mutated to acquire this novel ORF.
Methods
Sources of influenza A virus sequences
Human influenza A virus genome sequences were selected and collected from the Influenza Virus Resource at NCBI [81]. Avian influenza A viruses of a single segment 8 genotype were selected using FluGenome, a web tool for genotyping influenza virus [82]. Segment 8 sequences from all genomes were used (>2000), with the exception of 1) duplicates, 2) those with severe truncations and 3) those with frameshift errors (in NS1 or NS2 genes) that were assumed to be sequencing mistakes. Duplicate and truncated sequences (<5%) were avoided using NCBI selection parameters. A local script was used for translating the longest ORF on the genome strand.
Bioinformatics software
MUSCLE was used for generating multiple sequence alignments [83], which were viewed and edited using the Java program Base-By-Base [84] via the Viral Bioinformatics Resource Center [85]. The ORF Finder software at the National Center for Biotechnology Information (USA) was used to visualize the length of the NEG8 ORF.
SignalP v3.0 (SignalP-NN and SignalP-HMM) [48, 49], Phobius [50], SPOCTOPUS [51], TOPCONS [52], TMHMM [53] and SIGNAL-BLAST [54] were used to predict signal peptide and transmembrane domains in NEG8.
Declarations
Acknowledgements
We would like to thank the many programmers who have contributed to the software provided by the Viral Bioinformatics Resource Center and colleagues for helpful discussions. This work was supported by a Natural Sciences Engineering Research Council Discovery Grant of Canada and NIAID grant HHSN266200400036C.
Authors' Affiliations
(1)
Department of Biochemistry and Microbiology, University of Victoria, Victoria, Canada
Copyright
© Clifford et al; licensee BioMed Central Ltd. 2009
This article is published under license to BioMed Central Ltd. This is an Open Access article distributed under the terms of the Creative Commons Attribution License (http://creativecommons.org/licenses/by/2.0), which permits unrestricted use, distribution, and reproduction in any medium, provided the original work is properly cited.