Role of viral and host factors in interferon based therapy of hepatitis C virus infection
Virology Journal
2013
10:299
Received: 4 March 2013
Accepted: 24 September 2013
Published: 1 October 2013
Abstract
The current standard of care (SOC) for hepatitis C virus (HCV) infection is the combination of pegylated interferon (PEG-IFN), Ribavirin and protease inhibitor for HCV genotype 1. Nevertheless, this treatment is successful only in 70-80% of the patients. In addition, the treatment is not economical and is of immense physical burden for the subject. It has been established now, that virus-host interactions play a significant role in determining treatment outcomes. Therefore identifying biological markers that may predict the treatment response and hence treatment outcome would be useful. Both IFN and Ribavirin mainly act by modulating the immune system of the patient. Therefore, the treatment response is influenced by genetic variations of the human as well as the HCV genome. The goal of this review article is to summarize the impact of recent scientific advances in this area regarding the understanding of human and HCV genetic variations and their effect on treatment outcomes. Google scholar and PubMed have been used for literature research. Among the host factors, the most prominent associations are polymorphisms within the region of the interleukin 28B (IL28B) gene, but variations in other cytokine genes have also been linked with the treatment outcome. Among the viral factors, HCV genotypes are noteworthy. Moreover, for sustained virological responses (SVR), variations in core, p7, non-structural 2 (NS2), NS3 and NS5A genes are also important. However, all considered single nucleotide polymorphisms (SNPs) of IL28B and viral genotypes are the most important predictors for interferon based therapy of HCV infection.
Keywords
Hepatitis CAntiviralInterferonHost factorsSingle nucleotide polymorphismResponders
Introduction
HCV infects about 200 million people worldwide [1]. Approximately 20–30% of patients naturally clear the virus. About 70–80% acute HCV infections become chronic which leads to the development of cirrhosis in 20% of cases while the same percentage of those patients becomes a victim of hepatocellular carcinoma. Acute hepatitis C occurs during the first six months of HCV infection [2]. Approximately 70-80% of acute hepatitis C cases are without symptoms and hence difficult to diagnose. The remaining 20%-30% of cases are associated with symptoms such as pain in joints and muscles, pain in the right upper quadrant, poor appetite, nausea, vomiting, and fever. The case of acute hepatitis C infection is converted into a chronic disease, if the individual is not capable of clearing the virus within few months of infection [3]. Being the member of the Flaviviridae family of viruses, HCV is a single stranded RNA virus. Its size is 55 – 65 nm [2]. In 1989 it was realized that HCV is the cause of most transfusion-associated non-A and non-B hepatitis infections. There are about eleven different genotypes of HCV with various subtypes and strains [3]. The virus encodes a poly-protein of 3010 amino acids which is processed to generate four structural (Core, E1, E2 and P7) and six non-structural (NS2, NS3, NS4A, NS4B, NS5A, NS5B) proteins [4]. Recently, great efforts have been made to develop interferon free therapy against HCV infection but interferon is still accepted as a part of standard therapy [5]. Therefore, it would be very helpful for clinical practitioners and researchers to get information about viral and host factors that influence interferon treatment of HCV infection.
Interferon and its signaling pathway
About 50 years ago, IFN was discovered by Isaacs and Lindenmann [
6
]. Currently, there are about 10 mammalian IFN species with many subspecies. IFN possesses antiviral activity and is categorized into three groups [
7
]. Type I IFNs include IFN-α, IFN-β, IFN-ϵ, IFN-κ, IFN-ω and IFN-ν. All these interferons interact with the interferon alpha/beta receptor (IFNAR) [
8
,
9
].Type II IFN involves only IFN-γ which interacts with a discrete receptor, the interferon gamma receptor (IFNGR) [
10
]. IFN-λ1, IFN-λ2 and IFN-λ3 are grouped in type III IFNs. These interferons are also known as IL29, IL28A and IL28B respectively. Type III IFNs, signal through IFN-λ receptor which possesses an IL-10R2 chain shared with the IL-10 receptor, and an exceptional IFN-λ chain [
11
]. IFNAR is the receptor for type I IFNs. It possesses two major subunits: IFNAR1, which bind styrosine kinase 2 (TYK2) [
12
], and IFNAR2c which binds Janus kinase 1 (JAK1) [
9
]. Both TYK2 and JAK1 are members of the Jak family. After binding the receptor chains, TYK2 and JAK1 are stimulated and transactivated leading to the initiation of phosphorylation cascades involving all the members of the signaling pathway and also the activators of transcription such as signal transducer and activator of transcription STAT1, STAT2 and STAT3. STAT1, STAT2 and STAT3 are stimulated by type I IFNs in most of cells. STAT1 and STAT2 in combination with another transcription factor, interferon regulatory factor 9 (IRF9), form interferon stimulated gene factor 3 (ISGF3) which binds to the promoter region of interferon stimulated genes (ISGs) as shown in Figure
1
. The ISGs are a set of genes used for antiviral protection. Microarray analysis of human and murine cells treated with interferons revealed that there are more than 300 ISGs [
13
]. Most important of these proteins are the double-stranded RNA-dependent kinase "protein kinase RNA-regulated" (PRKR), the 2′–5′ oligoadenylate synthetases and the Mx proteins. These proteins are known to impede the growth of certain viruses. However, if these genes are knocked out from cells, they still retain their antiviral activities as there are many of other genes stimulated by interferon possessing antiviral activities [
14
]. Alternatively, STAT1 and STAT3 form homodimers or heterodimers which bind gamma activated sequence (GAS) elements. After binding, STAT proteins activate these genes to generate an antiviral state [
15
]. Receptors and pathways involved in type III IFNs signaling diverge from those mediating type I IFNs signals. IFN-λ1-3 signal through the JAK/STAT signaling pathway using the IL28-R/IL-10R receptor complex that is mainly expressed on hepatocytes and epithelial cells [
16
] as opposed to IFNAR that are broadly expressed.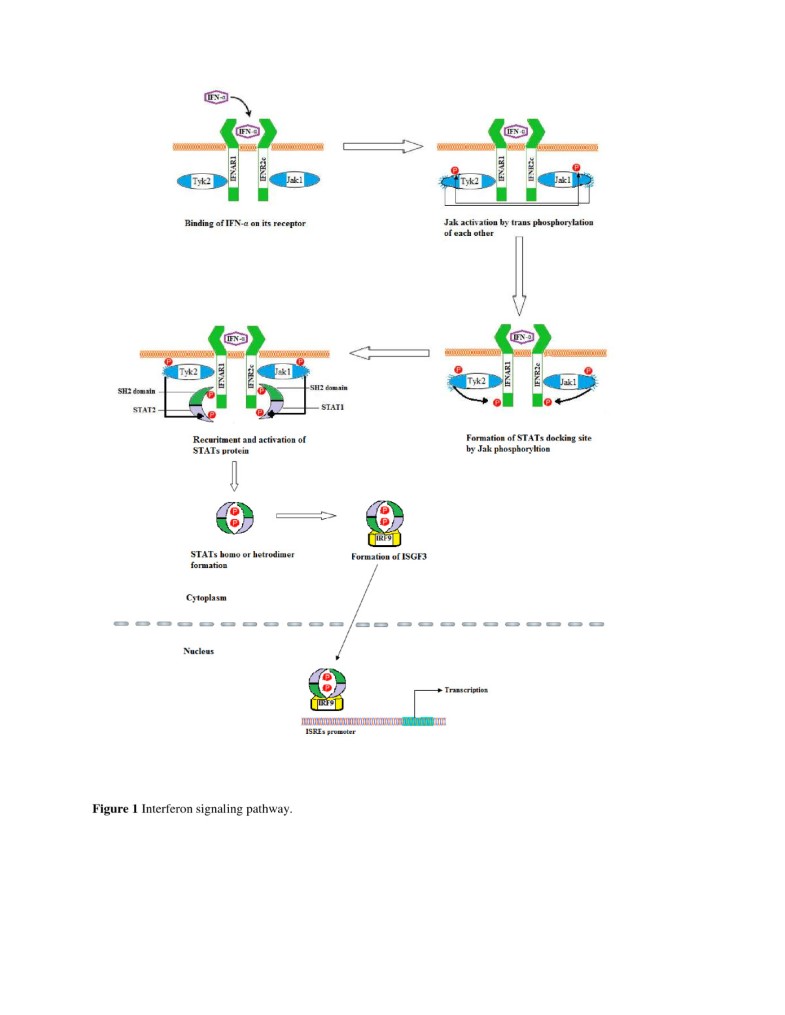 Ribavirin
Ribavirin (1-b-D-ribofuranosyl-1, 2, 4-triazole-3-carboxamide) inhibits HCV replication. It is a synthetic guanosine nucleoside analogue that inhibits inosine monophosphate dehydrogenase leading to the depletion of the guanosine pool [17]. It is also incorporated into the viral genome and induces error catastrophe by the HCV non-structural-5B (NS5B) polymerase [18]. In addition to these functions, it is thought to have immune-modulatory functions. It regulates macrophages, T helper cells and Th1/Th2 produced cytokines, enhances the expression of interferon stimulated genes (ISG) and also IFN-α and MxA expression.
Protease inhibitors
Two important NS3 protease inhibitors are Boceprevir and Telaprevir. Boceprevir inhibits NS3 by acting as a non-covalent inhibitor. It inhibits CYP3A4 and acts also as a mild inhibitor of P-glycoprotein. Therefore, the plasma levels of the drugs that are metabolized by CYP3A4 and P-glycoprotein are also increased when given along Boceprevir [19].
Role of viral factors in determining the response to interferon therapy
Conclusion
Interferon responsiveness is still a main clinical problem in the treatment of HCV. The precise prediction which patient will respond to this therapy is very important, both from the point of the patient care and of the costs. There are both host and viral factors which can significantly predict the probable treatment outcome of HCV patients. HCV genotype other than 1 is the most important predictor of SVR. A number of host factors including SNPs of interferons IL28A, IL28B, IL29, interferon-γ, MBL, IL -10, IL-18, CTLA4, TRAIL, TGF-β, MX1, Osteopontin, LMP7, OAS1 genes, insulin resistance, obesity and ethnicity, have been found to modulate the treatment response. There is still a struggle for discovering new direct-acting inhibitors of HCV that will be used in combination with interferon or without the application of interferon, so further future studies of factors that may predict the treatment outcome of combinational therapies are required.
Authors contributions
MI and SM conceived the study and participated in its design. MI searched the literature and drafted the manuscript. SM critically reviewed the manuscript. SM and JA edited the manuscript. JA, MK, MT, HMK, SA helped MI in literature review. SM submitted the review article; she is the PhD supervisor of MI. All the authors read and approved the final manuscript.
Declarations
Acknowledgements
We are thankful to Higher Education Commission of Pakistan and National University of Sciences and Technology (NUST), Islamabad 44000, Pakistan for providing financial support. We are highly thankful to Prof Dr. Fritz Markwardt (Julius-Bernstein-Institute for Physiology, Martin-Luther-University Halle-Wittenberg, Germany) for critically reviewing and finalizing the manuscript.
Authors' Affiliations
(1)
Atta-ur-Rahman School of Applied Biosciences, National University of Sciences and Technology (NUST), Islamabad, Pakistan
(2)
Islam Dental College Sialkot, Sialkot, Pakistan
Copyright
© Imran et al.; licensee BioMed Central Ltd. 2013
This article is published under license to BioMed Central Ltd. This is an Open Access article distributed under the terms of the Creative Commons Attribution License (http://creativecommons.org/licenses/by/2.0), which permits unrestricted use, distribution, and reproduction in any medium, provided the original work is properly cited.