The modulation of apoptosis by oncogenic viruses
Virology Journal
2013
10:182
Received: 10 January 2013
Accepted: 27 May 2013
Published: 6 June 2013
Abstract
Transforming viruses can change a normal cell into a cancer cell during their normal life cycle. Persistent infections with these viruses have been recognized to cause some types of cancer. These viruses have been implicated in the modulation of various biological processes, such as proliferation, differentiation and apoptosis. The study of infections caused by oncogenic viruses had helped in our understanding of several mechanisms that regulate cell growth, as well as the molecular alterations leading to cancer. Therefore, transforming viruses provide models of study that have enabled the advances in cancer research. Viruses with transforming abilities, include different members of the Human Papillomavirus (HPV) family, Hepatitis C virus (HCV), Human T-cell Leukemia virus (HTLV-1), Epstein Barr virus (EBV) and Kaposi's Sarcoma Herpesvirus (KSHV).
Apoptosis, or programmed cell death, is a tightly regulated process that plays an important role in development and homeostasis. Additionally, it functions as an antiviral defense mechanism. The deregulation of apoptosis has been implicated in the etiology of diverse diseases, including cancer. Oncogenic viruses employ different mechanisms to inhibit the apoptotic process, allowing the propagation of infected and damaged cells. During this process, some viral proteins are able to evade the immune system, while others can directly interact with the caspases involved in apoptotic signaling. In some instances, viral proteins can also promote apoptosis, which may be necessary for an accurate regulation of the initial stages of infection.
Keywords
ApoptosisVirusCancerOncogene
Introduction
Various factors are associated with the development of cancer, including persistent viral infections, which are responsible of 15 to 20% of all neoplastic processes [1].
Studies related to infectious diseases and cancer have contributed significantly to our knowledge of cancer pathogenesis. Several Nobel prizes have been awarded to the researchers in this field [2], including Johannes Andreas Grib Fibiger (1926), for Spiroptera carcinoma and its association with gastric tumors in rats; Peyton Rous (1966), for cancer-inducing viruses; David Baltimore, Renato Dulbecco and Howard M. Temin (1975), for the interaction between tumor viruses and the genetic material of the cell; Michael J. Bishop and Harold E. Varmus (1989), for the cellular origin of retroviral oncogenes; and Barry J. Marshall and Robin J. Warren (2005), for the bacterium Helicobacter pylori and its role in gastritis and peptic ulcer disease. In 2008 Harald zur Hausen shared the Nobel Prize award for his discovery of human papilloma viruses causing cervical cancer.
Other landmark studies have been of great relevance to the field. For example, in 1991, Harold zur Hausen proposed that a significant fraction of all human cancers worldwide, approximately 1 in 5, are associated with viral infections [3]. In 1910, Peyton Rous studied a cell-free transmissible oncogenic pathogen [4], and in 1932, Shope and Hurst demonstrated the oncogenic activity of a Papillomavirus in domestic rabbits [5]. In 1936, Bittner established the oncogenic role of mouse mammary virus [6], and in 1951, Gross confirmed the viral cause of murine leukemias [7]. In 1964, Epstein and collaborators showed the association of a virus with Burkitt lymphoma [8].
Many researchers have demonstrated the viral etiology of carcinomas of the uterine cervix. In 1974, Beral et al. proposed that cervical cancer was a sexually transmitted disease (STD) [9], and zur Hausen suggested that the Human Papillomavirus (HPV) was the putative oncovirus [10]. It is now indisputable that cervical cancer, penile cancer, some oropharyngeal cancers and other cancers of the anogenital tract are caused by certain strains of HPV. HPV vaccines have demonstrated effectiveness in reducing the incidence of cervical intraepithelial neoplasia [11], confirming the significant contributions of HPV to the development of cervical cancer.
During the same period, Vogel et al. presented preliminary data on the role of Hepatitis B virus (HBV) in liver cancer in Uganda [12], and in subsequent studies, a clear etiological link emerged between HBV and hepatocellular carcinoma [13]. This link was later extended to Hepatitis C virus (HCV) infections. In both cases, establish an association between the virus and tumor development has been complicated, by the long incubation period; the participation of chronic inflammation or cirrhosis in its pathogenesis; and the influence of cofactors, such as dietary and aflatoxins. The HBV vaccine, which was introduced in the last 15 years, has already demonstrated its potential for lowering the risk of hepatocellular carcinoma [14].
The effect of viral proteins in the modulation of cell proliferation and transformation has been widely studied [
15
,
16
], and it is now clear that oncogenic viruses may also interfere with the cellular control of apoptosis. Some oncogenic viruses have developed different mechanisms for evading apoptotic signals, mainly via the expression of viral oncogenes. During this process, the deregulation of the cell cycle and apoptotic pathways can lead to changes in the cell that eventually promote cancer development. Some of the mechanisms employed by oncogenic viruses to avoid apoptosis, thus promoting cell transformation, are provided in Table
1
[
17
–
28
].
Table 1
Human viruses related to cancer: viral proteins affecting apoptosis
Virus

Cancer type

Protein

Mechanism

Epstein Barr

Burkitt's lymphoma [17]

EBNA3C

Binds Rb and promotes cell cycle progression

Hodgkin's lymphoma [18]

EBNA1

Inhibits p53 induced apoptosis

Nasopharyngeal carcinoma [19]

Gastric carcinoma [20]

Human Herpesvirus 8 (KSHV)

LANA1 Kaposina

Bind to p53 and inhibit p53-dependent apoptosis

Human Papillomavirus

Cervical cancer [23]

E6

Inhibits p53, Bak, FaDD and procaspase 8

Oropharyngeal carcinoma [24]

E7

Pleiotropic effects inhibiting and promoting apoptosis

Anal cancer [25]

E2

Binds and activates caspase 8 (HPV-18);

Interacts with c-Flip inhibiting its action

Human T-cell leukemia virus type 1 (HTLV)

Adult T-cell leukemia/lymphoma [26]

Tax

Involved in regulation of cell-cycle, apoptosis, cellular transcription, NFkβ, chromatin remodeling

Hepatitis B

Hepatocellular carcinoma [27]

HBx

Activates caspases 3 and 8

Hepatitis C

Hepatocellular carcinoma [28]

Core, NS3 and NS5A

Suppress p53-mediated apoptosis
In many instances, the regulation of apoptotic signaling has been associated with cancer development.
The study of the mechanisms by which viruses regulate apoptosis can contribute to the development of new therapies against infectious diseases and cancer. In this review, we will describe some of the mechanisms used by oncogenic viruses to modulate apoptosis.
Apoptosis
Apoptosis is a fundamental cellular process required for embryonic development, organogenesis and the elimination of damaged or aged cells during the maintenance of cellular homeostasis [29]. In the physiological context, apoptosis is strictly regulated. When this regulation fails, a number of pathologies may result, such as autoimmune or neurodegenerative diseases and cancer. Apoptosis is a form of cell death that involves a series of ordered events. The first phase is the commitment phase, wherein the cell loses contact with its neighboring cells and presents with modifications of the cytoskeleton, causing a decrease in cell size and changes in cell morphology [30]. During the second phase, the execution phase, there is an increase in intracellular Ca2+, which induces the activation of certain groups of enzymes, such as endonucleases and proteases, such as caspases. Additionally, the chromatin is condensed and fragmented, forming vesicles of different sizes surrounded by a plasma membrane. These vesicles, known as apoptotic bodies, contain parts of the chromatin and cellular organelles [30, 31]. The final phase is the termination phase, which involves phagocytosis and the degradation of the apoptotic bodies [30].
Apoptotic death is triggered by different intra- or extracellular stimuli. Intracellular death signals can be induced by cell stress, which promotes the liberation of cytochrome c from the mitochondria [29]. Extracellular stimuli include UV radiation, the depletion of growth factors, and the ligand-mediated activation of death receptors.
The induction of apoptosis
The role of KSHV in apoptosis
Latent phase proteins
The multifunctional protein, LANA, maintains the viral episome and can also interfere with important cellular processes. The main functions of KSHV latent proteins are exposed in Table
3
. LANA is considered to be an oncogenic protein due to its ability to dysregulate tumor suppressor pathways associated with p53 and pRb and to transform primary rat embryo fibroblasts in cooperation with the cellular oncogene H-ras [
148
]. In addition, this protein has been shown to deregulate Wnt signaling by altering the subcellular distribution of glycogen synthase kinase 3 (GSK-3), a negative regulator of β-catenin [
149
]. LANA modulates apoptosis by direct binding to p53 (Figure
6
). It also associates with different host cell proteins, including chromatin-associated proteins, which are involved in the epigenetic silencing of TGFβ expression. These associations have antiproliferative and apoptotic effects on epithelial, endothelial, and hematopoietic cell lineages [
150
] Table
3
.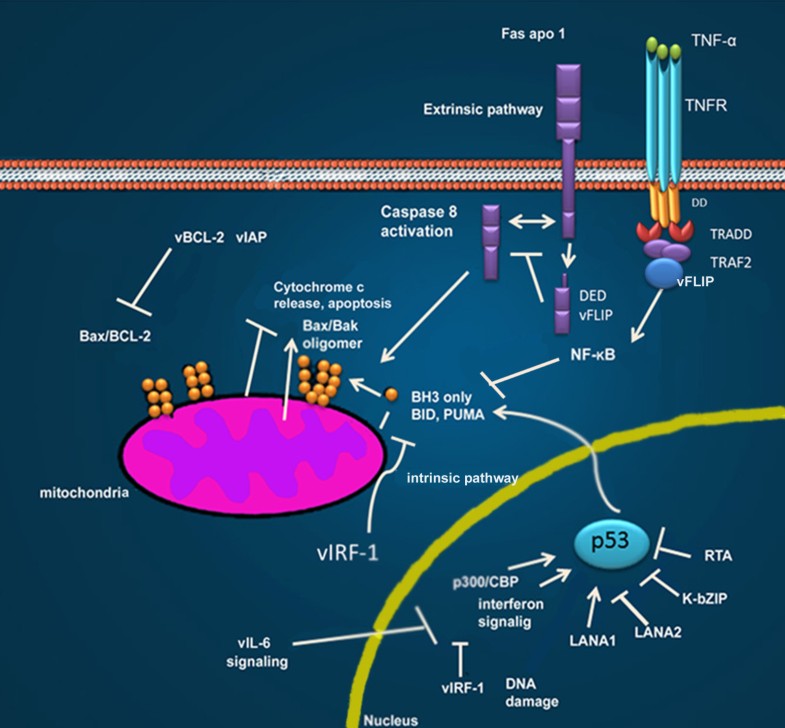 Table 3
Functions of KSHV viral proteins
| Latent phase proteins | Functions |
| --- | --- |
| LANA 1,2 | Establish and maintain the latency in KSHV infected cells, bind directly to p53 and pRb [148]. |
| Kaposin A, B | Induce the expression of growth factor receptors, possible transformation activity [151]. |
| vcyclin | Forms a complex with CDK-6 to inactivate the Rb protein, promoting cell cycle progression and proliferation [152]. Induces apoptosis independent of p53 [153]. |
| vFLIP | Blocks caspase 8 activation [154], potent activator of NFκB [154]. |
| Lytic phase proteins | |
| ORF50 (RTA) | Regulates the lytic replication [155]. |
| K1 | Activator of the molecules that mimic signaling via the B cell antigen receptor [156]. |
| K8 | Regulates lytic-cycle DNA replication [157]. |
| K3, K5 | Mediate the down regulation of several immunomodulatory proteins, including CD86, intercellular adhesion molecule 1 (ICAM-1; CD54), and IFN-R [158]. |
| vIL-6 | Induces angiogenesis and tumorigenesis by regulating PI3K/PTEN/AKT/GSK-3β signaling pathway [159]. |
| vIRF-1 | Binds and inhibits pro-death activities of proteins Bid and Bim [160]. |
| vMIPs | Binds to chemokine receptors and induce angiogenesis [161]. |
| vGPCR | Transformation activity; promotes the secretion the growth factors, such as VEGF, bFGF, IL-8, and IL-6 [162]. |
| vBcl-2 | Inhibits apoptosis [163]. |
vCyclin (viral homolog of cellular cyclin D) is a constitutive activator of cyclin dependent kinase 6 (CDK6). The expression of vCyclin and the formation of the complex, vCyclin/CDK6, leads to defects in cytokinesis, which result in polyploidy and the activation of p53 [152]. However, in the absence of functional p53, cells survive, exposing the oncogenic role of vCyclin. Substrates of the vCyclin/CDK6 complex include pRb and p27 [153]. As such, vCyclin efficiently accelerates cell-cycle progression, even in the presence of CDK inhibitors. In contrast, it has been demonstrated that the expression of vCyclin in cells with increased levels of CDK6 triggers apoptosis independently of p53 and pRb. These findings suggest that vCyclin may have both growth-promoting and apoptotic functions in the development of Kaposi's sarcoma.
vFLIP (viral FLICE inhibitory proteins) is a small polypeptide composed of two tandem death effector domains (DEDs). The protein is homologous to the cellular FLIP proteins, which are also called FLICE, and blocks the signaling of caspase-8 (Figure 6). This protein could be recruited to DISC through the interaction of its tandem DEDs with DED. As such, FLIP excludes procaspase 8 from the DISC complex [154].
Several KSHV miRNAs have also been shown to modulate host gene expression, suggesting some roles for the miRNAs in the pathogenesis of malignancies induced by KSHV [165]. The target of miR-K5 is the Bcl2 associated factor, BCLAF1, which promotes apoptosis [166]. MiR-K1 targets IκBα, an inhibitor of NF-κB, which inhibits the activation of lytic viral promoters [167].
Lytic phase proteins
The aberrant expression of the ORF50 protein is required for the initiation of the lytic phase and the expression of many KSHV-encoded lytic genes, such as K1, K3, and K5; viral macrophage inflammatory proteins (vMIPs); K12; viral G-protein-coupled receptor (vGPCR); viral dihydrofolate reductase (vDHFR); DNA replication factors; and thymidylate synthase [168].
Other lytic proteins that are important in cellular transformation are the viral orthologues of cellular proteins such as viral interleukin-6 (vIL-6), vBCL-2, vIRF and vCCLs, whose functions are summarized in Table 3. vBCL-2 inhibits apoptosis through the inhibition of pro-apoptotic BH3 domain-containing proteins (Figure 6) [169, 170]; while vIRF1 inhibits p53-induced apoptosis through its interaction with the central DNA-binding domain of p53 and with the upstream ATM kinase [170].
K1, which is the first ORF of KSHV, inhibits apoptosis by inducing the release of growth factors such as VEFG, leading to the subsequent activation of the PI-3 K-AKT pathway. Prior to cell lysis, the inhibition of apoptosis by lytic proteins could also contribute to cell transformation, viral replication and virion production and assembly [171].
Conclusions
With the acceptance that tumor viruses account for a substantial fraction of human cancers, tumor virology has evolved from a niche area of research to a central and active field of cancer research. The recent development of powerful new virus detection methods may further extend the spectrum of virus-associated cancers in the future. Cancers exhibiting epidemiological features that are compatible with an infectious cause and cancers that are linked to immunosuppression, are particularly interesting candidates to screen, with the goal of identifying new tumor viruses. Tumor viruses represent promising targets for specific preventive and therapeutic anticancer strategies, as evidenced by the success of the HBV and HPV vaccines. These findings should further motivate research on improved or novel prophylactic vaccines that may protect against other tumor viruses. The deeper understanding of the biology of oncogenic viruses and the defense mechanisms of the host should also facilitate the development of specific therapeutic approaches, because viruses represent targets that are unique to diseased cells.
Successful viral replication requires not only the efficient production and spread of viral progeny, but also the evasion of host defense mechanisms that limit viral replication by killing the infected cells. In addition to inducing immune and inflammatory responses, most viruses encode proteins that interact with the biochemical pathways regulating apoptosis of the infected cell. For some viruses, the inhibition of apoptosis seems to be essential for the maintenance of viral latency. For other viruses, the carefully choreographed induction of apoptosis during infection may represent the basis for cytotoxicity and be an important outlet for the dissemination of virus progeny. For non-lytic virus, pro-apoptotic effects could be implicated in a properly completion of the viral cycle. As these processes are understood in greater detail, the opportunities for the development of new drugs to combat clinically important viruses will almost certainly arise. Such drugs could promote the early death of infected cells, inhibit virus release or, in the case of latent viruses, manipulate the latency switch to minimize the effects of infection.
As the infection mechanisms of oncogenic viruses are better characterized, remarkable insights into the molecular biology of apoptosis will be forthcoming.
Declarations
Acknowledgement
This work was partially supported by CONACyT PY 166808.
Authors' Affiliations
(1)
Unidad de Investigación Biomédica en Cáncer. Instituto Nacional de Cancerología, México/Instituto de Investigaciones Biomédicas, Universidad Nacional Autónoma de México, Mexico City, Mexico
Copyright
© Fuentes-González et al.; licensee BioMed Central Ltd. 2013
This article is published under license to BioMed Central Ltd. This is an Open Access article distributed under the terms of the Creative Commons Attribution License (http://creativecommons.org/licenses/by/2.0), which permits unrestricted use, distribution, and reproduction in any medium, provided the original work is properly cited.