Prolonged persistence of a novel replication-defective HIV-1 variant in plasma of a patient on suppressive therapy
Virology Journal
2016
13:157
Received: 30 June 2016
Accepted: 16 September 2016
Published: 21 September 2016
Abstract
Background
Cell-free residual HIV-1 virions (RVs) persist in plasma below 20–50 vRNA copies/ml in most patients on suppressive antiretroviral therapy (ART). How RVs are produced in the body during therapy is not fully clear. In this study, we have attempted to characterize these viruses of an ART-treated patient in vitro in order to gain insights into the mechanism of their production in vivo.
Methods
We have reconstructed almost the entire genomes of RVs as DNA forms using the patient's residual plasma vRNA by an overlapping RT-nested PCR method, and then sequence-analyzed the cloned genomes and tested them for their biological activities in vitro.
Results
We found that the reconstructed molecular clones of RVs lacked antiretroviral drug-resistant mutations, as well as G-to-A hypermutations. The vDNA clones, when transfected into TZM-bl cells, released HIV-p24 into the culture media at extremely low levels. This low-level virus production was found to be due to the presence of a unique mutation (GU-to-GC) in the conserved 5′-major splice donor (MSD) motif of the corresponding vRNAs. We found that the incorporation of this point mutation by itself could cause defects in the replication of a standard HIV strain (JRCSF) in vitro. However, this novel viral variant was intermittently detected at 5 of 7 time-points in the patient's plasma over a period of 39 months during therapy.
Conclusions
This is the first identification of a natural point mutation (GU-to-GC) in the conserved 5′-MSD motif of HIV genomic RNA. The intermittent but prolonged detection of this replication-defective HIV variant in the patient′s plasma among other viral populations strongly suggests that this variant is released from highly stable productively infected cells present in vivo during therapy. The potential implication of this observation is that the elimination of such productively infected cells that contribute to residual viremia during suppressive therapy could be an important first step towards achieving a cure for HIV.
Keywords
HIV-1Antiretroviral therapyResidual plasma viremia5′-major splice donor motifNovel mutation
Background
Current ART suppresses plasma viral loads to levels below the limit of detection in clinical viral load assays, generally 20–50 HIV RNA copies per ml of plasma [1]. This suppressed viral load status remains stable as long as patients continue therapy with high adherence [2]. However, ultrasensitive laboratory-based techniques can detect very low amounts of vRNA circulating in plasma below the clinical detection limit in most patients on prolonged ART [3–9]. These low viral loads in plasma during therapy are referred to as residual viremia. The cell- or tissue source of the corresponding viruses (i.e., RVs) or their mechanism of production is still not fully clear.
A notion is that RVs are produced due to incomplete inhibition of viral replication by ART in the lymphatic tissues where antiviral concentrations appear suboptimal [10]. The process of continuous cycles of viral infection, integration, and production from target cells is referred to here as viral replication. However, viral variants resistant to antiretroviral drugs do not usually emerge in patients with high adherence to prolonged suppressive therapy [11–13]. Also, the levels of residual viremia were not affected by therapy intensification [14], even with the inclusion of an integrase inhibitor to the antiretroviral regimen [15–18]. Although some studies had observed transient increase in the levels of 2-LTR circles in a portion of patients who received raltegravir-based therapy intensification, and suggested the occurrence of viral replication at low levels during therapy [19, 20], others found no such increase in 2-LTR circles, contradicting the possibility of RV production as a result of ongoing replication during therapy [21]. Overall, these conflicting observations led to an alternative postulate that highly stable, productively infected cells may exist in lymphoid tissues or some bodily locations, where they persistently release virus particles during effective therapy [14, 22, 23]. Such reservoir was recently named as the active HIV reservoir [24], but direct evidence behind the postulate is still lacking.
To understand the mechanism of how RVs appear in plasma during therapy, we sought to molecularly clone these viruses, and then study their biology in vitro. Accordingly, we reconstructed eight RV clones from an ART-treated patient's plasma vRNA by adapting a protocol published previously [25]. We found that the vDNA clones could secrete HIV-p24 in media upon transfection into a human cell line (TZM-bl), but the levels were much lower compared to the levels produced by the standard HIVJRCSF clone [26], or by our previously published RV clone, C1P [25]. The presence of a unique mutation (GU-to-GC) in the conserved 5′-major splice donor (5′-MSD) motif of genomic vRNA was found to be a cause for diminished viral p24-production from RV clones. The known antiretroviral drug-resistant mutations as well as G-to-A hypermutations were absent in these clones. Interestingly, we could intermittently detect the unique viral 5′-MSD variant in the patient's plasma over a period of 39 months during therapy, implicating that its source in the body remained highly stable and capable of producing virus at low levels during suppressive ART, contributing to residual viremia.
Methods
Study patient
A white (non-Hispanic) 57-year-old male HIV+ patient (identified here as patient G) effectively treated with ART in the RWMC clinic was recruited in November 2012 for an HIV-1 reservoir study. He signed a consent form approved by the Institutional Review Board to participate in the study. During each visit to the study every 3 to 7 months, his plasma viral load was measured and he was asked to donate 50 ml of blood. Initially, for a period of 16 months, a total of five blood samples (G1 to G5 in Fig.
1
) were collected from him, and about a year after the 5
th
visit, three more blood samples (G6 to G8) were collected (Fig.
1
), accumulating a total of 8 samples over the study period of 42 months.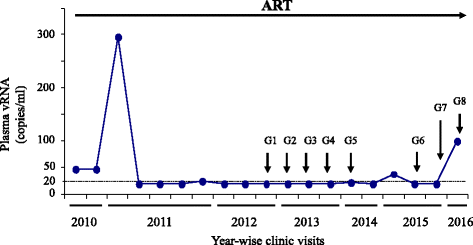 Blood sample processing
Each sample was immediately processed after collection through Ficoll-hypaque method as described previously [27]. Plasma virus particles were pelleted by ultracentrifugation, followed by vRNA isolation as previously performed [25, 28] using a vRNA isolation kit (Qiagen). The isolated plasma vRNAs were designated sequentially as G1P, G2P, etc., as they were isolated from blood samples collected at the 1st visit (G1), 2nd visit (G2), and so on, respectively (Fig. 1), and then stored at −70 °C for future use.
Isolation and culture of CD4+ T-cells from blood
Whenever required, CD4+ T-cells were isolated from normal HIV-negative donors' PBMCs through negative selection method using the EasySep human CD4+ T-cell enrichment kit (StemCell, Canada). The isolated cells were stimulated with Dynabeads human T-activator CD3/CD28 (ThermoFisher Scientific) by following the manufacturer's instructions and cultured in media containing IL-2 (100U/ml) for expansion.
RT-nested PCR, and cloning
Four different fragments spanning almost the entire HIV genome (Fig.
2a
) were amplified by RT-nested PCR, as previously described [
25
] and the amplified fragments are shown in Fig.
2
, panels
b
-
d
. Twenty-one microliters of vRNA equivalent to about one-sixth of the total vRNA isolated from 50ml blood-derived plasma were used as the template in the first RT-PCR step. For such low copy number target vRNA amplification, a highly sensitive and efficient one-step RT-PCR system that includes SuperScript III/platinum Taq (Life Technologies) was employed using the appropriate primer pairs and reaction conditions (see Additional file
1
). After 40 cycles of PCR, 5 μl of the products were taken as templates in a 50 μl reaction volume for nested PCR of 35 cycles using the Expand high-fidelity PCR system (Roche). The amplified products were eluted from 0.8 % agarose gel and cloned into pCR-XL-TOPO vector (Life Technologies) in TOP10 competent cells for sequencing and analyses.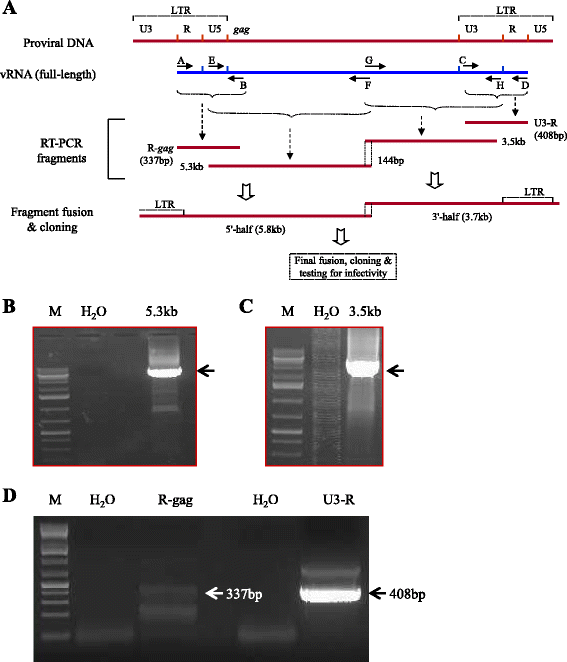 An overlapping PCR method was performed as previously described [25] to attach two different amplified fragments as appropriate using the Expand high-fidelity PCR system (Roche) but after removing any 3′-A overhangs of amplified fragments with T4 DNA polymerase. The resulting fragments were cloned into pCR-XL-TOPO vector and sequenced to validate the correct fusion of fragments.
Sequence analyses
Nucleotide (nt) sequences were aligned using the CLUSTAL-W program available in Vector-NTI express software (Life Technologies), BioEdit or, in MEGA6 program [29]. The quality of the full-length viral genomic sequences was checked by using the QC tool available in the HIV database of Los Alamos National Laboratory.
Phylogenetic analyses
Residual viral sequences were subjected to phylogenetic tree reconstruction using the Neighbor-Joining method [30] in the MEGA6 program [29]. The evolutionary distances were computed using the Tamura-Nei method [31] and the rate variation among sites was modeled with a gamma distribution (shape parameter =1). The corresponding sequence regions from the standard laboratory HIV strains, such as HIVNL4–3 [32], HIV213 [33], HIVJRCSF [26], HIVC1P [25], were included in the outgroup. The bootstrap test (1000 replicates) was performed [34] and the values are shown next to the branches.
Transfection of plasmid DNA into TZM-bl cells
These cells [35] were cultured in Dulbecco's Modified Eagle Medium (DMEM) supplemented with 10 % fetal bovine serum (FBS), 2 mM L-glutamine and penicillin/streptomycin. One microgram of plasmid DNA was transfected into TZM-bl cells in 12-well plate using lipofectamine (Life Technologies) DNA transfection reagent by following the manufacturer's instructions. The cultures were incubated in a 5 % CO2 incubator at 37 °C. The next day, media from the transfected cells was replaced with fresh media, and the cultures were continued for another 24-48 h.
Site-directed mutagenesis
This was performed by using the GeneArt Site-directed Mutagenesis Kit (Life Technologies). Primers were designed by following the GeneArt designer tool (Life Technologies), and after every mutagenesis reaction, the desired change in DNA was confirmed by sequencing.
Sequence deposition into the GenBank
Nucleotide sequences for the reconstructed residual plasma HIV-1 clones have been submitted to GenBank under accession numbers KT284371 to KT284378.
Discussion
Residual plasma viremia persists in most patients below the clinical detection limit, even after prolonged suppressive therapy [3–9]. The clinical significance and the cellular source of this low-level viremia are still not fully clear. HIV is known to persist in various cellular or tissue reservoirs in ART-treated patients, from where it can disseminate infection in the body when the therapy is stopped, resulting in viral load rebound in plasma within a few weeks [47]. By virtue of viral expression status, HIV reservoirs can be classified into two categories: one as the 'latent reservoir' [48], and the other as the 'active reservoir' [24]. The latent reservoir classically consists of resting memory CD4+ T-cells carrying proviral DNA in a dormant state. While this reservoir can produce virions only after cell-activation [49], previous studies had undermined its contribution to persistent residual viremia during therapy upon analyzing patients' blood samples, and proposed the existence of an unknown source in vivo for such low-level viremia [28, 50]. Recently, it was hypothesized that this unknown reservoir (namely, the active reservoir) remains highly stable in vivo and persistently produces virions at low levels during therapy, as opposed to the latent reservoir [24]. Viral production is referred to here not as viral replication that occurs through complete cycles of infection, integration and production of progeny virions; but rather simply as spontaneous viral synthesis and release from already infected cells, even in the presence of therapy. The existence of such a reservoir in patients is generally difficult to prove, especially in light of a recent report by Lorenzo-Redondo, et al. [13] describing that viral replication continues in tissues where antiretroviral drug concentrations are suboptimal. The authors also proposed that under low ART-pressure, the evolution of drug resistance is greatly diminished by replication fitness advantages of wild-type viruses over drug-resistant variants colocalized in the tissue compartments, providing an explanation for why drug-resistant viral variants do not usually emerge in patients on prolonged suppressive therapy.
The residual vDNA clones that we have reconstructed from the patient's plasma vRNA isolated at G4 (Fig. 1) did not possess any antiretroviral drug-resistant mutation or G-to-A hypermutations, and had all viral ORFs intact. However, the virions released from vDNA-transfected cells could not replicate in activated CD4+ T-cells or monocyte-derived macrophages of normal donors (data not shown). The absence of viral replication in vitro indicates that the reconstructed vDNAs represented replication-defective cell-free RVs that were circulating in patient G's blood during his 4th visit to the study. Upon investigation, we found that all vDNA clones had a unique GU-to-GC mutation at the 5′-MSD motifs of the corresponding viral genomic RNAs, and the reversion of this mutation to wild-type led to significantly increased levels of HIV-p24 production in the transfected TZM-bl cells, validating that this mutation limits HIV expression (Fig. 6a).
The 5′-MSD motif is one of the four splicing donor (SD) sites in the HIV-1 RNA genome, which remains highly conserved and is constitutively used during the processing of full-length vRNA through splicing to generate over 40 different viral mRNA species [46, 51–53]. There are about 8–11 3′-splice acceptor (SA) sites in the viral genome [52, 53]. In the RNA splicing mechanisms, the cellular spliceosome cleaves at exon-intron junctions through trans-esterification reactions [54–56], typically right before the GU dinucleotide (underlined) at the 5′-MSD site (CUGGUGAGUA), and right after the AG dinucleotide at the 3′-SA sites in vRNA to remove intronic portion (see Fig. 5b). The noncoding exon 1 spanning upstream of the 5′-MSD site is always included with all spliced forms of vRNA [53]. Generally, the GU dinucleotide motif at the mRNA splice donor site is well conserved across the species and possessed by ~98 % of introns [57, 58], but the mutations at this site are known to affect mRNA splicing negatively in vitro [59, 60].
The 5′-MSD mutation (GT-to-GC), to our knowledge, has not been previously reported for HIV in the natural context. While we could detect this mutation in patient G's plasma frequently (5 of 7 occasions), we failed to detect the same mutation in residual plasma vRNAs of three other patients (not shown) on suppressive therapy, suggesting that the 5′-MSD mutation in HIV infection may occur rarely. The introduction of the same 5′-MSD mutation (i.e., GT-to-GC) in the standard HIV strain (JRCSF) was found to diminish viral RNA splicing (Fig. 6d) and gene expression severely (Fig. 6b), and the viral mutant (JRCSF-MSD) could not replicate in activated CD4+ T-cells of normal donors (Fig. 6c), which strongly suggests that the RV 5′-MSD variant remains replication-defective in vivo. Therefore, the 5′-MSD mutation should not offer the virus a selective advantage in vivo, except that the down-modulation of viral gene expression caused by the mutation may facilitate the host cells to survive in vivo by avoiding viral cytopathic effects as well as host immune clearance mechanisms. Interestingly, the defective variant was detected in the patient's plasma at 5 out of 7 time-points that spanned over 42 months during the study (Table 1), suggesting that its cellular source persisted long-term in the body during suppressive therapy and released virions in plasma at low levels, contributing to residual viremia.
The low-level production and thereby shedding of 5′-MSD variant into plasma from a source cannot be confused with 'cryptic' viral replication (which is suspected to occur in tissues during therapy [13]), because the 5′-MSD mutation by itself could impede viral replication, even if other viral components remained intact (Fig. 6c). Instead, the long-term detection of replication-defective 5′-MSD mutant in plasma during suppressive therapy should reveal that some highly stable infected cells existing in the body are able to express virions at low levels at the single cell-level and release them into plasma, even in the face of therapy without experiencing viral replication events at the cell-population levels. As mentioned earlier, such stable HIV-infected cells releasing virus were previously predicted to exist in vivo during therapy [14, 22–24]; however, direct evidence to support this hypothesis was largely lacking. We believe that our data demonstrating the prolonged persistence of the replication-defective 5′-MSD variant in the patient's plasma during therapy serves as evidence for the existence of stable HIV-producing cells (namely, the active reservoir) in vivo. It is worth noting that we could also detect viruses with wild-type 5′-MSD motif in all plasma samples of the patient, except in one, which indicates that residual plasma viruses may not be all genetically defective but could be a mixture of particles carrying replication-defective and -competent genomic RNAs, as previously reported [25].
Although we cannot rule out the possibility that residual viremia may partly emanate from 'cryptic' viral replication occurring in tissues during therapy [
13
], the replication fitness advantage model proposed by these authors does not fit with the appearance of replication-defective 5′-MSD variant in the patient's plasma in our study. How this viral variant was produced is not clear, but the underlying mechanisms may shed light on the very nature of the source of residual viremia persisting during therapy. Based on the intermittent detection of 5′-MSD variant in plasma below the clinical detection limit, as well as the published data by others [
61
], we propose a model (Fig.
7b
) illustrating how RVs might be produced from a source in vivo. It is known that the current ART does not block virion-production or -release from the cells that are already infected and remain in the productive phase of infection. A stable pool of infected cells residing in tissues at low frequencies may actively release virions at low levels over time, giving rise to residual viremia during therapy. While these cells may not usually circulate in blood [
28
,
50
], they could be clonally expanded in tissues, like latently infected CD4+ T-cells [
62
,
63
], to form cell lineages carrying genetically distinct but phylogenetically related proviral species [
64
]. Recently, the detailed analyses of a highly expanded CD4+ T-cell clone carrying infectious proviral DNA (namely, AMBI-1) at the same integration site was reported [
65
]. This clone was identified in an HIV-infected patient who had squamous cell carcinoma. Although the clonal cells were detected in blood, as well as in lymphoid tissues, they were found enriched in metastatic lesion. Importantly, the AMBI-1 virus was persistently detected among residual virus populations circulating in plasma for more than 3 years, suggesting that the virus was released into plasma by this expanded clone for such a prolonged period [
65
]. We believe each of such highly stable infected cell lineages present in the body can release virions at low levels in waves over time (Fig.
7b
), as observed by others in gut-associated lymphoid tissues of humanized mouse model of HIV infection [
61
], contributing to residual viremia during therapy. The activation state of these cells may remain confined in-between the resting and the fully activated states, allowing the virus to be expressed at low levels. The generation of such 'semi-quiescent' CD4+ T-cells persistently producing HIV at low levels for a prolonged period was previously observed in our H80 model of HIV latency [
27
]. It is not clear whether such low-level virus-expressing cells usually die in vivo, as proposed recently [
66
], or whether they persist as highly stable chronic virus producers during therapy. In our study, the reservoir expressing RV 5′-MSD variant is found to live in the patient for at least 39 months (Table
1
), which suggests that such virus-expressing reservoir remains extremely stable in vivo. If the majority of RVs in treated patients' plasma are released from stable HIV-producing cells (i.e., active reservoir) as similar to the 5′-MSD variant in our study, then therapy intensifications should not have any effect on the levels of residual viremia, as observed previously [
14
–
18
]. In contrast, the latent reservoir that consists of long-lived resting memory CD4+ T-cells carrying dormant but replication-competent proviral DNA requires cell-stimulation for virus production [
49
] (Fig.
7a
). However, the majority of these proviral DNAs remain refractory to even optimal cell-activation in vitro [
67
].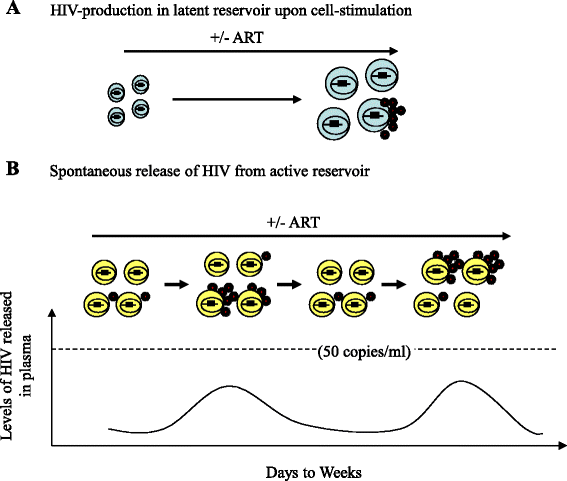 A limitation of our study is that the cloned RVs could not replicate in stimulated blood CD4+ T-cells of normal donors, unlike in our previous study [25], even when the mutated 5′-MSD motif was reversed back to the wild-type form. We believe that the RV clones possess additional defect(s), other than the 5′-MSD mutation, which may have been incorporated due to PCR errors. Another limitation is that the cloned vDNAs might not represent the genetic materials of the natural residual virions present in plasma during sampling because of inherent imprecision of our multifragment amplification-based cloning strategy. Even so, the characterization of cloned vDNAs led us to identify the unique replication-defective viral 5′-MSD mutation and accumulate evidence for residual virion-synthesis and -release from highly stable productively infected cells present in vivo. Such stable productively infected cells constituting active reservoir may also release replication-competent RVs capable of spreading infection in vivo when therapy is interrupted [25, 28]. Other limitations of the study are that we have cloned and characterized RVs from only one patient on ART, and also we failed to detect the novel 5′-MSD mutation in RVs of another three treated patients (mentioned above). Studies on additional patients are required to further verify the RVs' characteristics and the mechanism of their persistence in vivo. Nevertheless, the prolonged detection of the defective 5′-MSD variant in plasma of a single patient in this study, as well as the absence of drug-resistant mutations in the virions provide, for the first time, a strong molecular evidence for their release from a highly stable active reservoir present in his body during therapy. It would be interesting to examine whether any secondary lymphoid tissues, such as lymph node or rectal tissue, or others, in patient G possess HIV with 5′-MSD mutation to pose as a source of RVs in plasma during suppressive ART.
Conclusions
Our data, although obtained from a single patient, indicate that highly stable HIV-producing cells can exist in vivo, even in the presence of suppressive therapy. These infected cells may pose as the previously hypothesized active reservoir, which can release virions into plasma either persistently or intermittently, contributing to residual plasma viremia during therapy. Should the active reservoir harbor and release replication-competent RVs in vivo during therapy, such viral source is expected to spread infection quickly after therapy interruption, giving rise to viral load rebound. Thus, the elimination of the active reservoir through new therapeutic strategies should remain urgent in the effort of HIV-1 eradication.
Abbreviations
APOBEC:

Apolipoprotein B mRNA-editing enzyme catalytic polypeptide-like
ART:

Antiretroviral therapy
CD4:

Cluster of differentiation 4
DNA:

Deoxyribonucleic acid
HIV-1:

Human Immunodeficiency Virus-1
MSD:

Major splice donor
NCBI:

National Center for Biotechnology Information
NJ:

Neighbor-Joining
ORF:

Open reading frame
PCR:

Polymerase chain reaction
RNA:

Ribonucleic acid
RT:

Reverse transcriptase
RV:

Residual HIV-1 virion
RWMC:

Roger Williams Medical Center
Declarations
Acknowledgements
We are thankful to patient G for participating in the study. We thank Becky Matuszek for coordinating the patients' visits and sample donations for the study.
Funding
This work was supported by both NIH Grant 5R03AI100722 and institutional funding to G.K.S.
Authors' contributions
SR and RR carried out most of the experiments, involving molecular and cell culture studies. NK contributed to the selection of patients and the relevant data collection and analyses. GS recruited patients for the study, participated in the data analyses, and contributed toward the writing of the manuscript. GKS conceived of the study, designed the experiments and performed some of them, especially plasma vRNA isolation and RT-PCR, supervised the whole work, analyzed the sequence data, and drafted the manuscript. All authors read and approved the final manuscript.
Competing interests
The authors declare that they have no competing interests.
Ethics approval and consent to participate
ART-treated HIV-infected patients were recruited in an HIV-reservoir study by following the study criteria. Patients who were willing to participate in the study signed a consent form approved by the Institutional Review Board or Human Research Review Committee at RWMC. The committee's reference numbers are: FWA00005452 (assurance number) and IRB00000058 (registration number).
Open AccessThis article is distributed under the terms of the Creative Commons Attribution 4.0 International License (http://creativecommons.org/licenses/by/4.0/), which permits unrestricted use, distribution, and reproduction in any medium, provided you give appropriate credit to the original author(s) and the source, provide a link to the Creative Commons license, and indicate if changes were made. The Creative Commons Public Domain Dedication waiver (http://creativecommons.org/publicdomain/zero/1.0/) applies to the data made available in this article, unless otherwise stated.
Authors' Affiliations
(1)
HIV Biology and Persistence Laboratory, Division of Infectious Diseases, Roger Williams Medical Center, Providence, USA
(2)
Present address: University of Massachusetts-Boston campus, Boston, USA
(3)
Department of Internal Medicine, Yale School of Medicine, New Haven, USA