Flavivirus NS1: a multifaceted enigmatic viral protein
Virology Journal
2016
13:131
Received: 31 May 2016
Accepted: 26 July 2016
Published: 29 July 2016
Abstract
Flaviviruses are emerging arthropod-borne viruses representing an immense global health problem. The prominent viruses of this group include dengue virus, yellow fever virus, Japanese encephalitis virus, West Nile virus tick borne encephalitis virus and Zika Virus. These are endemic in many parts of the world. They are responsible for the illness ranging from mild flu like symptoms to severe hemorrhagic, neurologic and cognitive manifestations leading to death. NS1 is a highly conserved non-structural protein among flaviviruses, which exist in diverse forms. The intracellular dimer form of NS1 plays role in genome replication, whereas, the secreted hexamer plays role in immune evasion. The secreted NS1 has been identified as a potential diagnostic marker for early detection of the infections caused by flaviviruses. In addition to the diagnostic marker, the importance of NS1 has been reported in the development of therapeutics. NS1 based subunit vaccines are at various stages of development. The structural details and diverse functions of NS1 have been discussed in detail in this review.
Keywords
FlavivirusNon-structural proteinsArbovirusesNS1 protein
Background
Flaviviruses belong to the family of flaviviridae, which have 70 different antigenically related members. Most of the flaviviruses are arboviruses (arthropod-borne viruses). Arboviruses transmit mostly through ticks or mosquitoes bites. According to the outbreak reports, the Dengue virus (DENV), Japanese Encephalitis Virus (JEV), Yellow fever virus (YFV), West Nile virus (WNV) and tick-borne Encephalitis virus (TBEV) are prominent human-pathogenic flaviviruses. Recently, Zika virus outbreak has been reported in various countries and has become a matter of concern. Though, other flaviviruses (such as: St. Louis encephalitis virus, Murray valley encephalitis virus, Rocio virus, Kyasanur forest disease/Alkhurma virus, Omsk hemorrhagic fever virus and Powassan virus) are also pathogenic to humans but their geographical distribution is limited. The distribution and outbreaks of flaviviruses depend upon the geographic location of their vectors (mosquitoes and ticks) and reservoirs (birds and pigs) etc. [1].
Flaviviruses are enveloped, positive-sense, single-stranded RNA viruses with particle size up to ~50μm in diameter. The RNA genome of the flaviviruses contains the 5′ cap (7mG) and 3′ CU-OH conserved tail, which directly translates into a long polypeptide in the cytoplasm of infected cells. The polypeptide is further co-transnationally and post-transnationally cleaved and processed by host and viral proteases into three structural proteins: envelope protein (E), capsid protein (C) and precursor membrane protein (prM) and seven non-structural components (NS1, NS2A, NS2B, NS3, NS4A, NS4B and NS5) (Fig.
1
). Among non-structural proteins, NS1 is highly conserved, dimer protein with the molecular weight ranges from 46–55 kDa depending on the extent of glycosylation. The glycosylation of NS1 is important for efficient secretion, virulence and viral replication [
2
–
5
]. NS1 exists as a monomer, a dimer (membrane-bound protein, mNS1) and a hexamer (secreted protein, sNS1). NS1 is known to activate the TLRs and inhibit the complement system [
6
,
7
]. The intracellular NS1 is central to viral replication, whereas the secreted and membrane-bound NS1 have been reported to elicit the immune response [
2
,
8
–
10
].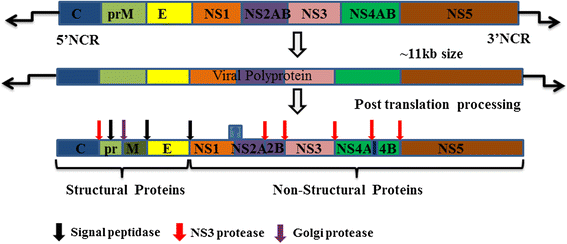 Comparative analysis of different flaviviruses NS1 has been performed by using a multiple alignment tool CLUSTAL Ω. This analysis provided the regions of similarity and dissimilarity among the NS1 sequences of different flaviviruses (Fig.
2
). The CLUSTAL Ω based analysis revealed the conserved regions of NS1 among various flaviviruses (Fig.
2
). The X-ray crystallographic 3-D structure of NS1 dimer suggests the three functionally distinguishable domains- a hydrophobic β-roll (a stretch of 1–29 amino acids), α/β Wing domain resembling RIG-I-like fold (38–151 amino acid residues) and a central β-ladder (181–352 amino acid residues), stabilized by disulfide linkages [
11
–
13
]. The association of NS1 with the membrane and replication complex is mediated through these three distinct structural domains. Yen et al. [
14
] reported the flexible nature of core β-ladder NS1 protein. JEV NS1 has been reported as a natural viral protein carrier for expressing the heterologous epitopes to stimulate the immune response against various pathogens [
14
].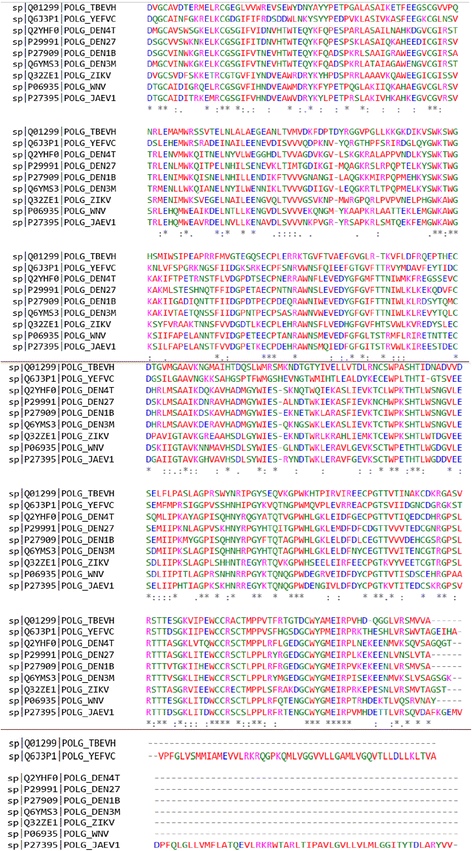 The presence of sNS1 has been reported in circulation during primary and secondary infections and elicits higher concentration of IgG. The anti-NS1 antibodies have been reported to cross-react with broader range of host proteins like, human blood clotting factors, integrin/adhesion proteins; components of ECM [15]. The cell-adhesion assays revealed the interaction of fibronectin, plasma fibronectin and RGD (Arginine-Glycine-Aspartic acid) containing motif peptides with anti-NS1 (monoclonal and polyclonal) antibodies; which intervenes in the normal functioning of the vascular system. This probably forms the basis for the vascular leakage in DHF/DSS patients [16].
NS1′, an extension of NS1 protein has been reported in JEV, WNV and DENV [9]. The NS1′ is derived from viral polypeptide; through the cleavage due to the −1 programmed ribosomal frameshift slippage, downstream of NS2A protein. This results in the addition of extra 100 nucleotides to viral NS1 protein. NS1′ (52-53kDa) has been implicated in neuroinvasiveness of flaviviruses [17].
Conclusion
Flavivirus infections have been reported as emerging infections over the past decades. The diagnostic and therapeutic tools are still a major challenge for most of the flavivirus infections but a significant progress has been made towards the development of such tools. The antibodies against the flaviviral NS1 proteins play a central role in prophylaxis and/or treatment of flavivirus infection through passive immunization. The higher concentration of NS1 directly correlates with disease severity and increased viremia. The NS1 protein is an important target for inhibitor design. The secreted and cell-surface-associated NS1 are highly immunogenic. The NS1 is an important biomarker for early diagnosis of the flaviviral infections. The information about the molecular structure and the interacting partners of NS1 provided better understanding about the role of NS1 in the pathophysiology of flavivirus-associated infections.
Abbreviations
7mG, 7-methylguanosine; ADE, antibody dependent enhancement; APP, acute phase proteins; APRs, acute phase response; COG-1, component of oligomeric Golgi complex 1; DCNS1, dengue C' terminal amino acid; DENV, dengue virus; DHF, dengue hemorrhagic fever; DJNS1, dengue N' terminal amino acid; DSS, dengue shock syndrome; ECM, extracellular matrix; f(H), glycoprotein factor H; GAPDH, glyceraldehyde 3 phosphate dehydrogenase; GPI, glycophosphatidylinositol; GRP78, glucose-regulated protein 78; hnRNP, heterogeneous nuclear ribonucleo protein; Hsp, heat shock proteins; IMS, virus-induced membrane structures; IRES, internal ribosomal entry sites; JEV, Japanese encephalitis virus; MDA-5, melanoma differentiation associate gene-5; mNS1, membrane bound non-structural protein 1; NCRs, non-coding regions; NEK-2, human NIMA-related kinase 2; PAMPs, pathogen associated molecular patterns; PBMCs, peripheral blood mononuclear cells; PRRs, pattern recognition receptors; RC, replication complex); RGD, arginine-glycine-aspartic acid; RIG-1, retinoic acid inducible gene 1; RLRs, RIG-1 like receptors; RPL18/18a/7, ribosomal protein L18/18a/7; SC5b-9, soluble terminal complement complex; sNS1, secreted non-structural protein 1; STAT, signal transducer and activation of transcription; TBEV, tick-borne encephalitis virus; TLRs, toll like receptors; TOA-1, thousand and one amino acid protein kinase 1; UTRs, untranslated regions; VPs, vesicle packets; WNV, West-Nile virus; YFV, yellow fever virus
Declarations
Acknowledgement
The support through the Department of Biotechnology, Govt. of India, New Delhi, Grant no: BT/PR8706/AGR/36/767/2013 is highly acknowledged.
Availability of data and materials
Not applicable.
Authors' contributions
MR, NS, and SKS. Concept, design and manuscript writing. All authors read and approved the final manuscript.
Competing interests
The authors declare that they have no competing interests.
Open AccessThis article is distributed under the terms of the Creative Commons Attribution 4.0 International License (http://creativecommons.org/licenses/by/4.0/), which permits unrestricted use, distribution, and reproduction in any medium, provided you give appropriate credit to the original author(s) and the source, provide a link to the Creative Commons license, and indicate if changes were made. The Creative Commons Public Domain Dedication waiver (http://creativecommons.org/publicdomain/zero/1.0/) applies to the data made available in this article, unless otherwise stated.
Authors' Affiliations
(1)
Institute of Medical Sciences (IMS), Laboratory of Human Molecular Virology & Immunology, Molecular Biology Unit, Faculty of Medicine, Banaras Hindu University, Varanasi, India
(2)
Laboratory of Neurovirology and Inflammation Biology, CSIR-Centre for Cellular and Molecular Biology (CCMB), Hyderabad, India