Introduction and evolution of dengue virus type 2 in Pakistan: a phylogeographic analysis
Virology Journal
2015
12:148
Received: 10 June 2015
Accepted: 31 August 2015
Published: 22 September 2015
Abstract
Background
Pattern of Dengue periodic epidemics through the years along with sporadic cases of Dengue hemorrhagic fever followed by a severe 2011 epidemic of Dengue fever in Pakistan make Pakistan a Dengue endemic country. To study the entry and evolution of dengue virus serotype 2 (DENV-2) in Pakistan, we sequenced three full length genomes and 24 complete envelope sequences of DENV-2 from the years 2010, 2011 and 2013 collected from Punjab province of Pakistan.
Methods
Phylogenetic and Bayesian phylogeographic analyses was applied to three full genome sequences as well as 24 envelope sequences to study the spatiotemporal dynamics of DENV-2 in Pakistan.
Results
Most of the DENV-2 viruses from the years 2008 to 2013 formed a monophyletic Pakistani clade in IVb sublineage of cosmopolitan genotype except one 2008 DENV-2 strain. Phylogeographic analysis revealed that this 2008 DENV-2 strain was rooted to India 25.4 years ago with a location probability of 0.88. However Pakistani clade rooted back to Sri Lanka 12.6 years ago with a location probability of 0.57.
Conclusion
DENV-2 genotype IV was introduced in Pakistan in two time events. First event was introduction from India to Pakistan in the late 1980s (around 1986), and second event was introduction from Sri Lanka to Pakistan around 2000. The later introduction event was responsible for major outbreaks in the Punjab region of Pakistan, including major 2011 outbreak. After the second Introduction event, DENV-2 circulated locally in the region forming a distinct Sublineage within the IVb cosmopolitan genotype of DENV-2.
Keywords
Dengue VirusClock RateIndian IsolatePhylogeographic AnalysisDengue Virus Serotype
Introduction
Dengue virus (DENV) having four serotypes (DENV-1 through 4) is a mosquito borne Flavivirus that has been found in more than 100 countries with estimated 50-100 million dengue infection cases each year [1]. The genome of DENV is a ssRNA with positive polarity and is approximately 11,000 nucleotides in length that encodes three structural proteins (capsid, membrane and envelope) and seven nonstructural (NS) proteins (NS1, NS2A, NS2B, NS3, NS4A, NS4B and NS5) [2]. In addition there are 5' and 3' noncoding regions (NCRs) of about 100 and 400 nucleotides respectively that form RNA secondary structures [3, 4].
Dengue fever in Pakistan was first reported in 1982 from Punjab since then at least eight small outbreaks of dengue fever had been reported from Pakistan [5–10]. A large epidemic of dengue fever hit Punjab in year 2011; in this outbreak the number of dengue infection cases was unusually very high. Dengue infection cases earlier reported were more than 15,000 and the count had increased to more than 50,000 patients in Lahore alone by the end of November 2011 [11]. Previous studies in Pakistan have reported circulation of all 4 serotypes of dengue virus, [10, 9] however, in this outbreak occurrence of serotype 2 was particularly higher with fewer cases of serotype 3 infections which were in concurrence with serotype 2. Punjab province was again under the threat of dengue during 2013, when 2165 dengue cases were witnessed by health departments in Punjab. This time most number of cases were from another main city, Rawalpindi [12]. Apart from it sporadic cases were also reported from other provinces like Punjab and Sindh. Dengue virus transmission in Pakistan has stretched across many of the major cities through all these year.
The serotype 2 of Dengue virus (DENV-2) has been a prominent serotype in many of these outbreaks especially 2011 outbreak. Phylogenetic analysis of partial DENV-2 sequences has revealed that genotype IV or cosmopolitan genotype of DENV-2 is circulating in Pakistan [10]. Phylogenetic analysis of complete genome sequences of Pakistani DENV-2 isolates has further added that it belonged to Indian subcontinent lineage of genotype IV or cosmopolitan genotype [13]. Another study pointed out that these Pakistani isolates were grouped together with Indian, Sri Lankan and Chinese isolates in sublineage IVb of cosmopolitan genotype [14]. A more detailed characterization of DENV- 2 isolated from Pakistan, however was needed to investigate spatiotemporal dynamics of DENV-2 in Pakistan.
Therefore to characterize the origin and emergence of DENV-2 in Pakistan we sequenced full length genomes of three DENV-2 samples and complete envelope regions of twenty four DENV-2 samples collected during 2010, 2011 and 2013 outbreaks in Pakistan and did Bayesian phylogeographic analysis on datasets of 59 full length and 137 envelope sequences of DENV-2 genome to characterize DENV-2 origin and transmission in Pakistan.
Results
Evolutionary divergence of DENV-2 as analyzed from phylogenetic trees generated from full length as well as envelope sequences grouped DENV-2 sequences in five genotypes (Fig.
1
and
2
). Cosmopolitan Genotype IV of DENV-2 strains branched in to two distinct clades in which almost all of the Pakistani strains clustered together with South Asian countries including Indian strains collected after 2000 and 2003/2004 Sri Lankan strains. Sri Lankan DENV-2 isolates collected during 2003 and 2004 were ancestral to all the Pakistani isolates of DENV-2. However, one of the previously sequenced DENV-2 strain from Pakistan DENV-2/51/2008 grouped with Indian (1991 and 1996) and Chinese (1999 and 2000) isolates in another cluster (Fig.
2
). The other clade of cosmopolitan genotype contained sequences from regions like Indonesia, Brunei, Taiwan, Singapore and Australia (Fig.
1
).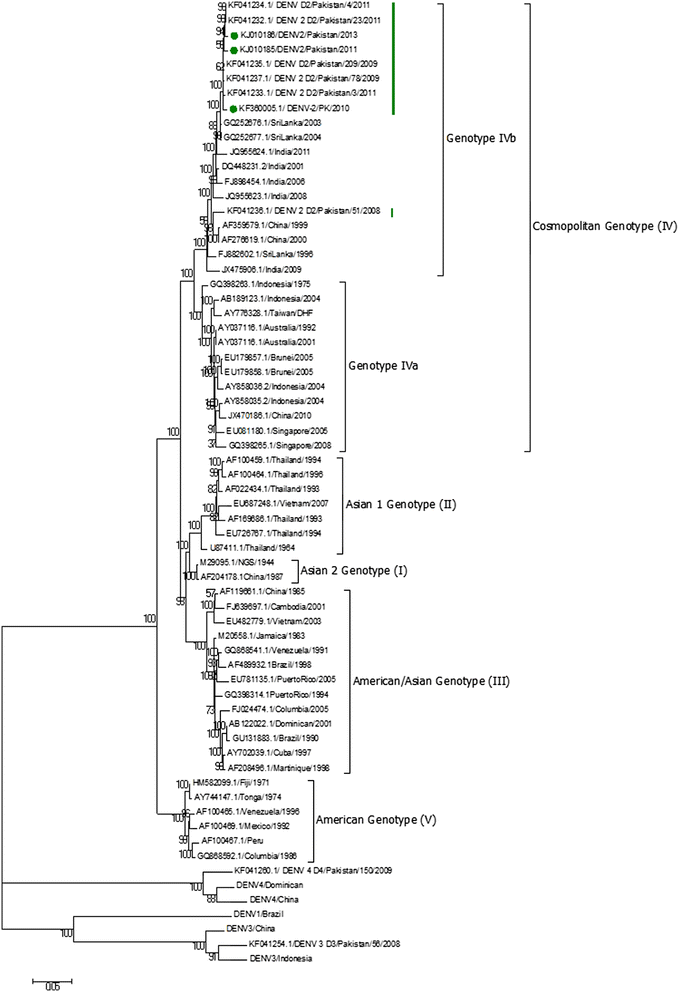 Phylogeographic analysis
To study the spatiotemporal dynamics of DENV-2 introduction in Pakistan, Bayesian phylogeographic analysis was applied on envelope (n = 137) sequences. An examination of the 12 consensus trees created by the discrete trait model showed that the Pakistani sequences form a monophyletic clade rooted by sequences from Sri Lanka. However, a single Pakistani sequence, KF041236, did not confine in Pakistani monophyletic clade and was grouped in a clade containing sequences from China and India (Fig.
3
). The time to the most recent common ancestor (TMRCA) for KF041236 was 25.4 years ago (95 % HPD, 22.3 to 29.99 years ago). For the Pakistani clade the TMRCA was 12.6 years ago (95 % HPD, 10.3 to 15.5 years ago). The posterior probability for KF041236 and the Pakistani clade was 0.85 and 1.0, respectively.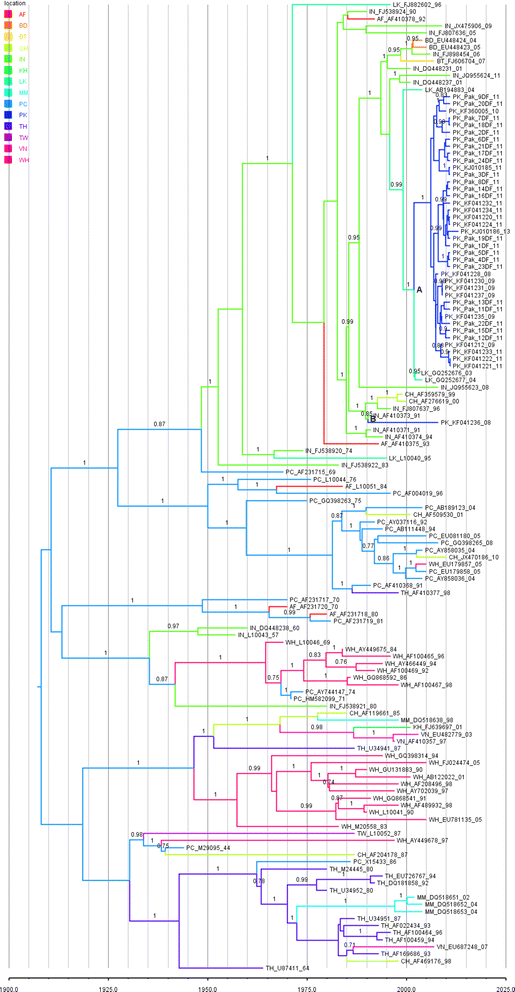 KF041236 was rooted by sequences from India with a location probability of 0.88 for the Indian sequences as the root of the node. The Pakistani clade was rooted by sequences from Sri Lanka having a location probability of 0.57. An examination of the location probabilities for this node shows that Sri Lanka has the highest location probability (0.57, s.d. 0.06). The next highest location probability was 0.16 (s.d. 0.05) from Bangladesh (Additional file 1: Table S4).
Spatial diffusion from the discrete trait rate matrix files was visualized using SPREAD to obtain linkages between pairs of locations as location indicators where the estimated Bayes Factor was greater than 3.0 (Additional file
2
: Table S5). Like the phylogeographic trees the only significant linkage to the Pakistani sequences was to Sri Lanka (the blue and green nodes) (Fig.
4
). The network contains two unconnected graphs. This doesn't indicate that there is no connection between the two sets of locations, rather no significant linkage was found with a Bayes Factor of 3.0 or greater. Indeed linkages with Bayes Factors less than 3.0 will connect all the locations in the network. The linkage from KF041236 to India is not seen because of the bias due to the large number of Pakistani sequences in the Pakistani clade linked to Sri Lanka.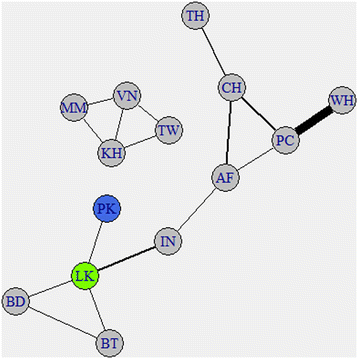 Selection pressure analysis
No recombination event was detected by GARD. Significant selection pressure sites were those with a p-value < 0.1. A number of negatively selected sites were identified throughout the genome, however only six sites were found to be under positive selection (Table
1
). There was one positively selected site in Pre-membrane (70), one in NS3 (10), one in NS4B (130) and three in NS5 (18, 440, 610).
Table 1
Sites of amino acid substitutions under positive selection computed by Mixed Effect model of evolution (MEME) analysis
Gene

Gene position

α

β−

q−

β+

P- value

Log L

KF041236

2010

2011

2013

Prm

70£

0

0

1.0

3916.54

.05

−8.79

S

S

A

A

NS3

10¥

0

<.0001

1

278.84

.00

−11.26

P

P

P

Y

NS4B

130¥

0

0

1

864.59

.04

−10.29

T

T

S

T

NS5

18¥

0

0

.14

1888.34

.00

−11.51

N

N

S

N

440¥

<.0001

<0.0001

1.0

233.06

.09

−8.46

610¥

0

0

1

38.47

.08

−8.05

N

N

G

N
Discussion
Dengue outbreak in Pakistan emerged first in Southern city Karachi of Pakistan in 1994 [6], where serotypes 1 and 2 were major causative agents. During the years 2007 to 2009 this virus emerged in Northern regions of Pakistan, and this time serotypes 2 and 3 remained dominant [10]. A major outbreak hit Lahore city of Pakistan with serotype 2 being the causative agent of this outbreak and serotype 3 was less frequent. Subtype or genotype of Dengue virus serotype 2 (DENV-2) circulating in Pakistan during 2007-2009 was cosmopolitan as confirmed by phylogenetic analysis of C-Prm gene junction sequences [10]. In 2011 outbreak cosmopolitan or IV subtype of DENV-2 was confirmed with envelope and complete genome sequences. These sequences further grouped Pakistani sequences with Indian subcontinent lineage IVb [14]. Within this Indian subcontinent lineage IVb, Pakistani isolates formed a monophyletic clade [15]. To explore more evidences supporting DENV-2 dynamics in Pakistan that could possibly unravel the reason of major 2011 outbreak in this region, a detailed analysis on DENV-2 sequences was conducted. We performed a phylogenetic analysis and Bayesian phylogeographic analysis on a bigger data set of full length and envelope sequences including all the sequences from Pakistan from years 2008 till 2013.
Evolutionary evidences from phylogenetic analysis confirmed that Pakistani DENV-2 sequences grouped together in a monophyletic clade of Indian subcontinent lineage IVb of cosmopolitan genotype IV as suggested by other studies from Pakistan [14]. However one of the DENV-2 strain DENV-2/51/2008 (KF041236) clustered out of this monophyletic clade with Indian isolates of years 1991 and 1996. This suggested a different origin of this single isolate when compared to other isolates (Fig. 1 and 2). We therefore hypothesized that DENV-2 genotype IV might have emerged in Pakistan from two distinct origins.
Phylogeographic tree of envelope gene sequences also indicated that most of the Pakistani sequences formed a monophyletic clade, whereas, a single Pakistani sequence, KF041236, grouped together with Indian and Chinese isolates in a different clade (Fig. 3). It appears that the time to the most common recent ancestor (TMCRA) for KF041236 was about 25.4 years ago. This ancestor came from India which is already reported to be the ancestor of Cosmopolitan genotype [16]. It has been previously reported that Indian isolates collected from 1983 to 1991 shared a clade with isolates from Sri Lanka 1990, Uganda 1993 and China 1999 strains. This indicates that Indian isolates of cosmopolitan genotype (1983-1991) served as ancestors for the dispersal and distribution of this genotype to Sri Lanka, China and throughout the Indian Subcontinent [17]. Our results confirmed that these Indian isolates also travelled to Pakistan 25.4 years ago in 1980s, since this strain (KF041236) clustered with Indian isolates from the years 1991 and 1996 and Chinese strain from the years 1999 and 2000.
The other Pakistani clade has a more recent introduction into Pakistan. Its TMCRA was about 12.6 years ago and its ancestor probably came from Sri Lanka. This is supported by the location probability of 0.57 and 0.61 for Sri Lanka at the root of the Pakistani clade. Although this is a relatively low location probability it is 3.5 times greater than the next highest location probability (Bangladesh, Additional file 1: Table S4). Additionally, SPREAD analysis confirmed a significant linkage between Sri Lanka and the Pakistani clade in 92 % of the 12 discrete trait analyses run for the Dengue virus sequences (Fig. 4).
This second introduction times back to 2000. However, first DENV-2 outbreak in Pakistan came in 1994 in Karachi, this was followed by many outbreaks in the country suggesting that there must be an earlier event when DENV-2 was introduced in this region. The degree of severity of 2011 dengue outbreak also suggested an introduction of a novel strain of DENV-2 that has greater epidemic potential and fitness. Our analysis therefore suggested that the DENV-2 virus circulating in Pakistan was introduced in Pakistan from either India or Sri Lanka in two distinct time events. The first event appears to be introduction of the virus (KF041236 ancestor) from India to Pakistan around 1986 and the second appears to be introduction from Sri Lanka around 2000. We can infer that the virus that was introduced in a second event was better fitted in our region and therefore replaced the older DENV-2 virus since most of the Pakistani sequences from years 2011, 2009, 2010 and 2013 clustered in a distinct Pakistani clade.
It has been suggested that a lineage or virus subtype change might result from small changes in genetic makeup of virus and result in a virus with more fitness and virulence which can cause a bigger epidemic [18, 19]. We therefore analyzed all the full genome sequences from Pakistan for the amino acid substitutions. We detected a number of amino acid substitutions that were introduced in the sequences in Pakistani clade when compared with 2008 (KF041236) sequence, however Selection pressure analysis computed by Mixed Model of Evolution revealed that six amino acid sites were under positive selection pressure with a p value < .1 in complete genome of 9 Pakistani isolates from 2008 to 2013. One amino acid substitution in Pre-membrane region S70A, has already been reported as an amino acid substitution unique to DENV-2 2011 isolates in other recent studies on DENV-2 Pakistani isolates [14, 15]. In our study this site is under positive selection pressure with a p-value 0.05 and is consistent in most recent PK/2013 isolate. Apart from this, another polar (asparagine) to hydrophobic (glycine) amino acid substitution (N610G), in NS5 region of DENV-2, unique to PK/2011 strain sequenced in this study is significant with a p-value 0.08. This substitution is confined in the C-terminal domain of NS5, which is important for its RNA dependent RNA polymerase activity of NS5 protein in Flaviviruses [20] (Table 1).
Based on the genetic diversity between 2008 (KF041236) and rest of the sequences, difference in their time of introduction in the region, their origin and evolutionary dynamics, we can infer that introduction of DENV-2 in Pakistan 12 to 13 years back from Sri Lanka, replaced KF041236 DENV-2 strain and caused major outbreaks in the country including 2011 and 2013 outbreaks.
Conclusion
We concluded that DENV-2 virus which remained a dominant serotype in all the major outbreaks has undergone two events of introductions in Pakistan; it first entered South of Pakistan from India in late 1980s and later entered in 2000 from Sri-Lanka. The product of later event then circulated locally forming a distinct Pakistani clade or sublineage, which was responsible for major 2011 outbreak.
Abbreviations
DENV:

Dengue virus
TMRCA:

Time to the most recent common ancestor
HPD:

Highest probability density
GARD:

Genetic algorithm for recombination detection
MEME:

Mixed effect model of evolution
PK:

Pakistan
PCR:

Polymerase chain reaction
cDNA:

complementary DNA
MEGA:

Molecular evolutuinary genetics analysis
GMRF:

Coalescent Gaussian Markov random field
BSSVS:

Bayesian stochastic search variable selection
Declarations
Acknowledgement
We thank doctors from the various clinics and hospitals for providing us with serum samples for laboratory confirmation of dengue infection.
Open AccessThis article is distributed under the terms of the Creative Commons Attribution 4.0 International License (http://creativecommons.org/licenses/by/4.0/), which permits unrestricted use, distribution, and reproduction in any medium, provided you give appropriate credit to the original author(s) and the source, provide a link to the Creative Commons license, and indicate if changes were made. The Creative Commons Public Domain Dedication waiver (http://creativecommons.org/publicdomain/zero/1.0/) applies to the data made available in this article, unless otherwise stated.
Authors' Affiliations
(1)
Division of Molecular Virology, Centre of Excellence in Molecular Biology, University of the Punjab, Lahore, Pakistan
(2)
Centre for disease control and prevention, Atlanta, USA
(3)
Center for Applied Molecular Biology (CAMB), University of the Punjab, Lahore, Pakistan