Structural similarity-based predictions of protein interactions between HIV-1 and Homo sapiens
Received: 12 February 2010
Accepted: 28 April 2010
Published: 28 April 2010
Abstract
Background
In the course of infection, viruses such as HIV-1 must enter a cell, travel to sites where they can hijack host machinery to transcribe their genes and translate their proteins, assemble, and then leave the cell again, all while evading the host immune system. Thus, successful infection depends on the pathogen's ability to manipulate the biological pathways and processes of the organism it infects. Interactions between HIV-encoded and human proteins provide one means by which HIV-1 can connect into cellular pathways to carry out these survival processes.
Results
We developed and applied a computational approach to predict interactions between HIV and human proteins based on structural similarity of 9 HIV-1 proteins to human proteins having known interactions. Using functional data from RNAi studies as a filter, we generated over 2000 interaction predictions between HIV proteins and 406 unique human proteins. Additional filtering based on Gene Ontology cellular component annotation reduced the number of predictions to 502 interactions involving 137 human proteins. We find numerous known interactions as well as novel interactions showing significant functional relevance based on supporting Gene Ontology and literature evidence.
Conclusions
Understanding the interplay between HIV-1 and its human host will help in understanding the viral lifecycle and the ways in which this virus is able to manipulate its host. The results shown here provide a potential set of interactions that are amenable to further experimental manipulation as well as potential targets for therapeutic intervention.
Keywords
Gene OntologyProtein Data BankHuman ProteinHost ProteinHuman Protein Reference Database
Background
Pathogen invasion and survival requires that the pathogen interact with and manipulate its host. Human immunodefficiency virus type 1 (HIV-1) encodes only 15 proteins and must therefore rely on the host cell's machinery to accomplish vital tasks such as the transport of viral components through the cell and the transcription of viral genes [1, 2]. HIV-1 infects human cells by binding to CD4 and a coreceptor, fusing with the cell membrane and uncoating the virion core in the cytoplasm [2]. The genomic RNA is then reverse transcribed and the DNA enters the nucleus as part of a viral pre-integration complex (PIC) containing both viral and host proteins. Afterwards, the viral DNA is inserted into the genome by viral integrase (IN) [1]. The integrated provirus is transcribed by host RNA polymerase II from a promoter located in the provirus long terminal repeat (LTR), and the RNA is exported to the cytoplasm [1, 2]. Host machinery translates HIV-1 mRNA, and several of the resulting proteins are transported to the cell membrane to be packaged into the virion along with the genomic RNA and multiple host proteins. The virus then buds from the cell and undergoes a maturation process, which enables it to infect other cells [2]. Throughout this process, host proteins play an indispensable role.
To understand the interface through which the pathogen connects with and manipulates its host requires knowledge of the molecular points of interaction between them. Specifically, knowledge of the protein interactions between pathogen and host is of particular value. While the prediction of protein interactions within species such as S. cerevisiae and H. sapiens has been pursued for some time, it is only recently that host-pathogen interactions have come under greater scrutiny. Indeed, computational approaches are of significant value in the host-pathogen context as large-scale experimental characterization of these interactions is non-trivial [3–6].
As a result of the need for computational approaches, several recent methods have been developed and applied to host-pathogen interactions, suggesting additional potential interactions in different host-pathogen systems. For instance, Dyer et al. predicted interactions between P. falciparum and human using statistics about domains involved in within-species interactions [7]. Also focusing on malaria, Lee and colleagues generated predictions based on interactions between orthologous proteins from eukaryotes [8]. In the context of HIV-human interactions, at least two computational methods have been applied. In the first study, Tastan et al. used a computational approach based on the random forest method to predict protein interactions using features taken from human proteins and the human interactome [9]. In the second study, Evans et al. predicted possible interactions using short sequence motifs conserved in both HIV-1 and human proteins [10].
While of value, most approaches have not utilized the significant amount of protein structure information that is increasingly available. Specifically, rapid progress in structure determination technologies has led to the establishment and deposition of massive numbers of protein structures into the Protein Data Bank, with over 60,000 protein structures currently deposited [11]. In combination with documented protein-protein interactions, the use of protein structure information provides another means for the prediction of possible protein interactions [12–14]. The central premise in such approaches is that, given a set of proteins with defined structures and associated interactions, proteins with similar structures or substructures will tend to share interaction partners. In the context of host-pathogen interactions, Davis et al., used homology modeling to ascertain potential protein interactions for pathogens responsible for several tropical diseases [15]. Unfortunately, despite their potential value, such computational structure approaches have not been widely applied to the problem of predicting host-pathogen interactions.
Here, we develop a map of interactions between HIV-1 and human proteins based on protein structural similarity. In this approach, we first retrieve structural similarity between host and pathogen proteins identified by an established method which compares known crystal structures. Human proteins identified as having a region of high structural similarity to an HIV protein are referred to as "HIV-similar." Next, we identify known interactions for these HIV-similar proteins, with the one or more human proteins that they interact with referred to as "targets." We then assume that HIV proteins have the same interactions as their human, HIV-similar counterparts, allowing HIV to plug into the host cell protein network at these points (Figure
1
). Using data from recent RNAi screens and cellular co-localization information, we refine this interaction map so as to enrich for those interactions having the greatest potential to be correct based on the available information. Evaluation of these predictions shows a statistically significant enrichment of known interactions as well as numerous novel interactions with potential functional relevance. These predictions provide an additional tool for further investigations into the lifecycle of HIV-1 and identification of potential clinical targets.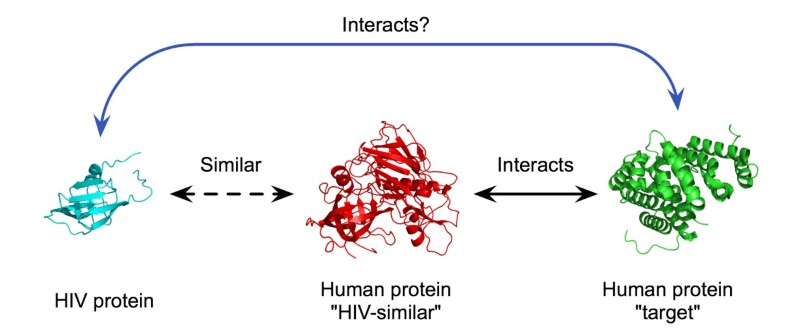 Conclusions
We have generated a map of potential protein-protein interactions between HIV-1 and its human host. The computational methodology used to create this map is based on the assumption that proteins with similar structures will share similar interaction partners. Thus HIV-1 proteins having a structure similar to one or more human proteins may potentially "plug in" to the host protein interactome at these points; providing the interface through which manipulation of downstream host processes can occur. From previous literature, many human proteins are known to play some role in HIV-1 infection. However, in most cases the nature of this role is unknown. Here, we provide specific predictions of how these human proteins may influence viral infection, namely by interacting with certain HIV-1 proteins.
In principle, our approach is applicable to any host-pathogen system with known protein structures. HIV-1 has a small proteome, with most of its protein structures at least partially determined. In addition, HIV-1 also has a large set of identified interactions that can be used for model validation. While few pathogens currently have such rich data sets, continued progress in protein structure determination will help to remedy such deficiencies.
Identification of points of modulation between a host and pathogen requires multiple lines of evidence. Computational methods can help integrate these data, providing a promising avenue for the discovery of novel host-pathogen interactions mediated by structural similarities as well as enhancing our understanding of functional relationships characterized through modern screening methods such as siRNA. Knowledge of the protein interaction network between the pathogen and human will not only further our basic understanding of pathogen survival mechanisms, but may also provide clinical targets to combat infectious disease.
Declarations
Acknowledgements
Funding for this work was provided by the the U. S. Army Research Laboratory and the U. S. Army Research Office under contract/grant number W911NF-09-0049 and through the Curriculum of Bioinformatics and Computational Biology. Financial support for these studies was also provided, in part, by the United States Environmental Protection Agency grant (RD833825). However, the research described in this article has not been subjected to the Agency's peer review and policy review and therefore does not necessarily reflect the views of the Agency and no official endorsement should be inferred.
Authors' Affiliations
(1)
Curriculum in Bioinformatics and Computational Biology, University of North Carolina at Chapel Hill, Chapel Hill, USA
(2)
Department of Computer Science, University of North Carolina at Chapel Hill, Chapel Hill, USA
(3)
Department of Pharmacology, University of North Carolina School of Medicine, Chapel Hill, USA
(4)
Joint Department of Biomedical Engineering, University of North Carolina School of Medicine, Chapel Hill, USA
Copyright
© Doolittle and Gomez; licensee BioMed Central Ltd. 2010
This article is published under license to BioMed Central Ltd. This is an Open Access article distributed under the terms of the Creative Commons Attribution License (http://creativecommons.org/licenses/by/2.0), which permits unrestricted use, distribution, and reproduction in any medium, provided the original work is properly cited.