Panicovirus accumulation is governed by two membrane-associated proteins with a newly identified conserved motif that contributes to pathogenicity
Received: 15 August 2005
Accepted: 08 March 2006
Published: 08 March 2006
Abstract
Panicum mosaic virus (PMV) has a positive-sense, single-stranded RNA genome that serves as the mRNA for two 5'-proximal genes, p48 and p112. The p112 open reading frame (ORF) has a GDD-motif, a feature of virus RNA-dependent RNA polymerases. Replication assays in protoplasts showed that p48 and p112 are sufficient for replication of PMV and its satellite virus (SPMV). Differential centrifugation of extracts from PMV-infected plants showed that the p48 and p112 proteins are membrane-associated. The same fractions exhibited RNA polymerase activity in vitro on viral RNA templates, suggesting that p48 and p112 represent the viral replication proteins. Moreover, we identified a domain spanning amino acids 306 to 405 on the p48 and p112 PMV ORFs that is common to the Tombusviridae. Alanine scanning mutagenesis of the conserved domain (CD) revealed that several substitutions were lethal or severely debilitated PMV accumulation. Other substitutions did not affect RNA accumulation, yet they caused variable phenotypes suggestive of plant-dependent effects on systemic invasion and symptom induction. The mutants that were most debilitating to PMV replication were hydrophobic amino acids that we hypothesize are important for membrane localization and functional replicase activity.
Keywords
Foxtail MilletConserve DomainTobacco Necrosis VirusWheat Germ ExtractDefective Interfere
Introduction
Panicum mosaic virus
(PMV), a 4.3 kb positive-sense ssRNA virus, is the type member of the
Panicovirus
genus in the
Tombusviridae
[
1
,
2
]. Like other members of this family [
3
,
4
], PMV encodes two proteins expressed from the 5'-proximal half of the ssRNA genome (Fig.
1
). For most members of the
Tombusviridae
the first open reading frame (ORF) encodes a protein of approximately 25–30 kDa. In contrast, the molecular weight of the PMV 5'-proximal encoded protein is considerably higher (48 kDa). Similarly, a second protein that is expressed as a translational read-through product usually generates an 80 to 100 kDa protein; instead, PMV encodes a protein of 112 kDa. In all cases, the downstream portion of the larger translational product contains the GDD-motif, a characteristic feature of RNA-dependent RNA polymerases [
5
]. A unique combination of properties of PMV is that it infects monocots and it supports the replication and movement of three different types of subviral agents. PMV serves as the helper for a satellite virus (SPMV), satellite RNAs and an SPMV-derived defective interfering RNA (DI) [
1
,
6
–
9
].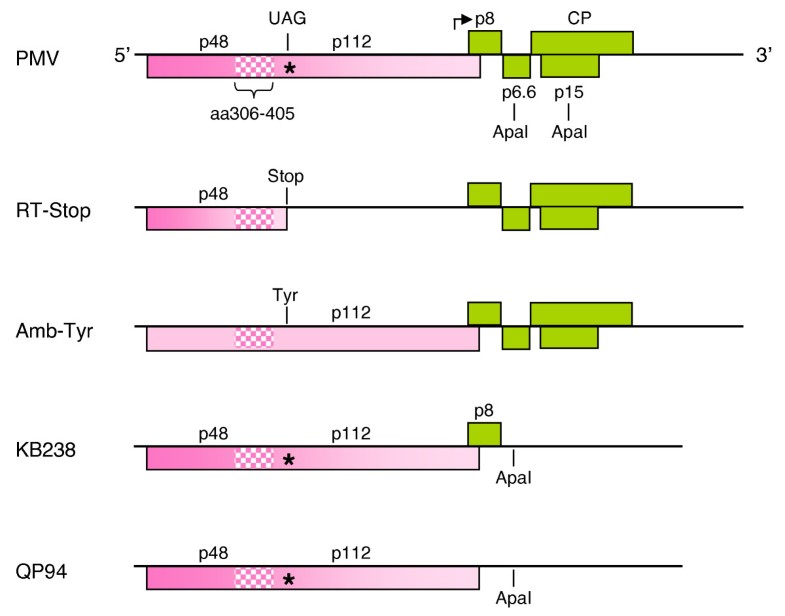 For some members in the Tombusviridae it is known that on the gRNA, the 5'-proximal encoded protein and its translational read-through product are membrane-associated replicase proteins [10–16]. However, this has not yet been demonstrated for p48 and p112 encoded by PMV. In an earlier report, we identified a series of amino acids conserved in the N-proximal replicase-associated proteins in members of the Tombusviridae [17]. This conserved domain (CD) is located between amino acids 313 to 405 on PMV p48 and p112. These considerations provided the context for the following five interrelated objectives of the present study. The first aim was to determine if p48 and p112 were membrane-associated and if these fractions contained RNA polymerase activity. The second goal was to examine if p48 and p112 are the only viral proteins required for replication of PMV and SPMV. Thirdly, we investigated if p48 is required for replication. The fourth objective was to examine the contribution of the CD to replication of PMV and SPMV. The fifth aim was to evaluate if amino acids in the CD had additional pathogenicity properties.
The results show that both p48 and p112 co-fractionate with membranes and these fractions have in vitro RNA polymerase activity. Replication assays with site-directed mutants showed that both proteins are required and sufficient for PMV and SPMV replication. Some amino acid substitutions on the CD abolished replication of PMV and SPMV, whereas others caused a reduction and delay in symptom development.
Discussion
Within the Tombusviridae, PMV is one of the few well-characterized carmo-like viruses that infect monocots [2, 18]. Because PMV also supports a satellite virus, satellite RNAs [1, 6, 7], and a satellite virus-derived DI [8, 9], it is an excellent model to study cis- (for PMV) and trans- (for subviral agents) replication elements. In this study we examined the role of p48 and p112 and the defined CD in replication and pathogenicity of PMV and SPMV.
Biochemical fractionation experiments showed that both p48 and p112 are associated with membrane-enriched fractions, and these fractions have in vitro RdRp activity. This is similar to what has been observed for other members of Tombusviridae in dicot plants. Thus, our findings suggest that the replication complex of monocots bears a strong resemblance to this process on dicotyledonous plants. In combination with earlier electron microscopy studies that showed the presence of vesicle-like structures in PMV-infected millet cells [23], we suggest that the replication of PMV occurs in membranous p48- and p112 enriched vesicle-like structures. These complexes may functionally resemble those recently defined for Brome mosaic virus [24, 25].
PMV and MCMV differ from other carmo-like viruses of the Tombusviridae, including TCV and Tobacco necrosis virus (TNV) that are defined by smaller replicase ORFs of 28 kDa and 33 kDa, respectively. The PMV p48 ORF has a 19 kDa N-terminal extension that does not have sequence homology with other viral proteins. The C-terminal portion the PMV p48 ORF contains sequence homology to other 5'-proximal Tombusviridae replicase ORFs. In vitro translation of PMV genomic RNA in wheat germ extracts results in the production of p48, p112, and a ~30 kDa protein (p48C), indicating the possibility of internal initiation of translation. The sequence p48C shares similarity by size to carmo-like RdRp proteins, suggesting it might have a functional role in PMV replication. One possibility is that the p48C protein is generated by internal initiation from an in-frame AUG start codon (nt 545) downstream of the authentic p48/p112 start codon at nt 29, resulting in generation of a 29 kDa protein (and a read-through product). However introduction of a stop codon immediately downstream of the p48 AUG, abolished replication in protoplasts [19]. From this, p48C and its read-through product are not independently active replicase-associated products.
Alternatively, the N-terminal portion of p48 (and/or p112) may be involved in membrane targeting, and this portion would be imbedded in the host membranes. In support of this, we have identified a putative type 2 peroxisome targeting sequence (PTS2) in the N-terminal region of the PMV p48 protein. We hypothesize that the p48C portion of the protein (and perhaps its putative 93-kDa read-through product) represent truncated RdRp proteins produced through cleavage in planta. In support of this assumption, we detect p48C in the cytosol.
Results of replication assays in protoplasts with transcripts of pKB238 and pQP94 validate the conclusion that the CP and movement-associated genes of PMV are dispensable for replication. However, the somewhat reduced levels of QP94 compared to KB238 RNA accumulation suggest that the p8 protein has an auxiliary role. Similarly, a slight negative effect on RNA accumulation was also observed upon the inactivation of the movement protein gene of TBSV [26]. In addition, our results show that PMV-encoded p48 and p112 are sufficient for trans-replication of SPMV. This observation is comparable the ability of the TNV replicase genes expressed in transgenic plants to support replication of its satellite virus, STNV [27].
Experiments show that PMV replication requires both the 48-kDa (pRT-Stop) and 112-kDa (pAmb-Tyr) proteins. These results are similar to what has been reported for dicot-infecting viruses in the Tombusviridae [10, 16, 28]. We also determined that in mixed co-transfections of pAmb-Tyr and pRT-Stop transcripts complemented one another to restore PMV replication in protoplasts. However, this sort of co-inoculation was not viable in plants, suggesting that regulation of the sgRNA had been perturbed. This, in turn, would affect the expression of movement-associated proteins. The implication is that replication of PMV gRNA and SPMV RNA can occur in trans, but that sgRNA transcription is a cis-regulated event.
Involvement of the PMV CD in replication and pathogenesis
As we had first identified in a preliminary report [17] the replicase proteins of members in the Tombusviridae have a conserved domain (CD) (Fig. 4). The effects of CD amino acid substitutions could be divided into three distinct replication phenotypes: lethal, severely impaired, and competent. First, there are the effects of changing hydrophobic amino acids to alanine. In such cases (P313A, P317A, N323A, L325A) the CD-domain mutants were incompetent for replication in whole plants. In protoplasts, these mutants replicated poorly or RNA accumulation was not detected. The affected amino acids of these mutants may contribute to localization to anchor the RdRp complex to host membrane(s).
When mutants Y330A or D363A, that accumulate to wild-type levels in plants (Fig. 5B), were co-inoculated with SPMV onto plants, mosaic and mottling on emerging leaves appeared approximately 2–5 days after wild type PMV+SPMV infections on both proso and foxtail millet. In addition, plants infected with these mutants in the presence of SPMV were generally not as stunted as those infected with wild type PMV+SPMV (Fig. 5C). The difference between the delayed mutants and wild type PMV was more obvious in foxtail millet, which is more restrictive to SPMV movement [8]. This supports our previous observations that the accumulation of SPMV CP is the primary determinant for severe symptoms in foxtail millet plants [22].
In general, millet plants infected with PMV+SPMV develop severe symptoms, including mosaic and stunting (Fig. 5C) [7]. In contrast, symptoms in plants infected with CD-mutants plus SPMV ranged from mild to severe and the severity was directly correlated with the amount of the virus and satellite virus in each plant. Yet in plants with mild symptoms or severe symptoms, following infection with the same CD-mutant virus, the mutations were stable and no reversion had occurred. Thus, CD mutations had unpredictable plant-dependent effects on the systemic invasion and symptom presentation on individual plants.
In conclusion, we have demonstrated that p48 and p112 of the monocot-infecting PMV are required and sufficient for replication and that specific amino acids in the CD region play an essential role in this process. The hydrophobic amino acids within this domain appear to be particularly important as replication determinants, possibly by directing the replicase complex to cellular membranes. Other residues on the CD contribute to systemic invasion in a complex manner that might be related to movement and overcoming defense mechanisms.
Declarations
Acknowledgements
This work was funded by USDA-NRI (99-3503-7974) and THECB-ATP (000517-0043-2003) grants awarded to K.-B.G. Scholthof. We thank Rustem Omarov for his insightful suggestions related to the RdRp assays, Quinesha Perry for constructing pQP94, and Herman Scholthof for his helpful comments during the preparation of this manuscript.
Authors' Affiliations
(1)
Department of Plant Pathology and Microbiology, M University, College Station, USA
(2)
G.C. Hawley Middle School, Creedmoor, USA
(3)
Istituto di Virologia Vegetale, Italy
Copyright
© Batten et al; licensee BioMed Central Ltd. 2006
This article is published under license to BioMed Central Ltd. This is an Open Access article distributed under the terms of the Creative Commons Attribution License (http://creativecommons.org/licenses/by/2.0), which permits unrestricted use, distribution, and reproduction in any medium, provided the original work is properly cited.