Porcine circovirus type 2 in China: an update on and insights to its prevalence and control
Virology Journal
2014
11:88
Received: 25 January 2014
Accepted: 1 May 2014
Published: 14 May 2014
Abstract
Currently, porcine circovirus type 2 (PCV2) is considered the major pathogen of porcine circovirus associated-diseases (PCVAD) that causes large economic losses for the swine industry in the world annually, including China. Since the first report of PCV2 in 1998, it has been drawing tremendous attention for the government, farming enterprises, farmers, and veterinary practitioners. Chinese researchers have conducted a number of molecular epidemiological work on PCV2 by molecular approaches in the past several years, which has resulted in the identification of novel PCV2 genotypes and PCV2-like agents as well as the description of new prevalence patterns. Since late 2009, commercial PCV2 vaccines, including the subunit vaccines and inactivated vaccines, have already been used in Chinese swine farms. The aim of this review is to update the insights into the prevalence and control of PCV2 in China, which would contribute to understanding the epidemiology, control measures and design of novel vaccines for PCV2.
Keywords
Porcine circovirus type 2
Prevalence
Control
PCV2 vaccines
Update
China
Introduction
Porcine circoviruses (PCVs), the smallest known animal viruses, including PCV1 and PCV2, are members of the genus Circovirus in the Circoviridae family. PCV1 was first discovered in 1974 as a contaminant of the porcine kidney cell line PK-15 (ATCC CCL-33) and was considered non-pathogenic [1, 2]; Whereas PCV2 was isolated from pigs suffering from post-weaning multisystemic wasting syndrome (PMWS) over 20 years later [3].
Generally, PCV1 genome consists of 1759 nucleotides (NTs), while PCV2 has 1767 or 1768 NTs. PCV1 has only one genome map (Figure
1
). For PCV2, it has three kinds of genome organisation, map 1, map 2 and map 3, respectively (Figure
1
). PCV2 has three major open reading frames (ORFs), ORF1 (945 NTs, position 51 to 995), ORF2 (702 or 705 NTs, position 1734/1735 to 1030/1033/1034) and ORF3 (315 NTs, position 671 to 357), respectively (Figure
1
). The three ORFs encode replicase protein that involves in viral replication (to attain self-replication), the immunogenic capsid protein and the viral pathogenesis-associated protein, respectively [
4
–
6
]. One latest study reported that a newly discovered viral protein, ORF4 (180 NTs, position 386 to 565), was not essential for PCV2 replication yet having a role in suppressing caspase activity and regulating CD4(+) and CD8(+) T lymphocytes during PCV2 infection [
7
].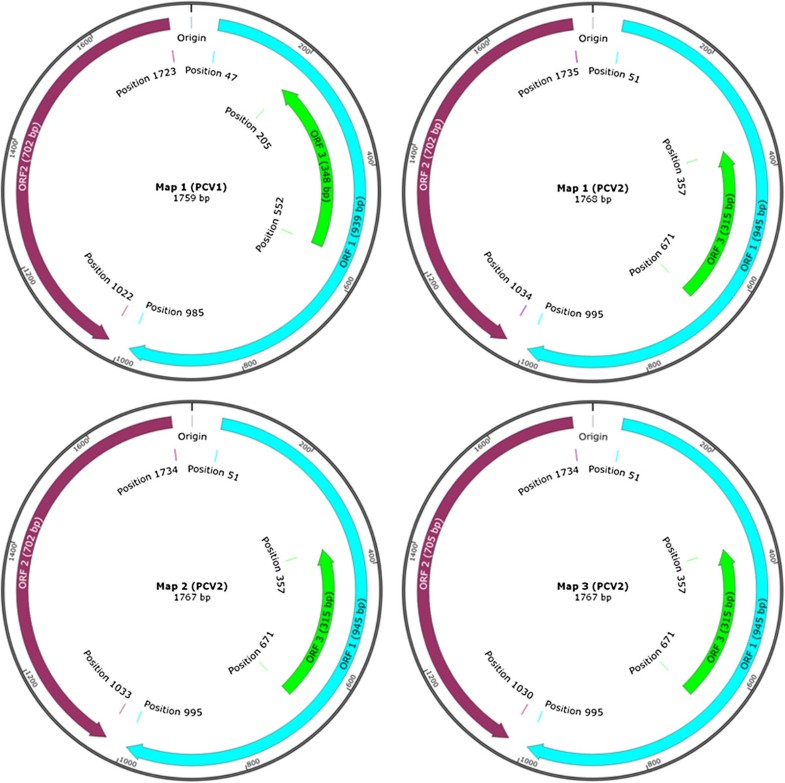 For life cycle of PCV, firstly, PCV uses glycosaminoglycans (GAG) as attachment receptors. The ssDNA genome is transported into the nucleus and converted by host enzymes into a dsDNA intermediate. The rep and cap mRNAs are transcribed to synthesize proteins, which are then imported from the cytoplasm. Rep/Rep' then binds to the dsDNA and initiates rolling-circle replication (RCR) by introduction of a nick, which serves as primer [
8
]. Elongation of the primer by host enzymes leads to replication (Figure
2
). Meanwhile, the Rep protein is covalently bound to the DNA and terminates the reaction by introduction of a second cleavage reaction via Tyr-93 (Figure
2
). How viruses were assembled and released, have not yet been studied [
8
].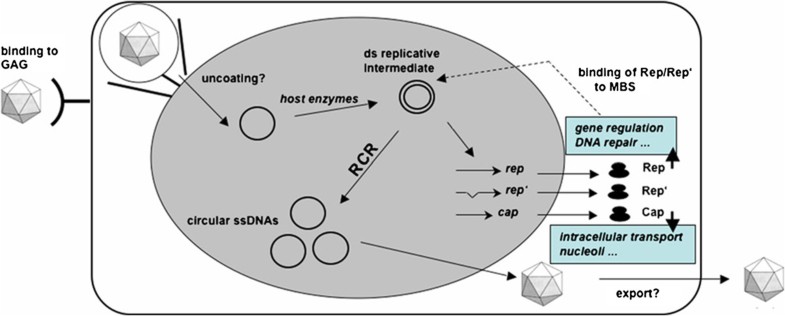 PCVs, especially PCV2, cause huge hazards to swine industry. At present, PCV2 is associated with a number of diseases, collectively known as porcine circovirus diseases (PCVD) in Europe [9], or porcine circovirus-associated diseases (PCVAD) in North America [10]. Apart from PMWS, PCVD/PCVAD also includes reproductive disorders [11], porcine dermatitis and nephropathy syndrome (PDNS) [12], nervous system lesions [13], porcine respiratory disease complex (PRDC) [14], enteritis [15, 16], and proliferative and necrotizing pneumonia (PNP) [17, 18]. Recently, a new PCV2-related disease syndrome called acute pulmonary edema (APE) that is different from the PCVD/PCVAD syndromes mentioned above was described in U.S. swine herds vaccinated with PCV2 [19].
A number of field and experimental studies that were performed in some countries of North America, Europe and Asia indicated that commercial vaccines (based on genotype PCV2a) against PCV2 were effective in many aspects, including reducing the incidence of PMWS, the number of co-infections, the severity of lesions in lymphoid tissues [20–25], the level of PCV2 viraemia and the severity of microscopically-visible lesions [26–29] as well as improving average daily weight gain and feed conversion ratios [20–25]. However, due to the subsequent possible vaccination pressure, novel variant strains or genotypes (such as PCV1/2, PCV2d) emerged in Canadian and U.S. swine herds [30–32].
In recent years, due to continuous losses caused by PCVD, the government at home and abroad supports scientists' great deal of work on molecular epidemiology and vaccine development of PCV2. The aim of the review is to update the insights on the prevalence and control of PCV2 in China, which would help in understanding of the epidemiology, adjusting control measures, and the design of novel vaccines against PCV2.
Conclusions
In summary, PCV2 infection is very common in Chinese swine herds. There are various PCV2 genotypes, PCV2-like strains, or mutants circulating in China. Together with the potential cross-species transmission of PCV2 (Figure 7), these factors lead to great challenges for the control of PCV2 despite the availability of vaccines. Furthermore, although cross-protection within inter-genotypes of PCV2 is present, NA only neutralizes certain PCV2 genotype but not all PCV2 genotypes [103]. At present, PCV2 infection status can be quite complex clinically, if it is not mastered well by veterinarians or practitioners. It might hinder choosing the right choice of PCV2 vaccines and thus not conducive to the prevention of PCV2. To overcome this problem, it is necessary to perform the detection and sequencing of PCV2 antigen. In addition to effective comprehensive measures, the development of polyvalent vaccines (such as PCV2a + PCV2b + PCV2d) or universal vaccines against all PCV2 genotypes are needed in the future.
Declarations
Acknowledgments
This review is part of the work supported by grants (No. 2011A090200117, No. 2012A020602075 and No. 2012224–26) funded by Guangdong Provincial Department of Science and Technology and Guangzhou Science and Technology and Information Bureau, respectively. We also thank Dr. Susanna KP. Lau (Department of Microbiology, The University of Hong Kong), Prof. Yao-Wei Huang (College of Animal Sciences, Zhejiang University & College of Veterinary Medicine, Virginia Polytechnic Institute and State University), Dr. Shanzhong Gong (The University of Texas at Austin) for improving the language quality of the manuscript.
Authors' Affiliations
(1)
College of Veterinary Medicine, South China Agricultural University, Tianhe District, China
(2)
Institute of Animal Health, Guangdong Academy of Agricultural Sciences, Tianhe District, China
(3)
Guangdong Dahuanong Animal Health Products Co., Ltd., XinxingYunfu, China
Copyright
© Zhai et al.; licensee BioMed Central Ltd. 2014
This article is published under license to BioMed Central Ltd. This is an Open Access article distributed under the terms of the Creative Commons Attribution License (http://creativecommons.org/licenses/by/2.0), which permits unrestricted use, distribution, and reproduction in any medium, provided the original work is properly credited. The Creative Commons Public Domain Dedication waiver (http://creativecommons.org/publicdomain/zero/1.0/) applies to the data made available in this article, unless otherwise stated.