Comparative quantitative monitoring of rabbit haemorrhagic disease viruses in rabbit kittens
Virology Journal
2014
11:109
Received: 12 February 2014
Accepted: 23 May 2014
Published: 9 June 2014
Abstract
Background
Only one strain (the Czech CAPM-v351) of rabbit haemorrhagic disease virus (RHDV) has been released in Australia and New Zealand to control pest populations of the European rabbit O. cuniculus. Antigenic variants of RHDV known as RHDVa strains are reportedly replacing RHDV strains in other parts of the world, and Australia is currently investigating the usefulness of RHDVa to complement rabbit biocontrol efforts in Australia and New Zealand. RHDV efficiently kills adult rabbits but not rabbit kittens, which are more resistant to RHD the younger they are and which may carry the virus without signs of disease for prolonged periods. These different infection patterns in young rabbits may significantly influence RHDV epidemiology in the field and hence attempts to control rabbit numbers.
Methods
We quantified RHDV replication and shedding in 4–5 week old rabbits using quantitative real time PCR to assess their potential to shape RHDV epidemiology by shedding and transmitting virus. We further compared RHDV-v351 with an antigenic variant strain of RHDVa in kittens that is currently being considered as a potential RHDV strain for future release to improve rabbit biocontrol in Australia.
Results
Kittens were susceptible to infection with virus doses as low as 10 ID50. Virus growth, shedding and transmission after RHDVa infection was found to be comparable or non-significantly lower compared to RHDV. Virus replication and shedding was observed in all kittens infected, but was low in comparison to adult rabbits. Both viruses were shed and transmitted to bystander rabbits. While blood titres indicated that 4–5 week old kittens mostly clear the infection even in the absence of maternal antibodies, virus titres in liver, spleen and mesenteric lymph node were still high on day 5 post infection.
Conclusions
Rabbit kittens are susceptible to infection with very low doses of RHDV, and can transmit virus before they seroconvert. They may therefore play an important role in RHDV field epidemiology, in particular for virus transmission within social groups during virus outbreaks.
Keywords
RHDVa Oryctolagus cuniculus Time courseResistanceRHDInvasive speciesBiological pest controlCalicivirus
Introduction
Rabbit haemorrhagic disease (RHD) was first described in 1984 and the infectious agent, Rabbit Haemorrhagic Disease Virus (RHDV) was later identified as a member of the Caliciviridae family of non-enveloped, positive-strand RNA viruses [1–3]. The virus is highly contagious and kills up to 95% of infected wild and domestic adult European rabbits (Oryctolagus cuniculus) causing high losses to wild and farmed rabbits [4–9]. Wild rabbits are an important part of many European ecosystems as well as a popular target for recreational hunting. Domestic rabbits are farmed worldwide for meat and fur [10]. However, in Australia, following the introduction of wild rabbits in 1859, they quickly became and remain one of the worst introduced vertebrate pest species, causing immense losses to the agricultural industries and having a devastating impact on Australia's biodiversity [9–14].
In 1995, the Czech CAPM-v351 strain of RHDV (herein referred to as RHDV-v351) was unintentionally released in Australia while being evaluated as a biological control agent for rabbits and subsequently deployed to control rabbit populations with enormous initial success [15]. In recent years rabbit populations have recovered [16] potentially due to a combination of high levels of population immunity to RHDV-v351 [17–19], rabbits developing genetic resistance against the virus [20, 21] and the presence of a non-pathogenic rabbit calicivirus acting as an imperfect natural vaccine [22, 23].
In an effort to complement rabbit control programs in Australia, additional RHDV strains are currently being evaluated to determine their usefulness for release in addition to RHDV-v351. There are indications that members of the RHDVa subgroup of RHDV, which are antigenically distinct to classical RHDV strains like the v351 strain, are replacing the classical RHDV strains in both farmed and wild rabbits in some Asian and European countries [9, 24–27]. RHDVa has so far not been described in wild populations from the Iberian Peninsula [28–31]. It is very rare in French rabbit populations [32] but common in Italy where it was mainly described in domestic breeds [33]. Since this suggests that RHDVa strains potentially have a competitive advantage over classical RHDV in the field they may be able to complement existing biological rabbit control in Australia. A possible explanation for the increased competitiveness of RHDVa strains is their reported ability to cause fatal infections in rabbits incompletely immunised with a standard RHDV vaccine [34]. Hence, RHDVa strains might be able to partially overcome immunity to classical RHDV strains in field rabbits by avoiding antibodies to some key epitopes [24]. It is further known that classical RHDV and RHDVa strains have a slightly different specificity for histo-blood group antigens, which may enable RHDVa strains to infect rabbits that are naturally less prone to infection with classical RHDV strains [21, 35]. RHDVa strains are hence currently being assessed in adult rabbits to examine their potential to improve rabbit biocontrol in Australia (A.J.R. unpublished).
To most reliably predict the outcome of the release of an additional RHDV strain it is essential to consider as many potential factors influencing RHDV epidemiology as possible and the current knowledge suggests that rabbit kittens could play an important role in RHDV epidemiology. Firstly, kittens are innately more resistant to fatal RHD than adult rabbits [36, 37]. At four weeks of age this protection is almost complete, and gradually wanes until they are fully susceptible at approximately 10 weeks. Maternal antibodies can protect kittens from acquiring the RHDV infection, and delay RHDV exposure in the young, but are not responsible for the innate resistance to lethal infection [38]. The protection can be completely reversed by artificial immunosuppression, and differences in the innate immune mechanisms of young rabbits have been suggested as the underlying cause for this resistance [39]. Secondly, virus transmission from 2 week old kittens to their dams has been observed, even though very limited pathology and virus replication was detected in livers from kittens 2–4 weeks of age via immunofluorescence detection of virus protein [40, 41]. Thirdly, RHDV genomes were detected via polymerase chain reaction (PCR) in tissues of kittens weeks after infection, and systemic and potentially persistent RHDV infections of young rabbits have been suggested [42], although reactivation of RHDV infection and shedding of infectious virus has not been reported. Lastly, kittens that survive RHDV infection develop antibodies that confer protection from further infection and may become part of an immune breeding population, impacting RHDV epidemiology and rabbit biocontrol [8, 38, 42, 43]. Despite their obvious relevance for field epidemiology, to this date a quantitative assessment of RHDV replication and shedding of RHDV in kittens has not been carried out.
To examine the potential role of rabbit kittens in RHDV epidemiology, we quantitatively monitored infection, seroconversion, replication and excretion of the RHDV-v351 biocontrol strain in kittens over time. To complement the evaluation of RHDVa strains in adult rabbits, we further compared the replication kinetics and the ability to spread to bystander rabbits of RHDV-v351 and a candidate RHDVa strain identified in 2008 in Inchaon, South Korea [26]. While our results indicate that rabbit kittens may play an important role in RHD epidemiology, no significant differences in infection characteristics between the current RHDV-v351 and the RHDVa strain in rabbit kittens were detected.
Results
RHDV infection characteristics in rabbit kittens
To assess the dynamics of viremia and virus excretion of the current Australian biocontrol strain RHDV-v351, we followed the course of infection over time in five rabbit kittens 4–5 weeks of age infected orally with 700 ID
50
(as titrated in adult rabbits, A. J. R. unpublished). We monitored virus genome copy numbers in blood and rectal swabs via reverse transcription real-time PCR (RT-qPCR). Median virus genome copy numbers in blood samples were mostly below the detection limit of the assay (16 genomes) and peaked at 1 day post infection (dpi) in three of the five rabbits, and very little viremia was detectable in these kittens 3 dpi and thereafter (Figure
1
A). Virus genome copies in rectal swabs peaked between day 1 and 5 and subsequently declined with little virus detectable 10 and 14 dpi (a median of 173 genomes per swab) when kittens were autopsied (Figure
1
B). In contrast to the low amounts of virus observed in blood samples at late time points, we detected 350, 800, 14700 18700, 40100 genome copies (average = 15,000) per mg liver at 14 dpi (data not shown). Highest titres of IgM antibodies specific for RHDV were detected at day 7, which slowly decreased until the end of the experiment (day 14, Figure
1
C). RHDV-specific IgG was first detected at 5 or 7 dpi and titres increased to day 14 post infection (Figure
1
D). No signs of disease were observed during the 14 days the kittens were monitored.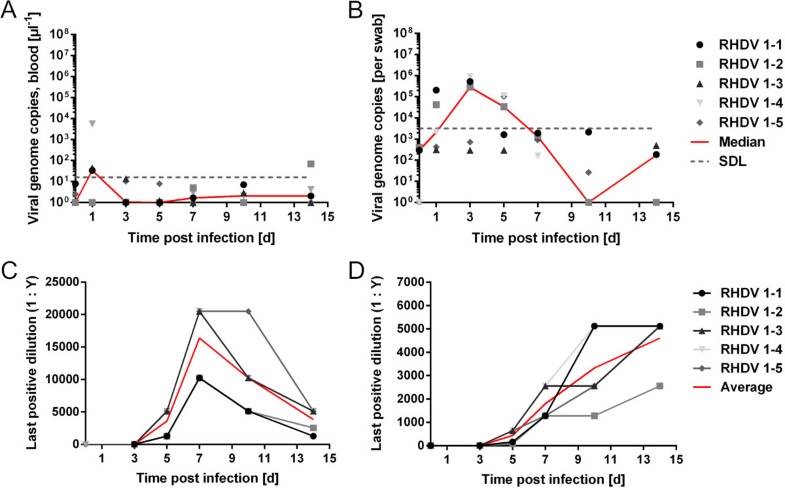 To estimate to what extent we detect inoculum or virus progeny due to a productive infection when measuring genome copy numbers, we also inoculated five kittens orally with heat-inactivated virus. Heat-inactivation has been shown to best preserve genome copy numbers measurable by RT-qPCR compared to chemical inactivation procedures [
44
,
45
]. RT-qPCR analysis showed a drop of 55% in genome copy numbers in heat-inactivated virus stock compared to untreated virus preparation (9×10
8
genome copies per millilitre heat-inactivated stock, equivalent to 2000 ID
50
/ml). After inoculation of 1 ml heat-inactivated virus, we measured only trace amounts of virus genomes in daily blood samples (Figure
2
A) and in autopsy samples taken at 5 dpi (liver, mesenteric lymph node, spleen, duodenum and bile, data not shown). In contrast, rectal swabs did contain detectable viral genomes with a median of up to 730 genomes per swab between day 1 and 4 (Figure
2
B). Therefore, 100-fold higher median viral genome concentrations per swab as measured for untreated virus (compare Figure
1
B to Figure
2
B) between 1 to 7 dpi, very likely indicate RHDV replication and do not reflect inoculated virus alone. All five kittens inoculated with heat-inactivated virus were serologically negative for RHDV-specific IgM at 5 dpi, indicating that virus replication had not occurred.

In contrast to all previous studies where very high doses (usually >1500 ID50) of virus were used to infect kittens, we next examined if kittens are also susceptible to infection with a dose as low as 10 ID50 (titrated in adult rabbits). Notably, of the five kittens inoculated, one kitten died at 3 dpi presenting typical RHD liver pathology (discoloured liver, enlarged spleen) at autopsy. The remaining four kittens did not show signs of disease and seroconverted, as indicated by IgM titres ≥ 1:1280 at 5 dpi and IgG titres > 1:20000 at 14 dpi, demonstrating that kittens do not require a substantially higher dose than adults to become productively infected.
Comparing the currently used biocontrol strain RHDV-v351 with a potential RHDVa candidate for future release
To compare RHDV-v351 and the potential candidate RHDVa strain, we infected six kittens with 700 ID
50
of RHDV and in parallel six kittens with a similar amount of RHDVa (approximately 2000 ID
50
as titrated in adult rabbits). Low levels of replication were observed for the RHDV-v351 strain, with peak genome copy numbers in blood after 2 dpi (Figure
3
A), except for one kitten that showed a pronounced viremia until the end of the experiment (day 5). RHDVa genome copy numbers of up to 280 genome copies/μl blood were observed, but median genome concentrations were lower than observed for RHDV (Figure
3
B). Genome copy numbers in swab samples were comparable at day 4 and 5 between RHDV and RHDVa (Figure
3
C, D). Concentrations of genome copy numbers in mesenteric lymph node, spleen, liver, duodenum and bile did not differ significantly in RHDV and RHDVa infected kittens at autopsy, 5 dpi (Figure
3
E), indicating a similar tissue specificity. In line with the low level of virus replication, we only saw signs of RHD at autopsy in one RHDV infected kitten (RHDV 3–3) that had a pale liver.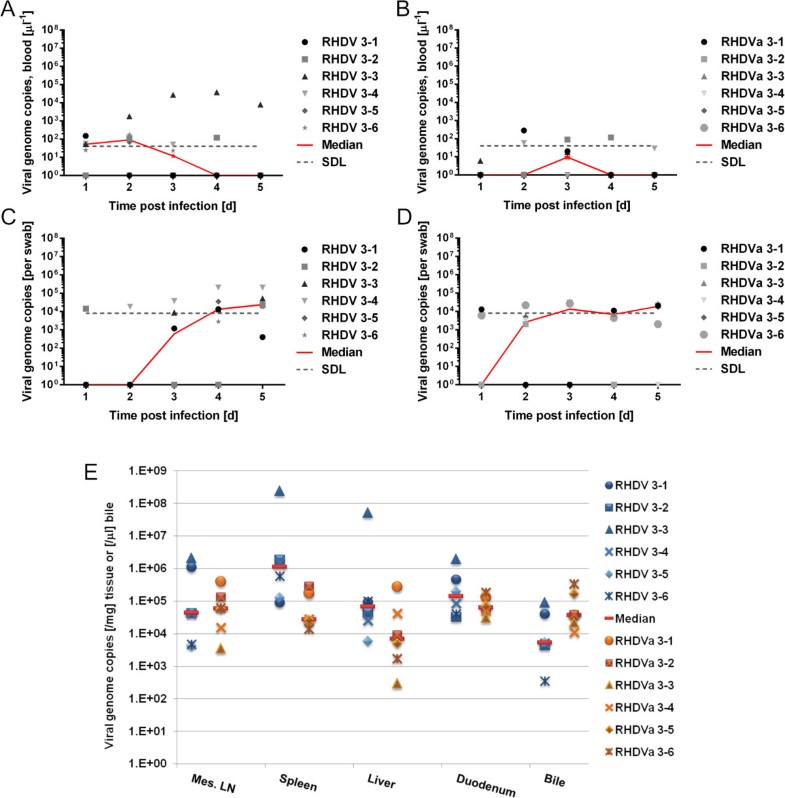 We repeated these experiments using a higher amount of inoculum equalling 4,300 ID
50
of RHDV (1.6×10
9
genomes) and 53,000 ID
50
of RHDVa (4.7×10
10
genomes). Inoculation of such high amounts of virus resulted in high viral loads in the blood of two of six RHDV infected animals (2.2×10
5
and 6.8×10
5
genome copies/μl) at 2 dpi and a third kitten had 2.8×10
4
genomes/μl blood at day 3. While the amount of viral genomes mostly decreased in blood samples towards later time points, one RHDVa infected kitten showed increasing viremia from 3 dpi onwards, reaching 7×10
4
genomes/μl on day 5 (Figure
4
A, B). Viral genome numbers measured in rectal swabs revealed a biphasic curve with a first peak between day one and two and another one at day 4–5. Median RHDV genome copy numbers in rectal swabs at day 4 to 5 pi were 2–7 times higher compared to RHDVa (Figure
4
C, D). Notably, the >10 times higher dose of virus used to inoculate RHDVa was not reflected in the genome copy numbers measured in rectal swab samples. The amount of virus genomes detected in tissues taken 5 dpi varied considerably between individuals, with very high virus loads observed in the kittens that also had high genome copy numbers in blood. Interestingly, median genome copy numbers in duodenum and bile were very similar between strains (Figure
4
E). None of the kittens showed clinical signs of RHD during this experiment, but at autopsy clear evidence of RHD (discoloured liver, enlarged spleen) was observed in two RHDV infected kittens (RHDV 4–3 and RHDV 4–4) and in kitten RHDVa 4–6, which still showed increasing viremia at the time of autopsy. The Korean RHDVa strain reached lower blood virus concentrations compared to RHDV, even when inoculated at a much higher dose. No differences in rectal virus excretion and tissue loads were obvious.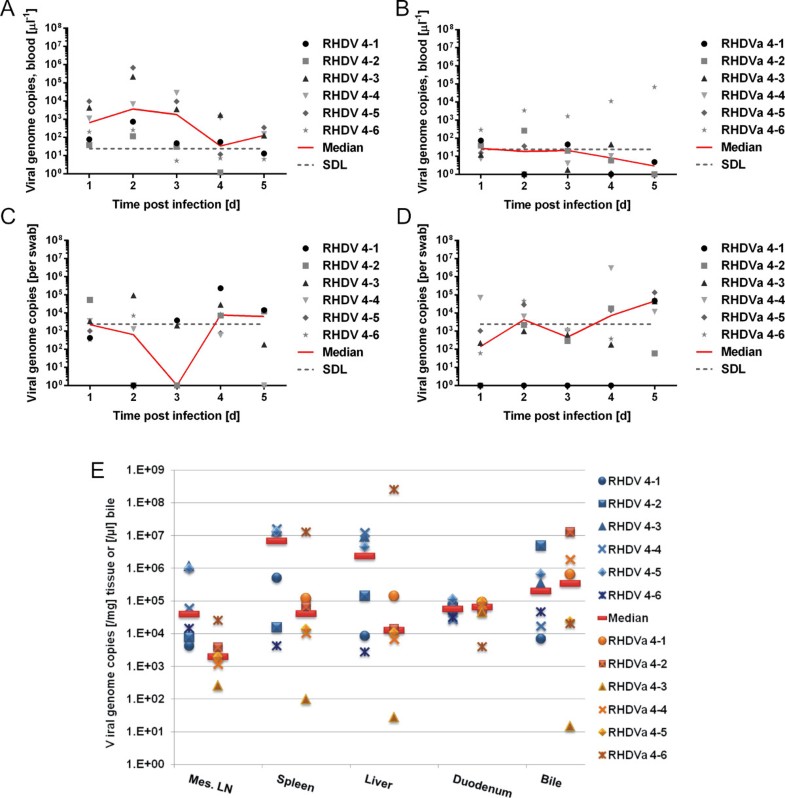 Comparative transmission studies of RHDV-v351 and RHDVa
In addition, we examined if transmission of virus to bystander kittens occurs, and if the two strains differ in their transmissibility/infectivity, by group-housing one kitten infected with RHDV and one with RHDVa with four uninfected bystanders. The experiment was carried out in triplicates. Only one of the 12 bystanders became infected with the RHDV-v351 strain, indicated by 13,000 genome copies per mg liver taken at autopsy, 5 days after being housed with the infected kittens (data not shown).In a second transmission study, two kittens infected with the high dose of RHDV and two infected with RHDVa were housed with four uninfected bystanders in one cage, 24 h post infection. Virus replication in the infected animals was monitored daily in blood samples and rectal swabs. The infected animals were euthanized at day 2 (n = 2) and day 4 (n = 2). Bystander rabbits were also monitored daily for virus replication by collecting blood and rectal swabs, and were euthanized at day 5 after their placement with the infected littermates. Livers of all animals were collected at autopsy for virus quantification. This experiment was also carried out in triplicate. Six of the 12 bystander rabbits acquired an infection, shown by detectable RNA in swab, blood and liver samples (Figure
5
), demonstrating that kittens can shed infectious virus that is transmitted to littermates. Using PCR assays specific either for the RHDV or RHDVa strain, we determined that four of the six kittens that acquired an infection got infected with the RHDV strain and two with the RHDVa strain. One of the RHDVa infected bystander kittens was also positive for RHDV (with < 10% of detected genome copies being RHDV), indicating a mixed infection. It is worth noting that 3 of the 4 RHDV positive bystanders came from the same cage in which one kitten initially inoculated with RHDV (RHDV 5–5), was found dead at 4 dpi with very high amounts of viral genomes in swab, blood and liver samples (Figure
5
C, F, I). One of the three bystanders (BS 5–11) in that cage also was found dead with clear signs of RHD at autopsy and another kitten (BS 5–10) had a high viremia five days after being placed with the infected kittens and a very pale liver at autopsy.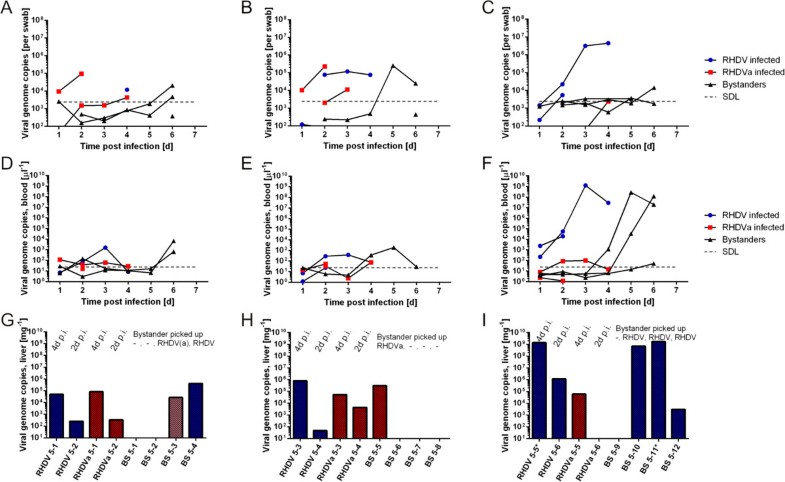 In summary, our results confirm that kittens are susceptible to productive RHDV infection after oral inoculation. RHDV infections in kittens were mostly apathogenic, with little virus detectable in blood and tissues. Virus clearance started at day 3 post infection, at the same time as IgM became detectable. Only a few kittens developed high virus loads and these also displayed signs of disease at autopsy or died. Differences between the RHDV and RHDVa strain were minor and not statistically significant with slightly lower amounts of virus in the blood and less pathogenicity detected for the RHDVa strain.
Discussion
Our results verify and add to the existing knowledge about RHD in rabbit kittens: It has been shown that kittens can be infected with RHDV if high amounts of virus (at least 1500 LD50) are inoculated intra muscularly or orally [38, 40, 41, 46]. We demonstrate here productive infection and seroconversion in 4 of 5 kittens (and one death) after oral inoculation with 10 ID50, which is at least 150-times less than what had been previously used to inoculate kittens. The infectious dose for domestic seronegative rabbit kittens therefore does not appear to be substantially higher than for adult rabbits.
Virus amounts observed in livers of kittens autopsied at 5 dpi were approximately 1000-times lower compared to adult rabbits that succumbed to infection ([47] and A.J.R., unpublished). The only exceptions were the eight out of 82 kittens exposed to the virus that died or showed signs of disease at autopsy and may have died if the trial had been continued. In kittens showing signs of disease, virus loads were higher in liver and blood compared to kittens with subclinical infections, which demonstrates directly for the first time that pathogenicity of RHDV in rabbit kittens is linked to high levels of virus replication. Furthermore, our results indicate that in the small proportion of 4–5 week old rabbits that succumb to infection [38], RHDV does not cause a prolonged disease or a gradual increase of replication levels, but rather shows the same characteristics as observed in adult rabbits. Despite the low levels of replication, a strong adaptive immune response was induced in all kittens tested for seroconversion (5 of 5 kittens infected with 700 ID50 RHDV, shown in Figure 1, and 4 of 4 as mentioned in the text infected with 10 ID50 of RHDV).
While virus RNA can still be detected in tissues of convalescent rabbits months after primary infection, this RNA has never been demonstrated to be infectious [48, 49], and no reactivation of RHDV infections has been described. In our study the amount of virus shed from kittens declined with the onset of the adaptive immune response (Figure 1) and the period of virus excretion was limited to a few days after infection in surviving disease-free kittens. The likelihood that prolonged RHDV infection in kittens may represent a reservoir for RHDV between outbreaks [42, 46] hence appears low. This is also supported by a recent genetic study indicating that subsequent annual outbreaks at one site are caused by genetically different RHDV strains [50]. Nevertheless, our results show that kittens can shed virus in sufficient amounts to potentially transmit RHDV in the field, and may therefore play an important role for transmitting the virus during an outbreak, in particular within warren systems. However, the experimental conditions mean that we cannot completely exclude the possibility that some of the virus that infected the bystanders in the transmission experiment was from inoculum shed by the orally infected kittens and not virus progeny resulting from productive infection.
An RHDVa strain with different infection characteristics compared to RHDV-v351 in rabbit kittens could significantly alter RHD epidemiology and the effectiveness of Australian viral rabbit control efforts, e.g. by causing more kittens to seroconvert or by being spread more effectively due to increased replication in kittens. As a case in point, a recently described RHDV variant termed RHDV2 appears to be replacing other field strains of RHDV and RHDVa in wild rabbit populations and rabbitries in Europe [29, 51–53]. Notably, this new variant has been reported to kill young rabbits more effectively, further pointing to an important role kittens may play in RHDV epidemiology and highlighting the need to study virus isolates considered for release as additional rabbit control agents in Australia in young rabbits. Hence, we also examined the infection characteristics of an RHDVa strain and showed that fewer kittens developed high virus loads and signs of disease after infection and there were no fatalities compared to infection with RHDV. As the amount of RHDV- v351 and RHDVa used for infection in this trial was not identical, a direct comparison is difficult to make. However, lower genome copy numbers in blood and tissues as well as less virus excretion and transmission were observed even when 12-times higher amounts of RHDVa compared to RHDV were inoculated into kittens (Figures 4 and 5), although this difference was not statistically significant. This suggests that the RHDVa strain might be less virulent in New Zealand White rabbit kittens than the current RHDV biocontrol strain, independent of the amount of virus inoculated.
Previous studies have shown that wild rabbits have an increased level of resistance to infection with RHDV-v351 [20]. It is feasible that the replication kinetics of RHDVa also differs in wild rabbits – this will need to be assessed experimentally in future studies. However, replication and transmission properties in kittens alone are not likely to be the sole determining factor for a putative additional biocontrol strain to be considered for release in Australia. More importantly, virulence parameters in adult rabbits (wild and domestic) such as efficient replication, high mortality rates and infectivity/transmissibility, as well as the ability to partially overcome antibodies to RHDV and the benign calicivirus RCV-A1 will be key to defining a suitable additional RHDV strain able to complement rabbit biocontrol in Australia. A number of candidates are currently being investigated.
Declarations
Acknowledgements
The authors would like to thank Peter Kirkland for helpful comments and providing facilities, Dr Oem from National Veterinary Research and Quarantine Service, Ministry of Agriculture, Animal Disease Diagnostic Center Division, Anayang, Republic of Korea for supplying the RHDVa strain and Ian McDonald and Mathias Drewer for technical assistance with serological assays.
Authors' Affiliations
(1)
Commonwealth Scientific and Industrial Research Organisation – Ecosystem Sciences, Australia
(2)
Elizabeth Macarthur Agricultural Institute, NSW, Australia
(3)
Invasive Animals Cooperative Research Centre, University of Canberra, Canberra ACT, Australia
(4)
CSIRO – Ecosystem Sciences, Canberra ACT, Australia
Copyright
© Matthaei et al.; licensee BioMed Central Ltd. 2014
This article is published under license to BioMed Central Ltd. This is an Open Access article distributed under the terms of the Creative Commons Attribution License (http://creativecommons.org/licenses/by/4.0), which permits unrestricted use, distribution, and reproduction in any medium, provided the original work is properly credited. The Creative Commons Public Domain Dedication waiver (http://creativecommons.org/publicdomain/zero/1.0/) applies to the data made available in this article, unless otherwise stated.