The reasons why Pakistan might be at high risk of Crimean Congo haemorrhagic fever epidemic; a scoping review of the literature
Virology Journal
2017
14:63
Received: 14 December 2016
Accepted: 8 March 2017
Published: 23 March 2017
Abstract
Pakistan has faced a number of significant healthcare challenges over the past decade. In 2000, one of these events - a deadly epidemic of Crimean Congo Haemorrhagic Fever (CCHF) - struck Pakistan. The people of Pakistan are at a very high risk of acquiring CCHF, due to a number of factors which emerge from a scoping review of the literature. First, the underdeveloped healthcare system of the country is currently not prepared to cope with challenges of this nature. Healthcare professionals and medical institutes are not sufficiently equipped to properly diagnose, manage and prevent CCHF. Second, a large percentage of the general public is unaware of the spread and control of the vector. The agricultural sector of Pakistan is vast and thus many people are involved in animal husbandry and the handling of livestock which can lead to the transmission of the CCHF virus. Even in urban areas the risk of transmission is significantly higher around the time of Eid-ul-Azha, when Muslims slaughter animals. Finally, the political upheavals faced by the country have also increased Pakistan's vulnerability because a large number of refugees from Afghanistan, a CCHF endemic country, have migrated to Pakistan as a result of the Afghan war. Most of the refugees and their animals settle in Baluchistan and Khyber Pakhtunkhwa provinces, which consequently have a higher prevalence of CCHF. This scoping review of the literature highlights the potential causes of high risk CCHF and draws conclusions and makes recommendations that policy-makers in Pakistan may wish to consider in-order to improve on the current situation.
Keywords
Crimean Congo Haemorrhagic FeverCrimean Congo Haemorrhagic Fever VirusCCHFCCHFVPakistanEid-ul-Azha
Background
Crimean Congo Haemorrhagic Fever (CCHF) is a potentially fatal tick-borne zoonosis characterized by haemorrhage, with a fatality rate of between 10 and 50% [1]. The causative organism of CCHF - Crimean Congo Haemorrhagic Fever Virus (CCHFV) - belongs to the family Bunyaviridae, and genus Nairovirus and is the world's most prevalent tick-borne virus [2]. The tick which is the focal point for the transmission of CCHFV belongs to the genus Hyalomma. The environmental conditions in Pakistan are optimal for the replication of ticks, and this further increases the chances of spread of CCHFV infection [3].
Basic medical amenities are available in the healthcare system in urban areas of Pakistan, but unfortunately this is not consistent throughout the whole country [4]. As far as the rural areas are concerned, there is a dearth of Basic Healthcare Units (BHU). According to one estimate, 127,859 doctors and 12,804 healthcare facilities are present in Pakistan to serve a population of more than 170 million people [5]. In 2007, 85 physicians were available to serve every 100,000 patients, equating to 1,225 patients per doctor [6].
During the recent past, the public health sector of Pakistan has been challenged by a series of epidemics and this is ongoing. Once the outbreak of polio and dengue fever was successfully under control, CCHF emerged as a significant public health concern. This put undue pressure on the health system for sustained periods of time. Pakistan was recognized as a victim of CCHF as early as 1976 when the first case was reported in Rawalpindi General Hospital [7] and subsequently it became endemic in Pakistan by the year 2000 [8, 9].
The CCHF virus is transmitted to humans through tick bites or by direct contact with infected animal blood often via farmers, slaughterhouse workers, veterinarians and so forth. In addition, person-to-person transmission can then occur due to direct or indirect contact with the skin, mucous membranes, or body fluids of infected patients [10]. Tick bites serve as the major mode of transmission of disease; however, the blood, body fluids and tissues of susceptible animals might also pose a threat for humans [11]. This viral disease remains asymptomatic in animals [12] and poses a threat to people from across the population. For instance, healthcare professionals who deal with patients infected with CCHFV are at a high risk of infection due to inadequate biosafety policies and practices and a lack of proper management procedures as a result [3, 8, 9]. Agriculture is a main source of livelihood for a large number of people in Pakistan, particularly those residing in villages and towns and this involves extensive animal husbandry and livestock management. Since a large number of vectors responsible for entomological diseases and endemic pathogens are present in agricultural areas in Pakistan, so people are more prone to CCHF exposure. Linked to this dominance of the agriculture sector, livestock is a major capital consideration in rural Pakistan and animal husbandry is the major source of income for around three quarters of the Pakistani population. As such, people are always in contact with animals and their exposure to and risk of zoonotic diseases is greatly increased because of this. Moreover, the frequent shifting of nomads with their livestock [13, 14] plays a significant role in the recurring epidemics of CCHFV in Baluchistan and neighbouring Afghanistan. Internationally studies [2, 15, 16] have reported the epidemiological profile of CCHFV in domestic and wild animals but this data is not available for Pakistan. The National Institute of Health (NIH) of Pakistan is an autonomous body which works in collaboration with the WHO to monitor CCHFV cases on a daily basis and provides feedback to the relevant health department [17].
In 2016 a total of 20 patients died in Pakistan from CCHF [
18
], the majority being from the Sindh province. However, mortality data since 2012 suggests significant variation in where deaths occur by province by year with no apparent pattern (Fig.
1
).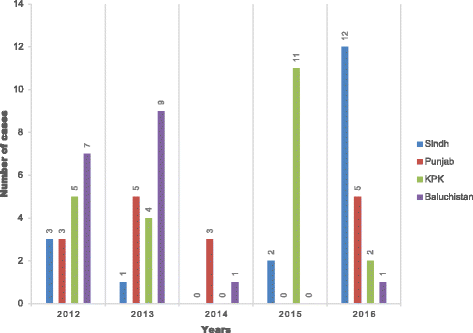 In line with a lack of mortality pattern there is no appropriate arrangement for monitoring the outbreak and spread of CCHF in Pakistan. The approach is largely reactive and relies almost exclusively upon the assessment of individual cases related to location, prevalence and lethality [3]. Therefore the objective of this scoping review is to identify the reasons for which Pakistan is at a high risk of CCHFV outbreak.
Search strategy and review methodology
Type of literature review
There are many different options for conducting literature reviews and this is a scoping review of the literature. Scoping reviews provide for theoretically informed discussions of the "big issues" in a topic area that has not been well studied in a particular context. To do this a broad range of literature in the CCHF field is reviewed and analysed for key issues. To achieve our objective, the search of the literature included those papers that discuss and highlight the pertinent issues. Scoping reviews often contain research questions that are broad and the inclusion/exclusion criteria is often developed post hoc. Quality of publication is initially not a priority as an understanding of the overall discourse is to be attained. Raw data extraction may or may not be required and in this study raw data is not analysed. The synthesis is more qualitative than quantitative and this is demonstrated by the development of key themes which identify parameters and significant gaps in the body of literature [19].
Therefore the scoping literature review fits nicely as a method for this study as it involves a process of "summarizing a range of evidence in order to convey the breadth and depth of a field" [
20
]. The aim is to map the key concepts underpinning a research area and the main sources and evidence available; in this case CCHF [
21
]. Importantly, scoping reviews can be undertaken as stand-alone projects in their own right, especially where an area like CCHF which is complex, or the literature has not been reviewed comprehensively before [
22
]. There are five phases to a scoping reviews and these steps were followed in this study [
22
]:
(1)

Identifying the research question

(2)

Identifying relevant studies

(3)

(4)

(5)

Collating, summarising and reporting the results
Search strategy
A comprehensive literature search (studies published between 1
st
January 2000 and 31
st
October 2016) was generated using Embase, EconLit, Google Scholar, Medline, PubMed, ProQuest, Scopus, Springer Link and Science Direct databases. Search terms included "Tick", "Viral infections", "Hemorrhagic fever", "Nosocomial", "Crimean Congo hemorrhagic fever", "Crimean Congo hemorrhagic fever virus", "CCHF", "CCHFV" and "Eid-ul-Azha". The keywords were used in diverse combinations with BOOLEAN and MeSH searches. Further publications were recognized by a manual search of references of related papers, and review articles were also cited where applicable. Initially, 154 studies were retrieved. Out of these, 52 were duplicates and therefore were excluded. Out of 102 remaining articles, 3 were excluded based on irrelevant titles and/or abstracts. Subsequently, full text of 99 articles were read and 80 studies were further removed as these failed to provide relevant details. Finally, 19 articles were selected based on the inclusion and exclusion criteria (Table
1
) with all the authors agreeing to include these studies in the scoping review. Some important sources such as NIH website, WHO website and web page of local news papers were also searched to retrieve the relevant data.
Table 1
Inclusion and exclusion criteria
| | |
| --- | --- |
| Sr. No | Inclusion criteria |
| 1 | Studies on CCHFV infection published from 1st January 2000 to 31st October 2016. |
| 2 | All original studies, reviews and abstracts available in scientific literature. |
| Sr. No | Exclusion criteria |
| 1 | Studies published in a language other than English were excluded. |
In this scoping review, the literature was thematically analysed and presented as a series of broad themes including: ticks and the environment, the health care system, a rural community, livestock and Eid-ul-Azha and nomadic life-style.
Data collection
A purpose designed data extraction form was used to identify the themes that emerged from the literature. Each record described the potential reasons for why Pakistan is at high risk of CCHFV infection. All entered data were rechecked and Microsoft Excel 2010 was used for the category analysis of the themes as follows.
Thematic analysis
After the extraction of themes from categorising of the literature a review was undertaken to ensure that the emergent themes were sourced from the most complete collection of relevant literature possible. In this scoping review the aim is to understand the broad yet significant issues that emerge from the literature as to why Pakistan is more prone to CCHFV infection.
Findings and discussion
From the scoping review emerged the following themes which represent the potential reasons why Pakistan is at high risk of CCHF epidemics: ticks and the environment, the health care system, a rural community, Livestock and Eid-ul-Azha and nomadic life-style. These themes are presented and discussed each in turn below:
Conclusion
Pakistani's are at high risk of contracting CCHF and the reasons for this are outlined in this scoping review and include; ticks and the environment, the health care system, the rural community, livestock and Eid-ul-Azha and having a nomadic lifestyle. Some of these factors are cultural and others are physical, and they need to be addressed in different ways. The recent death of a prominent surgeon from an urban Pakistani hospital highlights the ongoing levels of transmission from rural to urban settings. It also highlights the need for robust strategies to be developed in-order to educate the general public, as well as Pakistani healthcare professionals about CCHFV. This would make people associated with the handling of livestock aware of the risks associated with animal handling and CCHFV transmission but would also help to halt the transmission of nosocomial infections. Checks and balances must be ensured with regards to the hygienic conditions of the Pakistani healthcare system.
The media can play a vital role in providing awareness about the modes of transmission and symptoms of CCHFV, usage of proper clothes to reduce contact with ticks in the process of cleaning animal folds and the importance of spraying animal folds in-order to protect them from attacks by ticks. Moreover, specialized workshops, informative seminars and educational programs are required for healthcare professionals. The government must refocus their energies and provide sufficient finances in-order to vaccinate agricultural livestock [29]. This is particularly important around the time of the festive occasion of Eid-ul-Azha. Establishing quarantine areas and provision of appropriate diagnostic facilities can also prevent the ongoing spread and consequently reduce the number of casualties from CCHFV. There is a dire need to control the migratory activities of people and animals from areas endemic with CCHF and to establish a registry and tracking system to monitor the movement of livestock across country borders and within the different provinces of Pakistan. Conducting epidemiological surveys to understand the tick fauna should also be mandatory. In this manner the "hotspots" of CCHFV and the risk factors associated with a particular region can be better identified. Such information can serve as useful evidence for various CCHFV control programs which can act as a supporting tool for public health campaigns that need to be implemented within endemic areas.
Abbreviations
BHU:

Basic Healthcare Units
BVH:

Bahawalpur Victoria Hospital
CCHF:

Crimean Congo Haemorrhagic Fever
CCHFV:

Crimean Congo Haemorrhagic Fever Virus
FATA:

Federally Administered Tribal Areas
KPK:

Khyber Pakhtunkhwa
NIH:

National Institute of Health
NWFP:

North-West Frontier Province
Declarations
Acknowledgements
None.
Funding
No funding was involved in the preparation of this article or in the decision to submit it for publication.
Availability of data and materials
The raw data on which conclusions of this manuscript rely is available upon request. Please contact Anum Saqib at anumsaqibzaidi@gmail.com.
Authors' contributions
MA, AS made substantial contributions to conception and design of the review. SS has expertise in the theory and conduct of the scoping review applied to this study. MA, AS, RA, MRS, SS have been involved in drafting the manuscript or revising it critically for appropriate academic content. MA, AS agreed to be accountable for all aspects of the work in ensuring that questions related to the accuracy or integrity of any part of the work are appropriately investigated and resolved. All authors read and approved the final manuscript.
Competing interests
The authors declare that they have no competing interests.
Consent for publication
Not applicable.
Ethics approval and consent to participate
Not applicable.
Publisher's Note
Springer Nature remains neutral with regard to jurisdictional claims in published maps and institutional affiliations.
Open AccessThis article is distributed under the terms of the Creative Commons Attribution 4.0 International License (http://creativecommons.org/licenses/by/4.0/), which permits unrestricted use, distribution, and reproduction in any medium, provided you give appropriate credit to the original author(s) and the source, provide a link to the Creative Commons license, and indicate if changes were made. The Creative Commons Public Domain Dedication waiver (http://creativecommons.org/publicdomain/zero/1.0/) applies to the data made available in this article, unless otherwise stated.
Authors' Affiliations
(1)
The Islamia University of Bahawalpur, Bahawalpur, Pakistan
(2)
Massey University, Auckland, New Zealand