Molecular epidemiology of hepatitis C infections in Ningxia, China: genotype, phylogeny and mutation analysis
Virology Journal
2016
13:172
Received: 25 July 2016
Accepted: 12 October 2016
Published: 18 October 2016
Abstract
Background
Current prevalence and genotype distribution of hepatitis C virus (HCV) infection remain unknown in Ningxia, northwest China.
Methods
From June to December 2013, 13,022 individuals were screened in Ningxia HIV/AIDS Sentinel Surveillance System, with their demographic features collected and serum samples tested for HCV antibody. Sero-positive drug users were further subjected to sequencing of NS5B and Core regions of HCV.
Results
The anti-HCV prevalence was 0.34 % among individuals without history of drug use, while it was 15.80 % among drug users. Of 79 NS5B sequences amplified from drug users, 64 (81.0 %) were male and 51 (64.0 %) were injection drug users (IDUs). Subtype 3a (40.5 %) and 1b (25.3 %) were the most predominant subtypes, followed in frequency by 3b (10.1 %) and 2a (7.6 %). Subtype distribution has no significant difference between injection and non-injection drug users. Based on phylogeographic analysis, HCV strains in Ningxia IDUs were mainly originated from two sites, Yunnan province (in southwest China bordering Myanmar, also known as Burma) and Xinjiang Autonomous Region (in northwest China on the border of Central Asia), which are the two major drug trafficking originates in China. Previously reported drug-resistance mutations were also scanned in this treatment-naïve population. Amino acid substitutions (C316N) associated with direct anti-viral agents (DAA) resistance were identified in the NS5B region in seven samples.
Conclusion
This study is the first to reveal the existence of multiple genotypes of HCV in Ningxia, an inland province in northwest China, suggesting the rapid spreading of the virus.
Keywords
Hepatitis C virusPrevalenceGenotypePhylogeneticGenetic diversity
Background
Hepatitis C is the second leading cause of chronic hepatitis, liver cirrhosis and hepatocellular carcinoma (HCC) in China. The seroprevalence of hepatitis C infection in China is about 0.43 % in general population, corresponding to 5.6 million people [1]. However, it has been estimated that the real seroprevalence of HCV may be close to 10 million in China [2]. In recent years, although the overall hepatitis C virus (HCV) prevalence is decreasing due to mandatory HCV antibody screening prior to blood transfusion [3–5], the prevalence among populations with high-risk behaviors remain high, especially among injection drug users (IDUs) [6, 7]. Studies have shown that the prevalence of hepatitis C among IDUs is 70 % in China [6, 8], compared to that of 60 % in the United States [9].
HCV, a member of the family
Flaviviridae
, is a positive single-stranded RNA virus. HCV is mainly divided into 7 genotypes and more than 80 subtypes. HCV genotype 1, 2, and 3 are commonly distributed around the world [
10
]. Several nationwide studies have shown that genotype 1, 2, 3, 6 were the most prevalent genotypes in China [
11
,
12
]. The current genetic diversity of HCV infection remains unclear in Ningxia Hui Autonomous Region, which is known for its ethnic diversity with about 64.58 % Han, 35.42 % Hui (Muslims) and less than 1 % other minorities (Fig.
1
) [
13
]. Han is the dominant ethnic group in China with 90 % of the population, while most of the Hui ethnic minority inhabit in Ningxia, is descended from the Arabic and Persian merchants who came to China during the 7th century [
14
].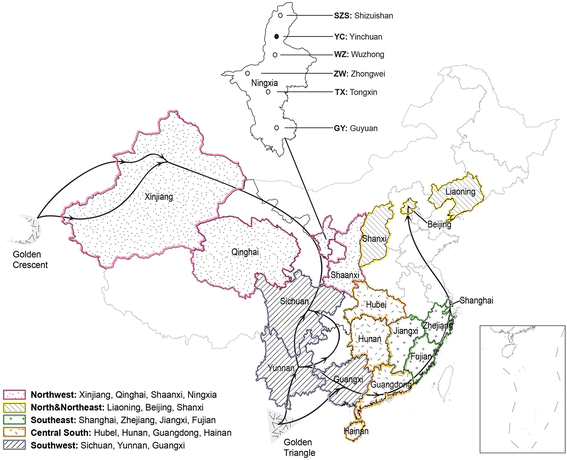 As HIV and HCV share the same routes of transmission, we recruited patients from Ningxia HIV/AIDS Sentinel Surveillance System, part of the nationwide disease management program in China launched in 1995 [15, 16]. The HIV/AIDS Sentinel Surveillance System is under the direction of the Ministry of Health (MOH) and the Chinese Center of Disease Control and Prevention (CDC), with nine key affecting populations (KAPs) were screened for HIV infections and related behaviors (Additional file 1: Supplementary Information 1). HCV testing was added and routinely performed since 2009 [17]. Blood samples, collected from KAPs registered from June to December 2013, were subjected to HCV tests, gene sequencing of NS5B, Core regions and further analysis.
HCV genotyping and phylogenetic analysis provide opportunity to reveal the recent HCV epidemic in Ningxia and the possible transmission networks in China. Such epidemiological and molecular information can also inform the efficacy of current regimens with Peginterferion and Ribavirin, and the upcoming highly effective direct anti-viral agents (DAAs) as well. Besides, few drug-resistance mutations have been reported in China, where no DAAs have not been approved yet. Therefore, pre-treatment testing for individuals may benefit in regimen choosing more effective regimens in the new DAA era.
Discussion
We found that seroprevalence of HCV was 0.34 % among individuals without drug use history and 15.8 % for drug users in Ningxia, based on a screening on individuals from Ningxia HIV/AIDS Sentinel Surveillance System. Ningxia was conventionally considered as a low-risk area, with the seroprevalence about 0.10 % among general population [1, 29]. Specialists and clinicians suggested a higher prevalence since some high-risk populations were not covered in the previous nationwide survey. Therefore, we mainly focused on drug users recruited from HIV surveillance system. We found that the prevalence among drug users was comparable to that of neighboring provinces but lower than the reported prevalence nationwide, that was, 66.97 % for IDUs and 18.97 % for non-injection drug users [8, 30].
Previous genotyping studies provided evidences to the hypothesis of two epidemics of HCV in China. Blood transfusion contributed to the first epidemic in China [31]. Subtype 1b, followed by 2a, was reported to be the most predominant subtypes in those studies that screened more blood donors [19, 32, 33]. Mandatory screening of blood and blood products was implemented in the 1990s to prevent the spreading of HCV [5]. Together with the increasing number of drug users, several studies have noticed a shift to the second epidemic: from subtype 1b to genotype 3 and 6 [34–37]. In addition, IDU is suspected as a factor that drives the emerging of new subtypes mainly due to genetic drift [38]. In our study, nine subtypes were identified, in which 3a (41.38 %) and 1b (25.29 %) were the predominant subtypes. Subtype 1a, 2b, 6u and 6b were not reported in Lu et al. [19], which was the largest genotyping study in China so far. The finding of multiple genotypes in Ningxia including fairly rare subtypes reflected the substantial mixture of HCV patients and accelerated propagation of the disease by modern transportation, internal migration, blood transfusion and IDU.
Studies on drug trafficking routes suggested the correlation of HIV transmission network and the drug smuggling routes from two major heroin-producing regions, "The Golden Triangle" (Myanmar, Laos and Thailand) and "The Golden Crescent" (Afghanistan and Pakistan) [39]. HCV shared the same way of transmission and thus the same epidemic features with HIV. The geographic features of HCV prevalence reinforced its spreading through these two drug trafficking routes [8]. Ningxia is located at the crossroad of the two drug trafficking routes geographically (Fig. 1). Phylogenetic analysis of subtype 3a also suggested the virus in Ningxia comes from both originates, Yunnan (bordering Myanmar and Laos) and Xinjiang (bordering Afghanistan and Pakistan) (Fig. 3c).
We found 11 co-infected patients of both HIV and HCV (13.9 %), which is much higher than the prevalence of 1.88 % among drug users in prior studies [8, 40]. This inconsistency may be due to the sampling bias, as samples collected in this study are from HIV/AIDS Sentinel Surveillance System. Besides, very few studies have been performed on mixed infection of different subtypes of HCV, which may be a hint for viral reconstruction, and a boost to fasten viral evolution [34]. Conventional sequencing methods based on short regions would not enable us to confirm hybrid genetics even if it exists. Further studies need to be performed on the detection of the intra-host viral population with deep sequencing [41].
With regard to the naturally occurring drug-resistance mutations, several single nucleotide polymorphisms (SNPs) of NS5B protease resistance have been previously reported in treatment-naïve hepatitis C patients [28, 42]. As the first DAA will be introduced to China soon, searching for drug-resistance SNPs may impact the planning for HCV treatment and predict the disease burden in the future. S282T was the most common one conferred resistance to NS5 nucleoside analogs inhibitors, such as Sofosbuvir, in subtype 1a, 1b and modest resistance in subtype 2a [43, 44]. In this study, we found no such resistance-bearing viral strains. However, C316N were detected in seven isolates among 1b sequences, which was reported to be associated with resistance to non-nucleotide inhibitor of NS5 protease [45–47]. Seven C316N-bearing sequences form two fairly close-related clusters, implying a direct transmission network behind, which calls for behavior study to confirm.
The findings of this study may impact the HCV controlling approaches in terms of screening, treatment, and patients management. First, several studies have suggested that interventions targeting drug users were effective approaches for HCV control [48, 49]. Continued screening, monitoring and treatment for drug users may reduce HCV incidence and prevalence, and could be highly cost-effectiveness. Second, needle exchange programs (NEP) and methadone maintenance treatment (MMT) may also be a feasible approach in controlling HCV transmission among IDUs. There are currently eight NEP/MMT sites operating in Ningxia, but still 23.1 to 44.4 % IDUs reported sharing needles in a recent survey conducted in 2015 [50, 51]. Our findings highlighted the necessity of the expansion of NEP in Ningxia and increased financial investment to such programs. In addition, treatment with the implementation of new DAAs could be highly effective, whereas their cost and value had been widely debated as the DAA treatment is much too expensive. Besides, the complex treatment regimen for HCV is further complicated by HIV co-infection [52, 53].
This study has several limitations. First, all serum samples were collected from individuals presented in HIV/AIDS Sentinel Surveillance System in 2013, and therefore the prevalence could not reflect that of general population. Further studies on the phylogeny on sequences from general population may present with a different pattern. Second, only NS5B and Core sequences were analyzed in our study. Whole genome sequencing performed on deep sequencing would provide more information on genotype distribution and mixed infection of various strains within one host [41]. Third, we did not collect enough clinical data, such as liver biopsy, aminotransferase/platelet ratio index (APRI) or FIB-4 scores, and thus were not able to stratify our patients by their liver status [54–56].
Conclusion
In conclusion, the overall seroprevalence of HCV was 0.34 % among people with no history of drug use in Ningxia, while it was 15.8 % among drug users and 47.25 % among IDUs, based on a screening on individuals from Ningxia HIV/AIDS Sentinel Surveillance System. Nine subtypes, 1a, 1b, 2a, 2b, 3a, 3b, 6a, 6b and 6u were found among 79 isolates from drug users. 3a (41.38 %) followed by 1b (25.29 %) were the most predominant. Phylogenetic analysis suggested two possible originates of HCV transmission, accompanying the drug trafficking route in China. Our study suggested that drug use, especial IDU, is the most important risk factor for HCV infection, and management of drug users in Ningxia may play a crucial role in controlling the ongoing HCV epidemic.
Abbreviations
APRI:

Aminotransferase/platelet ratio index
CDC:

Chinese Center of Disease Control and Prevention
DAA:

Direct anti-viral agents
ELISA:

Enzyme-linked immunosorbant assay
FSW:

Female sex workers
HCC:

Hepatocellular carcinoma
HCV:

Hepatitis C virus
IDUs:

Injection drug users
KAPs:

key affecting populations
ML:

Maximum-likelihood
MMT:

Methadone maintenance treatment
MOH:

Ministry of Health
MSM:

Men who have sex with men
NEP:

Needle exchange programs
SNPs:

Single nucleotide polymorphisms
STD:

Sexual transmitted disease
Declarations
Acknowledgement
We thank Dr. Marc A. Suchard from UCLA for the technical support in phylogenetic analysis with BEAST software.
Funding
This research is supported by grants from Ningxia Science and Technology Program - International Cooperation Program (2013ZYH193) and Ningxia Natural Science Foundation (NZ13217).
Availability of data and material
One hundred thirty-eight sequences of NS5B and Core regions of hepatitis C virus was submitted to NCBI (the GenBank accession number: KX940824-KX940901, KX950601-KX950659).
Authors' contributions
ZW, study designing and sequencing; LC, phylogenetic analysis and manuscript writing; WZ, study designing; DY, HC, RW, XW, data collecting; LZ, manuscript writing; TH, study designing and manuscript writing. All authors read and approved the final manuscript.
Competing interests
The authors declare that they have no competing interests.
Consent for publication
Written informed consents for publication were obtained from all recruited individuals.
Ethics approval and consent to participate
The Ningxia CDC institutional review board has approved the study. Written informed consents to participate were obtained from all recruited individuals.
Open AccessThis article is distributed under the terms of the Creative Commons Attribution 4.0 International License (http://creativecommons.org/licenses/by/4.0/), which permits unrestricted use, distribution, and reproduction in any medium, provided you give appropriate credit to the original author(s) and the source, provide a link to the Creative Commons license, and indicate if changes were made. The Creative Commons Public Domain Dedication waiver (http://creativecommons.org/publicdomain/zero/1.0/) applies to the data made available in this article, unless otherwise stated.
Authors' Affiliations
(1)
Ningxia Center for Disease Control and Prevention, Ningxia, China
(2)
Tsinghua University School of Medicine, Beijing, China
(3)
Ningxia Medical University School of Public Health and Management, Ningxia, China
(4)
Wuzhong Center of Disease Control and Prevention, Ningxia, China
(5)
Comprehensive AIDS Research Center, and Collaborative Innovation Center for Diagnosis and Treatment of Infectious Diseases, Tsinghua University School of Medicine, Beijing, China