Biological function of Foot-and-mouth disease virus non-structural proteins and non-coding elements
Virology Journal
2016
13:107
Received: 19 February 2016
Accepted: 13 June 2016
Published: 22 June 2016
Abstract
Foot-and-mouth disease virus (FMDV) represses host translation machinery, blocks protein secretion, and cleaves cellular proteins associated with signal transduction and the innate immune response to infection. Non-structural proteins (NSPs) and non-coding elements (NCEs) of FMDV play a critical role in these biological processes. The FMDV virion consists of capsid and nucleic acid. The virus genome is a positive single stranded RNA and encodes a single long open reading frame (ORF) flanked by a long structured 5ʹ-untranslated region (5ʹ-UTR) and a short 3ʹ-UTR. The ORF is translated into a polypeptide chain and processed into four structural proteins (VP1, VP2, VP3, and VP4), 10 NSPs (Lpro, 2A, 2B, 2C, 3A, 3B1–3, 3Cpro, and 3Dpol), and some cleavage intermediates. In the past decade, an increasing number of studies have begun to focus on the molecular pathogenesis of FMDV NSPs and NCEs. This review collected recent research progress on the biological functions of these NSPs and NCEs on the replication and host cellular regulation of FMDV to understand the molecular mechanism of host–FMDV interactions and provide perspectives for antiviral strategy and development of novel vaccines.
Keywords
Internal Ribosome Entry Site
Internal Ribosome Entry Site Element
Internal Ribosome Entry Site Activity
FMDV Infection
FMDV Strain
Background
Foot-and-mouth disease (FMD), an acute highly contagious viral disease in susceptible cloven-hoofed animals, was described 100 years ago. The etiologic agent, FMD virus (FMDV), is a positive-sense, single-stranded RNA virus that belongs to the Aphthovirus genus, Picornaviridae family. FMDV is one of the most contagious viruses in cloven-hoofed animals and can cause both acute and prolonged, asymptomatic but persistent infection [1]. Upon infection of susceptible species, FMDV proliferates rapidly and causes vesicular disease in feet and mouth.
The RNA virus genome of FMDV displays a very high mutation rate because the virus-encoded RNA polymerase lacks a proofreading mechanism [2, 3]. The high mutation rate of FMDV, coupled with its rapid proliferation and extensive population, result in the rapid evolution of this virus [4], which contributes to the existence of seven main serotypes (A, O, C, Asia1, South African Territories (SAT) 1, SAT2, and SAT3). In addition, numerous variants and subtypes have been further evolved from each serotype [1]. Given that cross-reactivity varies, antigenic diversity among these serotypes have to be considered during vaccine development [5].
FMDV virion has a symmetric protein shell (or capsid) enclosing the genomic RNA. Genome RNA contains a positive single-strand chain approximately 8.3 kb long and encodes a single long open reading frame (ORF) of about 7 kb with two alternative initiation sites. The ORF is flanked by a long 5ʹ-untranslated region (5ʹ-UTR) and a short 3ʹ-UTR, and ends with a genetically encoded poly-(A) tail [
6
]. A genome-linked viral nonstructural protein (NSP), 3B (also known as VPg) containing 23–24 amino acid (aa) residues, is covalently bound to its 5ʹ end, although this protein is rapidly released into an infected cell and is deemed to play no part in translation initiation [
7
]. The viral ORF can be translated into a polyprotein of about 250 kDa, which is subsequently cleaved by two virus-encoded proteinases (leader (L
pro
) and 3C
pro
) to yield structural and NSPs [
8
,
9
] (Fig.
1
).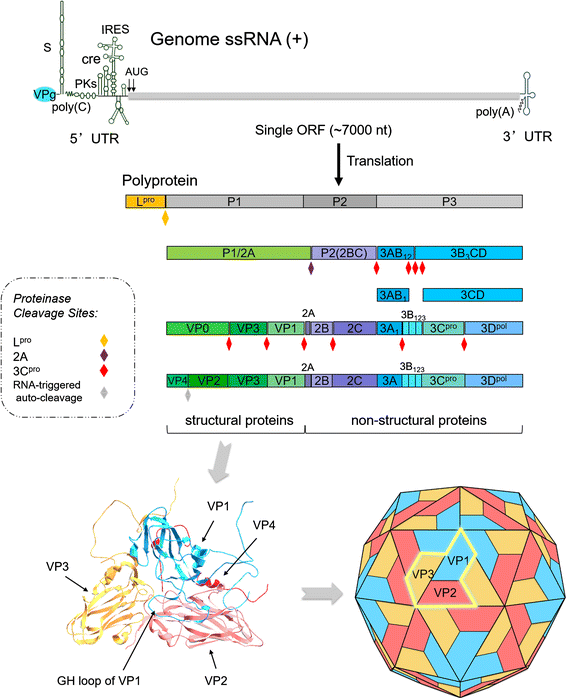 The FMDV genome was completely sequenced, and all cleavage sites involved in the processing of polypeptides were also identified in the past two decades. Generally, the ORF region in FMDV genome is artificially divided into four functional areas due to the different functions of mature polypeptides [10], which are shown as follows (Fig. 1): L region, which is located at 5ʹ end to the capsid component and codes for Lpro. P1 region, encoding a precursor for capsid polypeptide, which can generate four mature capsid proteins (VP4, VP2, VP3, and VP1) upon cleavage by viral protease. P2 region encodes three viral proteins (2A, 2B, and 2C) in the middle region of the genome. And P3 region, which encodes four viral proteins: 3A, 3B, 3Cpro and 3Dpol, in which, 3C is a viral protease and 3D an RNA-dependent RNA polymerase [11]. Actually, primary polyprotein is not strictly processed into four products as the functional regions by initial protease, but Lpro, P1-2A, 2BC and P3 by Lpro, 2A and 3Cpro. The precursors P1-2A, 2BC and P3 are further processed into mature viral proteins and some cleavage intermediates with relative stability, such as VP0 or 1AB, 3ABC, 3BCD, 3AB, and 3CD by 3Cpro (Fig. 1). Usually, the intermediates may perform functions other than those of their individual constituents.
The virus capsid consists of 60 copies of each of the four structural polypeptides (VP1 to VP4), which are self-assembled into an icosahedral structure with a diameter of 30 nm [
12
,
13
] (Fig.
1
). Studies on structural information and protein interaction have shown that the structural protein or the precursor products VP0 (VP2/4 or 1AB), VP1 (1D), and VP3 (1C), which are encoded by P1 region, form immature protomers through weak chemical bond interaction. Then, pentamers are assembled by five protomers [
14
]. After self-assembly of pentamers to generate an empty capsid, the viral genomic RNA covalently linked to VPg at the 5ʹ end enters the capsid to produce pro-virion. Then the pro-virion is eventually processed into a mature virion following the RNA-triggered auto-cleavage of VP0 [
15
]. Finally, the virion particles with complete assembly are released from the infected host cells (Fig.
2
).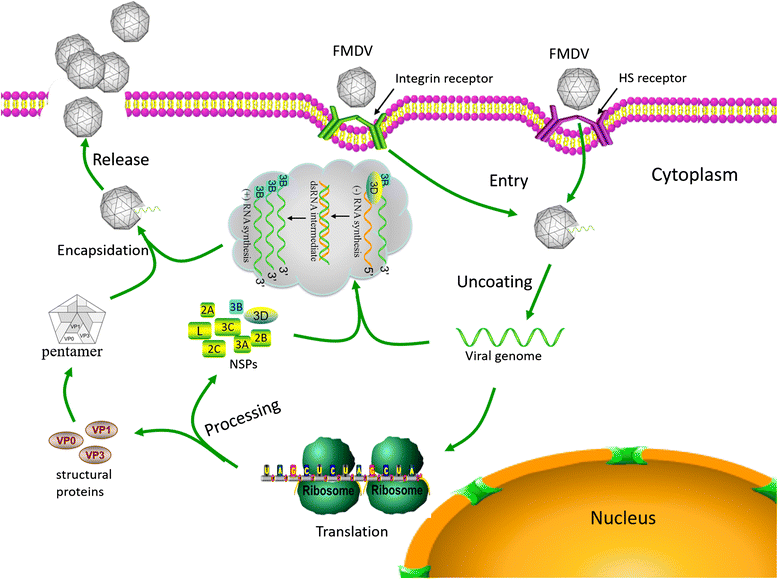 Viral non-coding elements (NCEs) and NSPs play essential roles in FMDV-induced viral evasion. This review focus on the molecular biology of FMDV, along with the functional roles of FMDV NSPs and NCEs in viral replication and virulence, to elucidate how FMDV evades the host immune response and evolves into such an aggressive pathogen.
Functions of FMDV NCEs
5ʹ-UTR
The 5ʹ-UTR is a central element that initiates replication and translation of the picornavirus genome. Similar to other picornaviruses, the FMDV RNA genome does not contain the 5ʹ-terminal cap structure (m7GpppN…), which can be recognized by the translation initiation machinery in all eukaryotic cells [16]. Instead, a short viral protein, 3B or VPg, is covalently linked to the 5ʹ end of the viral RNA [8]. FMDV is unique among the picornaviruses as it encodes three non-identical copies of 3B in tandem (see Section 3.3).
FMDV RNA, which consists of a long 5ʹ-UTR containing over 1300 nucleotides (nt), exhibits extensive secondary structure and is commonly divided into five regions (Fig.
3
). The first element of the 5ʹ end is the S-fragment with approximately 350 nt long. Its sequence is highly base-paired and capable of folding into a long stem-loop. Although this highly structured segment has not been extensively studied, this portion is presumed to prevent host exonuclease function to maintain viral genome stability and replication [
8
].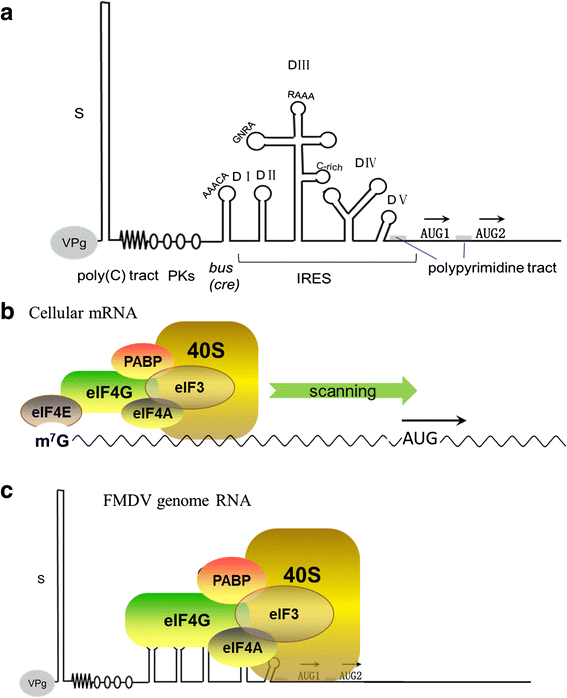 Following S-fragment is a poly(C) tract exhibiting a variable length of 150–200 nt in typical field strains. Investigations on genetically engineered viral genome revealed that a certain threshold length of poly(C) is required to rescue live virus, although no evidence has shown that poly(C) tract length is directly associated with virulence [17]. On the 3ʹ end of the poly(C) tract is a variable region folded as multiple pseudoknots (PKs) (2–4) [18, 19]. The function of this element remains unknown, but it is possibly associated with the poly(C) tract [16].
Downstream of the PK region lies a 3B-uridylylation site (bus), also known as cis-acting replication element (cre), which is a highly conserved stem-loop of 55 nt and is essential for viral genome RNA replication [20]. This element is commonly consisted in different picornavirus RNAs, and all picornavirus bus elements contain a conserved "AAACA" motif in the loop region. This motif acts as the template for uridylylation of VPg (3B) to produce VPgpU and/or VPgpUpU, collectively termed as VPgpU(pU), by the viral RNA polymerase 3D [21, 22]. VPgpU(pU) serves as a primer that initiates viral RNA synthesis. Interestingly, most known viral bus structures are embedded in protein-coding regions of the viral genome, except for that of FMDV, which has a bus structure that lies in the 5ʹ-UTR region [8]. Alteration in the consensus "AAACA" motif disrupts viral genome replication but does not significantly affect RNA translation in FMDV [20]. Moreover, FMDV is temperature sensitive (ts), and viral replication is greatly suppressed at non-permissive temperature. Mutant analysis reveals that the ts element is located within the bus sequence [23], indicating that "cre" also functions in trans.
The last portion of the 5ʹ-UTR is the internal ribosome entry site (IRES) element, a type II IRES element [24]. Consisting of approximately 450 nt, the IRES element is required for cap-independent internal translation initiation of viral RNA [20, 25]. FMDV IRES has five domains and forms multiple stem-loops (Fig. 3a). There are evidences to support that these domains are involved in translational control. Some highly conserved sequences exist in these domains, like Domain II containing a polypyrimidine tract (UCUUU) that provides a polypyrimidine tract-binding protein (PTB) binding site [26]. Domain III includes two conserved essential motifs, GNRA and RAAA (N is any nucleotide and R stands for purine) at the apical region, and a conserved C-rich loop at the middle region [27, 28]. Modification of the 5ʹ-G or 3ʹ-A residue of GNRA both greatly diminish the activity of FMDV IRES [27, 29] and mutation of RAAA shows abolished activity of FMDV IRES [28, 30], suggesting that they are important for IRES activity. This domain also plays a key role in RNA–RNA interactions and RNA–protein interactions in FMDV [31]. Domain IV is arranged into two stem-loop structures containing A-rich internal bulges in FMDV, and it is responsible for the interaction with eIF4G, an essential translation initiation factor for IRES-mediated translation initiation in FMDV [32, 33]. Domain V consists of a conserved hairpin-loop region and a polypyrimidine-rich tract sequence at 20 nt upstream of the initiation codon AUG [34], which is crucial to identify and initiate viral protein synthesis. Some mutations in this region are highly detrimental to IRES activity in FMDV [25] (Fig. 3a).
Translation of FMDV RNA
The featured IRES element is an essential structural region for initiation of protein synthesis in picornavirus genome RNA [25, 35, 36]. The IRES is a cis-acting RNA sequence that adopts diverse three-dimensional structures to recruit the translation machinery using a mechanism that is independent on the 5′end [37]. Nearly all canonical cellular translation initiation factors are required for IRES-dependent initiation of translation in FMDV except eIF4E, a cap-binding protein [16, 38], consistent with the fact that FMDV genome RNA lacks the cap structure on the 5ʹ end (Fig. 3b and c). For most cellular mRNAs, the 5′cap structure is recognized by eIF4F, a trimeric complex composed of eIF4A (an RNA helicase), eIF4E (a specific cap structure-binding protein), and eIF4G (a scaffold protein). The scaffold protein eIF4G interacts with eIF4A, PABP and the multimeric factor eIF3. The complex bound to the 40S ribosomal subunit is recruited to the mRNA along with other factors, resulting in eukaryotic protein synthesis [38] (Fig. 3b). Cleavage of eIF4G by viral Lpro removes its N-terminal portion, the binding sites for eIF4E, impairing cap-dependent protein synthesis in host cells. By contrast, the C-terminal portion of eIF4G retains the binding sites for eIF4A and eIF3, which is sufficient for FMDV IRES activity.
However, viral IRES are characterized by the presence of ignored AUGs upstream of the functional start codon, heavy RNA structure and high GC content [39, 40]. Despite being unable to direct cap-dependent translation, the C-terminal portion of eIF4G is fully efficient in FMDV IRES-driven translation [16, 41]. Reconstitution assays have demonstrated that assembly of initiation complexes into IRES element requires either the intact type or C-terminal fragment of eIF4G, in addition to eIF4A, and eIF3 [42, 43]. Moreover, eIF4G, either the intact type or the C-terminal cleavage product, directly interacts with IRES in domains III and IV [44]. eIF4A and eIF3, which bind to eIF4G, also indirectly interact with IRES to participate in IRES-directed translation initiation. eIF4B, another factor that directly interacts with IRES at domain IV, also affects the activity of IRES, although the effect is rather modest [45].
In addition to the eIFs described above, many other cellular proteins are also involved in the modulation (stimulate or repress) of IRES activity. They are all termed IRES-transacting factors (ITAFs), including PTB, PCBP2, the SR splicing factor (SRp20), the far upstream element binding protein 2 (FBP2), the lupus antigen (La), unr (upstream of N-ras), nucleolin, or Gemin5, etc [46].
The polypyrimidine PTB was the first protein identified as an ITAF [25, 47, 48]. PTB contains four RNA recognition motifs (RRM) to recognize U/C-rich sequences. PTB directly binds to polypyrimidine tracts on IRES element to stimulate IRES activity in FMDV [47]. The poly(C) binding proteins, PCBP1 and PCBP2, also recognize and interact with FMDV IRES domain II, but the depletion test showed that such an interaction site is not indispensable for FMDV IRES activity [41, 49]. Moreover, secondary protein–protein or RNA-protein bridges could facilitate IRES activity. As examples, SRp20 enhances IRES-mediated translation via its interaction with PCBP2 [50]. ITAF45 (also known as Ebp1), together with PTB, sharing the same binding region in IRES, cooperatively stimulate FMDV IRES activity [51]. Later studies found some ITAFs of IRES downregulators. For example, Gemin5, a cytoplasmic protein that binds directly to the FMDV IRES and down-regulates translation [52]. Besides, FBP2 negatively regulates EV71 IRES activity [53], and the double stranded RNA-binding protein DRBP76:NF45, is a nuclear heterodimeric protein that interacts with HRV IRES and represses its activity [54].
As a consequence of in depth RNA–protein interaction studies performed with picornavirus IRES, the list of ITAFs is still growing incessantly [55]. The Glycil tRNA synthetase (GARS) emerges as a class of novel ITAFs stimulating picornavirus IRES activity [56]. Predictably, more ITAFs will be identified in the near future, which will help to provide more details about interactions of IRES-proteins within host cells.
3ʹ-UTR
FMDV RNA 3ʹ-UTR consists of two components, a structural sequence of 90 nt folding into two separate stem-loops and a poly(A) tail with variable length [16, 57] (Fig. 1). These elements are both involved in viral replication and virulence [24]. Molecular biology studies have demonstrated that the structured 3ʹ-UTR directly binds to S-fragment and IRES elements at two distinct positions in the 5ʹ-UTR through specific long-range RNA–RNA contact pattern [57]. IRES-3ʹ-UTR interaction requires both stem–loop structures of 3ʹ-UTR, which stimulates IRES activity and is independent of the poly(A) tail. Whereas the S-fragment interacts with each of the stem–loops and is dependent on the poly(A) tail [57]. These findings indicated that the 3ʹ-UTR enhances IRES activity and determines the virulence of FMDV. Moreover, genetic evidence reveals that recombinant FMDV with a deleted structural sequence in 3ʹ-UTR cannot be recovered [58], demonstrating that the structured region in the 3ʹ-UTR is essential for FMDV infectivity and replication.
In addition to direct RNA-RNA interaction, 5′–3′ end bridges could also involve protein-protein and protein–RNA interaction. Studies found that cellular proteins PCBPs and p47 can both interact with the S region and 3ʹ-UTR by directly binding to them [57]. As mentioned in the above section, SRp20 directly interacts with PCBP2, and Ebp1 cooperates with PTB to stimulate viral genome translation, raising the possibility that secondary protein–protein bridges take important roles in RNA–RNA interaction between 5ʹ and 3ʹ ends to modulate the viral genome translation in FMDV.
Conclusions and perspective
FMDV remains a severe pathogen that hampers modern agriculture worldwide, despite the extensive work has been conducted in the past several decades to control it. Traditional vaccine development is limited by the potential risk of virus transmission. Synthetic capsid vaccine, an important novel vaccine against virus infection is limited because of the high potential for genetic and antigenic variation [1, 5]. Specific strategies against FMDV, including antiviral drugs and novel vaccines, are still required in response to repeated epidemic events.
The NSPs and NCEs of FMDV play a critical role in viral proliferation and virus–host interaction. Studies on the involvement of these proteins and elements provided important insights into the molecular mechanism of virus-induced diseases. Nearly all NSPs and NCEs of FMDV are under investigation for their involvement in either virus detection or potential anti-viral strategy development [197–205], although progress is slow. FMDV is unique among the picornavirus family because of its long 5ʹ-UTR, three copies of 3B protein and short 2A protein lacking any protease motifs. Together with our most recent finding about the molecular mechanisms of FMDV entry into host cells [206], these properties possibly contribute to the virulence and pathogenesis of FMDV. In-depth work is still required to further understand the role of these proteins and elements in FMD pathogenesis and virus–host interactions. More extensive research will be helpful to uncover effective antiviral targets.
Declarations
Acknowledgments
This work was supported by grants from the National Science and Technology Support Program (2013BAD12B00), International Science & Technology Cooperation Program of China (2014DFA31890), Fundamental Research Funds for the Chinese Academy of Agricultural Sciences (2015ZL062), and China Postdoctoral Science Foundation (2016M591314). We are grateful to Shichong Han (China Agricultural University) for his help with image processing. We also would like to thank Liping Yang (University of Maryland) for critical reading of this manuscript. We apologize to the people whose work cannot be cited due to space limitation.
Authors' contributions
YG and SQ S provided the concept and study information. YG and SQ S also drafted the manuscript. HC G provided the final approval of the version for submission. All of the authors approved the final version of the manuscript.
Competing interests
The authors declare that they have no competing interest.
Open AccessThis article is distributed under the terms of the Creative Commons Attribution 4.0 International License (http://creativecommons.org/licenses/by/4.0/), which permits unrestricted use, distribution, and reproduction in any medium, provided you give appropriate credit to the original author(s) and the source, provide a link to the Creative Commons license, and indicate if changes were made. The Creative Commons Public Domain Dedication waiver (http://creativecommons.org/publicdomain/zero/1.0/) applies to the data made available in this article, unless otherwise stated.
Authors' Affiliations
(1)
State Key Laboratory of Veterinary Etiological Biology and OIE/National Foot and Mouth Disease Reference Laboratory, Lanzhou Veterinary Research Institute, Chinese Academy of Agricultural Sciences, Lanzhou, China