Evasion of host antiviral innate immunity by HSV-1, an update
Virology Journal
2016
13:38
Received: 20 January 2016
Accepted: 26 February 2016
Published: 8 March 2016
Abstract
Herpes simplex virus type 1 (HSV-1) infection triggers a rapid induction of host innate immune responses. The type I interferon (IFN) signal pathway is a central aspect of host defense which induces a wide range of antiviral proteins to control infection of incoming pathogens. In some cases, viral invasion also induces DNA damage response, autophagy, endoplasmic reticulum stress, cytoplasmic stress granules and other innate immune responses, which in turn affect viral infection. However, HSV-1 has evolved multiple strategies to evade host innate responses and facilitate its infection. In this review, we summarize the most recent findings on the molecular mechanisms utilized by HSV-1 to counteract host antiviral innate immune responses with specific focus on the type I IFN signal pathway.
Keywords
HSV-1IFNAntiviral innate immunityImmune evasion
Background
Herpes simplex virus type 1 (HSV-1) is a typical human-restricted pathogen which is carried by 50–90 % of the population worldwide, with the higher frequencies in developing countries. HSV-1 is well known for its ability to establish a lifelong latent infection in neurons and trigger reactivation and lytic infection mainly in epithelial or mucosal cells [1–3].
The type I interferon (IFN) signal pathway is the crucial first line of defense and mediates a wide range of innate immune responses toward viral infection. The type I IFN signal pathway is activated upon recognition of viral constituents by pattern-recognition receptors (PRRs), then exerts its function through the expression of multiple IFN-stimulated genes (ISGs) [4, 5]. Cytosolic PRRs include several members of the Toll-like receptor (TLRs) family and certain DNA and RNA sensors [6]. TLRs are the first to be discovered and identified PRRs that detect pathogen-associated molecular patterns. TLR3, TLR7, TLR8, and TLR9 locate on the endosomal membrane and detect nucleic acids [7, 8]. RIG-I-like receptors (RLRs), including retinoic acid-inducible gene I (RIG-I) and melanoma differentiation-associated gene 5 (MDA5) and other RNA receptors can detect distinct RNA structures, while cytoplasmic DNA is detected by recently discovered DNA sensors, including cyclic GMP-AMP synthase (cGAS), IFN-γ-inducible protein 16 (IFI16), DEAD box polypeptide 41 (DDX41), DNA-dependent activator of IRFs (DAI) and several proteins involved in the DNA damage response [6, 9–11].
Apart from the type I IFN signal pathway, the host has also evolved other host antiviral innate immune responses to counteract viral infection. Chromosomal breaks at specific sites were induced upon HSV-1 infection, and viruses interact with cellular pathways responsible for recognition and repair of DNA lesions also known as the DNA damage response (DDR). Recent studies show that certain aspects of DDR play a positive role on antiviral defense [12, 13]. Autophagy, a conserved cell-autonomous pathway, is involved in various physiological processes, including antiviral responses [14]. The canonical function of autophagy allows the regular degradation and recycling of cellular components through isolating targeted cytoplasmic constituents within a double-membraned vesicle known as an autophagosome and exerts several different antiviral roles. Previous study indicates that HSV-1 infection leads to endoplasmic reticulum (ER) stress, which could restrict viral pathogenesis through modulating the immune responses or causing apoptosis [15]. Moreover, viral infection also induces the formation of cytoplasmic granules known as stress granules (SGs). Evidence shows that there is a strong correlation among SG formation, type I IFN production and viral propagation, which suggests that SGs could induce innate responses and restrain viral infection [16].
However, to evade host innate responses, HSV-1 has developed multiple mechanisms to attenuate host antiviral elements and facilitate its infection. In this review, we will discuss the most recent findings on the molecular mechanisms utilized by HSV-1 to evade host antiviral innate immune responses. Specific attention will be given to type I IFN signal pathway, as it plays a central role in the innate antiviral immunity.
HSV-1 infection dampens the type I interferon production and its downstream signaling pathway
Other host antiviral innate immune responses
Conclusion
In summary, the interplay between HSV-1 and the host antiviral innate immunity is very complicated, with viral components interference at multiple steps of the host antiviral defense signaling pathway (Fig.
1
). Although the host has evolved multiple mechanisms to detect and trigger immediate antiviral responses, HSV-1 has also evolved strategies to counteract the host antiviral immune response. Notably, great progress has been made in the past few years in identifying novel host antiviral components, for example, the various cytosolic DNA sensors, it also brings the challenge for us to unravel the impact of these new elements on HSV-1 infection and the strategy HSV-1 evolved to cope with these effectors.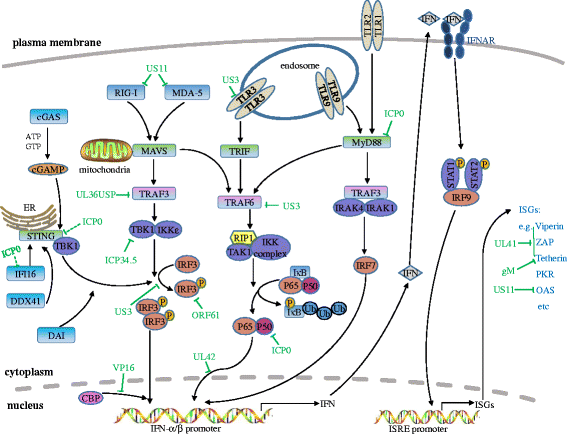 Declarations
Acknowledgments
This review summarizes only the most recent findings on HSV-1 mediated immune evasion. We apologize for incomplete coverage due to the space limitations. Work in the Zheng laboratory relevant to this article was supported by grants from the National Natural Science Foundation of China (81371795 and 81571974) and Innovative Research Team in Soochow University (PCSIRT, IRT 1075).
Open AccessThis article is distributed under the terms of the Creative Commons Attribution 4.0 International License (http://creativecommons.org/licenses/by/4.0/), which permits unrestricted use, distribution, and reproduction in any medium, provided you give appropriate credit to the original author(s) and the source, provide a link to the Creative Commons license, and indicate if changes were made. The Creative Commons Public Domain Dedication waiver (http://creativecommons.org/publicdomain/zero/1.0/) applies to the data made available in this article, unless otherwise stated.
Authors' Affiliations
(1)
Institutes of Biology and Medical Sciences, Soochow University, Suzhou, China
(2)
Department of Infectious Disease, Renmin Hospital, Hubei University of Medicine, Shiyan, China
(3)
Department of Microbiology, Immunology and Infectious Deseases, University of Calgary, Calgary, Canada