Current status and future directions in the management of chronic hepatitis C
Received: 10 August 2011
Accepted: 2 March 2012
Published: 2 March 2012
Abstract
Hepatitis C virus (HCV) is endemic worldwide, and it causes cirrhosis and other complications that often lead to death; nevertheless, our knowledge of the disease and its mechanisms is limited. HCV is most common in underdeveloped nations, including many in Africa and Asia. The virus is usually transmitted by parenteral routes, but sexual, perinatal, and other types of transfer have been known to occur. Approximately 80% of individuals who contract hepatitis C develop a chronic infection, and very few are able to spontaneously clear the virus. Because hepatitis C is asymptomatic in the majority of patients, the presence of HCV RNA in the serum is the best diagnostic tool. Although serious complications from hepatitis C may not occur for 20 years, 1/5 of chronic patients eventually develop life - threatening cirrhosis. More research is needed on the different therapy options for the disease, and many factors, most importantly the genotype of the virus, must be taken into account before beginning any treatment. As there is no vaccine against HCV at present, the most effective and recommended therapy is pegylated-interferon-α-2a plus ribavirin. While interferon is marginally effective as a monotherapy, both adding the moiety and combining it with ribavirin have been shown to dramatically increase its potency. While there are numerous alternative and complementary medicines available for patients with hepatitis C, their efficacy is questionable. Currently, research is being done to investigate other possible treatments for hepatitis C, and progress is being made to develop a vaccine against HCV, despite the many challenges the virus presents. Until such a vaccination is available, prevention and control methods are important in containing and impeding the spread of the virus and mitigating its deleterious effects on the health of people and communities worldwide.
Keywords
Hepatitis CFibrosisCirrhosisHepatic carcinomaPreventionTreatmentAntiviral
Introduction
The hepatitis C virus (HCV) infects up to 170 million people throughout the world, causing chronic liver disease, inflammation, and long-term complications [
1
–
3
]. HCV is a member of the Flaviviridae family, has single-stranded RNA, and is relatively small (55 nm - 65 nm) [
1
–
4
]. In 1989, it was determined that HCV is responsible for most transfusion-associated non-A and non-B hepatitis infections [
2
,
5
]. Eleven different genotypes of the virus have been identified, each with various subtypes and strains, but 60% of HCV infections are caused by type 1a and type 1b [
1
,
5
]. The majority of those exposed to HCV become chronic carriers of the virus; only 20% - 30% are expected to be free of the virus within six months of infection [
1
,
3
,
6
]. Nearly 20% of chronic carriers develop cirrhosis, while another 20% develop liver cancer [
1
], (Figure
1
). HCV is also the leading cause of hepatocellular carcinoma and cirrhosis [
5
].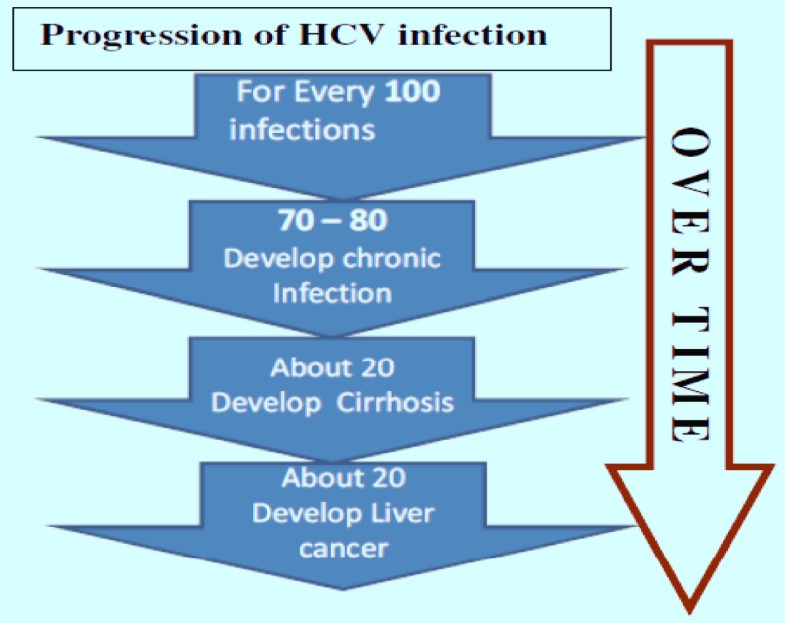 Conclusions
Although great advances have been made in the development of immunotherapies for HCV, this field is challenged by the lack of adequate knowledge of the virus and its interaction with the host cells. One of the reasons for these difficulties is the absence of a simple animal model for the disease, as only chimpanzees can be used for this purpose. The results of several studies on the development of effective vaccines and powerful anti-virals show that more and highly effective protective treatment options will be available in the near future. The current standard for care, according to the American Association for the Study of Liver Diseases and European guidelines, is a combination of pegylated IFN and ribavirin with or without a protease inhibitor in patients with genotype 1 infection, taking note that these should be prescribed with caution due to the discovery of resistant strains. Other factors that may influence response to therapy, such as HDL levels, serum vitamin D levels, IL-28B genotype, viral load and genotype, and RVR/cEVR, should be taken into consideration. Implementing various prevention and control strategies, promptly identifying and treating acutely infected individuals, creating public awareness of the disease, and continuing HCV research should all be of the highest importance.
Recently published phase IIa data for successful HCV genotype 1 treatment with two antiviral agents for patients who previously did not respond to peginterferon and ribavirin therapy
Results reported since peer review of this article showed a SVR was achieved in HCV genotype 1 patients treated with only two antiviral agents (asunaprevir and daclatasvir), and that a high rate of SVR was obtained when these two agents were combined with peginterferon alfa-2a and ribavirin, at 12 weeks after treatment. Notably, the success rate was 100% in patients receiving the combination therapy of the two antivirals plus peginterferon alfa-2a and ribavirin [81].
Abbreviations
ALT:

Alanine aminotransferase
AASLD:

American Association for the Study of Liver Disease
cEVR:

Complete early virological response
CyPB:

Cyclophilin B
EACS:

European AIDS Clinical Society
HCV:

Hepatitis C virus
HCV-LPs:

Hepatitis C virus-like particles
IFN:

Interferon
peg-IFN:

Pegylated interferon
RVR:

Rapid virological response
SVR:

Sustained virologic response
TLR:

Toll-like receptor.
Authors' Affiliations
(1)
Albany College of Pharmacy and Health Sciences, The Pharmaceutical Research Institute, Rensselaer, NY, USA
(2)
Faculty of Medicine, Almansoura University, Egypt
Copyright
© Aman et al; licensee BioMed Central Ltd. 2012
This article is published under license to BioMed Central Ltd. This is an Open Access article distributed under the terms of the Creative Commons Attribution License (http://creativecommons.org/licenses/by/2.0), which permits unrestricted use, distribution, and reproduction in any medium, provided the original work is properly cited.