Mobile DNA elements in T4 and related phages
Virology Journal
2010
7:290
Received: 26 May 2010
Accepted: 28 October 2010
Published: 28 October 2010
Abstract
Mobile genetic elements are common inhabitants of virtually every genome where they can exert profound influences on genome structure and function in addition to promoting their own spread within and between genomes. Phage T4 and related phage have long served as a model system for understanding the molecular mechanisms by which a certain class of mobile DNA, homing endonucleases, promote their spread. Homing endonucleases are site-specific DNA endonucleases that initiate mobility by introducing double-strand breaks at defined positions in genomes lacking the endonuclease gene, stimulating repair and recombination pathways that mobilize the endonuclease coding region. In phage T4, homing endonucleases were first discovered as encoded within the self-splicing td, nrdB and nrdD introns of T4. Genomic data has revealed that homing endonucleases are extremely widespread in T-even-like phage, as evidenced by the astounding fact that ~11% of the T4 genome encodes homing endonuclease genes, with most of them located outside of self-splicing introns. Detailed studies of the mobile td intron and its encoded endonuclease, I-TevI, have laid the foundation for genetic, biochemical and structural aspects that regulate the mobility process, and more recently have provided insights into regulation of homing endonuclease function. Here, we summarize the current state of knowledge regarding T4-encoded homing endonucleases, with particular emphasis on the td/I-TevI model system. We also discuss recent progress in the biology of free-standing endonucleases, and present areas of future research for this fascinating class of mobile genetic elements.
Keywords
Phage GenomeLate PromoterHoming EndonucleaseHoming SiteHoming Endonuclease Gene
Introduction
In the 20 years since the first review on mobile genetic elements in the T4 genome, significant progress has been made with respect to understanding the biology of T4-encoded homing endonucleases [
1
]. In particular, we now have a firm grasp of the DNA repair and recombination pathways that promote mobility of intron-encoded endonucleases [
2
–
5
]. We also know more about the molecular details that regulate protein-DNA interactions of the long-serving model homing endonuclease, I-TevI, providing intriguing insights into how the enzyme has adapted well to life in a genome rich in glucosylated hydroxymethylcytosine-containing DNA [
6
–
8
]. Perhaps one of the most surprising discoveries was the finding that T4 encodes 12 homing endonucleases that are not intron encoded, but instead are located in intergenic regions (Figure
1
, Table
1
). The so-called free-standing endonucleases belong to the GIY-YIG and HNH homing endonuclease families, and are termed
seg
(
s
imilar to
e
ndonucleases encoded within
g
roup I introns) and
mob
(
mob
ility) genes, respectively [
9
,
10
]. In recent years, the explosion of phage genome sequences has revealed that free-standing endonucleases are more widespread than their intron-encoded cousins (at least in T-even phage genomes), while at the same time confirming a long-held suspicion that T4 is an oddity among T-even-like phages, for no other phage comes close to encoding the 15 homing endonucleases that T4 does - representing 11% of its coding potential!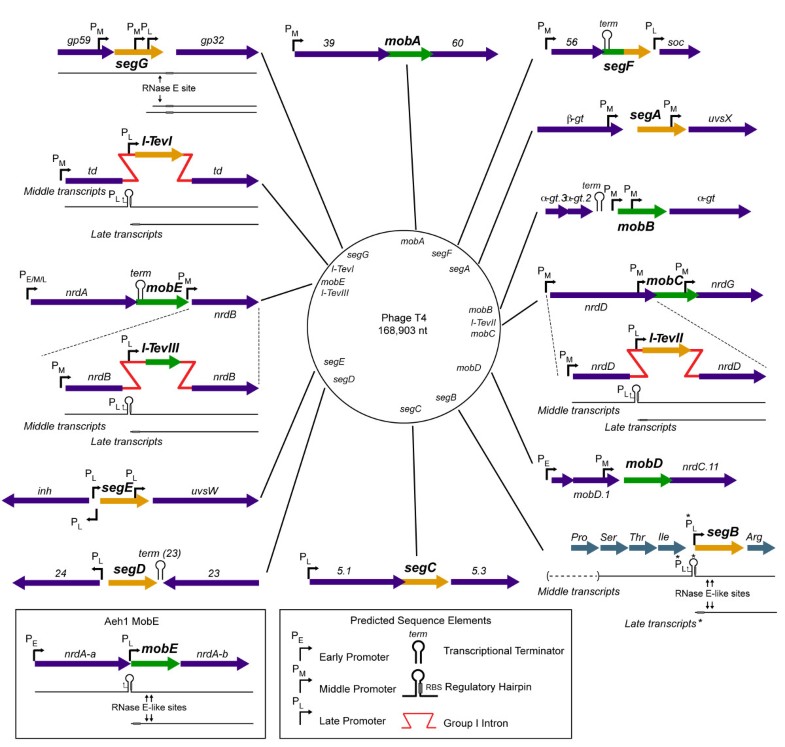 Table 1
The homing endonucleases of phage T4
| Endonuclease | Intron encoded or free-standing | Active | Family | Insertion Site | Target Gene | Reference |
| --- | --- | --- | --- | --- | --- | --- |
| I-TevI | Intron | Yes | GIY-YIG | td | td | |
| I-TevII | Intron | Yes | GIY-YIG | nrdD | nrdD | [7] |
| I-TevIII | Intron | Yes (RB3) | HNH | nrdB | nrdB | |
| mobA | Free-standing | ND | HNH | 60.1/39 | 39 | D. Shub pers. comm.. |
| mobB | Free-standing | ND | HNH | α-gt/α-gt.2 | unknown | |
| mobC | Free-standing | ND | HNH | nrdG/nrdD | unknown | |
| mobD | Free-standing | ND | HNH | nrdC.11/mobD.1 | unknown | |
| mobE | Free-standing | Yes | HNH | nrdB/nrdA | nrdB | |
| segA | Free-standing | Yes | GIY-YIG | uvsX/β-gt | uvsX | [34] |
| segB | Free-standing | Yes | GIY-YIG | tRNA-Arg/tRNA-Ile | tRNA intergenic region | [38] |
| segC | Free-standing | Yes | GIY-YIG | 5.1/5.3 | of 5.1 and 5.3 | [37] |
| segD | Free-standing | ND | GIY-YIG | 23/24 | unknown | |
| segE | Free-standing | Yes | GIY-YIG | inh/uvsW | uvsW | [36] |
| segF | Free-standing | Yes | GIY-YIG | soc/56 | 56 | [35] |
| segG | Free-standing | Yes | GIY-YIG | 32/59 | 32 | [39] |
Our purpose in this review is to summarize the past 20 years of research into T4 homing endonucleases, with emphasis on the mechanisms involved in mobility, protein-DNA recognition, and the regulation of endonuclease function within the context of a host genome. Because mechanistic insights into endonuclease function stemming from studies on T4-encoded endonucleases will be generally applicable to endonucleases encoded within other T-even phage genomes, we will focus mainly on T4 endonucleases, discussing examples in other phage only when obvious differences are found. We also point out areas for future research where we are still largely ignorant, namely the mobility pathways utilized by the mob endonucleases, which nick rather than cleave their targets, transcriptional and translational regulation of endonucleases, and questions of an evolutionary nature dealing with the impact of endonuclease activity on phage genome structure and function.
Mechanisms of mobility
Pathways
The variable occurrence of the three T4 introns in other closely related T-even phage first suggested that these introns, in the td, nrdB, and nrdD (sunY) genes, are mobile genetic elements [11, 12]. Shortly after these observations, mobility was demonstrated for the td and nrdD introns, and attributed to intron-encoded endonucleases that make a double-strand break (DSB) [13]. The first mechanistic insight came from the observation that intron insertion into the cleaved target, the so-called homing site, is accompanied by co-conversion of the flanking exon sequences [14]. Cleavage of target DNA by an intron endonuclease and co-conversion of flanking exon sequences are both features associated with mobile introns of eukaryotes [15], indicating a common mechanism for intron transfer. Indeed in both cases co-conversion of exon markers reflects the DSB being processed to a gap [16].
Because of the facile phage/bacterial genetic system,
td
intron homing has the best characterized group I intron inheritance pathway. Key studies involved defining both bacterial and phage functions that are required for the homing event as well as characterizing recombination intermediates [
3
,
17
]. Mobility depends on host or phage recombinase functions, RecA or UvsX, respectively. The process also uses phage-encoded exonuclease activities, single-stranded binding proteins (Gp32), DNA synthesis and repair functions, resolvase and ligase (Figure
2
). In light of these dependencies, and exon co-conversion, it was concluded that introduction of the DSB is followed by exonucleolytic degradation [
18
], and that the processed 3' end invades the intron donor duplex and primes repair synthesis that results in copying of the intron into the recipient DNA. This process likely proceeds for at least some events via the DSB repair (DSBR) pathway, wherein a D-loop formed as the result of repair synthesis serves as a template for repair of the opposite strand [
3
,
16
] (Figure
2
, left pathway). The two Holliday junctions formed during the repair process can be resolved to yield two intron-containing alleles: if the junction is cleaved in the crossover orientation flanking markers are exchanged, whereas if the junction is cleaved in the non-crossover orientation no exchange of flanking markers is observed. The T4 gene
49
product resolves these junctions [
3
].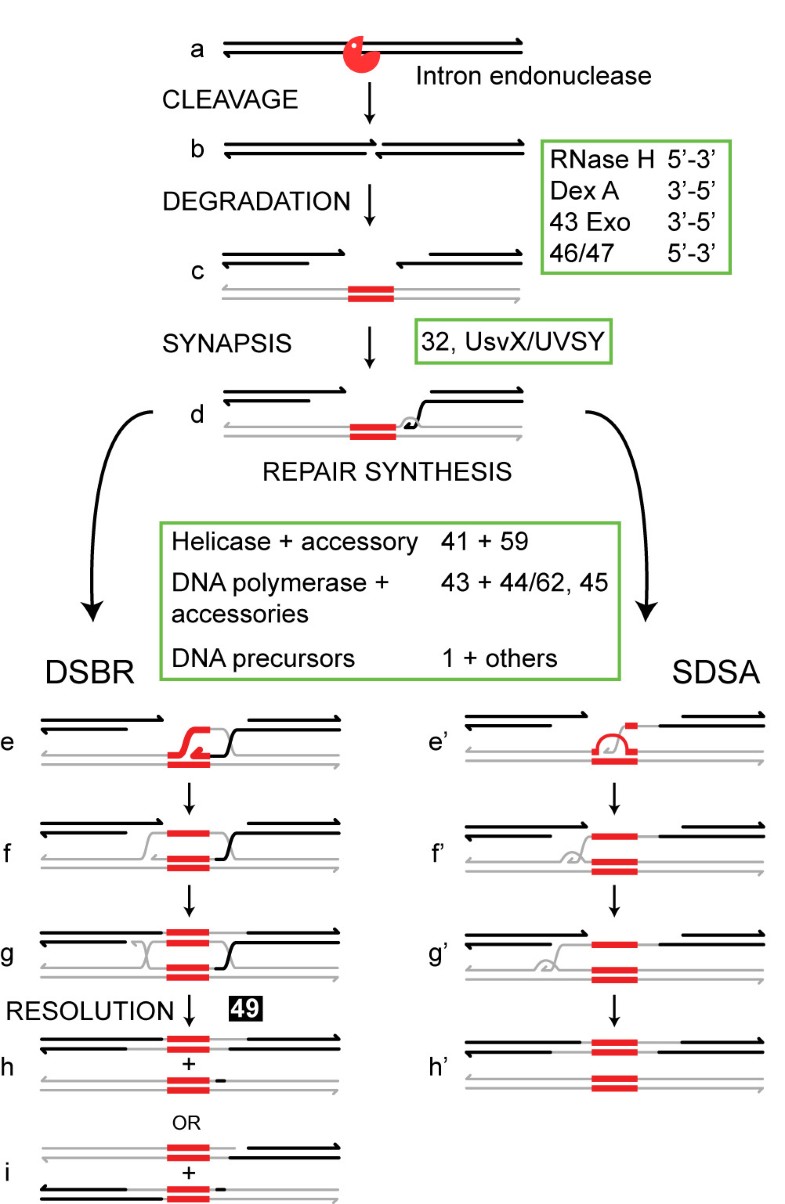 Interestingly, homing is reduced but not abolished in gene 49 mutants. This ambiguous requirement for gp49 implies alternative resolution enzymes or additional homing pathways. The underrepresentation of crossover events among the homing products favors alternative pathway(s), of which the synthesis-dependent strand annealing (SDSA) pathway is one (Figure 2, right pathway). The initial steps of the SDSA pathway are the same as those of DSBR, but unlike DSBR, Holliday junctions are not formed, circumventing the need for resolvase and resulting only in non-crossover products [3].
There is a close relationship between intron mobility and recombination-dependent replication in phage T4 [3]. Thus, intron homing occurs in mutants in which origin-dependent replication is disrupted [primase (gp61) and topoisomerase (gp39, gp52, gp60)], but is reduced in recombination-dependent replication mutants. The latter functions that play a role in homing include recombinase activities (UvsX, UvsY), single-stranded DNA-binding protein (gp32), exonucleolytic functions (RNaseH, DexA, 43Exo and possibly gp46, gp47), DNA polymerase (gp43) and its accessories (gp44, gp45, and gp62), helicase (gp41), the primase-helicase accessory (gp59), enzymes providing DNA precursors (eg. gp1) and DNA ligase (gp30) (Figure 2).
T4 RNase H, a 5'-3' exonuclease, T4 DNA exonuclease A (DexA) and the 3'-5' exonuclease activity of T4 DNA polymerase (43 Exo) impact not only degradation, but also the homing efficiency and flanking marker coconversion [2]. The experiments implicating a role for these functions in intron homing provided the first direct evidence of a role for 3' ssDNA tails in T4 recombination. Together, the work that defined the involvement of phage accessories to the homing process demonstrates how a mobile intron harnesses phage replication, recombination and repair functions for its own propagation [2, 3, 17].
Although the above discussion is based on homology between donor and recipient, heterologous sequences can also participate in DSB-mediated repair [4, 5]. Extensive homology in one exon supports elevated homing levels when the other exon is absent, allowing analysis of "one-sided" events, which revealed illegitimate DSB repair. Recombination junctions at sites of microhomology and extensive nucleolytic degradation were evident. These observations suggest that illegitimate DSB repair may provide a means by which introns can invade ectopic sites, while lengthy resection may also be related to distal cleavage sites of the freestanding endonucleases, to be considered below.
Proteins: intron-encoded endonucleases
The intron-encoded endonucleases of the T-even phage genome are members of the GIY-YIG and HNH families. These families are characterized based on the catalytic cleavage domains, which are joined to DNA binding domains of varying specificities. The phage T4 td, nrdB, nrdD introns encode, respectively, the following endonucleases: I-TevI and I-TevII, both GIY-YIG endonucleases, and I-TevIII, a member of the HNH family. I-TevIII is, however, inactive on account of a large deletion, but a functional ortholog is found in phage RB3 [19, 20]. The DNA-binding domains of both the phage-encoded endonuclease families appear to be architectually similar, in a beads-on-a-string arrangement, consisting of a variety of small protein modules that gives the proteins their specificity [21, 22].
The best characterized of the T-even phage enzymes is the GIY-YIG
td
intron endonuclease I-TevI (Figure
3
). The GIY-YIG family of endonucleases was first identified as representing sequence similarities in intron-encoded proteins of phage T4 and filmentous fungi [
23
]. Now, more than 20 years later, we know, mainly from multiple sequence alignments, of a large GIY-YIG superfamily of enzymes that nicks or cleaves DNA. This superfamily encompasses restriction enzymes, retrotransposons, and recombination and repair proteins, including UvrC, which performs nucleotide excision repair [
24
].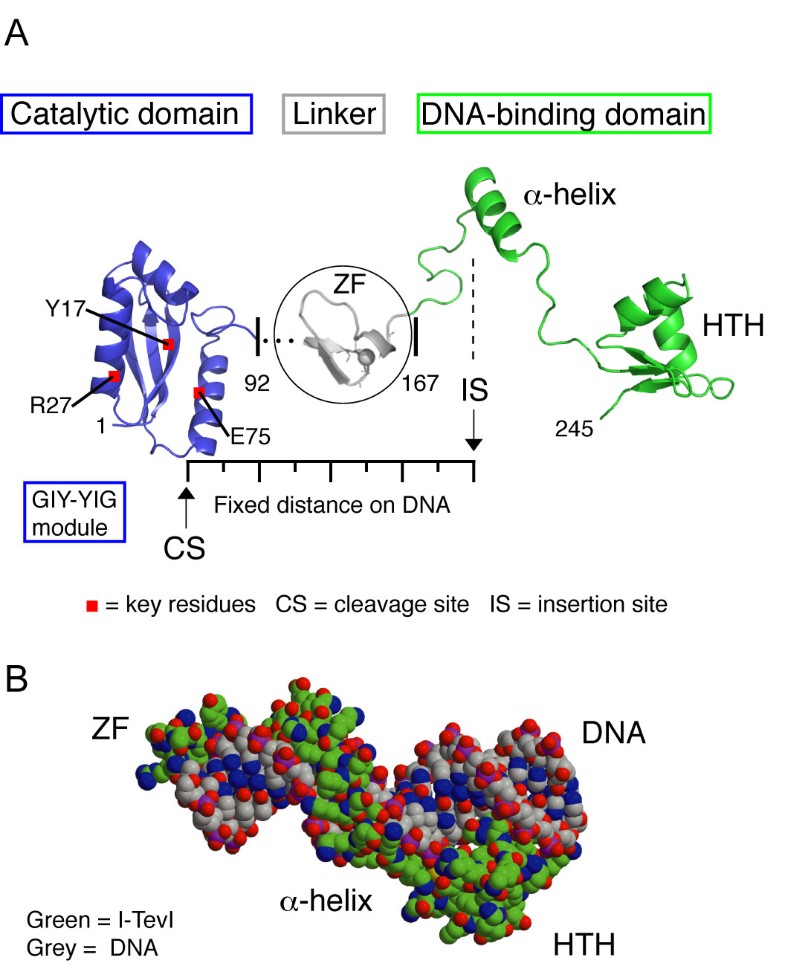 I-TevI and I-TevII, both GIY-YIG endonucleases, have several features in common. First, they have lengthy recognition sequences, spanning more than two helical turns of DNA; second, they induce conformational changes in the homing site during the substrate binding and cleavage process; third, they bind in the minor groove; and, finally they remain bound to the cleaved substrate [6, 7, 25]. Minor-groove binding is easily reconciled with T4 DNA being heavily modified in the major groove. Persistent binding to the cleavage product is also more than a curiosity, accounting for exon coconversion asymmetry. I-TevI, for example, remains bound to the exon II side of the homing site, resulting in coconversion biases in exon I, which is free for digestion by degradative nucleases [18].
The GIY-YIG module in I-TevI is 92 amino long, has five conserved motifs, of which GIY-N10/11-YIG is the first (Motif A) and is thought to play a structural role. Motifs B, D and E contain conserved Arg, Glu and Asn residues, which function in catalysis [26]. The catalytic domain is joined to a lengthy, and distinct DNA-binding domain, which recognizes an expansive target sequence [6], [27]. The 28-kDa I-TevI recognizes a 38-bp target sequence, binding as a monomer. I-TevI cleaves intronless DNA at sites 23 nt and 25 nt upstream of the intron insertion site (IS) to create a DSB, but how a monomeric enzyme cleaves two strands is not known [21]. In constrast, the HNH endonuclease I-TevIII of phage RB3, which is structurally and catalytically intact, acts as a dimer to make a DSB [20].
The monomeric I-TevI interacts with two regions of its 38-bp homing site [28]. The DNA-binding domain, which has an extended structure, winds around the primary binding region of 20 bp, centered on the intron IS [8] (Figure 3). This domain is joined via a long linker to the globular GIY-YIG-containing catalytic domain, which contacts the cleavage site (CS). The linker is 75-amino acids long, and has elements of structure, including a C-terminal zinc finger, which abuts the DNA-binding domain [29]. This linker is responsible for dynamic properties of I-TevI, and facilitates a dual role, namely to act as both an endonuclease or a transcriptional autorepressor [30, 31].
I-TevI uses both sequence and distance determinants in selecting its CS [
25
]. Although the enzyme is generally tolerant of nucleotide changes in the homing site [
6
], it has a preference for both its natural cleavage sequence, and for the wild-type distance. If its CS is displaced from the optimal distance of 23 nt and 25 nt, I-TevI searches bidirectionally from its cleavage position to locate a preferred site, 5'-CX↑XX↓G-3', and cleaves at alternative distances, albeit with reduced efficiency [
25
,
30
,
32
]. The cleavage window extends from 5 bp upstream to 16 bp downstream of the normal cleavage site [
25
]. When a preferred site is not within the window, the enzyme defaults to the optimal distance and cleaves with reduced efficiency [
25
,
32
]. Most of the linker (except for ~20 N-terminal amino acids adjacent to the catalytic domain) and the zinc finger, serves as the distance determinant to constrain the catalytic domain, such that it is proximal to the cleavage site and promotes catalysis [
29
,
31
,
32
]. One of the functions of the linker is therefore to act as a "protein ruler", which we postulated to have evolved because I-TevI moonlights as an autorepressor, as described in section 3 [
29
–
31
]. Thus, the overall role of the I-TevI linker is to act as a communication device between the DNA-binding and catalytic GIY-YIG domains, such that they act in concert for DNA cleavage, but the DNA-binding domain acts independently when serving as a transcriptional repressor (Figure
4A
) [
31
].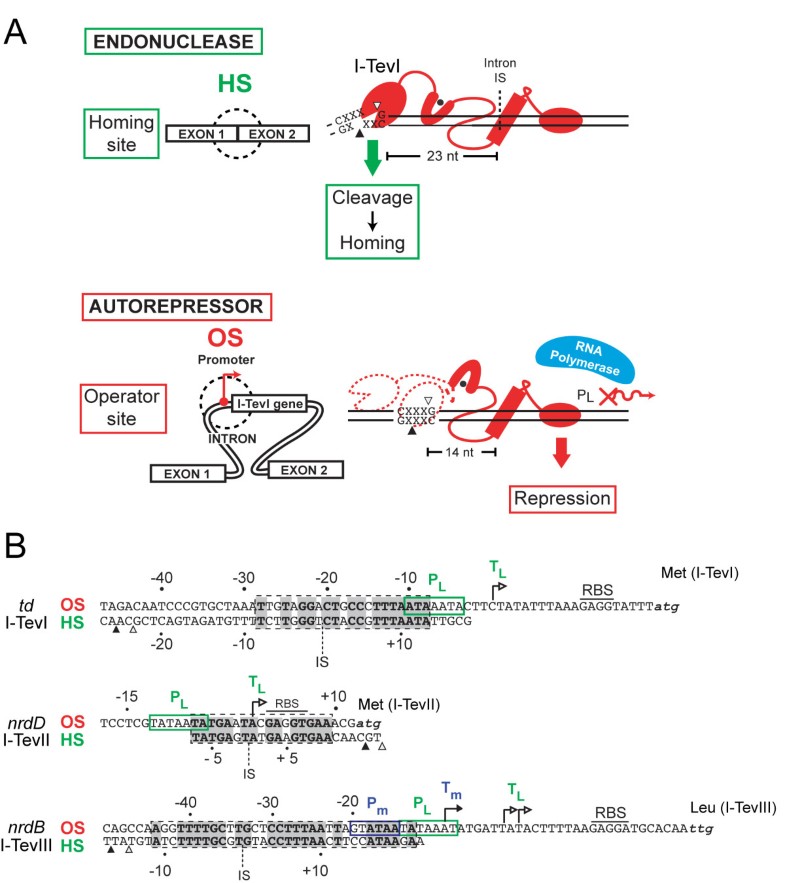 The zinc finger imparts another layer of regulation to I-TevI cleavage. In addition to the structural diversification that zinc fingers provide, an interesting aspect of these modules is their ability to be regulated by oxidation and reduction (redox) reactions [33]. Indeed, the zinc finger of I-TevI is redox responsive, and acts as a switch altering the ability of the enzyme to faithfully cleave its cognate substrate (Robbins, Smith and Belfort, in preparation). Under reducing conditions, the zinc finger is intact, active and accurate, whereas upon oxidation, the zinc is lost, and I-TevI suffers comprised activity and fidelity. We speculate that oxidative stress may provide a signal to the enzyme, transduced via the zinc finger, to cleave at ectopic sites, and thereby to facilitate intron spread.
Proteins: Free-standing endonucleases
Of the 15 homing endonucleases encoded in the T4 genome, 12 are free standing and found in the intergenic regions separating genes that are conserved amongst related phage genomes (Figure 1). Early work showed that SegA is a site-specific DNA endonuclease that generates a DSB with a 2-nucleotide 3' extension in the uvsX gene, consistent with its similarity to intron-encoded GIY-YIG endonucleases, which also generate 2-nt 3' extension [34]. Subsequent work demonstrated activity for a number of seg endonucleases (Table 1) [35–39]. Furthermore, seg endonucleases are inherited at high frequencies in the progeny of T4 and T2 mixed infections, showing that homing endonucleases could be mobile elements outside of a host group I intron or intein. The term intronless homing was coined to distinguish mobility of free-standing endonucleases from intron-encoded versions [35], and to emphasize one striking difference - the position of the enzyme's CS's relative to the insertion site of the endonuclease gene. Unlike known intron-encoded endonucleases, which cleave within 25 bps of the intron insertion site, the CS of free-standing endonucleases are located hundreds or thousands of base pairs distant from the endonuclease gene. This separation of cleavage and insertion sites has important consequences for inheritance of a free-standing endonuclease, because exonucleolytic ressection of the DSB in the recipient genome must extend into regions of homology flanking the free-standing endonuclease in the donor genome in order to ensure that it is inherited in progeny phage [40]. Furthermore, sequencing of co-conversion tracts associated with mobility events of a number of free-standing endonucleases are consistent with DSB repair pathways [39, 41].
Compared to the seg endonucleases, comparatively little is known about the five mob endonucleases of phage T4. Each of the mob genes consists of a well-defined HNH nuclease domain fused to a distinct C-terminal region, presumably the DNA-binding domain. Consistent with the presence of an HNH domain, both MobA and MobE nick one strand of their target substrates, and are inherited at high frequency in progeny of mixed infections [41, 42]. Similar observations were made for I-HmuI and I-HmuII, HNH endonucleases encoded within group I introns of Bacillus phage [43–45]. One outstanding question regarding the HNH endonucleases is how does the introduction of a single-strand nick promote a recombination event. It is possible that nicks are converted to a recombinogenic DSB by collapse of a passing replication fork [46], or by subsequent processing of the nick by repair enzymes. However, persistent DSBs associated with endonuclease-generated nicks could not be detected by Southern blot analyses [43].
Regulation of homing endonuclease function
Evolution of Homing Endonucleases
Phage genomes as hosts for homing endonucleases
Phage T4 is an oddity among T-even phage, encoding 15 homing endonucleases. We pondered the significance of this observation in 2000, suggesting that the number of completely sequenced T-even phage genomes was too few to say anything definitive about endonuclease distribution [75]. In the intervening years, many more phage genomes have been sequenced [47, 76–80], yet the trend holds - T4 remains the outlier, as most genomes have few endonuclease insertions. Based on these observations, it is tempting to conclude that there exists significant evolutionary pressure for phage to resist colonization by homing endonucleases. This conclusion, however, is at odds with the in vitro and in vivo characterization of endonuclease-mobility pathways that rely on extremely efficient DNA repair and recombination pathways to promote dissemination of homing endonucleases through populations of phage lacking them. Our understanding of factors that influence endonuclease mobility and retention in phage genomes is still in its infancy, but studies with eukaryotic homing endonuclease systems may provide some clues. In particular, studies on intron-encoded yeast homing endonucleases have elucidated a cyclical life cycle that allows homing endonuclease genes to escape degeneration and deletion due to lack of intron-less alleles for homing [81, 82]. Related endonuclease life cycles have been proposed for transposition of homing endonucleases to new sites within a phage genome, allowing the endonuclease to escape deletion [41, 83]. Moreover, recent modeling studies suggests that homing endonuclease genes could persist for significant time frames in the absence of homing sites and selection for a functional homing endonuclease [84].
One unifying characteristic of phage-encoded homing endonucleases is the observation that most endonuclease genes are inserted within or near phage genes that are functionally critical, such as DNA polymerases and ribonucleotide reductases. Targeting of functionally critical phage genes by homing endonucleases is an evolutionary strategy to maximize spread because very similar genes and target sites will be present in related genomes [75], and to minimize loss (see below). Moreover, the recognition sites of many homing endonucleases often encompass nucleotide sequence that corresponds to functionally critical amino acid (or RNA) residues of the host gene, often encoding an active site or essential region of the host gene [85, 86]. It is also the case that homing endonucleases of different classes will target the same gene. For instance, the nrdB gene encoding the small subunit of aerobic ribonucleotide reductase is cleaved by both mobE, an HNH endonuclease of phage T4 [42], and by a unique endonuclease, hef (h oming e ndonuclease-like f unction), encoded in phage U5 [41]. Similarly, the anaerobic ribonucleotide reductase proteins, encoded by the nrdD and nrdG genes, are targeted by seg and mob homing endonucleases [41]. Given the relatively small size of phage genomes, and the fact that many phage genes are essential, it is not surprising that similar target sequences have independently been selected as recognition and cleavage sites by different classes of homing endonucleases.
The insertion sites of many self-splicing group I introns also correspond to functionally critical sequences in phage genomes. Insertion of the intron into a functionally critical region is thought to prevent deletion of the element from the phage genome, as only a precise deletion of the intron or intein will restore a functional host gene sequence, whereas an imprecise deletion would likely be lethal. The propensity for homing endonucleases and introns to target conserved sequences forms the core of a recently proposed evolutionary scenario termed collaborative homing, for the origin of mobile introns by recombination between an endonuclease-lacking intron and a free-standing endonuclease that is "pre-adapted" to target the intron insertion site of the endonuclease-lacking intron, creating a highly efficient composite mobile genetic element [87, 88]. The very similar trans homing pathway involves a free-standing homing endonuclase, mobE, mobilizing the defunct I-TevIII endonuclease and nrdB intron in phage T4 [42].
Impact of homing endonucleases on phage genome structure and function
Because homing endonucleases utilize DNA repair and recombination pathways to promote mobility, significant co-conversion of sequence flanking the endonuclease's cleavage site sequence is associated with endonuclease-mediated mobility [14, 18, 39]. This observation helps explain a long-known phenomenon of T-even phage biology, namely the exclusion of T2 markers from progeny of a T2 and T4 coinfection [89]. Marker exclusion was first described in 1974, but it was not until almost 30 years later that a link between homing endonucleases and marker exclusion was uncovered [35, 36]. Strikingly, the recognition and cleavage sites of many characterized T4-encoded homing endonucleases correspond to sites in the T2 genome that are excluded from the progeny of a T2 and T4 coinfection. Cleavage of T2 by a T4-encoded endonuclease initiates a localized gene conversion event at the cleavage site that replaces T2 with T4 sequence, resulting in the exclusion of T2 markers from progeny. A similar marker exclusion phenomenon involving intron-encoded endonucleases was also observed in HMU phage of Bacillus subtilis[43, 90]. Thus, homing endonucleases influence the distribution of sequences flanking their insertion site within populations of related phage, in essence promoting lateral gene transfer.
More dramatic effects on phage gene structure and function arise from what appear to be homing endonuclease transposition events, whereby an endonuclease gene has inserted into a site that is different from the insertion site of analogous homing endonucleases in related phage genomes. Such transposition-like insertions include the mobE insertion into nrdA large subunit gene of aerobic ribonucleotide reductase of Aeromonas hydrophila phage Aeh1 [91], the mobA insertion into the topoisomerase large subunit gene 60 of phage T4 [47], and a seg43(25) insertion associated with gene 43, encoding a B-type DNA polymerase of Aeromonas phages 25 [88]. In the mobE and mobA cases, the homing endonuclease has inserted into a functionally critical region of the host gene, splitting the gene into separate coding regions as compared to related phage. For the seg-like insertion of phage 25, it is difficult to ascertain whether the split gene 43 structure arose by insertion of the seg homing endonuclease, because the related phage 44RR possess a different genetic arrangement, consisting of an intercistronic untranslated sequence (IC-UTS) that splits gene 43 into 43A and 43B[88]. Thus it is possible that the seg endonuclease invaded an already split gene created by the insertion of the IC-UTS.
Regardless of their origins, each insertion splits a contiguous coding region into two distinct polypeptides that must somehow reassemble to form a functional enzyme. Recent work has shown that the split nrdA gene of phage Aeh1 encodes a fully functional aerobic ribonucleotide reductase with activity similar to canonical enzymes that consist of a single NrdA polypeptide [91]. Similarly, the split 43A and 43B genes of phage 25 co-purify when overexpressed, and possess DNA polymerase activity [88]. Although the mobA insertion has not been studied in detail, phage T4 topoisomerase has long served as a model enzyme and possesses an unusual subunit structure with respect to other phage-encoded and bacterial topoisomerases [92], consistent with assembly of the split topoisomerase polypeptides to form a functional enzyme. How the split polypeptides assemble to form functional complexes in each of the enzyme systems is a fascinating structure and function question.
Conclusion
T-even phage have proven to be an attractive and tractable model system for studying the biology of homing endonucleases in the last 20 years, and we have learned much about the molecular details of mobility pathways and regulatory mechanisms. Many of these details are applicable to homing endonucleases in eukaryotic systems, and also have provided insight into the mobility pathways of other mobile elements such as inteins and group II introns. From a mechanistic perspective, how the mob endonucleases spread between genomes by nicking their target sites rather than introducing a double-strand break is an intriguing area of future research. From a genomic perspective, the relatively small size of phage genomes coupled with extraordinary advances in sequencing technology has revealed that homing endonuclease genes are widespread, but not as abundant as predicted based on laboratory experiments. It remains to be determined if more phage genome sequences can offer insight into evolutionary processes that regulate homing endonuclease distribution, as it already clear from existing sequences that complex regulatory mechanisms have evolved to control the expression of homing endonucleases. Clearly, there are interesting evolutionary forces at work, and experimentally manipulating regulatory controls will likely be required to understand the impact of homing endonuclease activity on phage genome structure and function.
Declarations
Acknowledgements
The authors would like to acknowledge David Shub for thoughtful discussion. Funded by a CIHR Operating Grant MOP77779 and a NSERC Discovery Grant 311610-2005 to D.R.E, and by NIH Grants GM39422 and GM448844 to M.B.
Authors' Affiliations
(1)
Department of Biochemistry, Schulich School of Medicine & Dentistry, The University of Western Ontario, London, Canada
(2)
Wadsworth Center,New York State Department of Health, The University of Western Ontario, Albany, Canada
Copyright
© Edgell et al; licensee BioMed Central Ltd. 2010
This article is published under license to BioMed Central Ltd. This is an Open Access article distributed under the terms of the Creative Commons Attribution License (http://creativecommons.org/licenses/by/2.0), which permits unrestricted use, distribution, and reproduction in any medium, provided the original work is properly cited.