Temperature sensitive influenza A virus genome replication results from low thermal stability of polymerase-cRNA complexes
Received: 16 June 2006
Accepted: 25 August 2006
Published: 25 August 2006
Abstract
Background
The RNA-dependent RNA polymerase of Influenza A virus is a determinant of viral pathogenicity and host range that is responsible for transcribing and replicating the negative sense segmented viral genome (vRNA). Transcription produces capped and polyadenylated mRNAs whereas genome replication involves the synthesis of an alternative plus-sense transcript (cRNA) with unmodified termini that is copied back to vRNA. Viral mRNA transcription predominates at early stages of viral infection, while later, negative sense genome replication is favoured. However, the "switch" that regulates the transition from transcription to replication is poorly understood.
Results
We show that temperature strongly affects the balance between plus and minus-sense RNA synthesis with high temperature causing a large decrease in vRNA accumulation, a moderate decrease in cRNA levels but (depending on genome segment) either increased or unchanged levels of mRNA. We found no evidence implicating cellular heat shock protein activity in this effect despite the known association of hsp70 and hsp90 with viral polymerase components. Temperature-shift experiments indicated that polymerase synthesised at 41°C maintained transcriptional activity even though genome replication failed. Reduced polymerase association with viral RNA was seen in vivo and in confirmation of this, in vitro binding assays showed that temperature increased the rate of dissociation of polymerase from both positive and negative sense promoters. However, the interaction of polymerase with the cRNA promoter was particularly heat labile, showing rapid dissociation even at 37°C. This suggested that vRNA synthesis fails at elevated temperatures because the polymerase does not bind the promoter. In support of this hypothesis, a mutant cRNA promoter with vRNA-like sequence elements supported vRNA synthesis at higher temperatures than the wild-type promoter.
Conclusion
The differential stability of negative and positive sense polymerase-promoter complexes explains why high temperature favours transcription over replication and has implications for the control of viral RNA synthesis at physiological temperatures. Furthermore, given the different body temperatures of birds and man, these finding suggest molecular hypotheses for how polymerase function may affect host range.
Keywords
InfluenzaQuercetinInfluenza Virus293T CellGenome Replication
Background
The genome of influenza A virus consists of eight single-stranded, negative-sense genomic RNA (vRNA) segments, associated with nucleoprotein (NP) and the viral polymerase complex (PB1, PB2 and PA) in the form of ribonucleoprotein complexes (RNP) [1]. The viral RNA-dependent RNA polymerase is responsible for both transcription and replication of the viral genome, which take place in the cell nucleus [2, 3]. The first step in viral gene expression is the transcription of the incoming vRNPs into mRNA, through a primer-dependent process in which 5'-capped RNA fragments of 10–15 nt are cleaved from host-cell pre-mRNAs and used as primers [4]. The resulting transcripts are polyadenylated at their 3' end when the polymerase, reiteratively incorporates A residues as a result of stalling at the polyuridine stretch [5–7] immediately adjacent to the 5' terminus of vRNA, to which the polymerase remains bound. These mRNA transcripts, being incomplete copies of the vRNA template, cannot serve as substrates for replication of new vRNA molecules. Viral genome replication is primer independent and generates full-length positive-sense cRNA transcripts, that are not polyadenylated [8–10]. This replicative intermediate subsequently serves as the template for synthesis of progeny vRNA.
The temporal pattern of RNA production is well established [11–15]. The replicative intermediate, cRNA, is first detected during the early stages of viral infection, reaches a maximum rate of synthesis prior to that of m- or vRNA and then declines. Maximal rates of mRNA synthesis also occur relatively early, before substantial amounts of vRNA are made. Amplification of vRNA continues even after m- and cRNA levels decline. Generally therefore, the early stages of viral infection can be defined by a prevalence of plus sense transcription, comprised mostly of mRNA with a minority of cRNA, while at later times negative sense replication in the form of vRNA synthesis is favoured. Various models have been proposed to explain the "switch" that regulates the transition from transcription to replication. De novo protein synthesis, and therefore a first round of viral transcription, is necessary for genome replication to occur [11, 13]. NP is undoubtedly required for both positive and negative sense genome replication [10, 16], but its precise role is not known [17–20]. Newly synthesized polymerase protects the termini of cRNA molecules from nuclease attack [21], which at least partly explains its requirement for the accumulation of cRNA. Some studies support the hypothesis that alternative forms of the polymerase catalyse transcription and replication, with a dimeric PB1-PA complex perhaps being the minimum requirement for genome replication [22, 23]. However, this is controversial with several other groups finding an essential role for PB2 in transcription and replication [24–26]. Host cell polypeptides may also be involved in the shift to genome replication [27–30], but this is uncertain.
Understanding the determinants of species tropism for influenza virus has never been more important than it is now, with the concern about the potential of avian H5N1 virus to adapt to human hosts. While tropism is a multifaceted and complex process, it has long been hypothesized that something as simple as the temperature at the site of replication could influence the host and tissue tropism of the virus [31–33]. Human-tropic influenza viruses are considered to replicate in the upper respiratory tract at 33–37°C, while avian influenza viruses replicate in the gut around 41°C [32]. The polymerase is an important determinant of influenza virus host range and pathogenicity [34–39] that is likely to be influenced by temperature. Firstly it is a multifunctional enzyme, and secondly, the consequence of its interaction with the 5' and 3' termini of viral RNA is modulated by whether these regions are in a base-paired or single stranded conformation [40]. We therefore examined the temperature dependency of polymerase function for mammalian adapted virus strains in cell culture and in vitro assay systems. We found that vRNA synthesis was markedly reduced at elevated temperatures, whereas mRNA synthesis was stimulated. We found no evidence to implicate heat shock proteins in this temperature effect, despite their known interaction with influenza A RNPs [30, 41]. The reduction of vRNA synthesis correlated with a markedly increased dissociation rate of the viral polymerase from cRNA at 41°C. Furthermore, we find that at 37°C the interaction of polymerase with cRNA was significantly less stable than with vRNA, a finding with implications for the regulation of viral RNA synthesis and for the adaptation of influenza viruses to host species with different body temperatures.
Discussion
Here, we show that temperature dramatically affects the balance between transcription and replication of the influenza virus genome, with high temperature in particular favouring mRNA production over vRNA synthesis (Figs. 1 and 2). This effect was observed for both recombinant and authentic viral RNPs, for three strains of viral RNPs and in two different cell types, suggesting it is a general phenomenon for mammalian-adapted influenza A virus replication. The down regulation of vRNA synthesis at high temperature did not result from a deficiency of a viral polypeptide necessary for genome replication as no significant reduction was seen in the quantities of any of the viral proteins (Figs. 1, 2, 4 and data not shown). Although a recent report has suggested that NS1 is a necessary co-factor for vRNA synthesis [56], we found no defect in NS1 translation (Fig. 1C) and NS1 is clearly not required for replication in the recombinant system (Fig. 2). It was necessary to address the hypothesis that cellular heat shock proteins were responsible for the reduction in vRNA synthesis, as previous reports have indicated that hsp90 interacts with both PB2 and PB1-PA complexes at 37°C [26, 30] and that hsp70 binds NP at 37°C and 41°C [41]. In vitro at 30°C, hsp90 stimulates ApG-primed transcription of an exogenous template added to virion-derived RNPs, while hsp70 has little effect [30]. An interaction of hsp70 with NP has however been proposed to block M1-RNP interactions and consequently inhibit RNP nuclear export [41]. However, the temperature dependent inhibition of genome replication showed no correlation with the amount of hsp70 and hsp90 present in cells. Heat shock prior to infection to induce hsp synthesis did not alter viral RNA synthesis at 37°C (Fig. 3). Furthermore, inhibition of hsp70 induction with quercetin did not rescue vRNA synthesis at 41°C (Fig. 4A). Similarly, geldanamycin-mediated inhibition of the chaperone function of hsp90 failed to rescue vRNA synthesis at 41°C (Fig. 4B). Hirayama et al. (2004) showed that in infected MDCK cells prostaglandin A1 (PGA) blocks NP nuclear export at 37°C and induces hsp70 expression without inhibiting viral gene expression. However, in 293-T cells we found that PGA inhibited all forms of viral RNA synthesis and viral protein expression (data not shown). Other studies have also noted inhibition of influenza virus gene expression by PGA and other prostaglandins and related compounds that induce hsp70 as well as a variety of other stress-related polypeptides [57, 58]. Overall therefore, although it is difficult to rule out categorically, we find no evidence in favour of the hypothesis that cellular hsp70 and/or 90 mediate the inhibition of viral genome replication at high temperature.
Two observations relating to the effects of hsps on virus replication are worthy of further comment. Firstly, while previous observations [41, 49] regarding the inhibition of NP nuclear export at 41°C were confirmed (Fig. 3), RNP formation was found to be abnormal, whereas the study of Sakaguchi et al (2003) [49] noted unaltered NP sedimentation behaviour on glycerol density gradients. The discrepancy between the two studies may result from the different gradient fractionation methods employed and the fact that Sakaguchi et al. looked solely at NP sedimentation and not RNA and polymerase protein sedimentation in addition to NP (reported here), which provides a more rigorous test of RNP formation (Fig. 5). Therefore, another contributing factor to the failure of NP nuclear export at 41°C is that RNP formation is much reduced. Secondly, the observation that moderate concentrations of geldanamycin inhibit PB2 accumulation at 37°C and 41°C, which is consistent with prior data indicating an interaction between this viral protein and hsp90 [26, 30] raises the possibility that geldanamycin may have antiviral activity against influenza A as well as a variety of other viruses [59–62].
Although temperature sensitive interactions with cellular components other than hsp proteins cannot be ruled out it is appropriate to consider explanations for the loss of vRNA synthesis at high temperature that are intrinsic to the viral components themselves. Temperature-shift cycloheximide block experiments showed that the key determinant that lead to a failure of vRNA synthesis was high temperature during RNA synthesis, and not during polymerase translation, and that polymerase synthesised at 41°C retained the ability to synthesise mRNA at 37°C and 41°C (Fig.
6
). Furthermore, in vitro, there is a clear difference in the thermal sensitivity of polymerase-vRNA and polymerase-cRNA complexes (Fig.
7
). This finding suggests a simple model that explains our results. At 41°C the polymerase shows a slow rate of dissociation from vRNA (Fig.
7
). At least a proportion of the polymerase that dissociates from v- or cRNA at 41°C has been found to be capable of rebinding to its template (data not shown). We hypothesise therefore that an equilibrium exists between polymerase and vRNA at 41°C that permits substantial amounts of mRNA and cRNA synthesis (Fig
9
). However, the far higher rate of dissociation from cRNA at elevated temperature biases the equilibrium further away from mature cRNP formation and leads to a proportionally greater defect in vRNA synthesis (Fig.
9
). In support of this hypothesis, a cRNA promoter mutation that makes it more similar to the vRNA structure reduced the effect of high temperature on vRNA synthesis (Fig.
8
).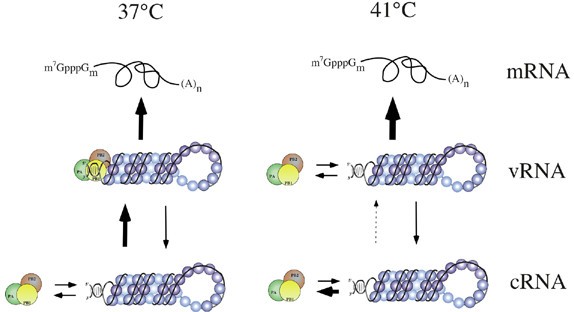 The two-fold reduction in cRNA accumulation at 41°C might result from a reduced rate of synthesis, or from increased degradation of "naked" cRNPs, consistent with a recently suggested hypothesis for how cRNA synthesis is regulated [21]. Increased degradation rates of RNPs may explain the apparently greater thermal sensitivity of recombinant RNPs (Figs. 2 and 8) because of the much longer timeframe of these assays (3 days compared to ≤ 8 h). The apparent paradox between increased levels of mRNA synthesis in the face of reduced vRNA levels may result from a higher rate of transcription of a reduced number of template molecules. This might reflect a Q10 effect of the higher temperature but may also result from loss of normal regulatory patterns (such as nuclear export of vRNA) during viral transcription. Consistent with the latter possibility, previous studies have noted substantial levels of mRNA transcription from a limited number of input vRNA templates when genome replication is blocked by cycloheximide [11, 12, 63].
At 37°C our finding that there is a negligible dissociation rate between polymerase and vRNA is consistent with the currently accepted mechanism for polyadenylation. In this hypothesis, the polymerase remains bound to the 5'-end of vRNA throughout mRNA transcription, thus forcing non-processive copying of a poly(U) stretch adjacent to the polymerase-binding site [6, 7, 54, 64, 65]. In light of recent research indicating that RNPs localise to specific regions within the nucleus [66, 67], a mechanism whereby vRNA molecules can be reiteratively copied without release of the polymerase seems likely to increase the efficiency of template usage. The significantly higher dissociation rate for polymerase-cRNA complexes at 37°C reflects a weaker interaction of the polymerase with the 5'-end of cRNA. This is consistent with the need to synthesise only full length copies from this template which presumably requires a template release step for each cycle of vRNA synthesis (Fig. 9). This is perhaps surprising given that large amounts of vRNA molecules are manufactured from a limited number of cRNAs whose synthesis apparently ceases early in infection [5, 68]. However, this quantitative difference in how the polymerase interacts with c- and vRNA promoters is consistent with recent research suggesting a qualitative difference in the mechanism used to initiate unprimed (replicative) transcription from the two strands [69].
Conclusion
Human influenza A virus, genome RNA synthesis is inhibited at high temperature, with transcription strongly favoured over replication. This temperature effect is due to the differential stability of negative and positive sense polymerase-promoter complexes, which is accentuated at high temperature (fig. 9). These findings have implications for the mechanisms that control normal viral RNA synthesis. Furthermore, as temperature is a notable physiological difference between avian and mammalian host systems, such considerations may have significance for the influence of avian virus-derived polymerase genes on host range and pathogenesis.
Declarations
Acknowledgements
We thank Professor George G. Brownlee for providing plasmids and Dr Debra Elton for advice and discussion. This work was supported by grants from the Wellcome Trust (no 073126) to PD and MRC grants (nos. G9901213 and G0300009 to LT and PD). MJA is supported by the Gulbenkian PhD program in Biomedicine and the Fundacao para a Ciencia e Tecnologia.
Authors' Affiliations
(1)
Division of Virology, Department of Pathology, University of Cambridge, Cambridge, UK
(2)
Centre for Veterinary Science, University of Cambridge, Cambridge, UK
Copyright
© Dalton et al; licensee BioMed Central Ltd. 2006
This article is published under license to BioMed Central Ltd. This is an Open Access article distributed under the terms of the Creative Commons Attribution License (http://creativecommons.org/licenses/by/2.0), which permits unrestricted use, distribution, and reproduction in any medium, provided the original work is properly cited.