Creation of a cardiotropic adeno-associated virus: the story of viral directed evolution
Virology Journal
2013
10:50
Received: 31 October 2012
Accepted: 16 January 2013
Published: 11 February 2013
Abstract
Adeno-associated virus (AAV) is an important vector system for human gene therapy. Although use of AAV serotypes can result in efficient myocardial gene transfer, improvements in the transduction efficiency and specificity are still required. As a method for artificial modification and selection of gene function, directed evolution has been used for diverse applications in genetic engineering of enzymes and proteins. Since 2000, pioneering work has been performed on directed evolution of viral vectors. We further attempted to evolve the AAV using DNA shuffling and in vivo biopanning in a mouse model. An AAVM41 mutant was characterized, which was found to have improved transduction efficiency and specificity in myocardium, an attribute unknown for any natural AAV serotypes. This review focuses on the development of AAV vector for cardiac gene transfer, the history of directed evolution of viral vectors, and our creation of a cardiotropic AAV, which might have implications for the future design and application of viral vectors.
Keywords
Adeno-associated virus
Cardiac gene transfer
Directed evolution
Transduction
Introduction
The adeno-associated virus (AAV) is one of the smallest viruses, with a non-enveloped capsid measuring approximately 22 nm. It has a linear single-stranded DNA genome of 4.7 kb in size, which is composed of three gene elements:
rep
, which encodes the replication proteins;
cap
, which encodes the capsid proteins; and
ITR
, which serves as the replication origin and packaging signal (Figure
1
). The
cap
gene is transcribed from a single p40 promoter, but produces three virion proteins VP1, VP2, and VP3, which differ in length from each other because of the different location of their initiation codons. These three proteins have molecular masses of 87, 72, and 62 kDa, respectively, and they assemble in a molar ratio of 1:1:10 to form a near-spherical protein shell of 60 subunits. Despite the fact that an alternative product of the
cap
gene, associated with the assembly of the AAV particle has been characterized[
1
], only the three capsid proteins mentioned above are mainly responsible for the tissue tropism and neutralization properties of AAV.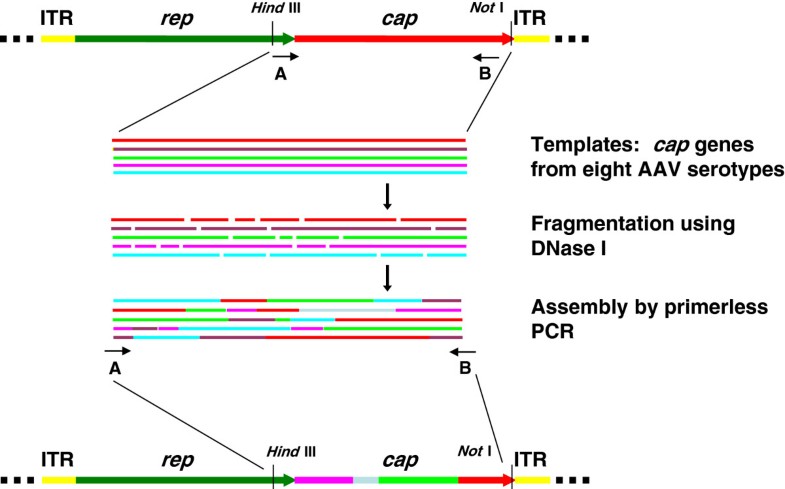 Despite its prevalence rate of approximately 80% in human populations, AAV has not been linked to any human illness, and has thus been used as a vector to carry DNA into cells. AAV transduces cells via a multi-step consecutive course[2, 3]. The virus initially binds to the receptor/co-receptor on surface of the cell, and penetrates into it via receptor-mediated endocytosis. The virion is transported through the endosomal compartment, and most likely escapes into the nucleus through the nuclear pore complex via an as yet unknown mechanism. After nuclear translocation, the capsid uncoats, releasing single-stranded DNA, which is converted into double-stranded DNA for transgene expression. The majority of the AAV vector genomes exist as episomes in the transduced cells[4], which ensures the stable expression of the transgene in post-mitotic tissues (e.g., neuron and muscle) with a lower risk of carcinogenesis. Furthermore, the AAV vector itself elicits only a relatively weak innate and acquired immune response in the hosts[5], which affirms the tolerated transgene expression and the higher safety profile in gene therapy. These two biologic features mean that AAV has great potential as a vector for human gene therapy.
The safety and efficacy of AAV-mediated gene therapy were first verified in clinical trials investigating nervous diseases. Sub-retinal delivery of AAV carrying the gene for the retinal pigment epithelium-specific 65 kDa protein (RPE65) was verified by several studies to be safe and effectively improve retinal function in patients with Leber's congenital amaurosis[6–8]. Gene transfer of glutamic acid decarboxylase via AAV into the subthalamic nucleus of subjects with Parkinson's disease was well tolerated, and significantly improved the clinical scores of the subjects[9]. More recent clinical trials have expanded the application of the AAV vector to gene therapy of muscular diseases. Calcium upregulation was achieved by intracoronary administration of an AAV1/sarcoplasmic reticulum Ca2+-ATPase vector; the study demonstrated safety and suggested a benefit in the patients of advanced heart failure[10]. Long-term, sustainable alpha-sarcoglycan expression of was detected in the muscles of patients with limb-girdle muscular dystrophy following AAV1-mediated gene transfer regulated by the muscle-specific tMCK promoter[11] (more detailed documentation of current progress in clinical trials using AAV vectors can be found in the review by Mingozzi and High[12]).
Despite the numerous advantages of AAV for gene transfer, several flaws remain to be addressed to improve the versatility of this viral vector. In this review, we provide an introduction to the development of AAV vector for myocardial gene transfer, and focus on how a cardiotropic AAV was created using the directed evolution strategy. The related progress of directed evolution is reviewed to provide a background to this discovery.
Conclusions
Over the past few years, AAV has risen to prominence as a viral vector system in human clinical trials, especially for the treatment of neurological and muscular diseases. Furthermore, AAV is also an ideal model for directed evolution studies because of its relatively simple genomic structure and the available viral engineering and production methods. However, there is still scope for further development and optimization of directed evolution strategies in modifying this vector. In particular, the practice of human gene therapy continuously presents new challenges for AAV and other viral vectors, such as addressing pre-existing immunity in human populations[49]. Driven by these needs, we expect further advancement in directed evolution of viral vectors, which will ultimately benefit the biomedical research and human health.
Declarations
Acknowledgements
This work was supported by the National Natural Science Foundation of China (31170157), the Natural Science Foundation of Hubei Province (2010CDB10302), and the Youth Innovation Promotion Association, CAS (2012-2015) to Dr Lin Yang, and National Institutes of Health grants AR45967 and AR50595 to Dr Xiao Xiao. Dr Shuai Wang provided technical help in the drawing of Figure3.
Authors' Affiliations
(1)
Wuhan Institute of Virology, Chinese Academy of Sciences, Wuhan, Hubei, China
(2)
Division of Molecular Pharmaceutics, UNC Eshelman School of Pharmacy, Chapel Hill, USA
Copyright
© Yang and Xiao; licensee BioMed Central Ltd. 2013
This article is published under license to BioMed Central Ltd. This is an Open Access article distributed under the terms of the Creative Commons Attribution License (http://creativecommons.org/licenses/by/2.0), which permits unrestricted use, distribution, and reproduction in any medium, provided the original work is properly cited.