Airborne spread and infection of a novel swine-origin influenza A (H1N1) virus
Virology Journal
2013
10:204
Received: 5 January 2013
Accepted: 7 May 2013
Published: 22 June 2013
Abstract
Background
The novel swine-origin influenza A (H1N1) virus (S-O 2009 IV) can cause respiratory infectious diseases in humans and pigs, but there are few studies investigating the airborne spread of the virus. In January 2011, a swine-origin H1N1 epidemic emerged in eastern China that rapidly spread to neighboring farms, likely by aerosols carried by the wind.
Methods
In this study, quantitative reverse transcription polymerase chain reaction (RT-PCR) was used to detect viruses in air samples from pig farms. Based on two aerosol infection models (Pig and guinea pig), we evaluated aerosol transmission and infection of the novel S-O 2009 IV isolate.
Results
Three novel S-O 2009 IV were isolated from the diseased pig. The positive rate and viral loads of air samples were 26.1% and 3.14-5.72 log10copies/m3 air, respectively. In both pig and guinea pig infection models, the isolate (A/swine/Shandong/07/2011) was capable of forming aerosols and infected experimental animals at a range of 2.0-4.2 m by aerosols, but aerosol route was less efficient than direct contact.
Conclusions
The results indicated that S-O 2009 IV is able to be aerosolized by infected animals and to be transmitted to susceptible animals by airborne routes.
Keywords
S-O 2009 IVEpidemicAirborne transmissionPigGuinea pig
Introduction
In April 2009, swine-origin 2009 A (H1N1) influenza viruses (S-O 2009 IV) were found in Mexico and the United States for the first time, and quickly spread throughout the world, presenting a significant threat to public health[1, 2]. S-O 2009 IV is a novel triple-reassortant influenza virus derived from porcine, human, and avian influenza viruses. Different from seasonal influenza viruses, humans lack immunity to this new virus, and thus the virus quickly caused a pandemic[2–5]. As of March 21, 2010, the World Health Organization (WHO) reported that 213 countries or regions were affected and the number of deaths was at least 16,931 people[6].
It has been determined that despite the complex causes of the novel S-O 2009 IV epidemic, airborne spread was one of the major reasons for the pandemic[7]. Aerosols are solid or liquid suspensions in the air and their particle size range is 0.001-100 μm[8]. Once formed, aerosols, including those containing viruses, can rapidly spread to a larger area with the assistance of the wind[9]. However, little is known about the transmission and infection of the novel S-O 2009 IV via aerosols, and there is still some debate about airborne infection of this virus[7, 8, 10, 11].
In early January 2011, a local animal disease prevention and control center in Shandong, China reported that a pig farm in eastern China emerged the suspected novel S-O 2009 IV disease. More importantly, similar infections occurred successively in some downwind pig farms within a week, and workers of these pig farms developed flu-like symptoms. Isolation and identification of pathogens confirmed S-O 2009 IV infection. Thus, we speculated that airborne transmission played an important role in the spread of this epidemic. Here, we collected indoor air, pig nasopharyngeal swabs, and blood samples to analyze the positive rate of the S-O 2009 IV; and based on both pig and guinea pig aerosol infection models, airborne infection capacity of S-O 2009 IV isolate was evaluated.
Discussion
Since early January 2011, the S-O 2009 IV epidemic was first identified in two pig farms of eastern China that quickly spread to nearly 20 farms within a week. A geographical analysis of these pig farms showed that these farms were distributed in a close ellipsoid zone with a central axis in line with prevailing northwesterly winds. A collection of 157 air samples from 40 pig farms revealed that 26.1% contained virus with almost 50% of pig farms in the area affected. This transmission was presumed to be via downwind dissemination of S-O 2009 IV aerosols. It appears that the virus was spread by airborne transmission and our findings in experimental models support this.
During the experiments, pigs and guinea pigs were housed in positive- and negative-pressure isolators, effectively avoiding the contamination with exogenous microbes. Aerosol transmission experiments were conducted so that the air in isolator B came exclusively from isolator A, which were connected using a 2 m closed tube. Therefore, any infection in isolator B would be determined as aerosols (Figure
3
).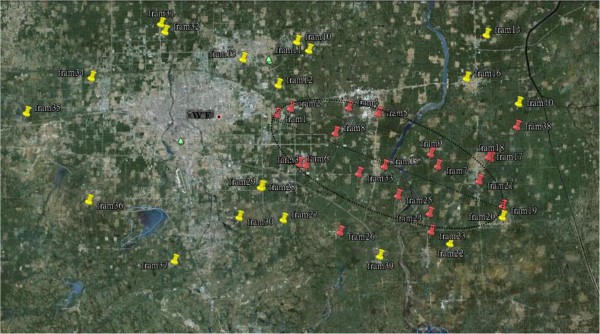 During the experimental infections in pigs, S-O 2009 IV was detected at 1–2 dpi in isolators A and B, and the maximum amount of virus detected in A and B were and 4.40-4.87 log10copies/m3 air and 3.27-3.62 log10copies/m3 air, at 4 and 5 dpi, respectively. However, during the two rounds of experiments, the amounts of virus detected were consistently lower in B than in A and virus was not detectable at 12–13 dpi in A and at 10–11 dpi in B. The duration of detectable S-O 2009 IV aerosols in isolator B was shorter and the amounts of virus were lower than those in isolator A, which was likely related with the deposition, survival time, and removal of aerosol particles.
There is a 2m pipe between the two isolators (upper distal end, 5.3m from the challenged group; Figure
4
); therefore, infection in isolator B occurred not via droplet but by aerosolized virus particles. Meanwhile the certain wind velocity in the pipe can well simulate natural wind between different pig farms, even between different pig houses in the same farm. Additionally, aerosol infection group and direct contact group were both serologically positive and nasal secretions had evidence of virus shedding. Nonetheless, the number of infections in aerosol infection group was smaller than in direct contact group, there was no difference in the extent of virus shedding and serum titers of infected pigs. These data demonstrated that infection with these viral strains can induce airborne infection.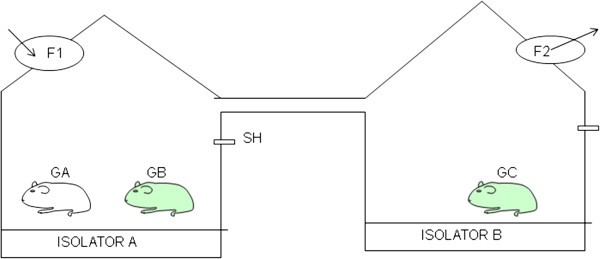 Our data indicated that infected pigs located in upwind farms can generate viruses in nasal and respiratory secretions and spread via the wind to downwind farms. Thus, this type of transmission is dependent on weather, where changes in wind force, wind direction, ultraviolet light, temperature or humidity are all likely to affect transmission.
Since the respiratory tract of guinea pigs is very similar to that of humans, guinea pigs were regarded as an appropriate mammalian model for use in this study[12]. In the two repeated trials on guinea pigs, the rates of virus detection and seroconversion to the S-O 2009 IV in aerosol infection group were 2/5 and 3/5 (Table 2), indicating that aerosol infection group was infected by viral aerosols in isolator A and the virus had the capability of airborne transmission among mammals. Therefore, it can be inferred that S-O 2009 IV is likely to be a health risk for farm staff and may be an important point for the prevention and control of new zoonoses, especially swine influenza viruses. It has been reported that the S-O 2009 IV is still persistent among pigs in China and thus remains a major threat to human health[13, 14].
At 4 and 5 dpi, the virus content in air samples reached its peak in the isolator along with the amount of virus in nasal secretions and the number of pigs infected in different groups. These data indicated that the amount of virus contained in aerosols is related to the virus shedding capacity and number of infected animals. Until 11–13 dpi, no airborne S-O 2009 IV was detected in the two isolators. Correspondingly, animals in all the experimental groups no longer shed virus. These results suggest that the viruses produced in nasal secretions by animals formed aerosols.
Although the detectable time and concentrations of airborne virus in the two animal experiments were different, the viral aerosol concentration increased or decreased coincidentally. In addition, the viral aerosol concentration was affected by the ventilation rate and the number of infected animals.
The aerodynamic diameter ranges of aerosols in isolator A were determined to be 3.3-4.7 μm and 5.8-9.0 μm; however, in isolator B particle size was typically 1.1-2.1 μm. The loss of large particle droplets was mainly due to sedimentation, and the loss of aerosol particles <5μm was mainly due to the inactivation of virus particles and ventilation[15], indicating that smaller particles gathered in isolator B under the effect of ventilation. In the two isolators, particles were typically ≤ 4.7 μm, showing that a higher proportion of viral aerosols can enter the lower respiratory tract via the nasal cavity, whereas particles ≤1 μm can enter bronchioles and alveoli, and deposit in the alveoli, increasing the risk of serious infection. Gustin et al.[16] indicated that when discharged by breathing or sneezing in ferrets, influenza virus particles were typically ≤4.7 μm. During the flu season, the less than 4 μm (aerodynamic diameter) influenza viral aerosol particles accounted for 53% of the airborne influenza viral count in hospital environments[17–19], consistent with the experimental results of this study. In conclusion, animals infected with S-O 2009 IV can form aerosols that can lead to airborne transmission.
Declarations
Acknowledgments
We would like to express our sincere gratitude to Professor Liu Jinhua from China Agricultural University and the Tai'an Center for Disease Control for their contributions to this study. This work was supported by Chinese International Cooperation Program [2009DFA32890] and the open fund 2011 of the State Key Laboratory for Environmental Protection, Using of Environmental Microbiology and Security Controls and the National Natural Science Foundation of China for Youths (81101307).
Authors' Affiliations
(1)
College of Animal Science and Veterinary Medicine, Shandong Agricultural University, Tai'an, China
(2)
Sino-German Cooperative Research Centre for Zoonosis of Animal Origin Shandong Province, Tai'an, China
(3)
Key Laboratory of Animal Biotechnology and Disease Control and Prevention of Shandong Province, Tai'an, China
(4)
Affiliated Hospital of the Shandong Agricultural University, Tai'an, China
(5)
Taishan Medical University, Tai'an, China
(6)
Centre for Disease Control, Tai'an, the People's Republic of China
(7)
The Animal Husbandry Bureau of Tai'an City, Tai'an, China
Copyright
© Zhang et al.; licensee BioMed Central Ltd. 2013
This article is published under license to BioMed Central Ltd. This is an Open Access article distributed under the terms of the Creative Commons Attribution License (http://creativecommons.org/licenses/by/2.0), which permits unrestricted use, distribution, and reproduction in any medium, provided the original work is properly cited.