The genome and proteome of a Campylobacter coli bacteriophage vB_CcoM-IBB_35 reveal unusual features
Received: 2 June 2011
Accepted: 27 January 2012
Published: 27 January 2012
Abstract
Background
Campylobacter is the leading cause of foodborne diseases worldwide. Bacteriophages (phages) are naturally occurring predators of bacteria, ubiquitous in the environment, with high host specificity and thus considered an appealing option to control bacterial pathogens. Nevertheless for an effective use of phages as antimicrobial agents, it is important to understand phage biology which renders crucial the analysis of phage genomes and proteomes. The lack of sequence data from Campylobacter phages adds further importance to these studies.
Methods
vB_CcoM-IBB_35 is a broad lytic spectrum Myoviridae Campylobacter phage with high potential for therapeutic use. The genome of this phage was obtained by pyrosequencing and the sequence data was further analyzed. The proteomic analysis was performed by SDS-PAGE and Mass spectrometry.
Results and conclusions
The DNA sequence data of vB_CcoM-IBB_35 consists of five contigs for a total of 172,065 bp with an average GC content of 27%. Attempts to close the gaps between contigs were unsuccessful since the DNA preparations appear to contain substances that inhibited Taq and ϕ29 polymerases. From the 210 identified ORFs, around 60% represent proteins that were not functionally assigned. Homology exists with members of the Teequatrovirinae namely for T4 proteins involved in morphogenesis, nucleotide metabolism, transcription, DNA replication and recombination. Tandem mass spectrometric analysis revealed 38 structural proteins as part of the mature phage particle.
Conclusions
Genes encoding proteins involved in the carbohydrate metabolism along with several incidences of gene duplications, split genes with inteins and introns have been rarely found in other phage genomes yet are found in this phage. We identified the genes encoding for tail fibres and for the lytic cassette, this later, expressing enzymes for bacterial capsular polysaccharides (CPS) degradation, which has not been reported before for Campylobacter phages.
Keywords
Bacteriophage
Genome
Campylobacter
Background
Recent publications indicate that Campylobacter is the leading cause of foodborne diseases worldwide, clearly surpassing other foodborne pathogens such as Salmonella. Measures commonly used to control foodborne pathogens have had little success against Campylobacter, which is a reflection of differences in the physiology, epidemiology and ecology of these organisms.
The renewed interest in phages as therapeutic agents has contributed to the rapid increase in the number of phages sequences described in the literature [1]. However, as far as Campylobacter phages are concerned, only two lytic phage genomes have been described so far: CP220, CPt10 [2]. The lack of sequence data from Campylobacter phages is probably due to the fastidious nature of their host bacterium which renders phage isolation tricky, and due to the refractory nature of their DNA leading to difficulties in genome characterization by common methods such as restriction fragment length polymorphism.
We recently reported the isolation, characterization and in vivo performance of the broad lytic spectrum Campylobacter coli phage vB_CcoM-IBB_35 (previously named phiCcoIBB35) which exhibited high potential for therapeutic use [3, 4]. In fact, in a previous study this phage proved to be efficient in reducing the numbers of C. coli and Campylobacter jejuni by approximately 2 log 10 cfu/g in infected poultry [4]. This phage belongs to the Myoviridae family as do the majority of Campylobacter phages described in the literature [5, 6] and has a genome size estimated to be 204 kbp by pulsed-field gel electrophoresis [4]. The majority of proteins encoded by phages with large genomes has no matches in the current sequence databases and has undiscovered functions [7]. Nevertheless, they have a conserved core of genes mainly involved in morphogenesis and in DNA and nucleotide processing [8].
We describe herein the genomic sequence and the proteomic analysis of C. coli phage vB_CcoM-IBB_35 (IBB_35) that exhibits homologies to T4-like phages.
Results and discussion
Virological and genomic features of phage vB_CcoM-IBB_35
Phage IBB_35 is a member of the Myoviridae presenting an icosahedral head (average diameter of 100 nm) and a contractile tail (140 × 17 nm average length) with tail fibres at the distal end [3].
DNA sequencing of phage IBB_35 resulted into five large contigs: contig 1 (53,237 bp); contig 2 (51,534 bp); contig 3 (27,985 bp); contig 4 (14,701 bp) and contig 5 (24,608 bp) for a total of 172,065 bp. This value was smaller than the one estimated by pulsed-field gel electrophoresis (PFGE), i.e. 204 kbp.
The five contigs obtained from the sequence of phage IBB_35 were aligned, using Mauve (Figure
1
), with
Campylobacter
phages CP220 and CPt10 deposited in GenBank with accession numbers FN667788 and FN667789, respectively. Due to the high degree of sequence similarity between IBB_35 and the other two phages it was possible to align the 5 contigs accordingly: contig 2, contig 1, contig 5, contig 4, contig 3 with theoretical gaps of 100, 200, 300 and 400 bp. These results suggest that the genome is actually 173 kb. The discrepancy between the size derived from sequencing and that estimated by PFGE would suggest that this virus possesses extremely long terminal repeats or that the PFGE size was overestimated by almost 18%. Despite the fact that PFGE was performed by an ISO 17025 certified laboratory, this value is unlikely to correspond to the real value of IBB_35 genome size. This can be probably attributed to the fact that phage DNA appears to be strongly associated with a protein that not only interfered with PCR amplification leading to the failure of all attempts to bridge the small gaps, but also with the overestimation of the phage genome mass by PFGE. This phage is also insensitive to digestion by endonucleases suggesting that the DNA is, in some way, modified. These observations are totally at variance with genomic DNA from the host.

While we did not achieve complete genome closure we will discuss what we have found on each contig. When appropriate, some average values from each contig were calculated. The genes were named as "n-x" in which "n" represents the contig in which the gene is located (from 1 to 5) and "x" represents a number attributed to that gene and assigned in increasing order. However, after the alignment with phages CP220 and Cp10, this numbering system was altered since each of IBB_35 contigs, except contig 1, was inverted relative to the comparator genomes.
ORFs and tRNA genes
IBB_35 has double-stranded DNA genome with an overall GC content of 27%, which is less than that of the host bacterium, Campylobacter spp (approximately 31%) [2].
In the phage genome, 210 open reading frames (ORFs) were identified: 68 ORFs in contig 1; 62 ORFs in contig 2; 27 ORFs in contig 3; 22 ORFs in contig 4; and 31 ORFs in contig 5 (Figure
2
). The majority of the ORFs (68%) were transcribed from the top strand, as it is described for many phages [
20
]. The overall percentage of coding sequence was 90%. Eighty four ORFs (40%) presented obvious similarity to proteins of known function and thus were tentatively assigned. An additional 109 (52%) gene products were found to resemble functionally unassigned proteins (Additional file
1
: Table S1).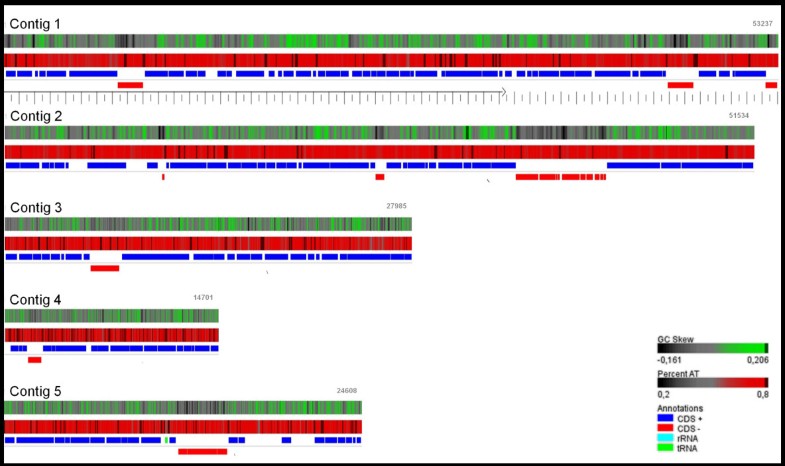 Phage IBB_35 was found to use ATG as the principle initiation codon (78.2%) which is in accord with the overall bacterial genomes deposited in the NCBI (National Center for Biotechnology Information) [22]. Other initiation codons were found in lower percentage: ATA in 8.2%, TTG in 6.1% and GTG in 4.9%. The rare initiation codons ATT (4.2%), ATC (3.1%) and CTG (2.6%) were also found in the IBB_35 genome.
In contig 5, two tRNA genes, Tyr-tRNA (GTA) and Arg-tRNA (TCT), were found close to each other, and between gene 5-16 and gene 5-17. Two rho-independent transcription terminators were identified in contig 1, contiguous to each other and after gene 1-60. The analysis of phage sequence revealed 22 putative promoters (Additional file 1: Table S1). Interestingly most of the promoters are present as duplicates before protein-encoding genes.
Genome organization
The sequence data from IBB_35 reveal structural proteins and numerous genes involved in nucleotide metabolism, replication, morphogenesis, recombination and transcription with homology to T4 phages [23]. Therefore, the sequenced Campylobacter phage will be discussed as a T4-like phage and the genes from T4 phage will be designated, as in the literature, "gp" followed by a representative number.
Conclusions
Analysis of the genome and proteome of phage IBB_35 reinforces the observation that Myoviridae group II Campylobacter phages are closely related, and display a distant relationship to the T4-like phages. However, they do contain some features never or rarely found in T4-like phages: radical SAM, presence of both inteins and introns in single genes and enzymes involved in carbohydrate metabolism. We were able to identify, for the first time, the lytic enzyme duo of Campylobacter phages, which encodes the endolysin (lysozyme), and holin together with potential CPS degrading enzymes. We also identified a gene likely to encode a tail fibre protein, whose functional analysis could contribute to development of a tool to specifically and physically enrich for Campylobacter.
Declarations
Acknowledgements
The authors acknowledge the financial support of FCT, through the project PTDC/AGR-ALI/100492/2008. CMC was supported by the grant SFRH⁄BD⁄23484⁄2005 from the Fundação para a Ciência e Tecnologia (FCT). AMK was supported by a Discovery Grant from the Natural Sciences and Engineering Research Council of Canada. JK received support from US NIH grant AI075208.
The authors would like to acknowledge Cameron Haase-Pettingell and Dessy Raytcheva from the Department of Biology, Massachusetts Institute of Technology (MIT) for helping on the proteomic data analysis. The authors are grateful to Ioannis A. Papayannopoulos and Richard P. Schiavoni from the Koch Institute for Integrative Cancer Research at MIT for the acquisition of the ESI-MS/MS data.
Authors' Affiliations
(1)
IBB--Institute for Biotechnology and Bioengineering, Centre of Biological Engineering, Universidade do Minho, Campus de Gualtar, Braga, Portugal
(2)
Laboratory for Foodborne Zoonoses, Public Health Agency of Canada, Guelph, Canada
(3)
Department of Biology, Massachusetts Institute of Technology (MIT), Cambridge, USA
Copyright
© Carvalho et al; licensee BioMed Central Ltd. 2012
This article is published under license to BioMed Central Ltd. This is an Open Access article distributed under the terms of the Creative Commons Attribution License (http://creativecommons.org/licenses/by/2.0), which permits unrestricted use, distribution, and reproduction in any medium, provided the original work is properly cited.