Altered of apoptotic markers of both extrinsic and intrinsic pathways induced by hepatitis C virus infection in peripheral blood mononuclear cells
Virology Journal
2012
9:314
Received: 26 April 2012
Accepted: 7 December 2012
Published: 20 December 2012
Abstract
Background
Chronic hepatitis C (CHC) has emerged as a leading cause of cirrhosis in the U.S. and across the world. To understand the role of apoptotic pathways in hepatitis C virus (HCV) infection, we studied the mRNA and protein expression patterns of apoptosis-related genes in peripheral blood mononuclear cells (PBMC) obtained from patients with HCV infection.
Methods
The present study included 50 subjects which plasma samples were positive for HCV, but negative for human immunodeficiency virus (HIV) or hepatitis B virus (HBV). These cases were divided into four groups according to METAVIR, a score-based analysis which helps to interpret a liver biopsy according to the degree of inflammation and fibrosis. mRNA expression of the studied genes were analyzed by reverse transcription of quantitative polymerase chain reaction (RT-qPCR) and protein levels, analyzed by ELISA, was also conducted. HCV genotyping was also determined.
Results
HCV infection increased mRNA expression and protein synthesis of caspase 8 in group 1 by 3 fold and 4 fold, respectively (p < 0.05). In group 4 HCV infection increased mRNA expression and protein synthesis of caspase 9 by 2 fold and 1,5 fold, respectively (p < 0.05). Also, caspase 3 mRNA expression and protein synthesis had level augumented by HCV infection in group 1 by 4 fold and 5 fold, respectively, and in group 4 by 6 fold and 7 fold, respectively (p < 0.05).
Conclusions
HCV induces alteration at both genomic and protein levels of apoptosis markers involved with extrinsic and intrinsic pathways.
Keywords
HCV infectionApoptosisCaspase 3Caspase 8Caspase 9
Background
Hepatitis C virus (HCV) is a major worldwide causative pathogen of chronic hepatitis (CHC), cirrhosis, and hepatocellular carcinoma 1. Although the exact mechanisms governing the elements of HCV pathogenesis, such as viral persistence, hepatocyte injury, and hepatocarcinogenesis, are not fully understood, an accumulating body of evidence suggests that apoptosis of hepatocytes and peripheral blood mononuclear cells (PBMCs) are significantly involved 23. Apoptosis plays a pivotal role in the maintenance of cellular homeostasis through removal of aged, damaged, and hyperproliferative cells 4. Resistance to apoptosis induced by various stimuli is one of the most important factors in tumor progression, as well as in resistance to cytotoxic therapies 5. In mammalian cells, apoptosis can be induced via two major pathways. One is the death receptor pathway (extrinsic pathway), which is triggered by binding of FAS ligand (FASLG) to FAS (CD95). This leads to activation of caspase 8 (CASP8), which subsequently activates effector caspases 3, 6, and 7 (CASP3, CASP6, and CASP7) 6789. The second apoptosis pathway (intrinsic pathway) is induced by mitochondria in response to DNA damage, oxidative stress, and viral proteins 2. Mitochondrion-dependent apoptosis is mediated by pro-apoptotic genes (BAX, BAD, BAK, and others), whereas proteins like BCL-2 and BCL-XL are anti-apoptotic. These proteins converge at the mitochondrial permeability transition pore, which regulates the release of apoptotic regulatory proteins such as procaspase-9 and cytochrome c (CYCS) 10.
Some studies have indicated that apoptosis of hepatocytes plays a significant role in the pathogenesis of HCV infection 11121314, which is clinically recognized as liver inflammation and fibrosis. To date, other alternative sites of HCV replication, such as the PBMCs have been recognized 1516. Therefore, CHC should be considered as a systemic disease rather than a local one 8. Moreover, the HCV ability to directly infect those cells might affect their function and down-modulate apoptotic events, thereby allowing virus chronic replication in target cells. However, the susceptibility of PBMCs to apoptotic process in course of chronic HCV infection has not yet been fully understood 13. Therefore, the aim of this work was to evaluate in PBMCs obtained from chronic HCV patients the genomic and protein expression of 3, 8, 9 capases as well as Fas and, CYCS which are involved with intrinsic and extrinsic apoptotic pathways.
Results
Clinical aspects
The present study includes a total of 100 subjects, being 50 of them infected by HCV virus. These patients were divided into four groups, according to the degree of fibrosis and inflammation, scored by METAVIR. In the control group, 25 men and 25 women were selected. Subjects with diabetes mellitus, hypertension, connective tissue disease, other systemic diseases, acute or chronic inflammatory disorders, infections, or hepatocellular carcinoma or other malignancy, as well as alcoholics and smokers, were excluded. All patients signed informed consents before inclusion and the ethical committee has approved the protocol, which was in accordance with the ethical guidelines of 1975 Declaration of Helsinki. Table
1
shows the patients distribution according clinical features.
Table 1
Patients characteristics/variables
| Parameter/Variables Mean ± S.D. | Group 1 (n=13) | Group 2 (n=13) | Group 3 (n=13) | Group 4 (n=11) | Control Group (n=50) |
| --- | --- | --- | --- | --- | --- |
| ALT (mg/dl) | 32.1 ± 4.7* | 21.2 ± 2.8 | 19.9 ± 5.0 | 101.8 ± 5.0** | 17.2 ± 6.1 |
| AFP (ng/ml) | 39.47 ± 0.2** | 13.65 ± 0.1 | 16.82 ± 0.8** | 56.76 ± 0.5** | 10.03 ± 0.1 |
| Viral load (IU/ml) | 66.571 ± 3196 | 495.358 ± 2821 | 3.568.588 ± 2207 | 11.174.667 ±6385 | - |
| Age (Mean) | 47.8 ± 2.05 | 44.1 ± 1.58 | 46.9 ± 1.59 | 55.0 ± 2.98 | 45.0 ± 2.4 |
| Male:female ratio | 1:1 | 1.8:1 | 2.3:1 | 6.0:1 | 1:1 |
| Genotype | 1b/1a (73,13%) | | 3 (26,87%) | | |
Alterations in apoptotic markers in PBMCs
We first analyzed genes involved with the extrinsic apoptosis pathway by measuring the expression levels of
FAS
and
CASP8
in PBMCs. In group 1, we observed a 7.5 fold increase in relative
FAS
expression compared to control group, p < 0.05. However,
FAS
expression was decreased by 5 fold in group 4 compared to control group, p < 0.05 (Figure
1
). We did not observe any significant difference in
FAS
expression when comparing groups 2 and 3 with the control group. We then analyzed
CASP8
relative expression and observed a statistically significant increase of 3 fold change for group 1 when compared to control group, p < 0.05 (Figure
2a
).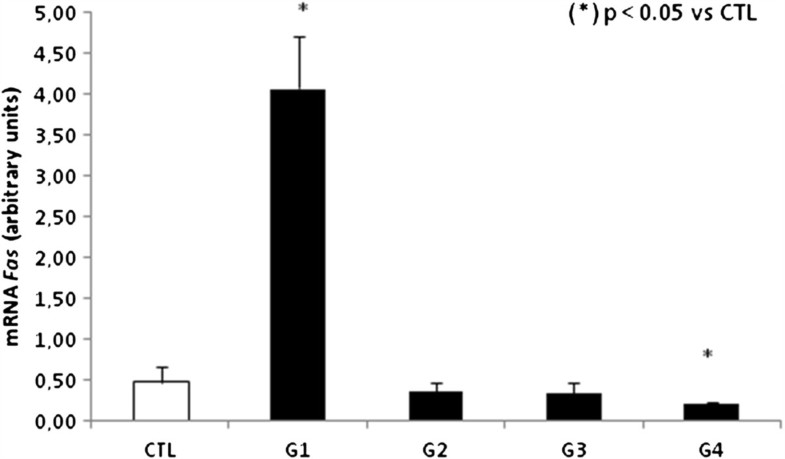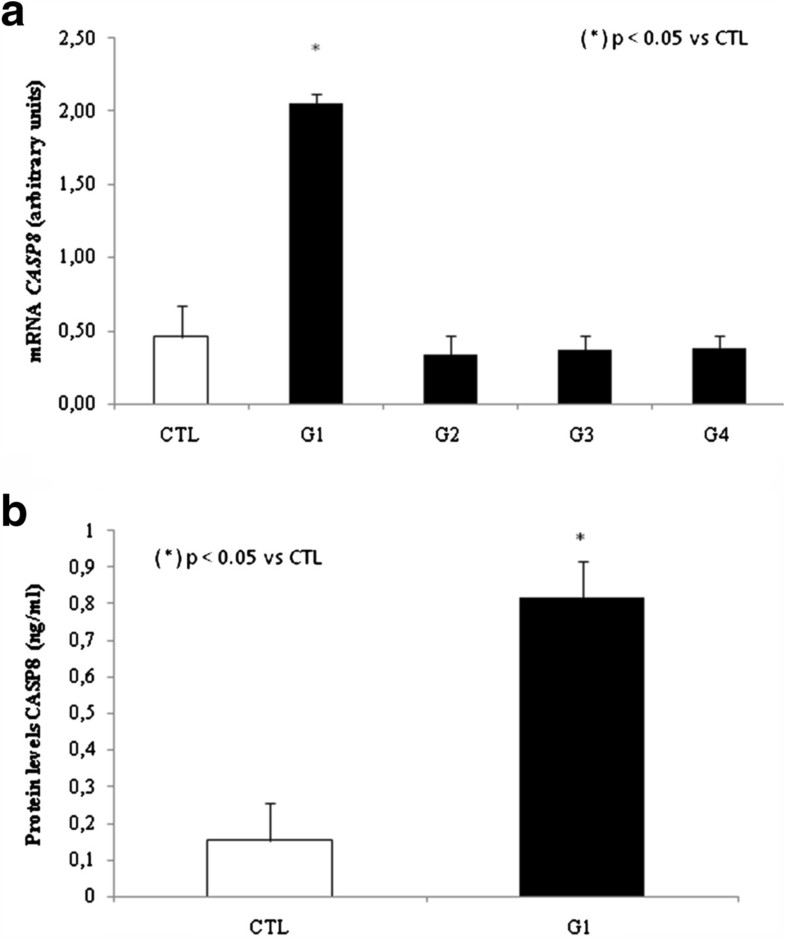 To validate these results, we decided to analyze CASP8 at protein level and observed, by ELISA, that only group 1 has CASP8 increased by 4 fold when compared to control group, p < 0.05 (Figure 2b).
We next investigated whether intrinsic apoptosis could possibly be involved in HCV infection through analysis of relative expression of
CASP9
and
CYCS
in PBMCs. We observed that both were significantly increased in group 4 when compared to the control group. Specifically, there was an increase of 2 fold in
CASP9
expression and 5 fold change in
CYCS
expression (Figures
3a
and
4
). No differences were observed for groups 1, 2, or 3 when compared to control group. To confirm our results, we also evaluated CASP9 protein levels in group 4 and the control group, and found that the difference in mRNA expression was reflected in the protein levels. Specifically, we observed a 1.5 fold increase in group 4 over the control group, p < 0.05 (Figure
3b
).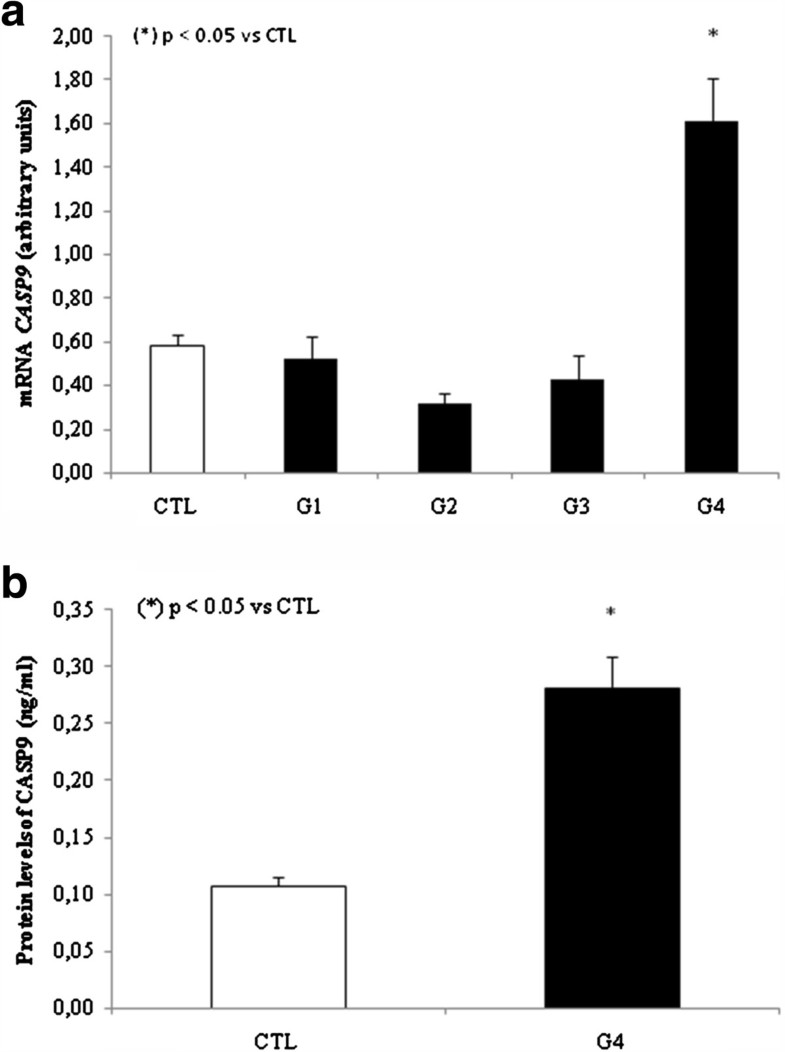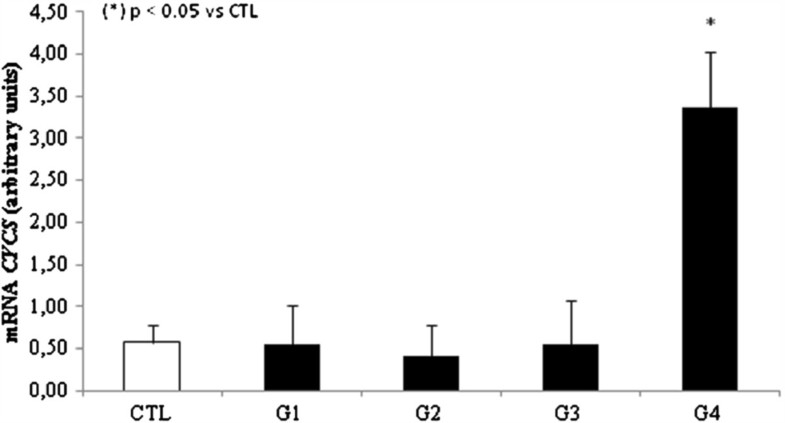 Since
CASP3
increased levels has already been associated with activation of both the extrinsic and intrinsic apoptosis pathways
2
, we also decided to analyze this caspase at genomic and protein level. mRNA expression showed a 4 fold increase in group 1, p < 0.05 and 6 fold increase for group 4 in
CASP3
expression levels compared to control group (Figure
5a
).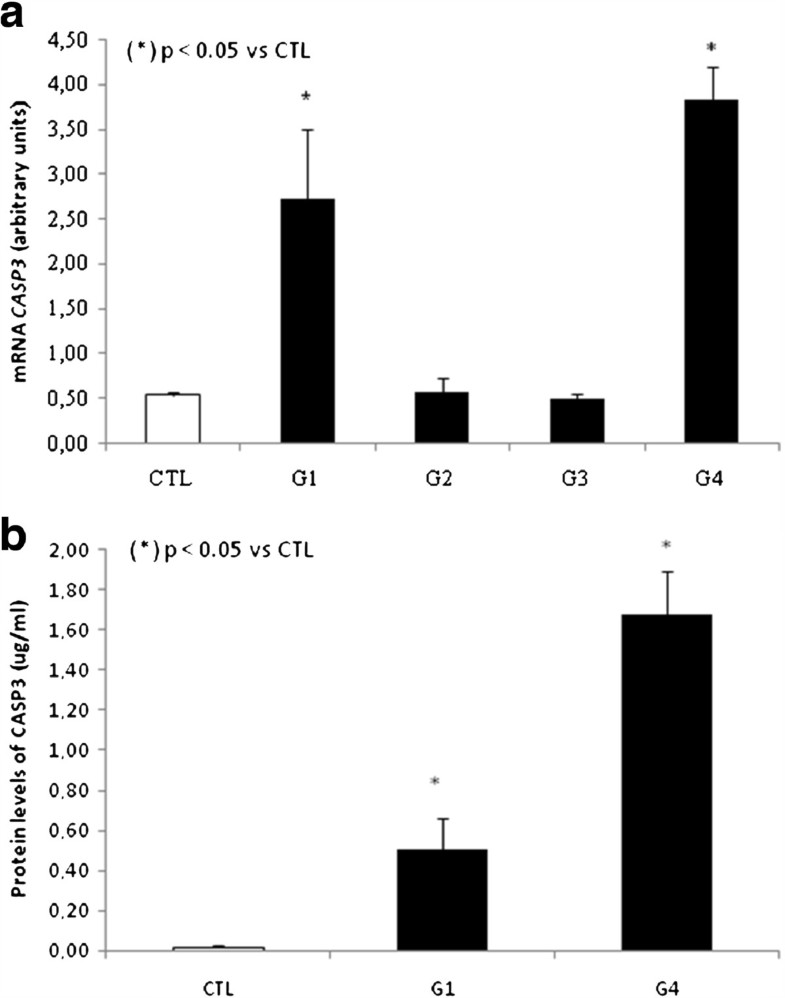 To measure CASP3 protein levels we standardized an "in-house" ELISA because a commercial assay kit for this protein was not available. As expected, we found an augment in groups 1 (5 fold increase, p < 0.05) and 4 (7 fold increase, p < 0.05) when compared to control group. (Figure 5b).
Discussion
HCV often establishes itself as a persistent infection that causes CHC, liver cirrhosis, and hepatocellular carcinoma, which are significant health problems throughout the world 1. Despite increasing knowledge of the molecular virology of HCV and associated apoptosis markers, the mechanisms of hepatocellular injury in HCV infection are not fully understood. A delicate balance normally exists in cells between antiapoptotic and proapoptotic regulators to ensure the proper survival and turnover of different body cells 17.
In our study, we analyzed the influence of liver inflammation and fibrosis in CHC patients on the gene expression of FAS receptor, CASP3, CASP8, CASP9, and CYCS in PBMCs. Further, we examined protein levels of CASP3, CASP8, and CASP9 in plasma samples. These factors are actively involved in apoptotic cell death, and could indirectly indicate the susceptibility of cells to apoptotic death. The apoptotic process seems to be the host's defense mechanism against viral infections, resulting in interruption of viral replication and elimination of infected cells. FASL presented on activated CD8+ cytotoxic T cells interacts with overexpressed FAS receptors to trigger apoptosis in infected hepatocytes and PBMCs. The mechanisms for persistence of HCV infection are complex because of divergent virus strategies for immune system evasion. Under physiological conditions, FAS-FASLG interactions protect immunological homeostasis by regulating apoptosis of various immune cells 18.
We observed significantly increased expression of FAS receptor in PBMCs in patients from group 1. FAS receptor expression may represent a self-limiting mechanism of the immune response 19. HCV genotype-dependent differences in FAS expression cells have already been described 20and support the hypothesis that HCV genotype 1 might induce apoptosis 2122, this could possibly be the reason for our results since genotype 1 was the most prevalent (73%) in our samples (Table 1). In the other hand, for group 4, we observed a decrease in FAS expression in PBMCs, and this was significantly associated with cirrhosis and intense necroinflammation. This result was supported by the hypothesis suggested elsewhere 21that reduced expression of FAS receptor is associated with aggressive forms of hepatocellular carcinoma, especially in poorly differentiated tumors that present portal vein or extracapsular invasion, this mechanism could possibly going on in our model. In group 1, we observed a significant increase in CASP8 expression. Activation of CASP8 via FAS receptor is an important mechanistic initiator of apoptosis in physiological and pathological conditions, and is extremely important in the pathophysiology of CHC 18.
The activation of caspases can be triggered via death receptors or by mitochondrial dysfunction, with the latter resulting in the release of CYCS 23. The translocation of pro-apoptotic proteins to the mitochondria results in the release of CYCS from outer and inner mitochondrial membrane into the cytosol. In the cytosol, CYCS forms a complex with apoptosis-activating factors, leading to the activation of CASP9, which activates effector caspases.
Group 4 showed a significant increase of CASP9 and CYCS , this found was already supported by at least another group that reported same results associated with significant increases in ALT and AFP levels 24. The indirect markers of fibrosis reflect alterations in hepatic function. A large number of indirect serum markers of fibrosis have been tested over the past few years. They mainly include AST and ALT levels, tested either alone or in combination 25. In our study, we observed significantly increased ALT levels in group 4. The increased ALT levels had been associated to mitochondrial injury, which may be related to HCV infection, and is usually predominant in liver cirrhosis 26272829. AFP is also important in the diagnosis of hepatocellular carcinoma 30. In the present study, AFP was the most efficient marker for patients in group 4 with liver cirrhosis, confirming the findings of Mohamed et al. 31. With regard to the correlation of viral load with biochemical markers, we found a positive and strong correlation of ALT levels in group 4, and a positive and moderate correlation with AFP levels in the same group 32. In groups 2 and 3, we found similar levels of ALT and AFP when compared to control group. Corroborating to these results, CASP3, CASP8, and CASP9 mRNA expression levels were also the same as in the control group.
CASP8 and CASP9 are the key initiator caspases activated through the death-receptor and mitochondrial pathways, respectively 3334, while CASP3 is the critical effector caspase of both pathways. In both groups 1 and 4, we observed a significant increase in CASP3 expression, suggesting a possibly activation of apoptosis.
Conclusions
In summary, the results of this study corroborate to the body of evidence that HCV could induce the augment of some apoptotic markers suggesting that perhaps apoptosis might be activated through both extrinsic and intrinsic pathways. CASP8 is normally activated through the extrinsic pathway, which is triggered by tumor necrosis factor receptor and FAS receptor 8. In contrast, CASP9 is activated through the intrinsic pathway, which can be initiated by DNA damage and various extracellular stresses 33. Both pathways induce CASP3, causing its cleavage and ultimately apoptosis. This is in agreement with our results showing increased CASP3 levels in both groups 1 and 4, where the levels of CASP8 and CASP9, respectively, were also increased. Nevertheless, further investigations are necessary to evaluated if this caspases are being activated in PBMCs of HCV infected patients.
Abbreviations
CHC:

Chronic hepatitis C
HCV:

Hepatitis C virus
PBMC:

Peripheral blood mononuclear cells
HIV:

Human immunodeficiency virus
HBV:

Hepatitis B virus
RT-PCR:

Reverse transcription of polymerase chain reaction
CASP3:

Caspase 3
CASP6:

Caspase 6
CASP7:

Caspase 7
CASP8:

Caspase 8
CASP9:

Caspase 9
CYCS:

Cytochrome c
ALT:

Alanine transaminase
AFP:

α-fetoprotein.
Declarations
Acknowledgments
This work was aided by grants from Associação Beneficente de Coleta de Sangue (COLSAN), Conselho Nacional de Desenvolvimento Científico Tecnológico (CNPq), Financiadora de Estudos e Projetos (FINEP), Fundação de Amparo à Pesquisa do Estado de São Paulo (FAPESP), and Coordenação de Aperfeiçoamento de Pessoal de Nível Superior (CAPES).
Authors' Affiliations
(1)
Colsan - Associação Beneficente de Coleta de Sangue, São Paulo, Brazil
(2)
Department of Gynecology, Federal University of São Paulo (UNIFESP), São Paulo, Brazil
(3)
URDIP - Unidade de Referência para Doenças Infecciosas Preveníveis, São Paulo, Brazil
(4)
Department of Nephrology, Federal University of São Paulo (UNIFESP), São Paulo, Brazil
Copyright
© Albertoni et al.; licensee BioMed Central Ltd. 2012
This article is published under license to BioMed Central Ltd. This is an Open Access article distributed under the terms of the Creative Commons Attribution License (http://creativecommons.org/licenses/by/2.0), which permits unrestricted use, distribution, and reproduction in any medium, provided the original work is properly cited.