Aerosol influenza transmission risk contours: A study of humid tropics versus winter temperate zone
Received: 22 February 2010
Accepted: 14 May 2010
Published: 14 May 2010
Abstract
Background
In recent years, much attention has been given to the spread of influenza around the world. With the continuing human outbreak of H5N1 beginning in 2003 and the H1N1 pandemic in 2009, focus on influenza and other respiratory viruses has been increased. It has been accepted for decades that international travel via jet aircraft is a major vector for global spread of influenza, and epidemiological differences between tropical and temperate regions observed. Thus we wanted to study how indoor environmental conditions (enclosed locations) in the tropics and winter temperate zones contribute to the aerosol spread of influenza by travelers. To this end, a survey consisting of 632 readings of temperature (T) versus relative humidity (RH) in 389 different enclosed locations air travelers are likely to visit in 8 tropical nations were compared to 102 such readings in 2 Australian cities, including ground transport, hotels, shops, offices and other publicly accessible locations, along with 586 time course readings from aircraft.
Results
An influenza transmission risk contour map was developed for T versus RH. Empirical equations were created for estimating: 1. risk relative to temperature and RH, and 2. time parameterized influenza transmission risk. Using the transmission risk contours and equations, transmission risk for each country's locations was compared with influenza reports from the countries. Higher risk enclosed locations in the tropics included new automobile transport, luxury buses, luxury hotels, and bank branches. Most temperate locations were high risk.
Conclusion
Environmental control is recommended for public health mitigation focused on higher risk enclosed locations. Public health can make use of the methods developed to track potential vulnerability to aerosol influenza. The methods presented can also be used in influenza modeling. Accounting for differential aerosol transmission using T and RH can potentially explain anomalies of influenza epidemiology in addition to seasonality in temperate climates.
Keywords
InfluenzaHigh Relative HumidityTransmission RiskBank BranchInfluenza Transmission
Background
The contrasting epidemiology of influenza in the tropics versus temperate regions has been discussed for many years, and it has been accepted for decades that jet aircraft are a major vector for global spread of influenza[1]. This study is an attempt to better understand aerosol influenza transmission for indoor locations by examining temperature and humidity indoors where jet travelers are likely to interact with locals and comparing humid tropical locations with temperate winter ones. In recent years, much attention has been given to the spread of influenza around the world, especially with the continuing H5N1 outbreaks since 2003 and the H1N1 pandemic in 2009. Extensive research has been conducted to understand the mechanism of transmission of influenza virus, including environmental conditions that favor transmission. Various aerosol studies have shown that micron range droplet particles from breathing, talking, coughing and sneezing bear influenza viruses, and that the aerosol route is an important contributor to infection[2, 3]. The particles making up aerosol in normal exhalation are less than 1 micron in size; aerosol particles range from 0.1 micron to 5 micron[2, 4], and these smallest particles are primary vectors of contagion[5, 6].
Questions have been raised as to whether or not aerosol transmission of influenza occurs or is a significant contributor to its epidemiology, and whether vitamin D is a determining factor[7–10]. We believe that our study sheds helpful light on these matters by defining a framework that starts to formalize the effect of temperature and RH conditions on such transmission. We treat this more extensively in the discussion section.
We intend this study to be primarily targeted at public health planners and epidemic model developers. Interventions to successfully interrupt spread of influenza that have been studied in depth are quarantine, isolation, different types of masks, gloves, hygiene, and combinations of these[11]. Public health planners can use our results to consider making climate control adjustment recommendations, which can help control aerosol transmission. As well, modeling of epidemics in software depends on assumptions about where contagion is likely to occur. Some types of modeling today may take into account generalized types of mixing locations which are enclosed[12, 13], as it is believed that most transmission (including aerosol) occurs indoors, with much attention put on social network[14, 15]. We believe that such models can be improved by modeling of interior temperature and RH.
The authors developed a contour map of T versus RH based on literature from Lowen et al.[16–18] and others. In the studies of Lowen et al. guinea pigs were exposed to aerosol infection from another guinea pig for 7 days in an environmental cabinet maintaining temperature and relative humidity at varying levels. Thus, where we refer to a 25% risk of transmission, or a 25% contour, we mean that the risk of aerosol infection of one guinea pig over 7 days of continuous aerosol exposure to an infected guinea pig is roughly 25% (25%G7). We use this animal model as a baseline for estimation of differential risk to human populations. It is understood that temperature and humidity are not the only factors in aerosol transmission; however, we believe that they are primary factors along with dilution by air exchange and distribution by air currents[2, 19]. In modern building systems, recirculation of indoor air for energy efficiency is also a likely factor. We collected data in 8 countries in the tropics and 2 Australian cities during winter (June-September 2009). Relative humidity and temperature readings were taken in public areas frequented by travelers (e.g. hotels, banks, malls, shops, taxis, buses, etc.) as well as during flights between nations. Observations were also recorded of behaviors that could augment the spread of influenza significantly. Interviews were conducted in major cities in the tropics and Australia to improve understanding of influenza transmission conditions.
In the process of our study, observations were made that suggest inexpensive measures that could be taken to minimize the spread of influenza in the tropics via aerosol, and these may also apply to temperate regions.
Results
The aerosol transmission contours are presented in Figure
3
with all data plotted by nation. Temperature dimension distances from the 25%
G7
transmission line for all data points produced the cumulative histogram of temperature distances ogive/density charts of Figure
4
. This shows the relationship of readings to the 25%
G7
risk contour for the entire dataset. Figure
5
shows correlation of average distance from the 25%
G7
contour to cases of influenza. We will now examine in more detail different types of locations surveyed.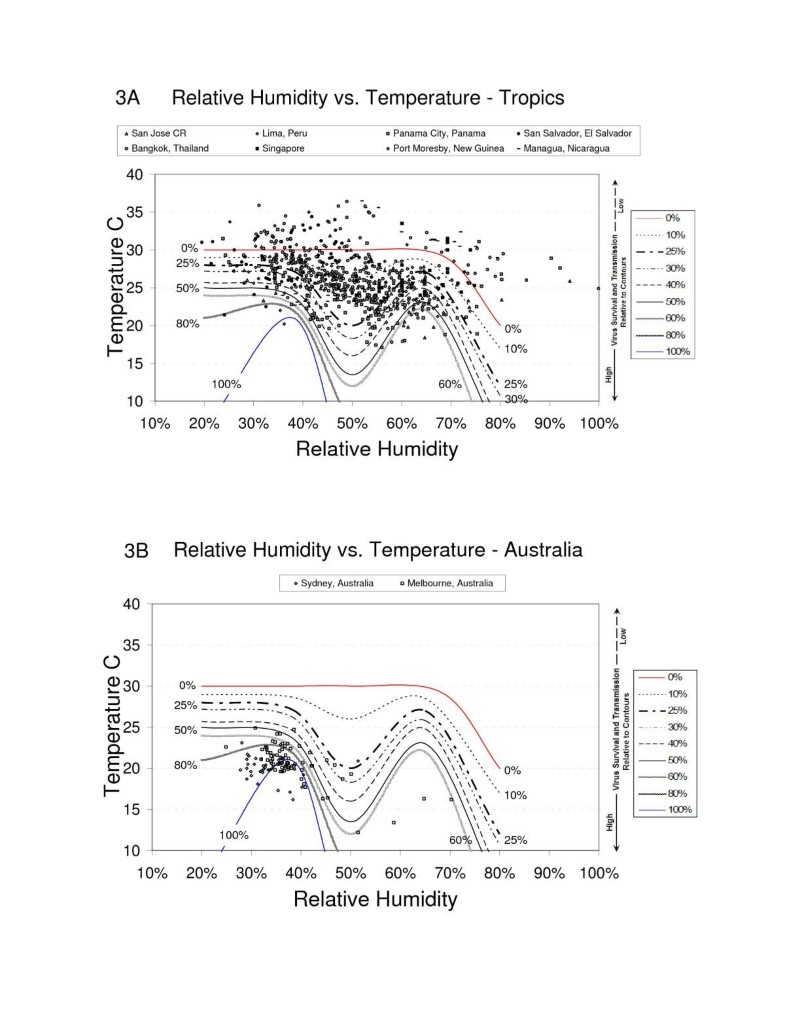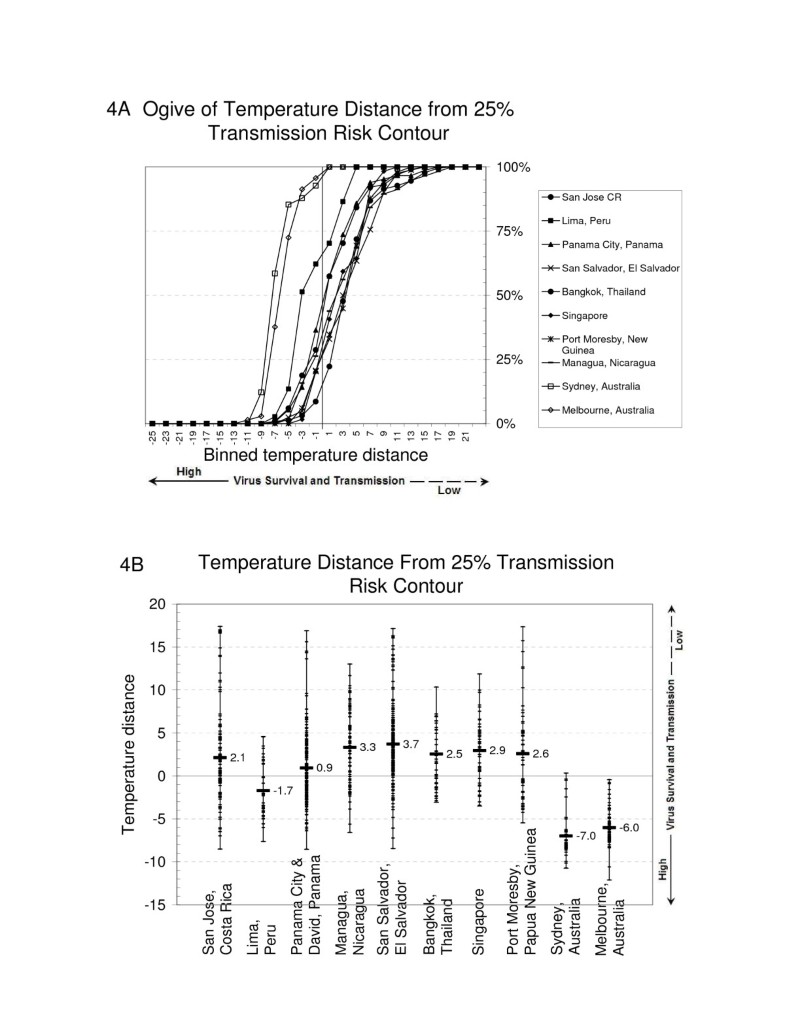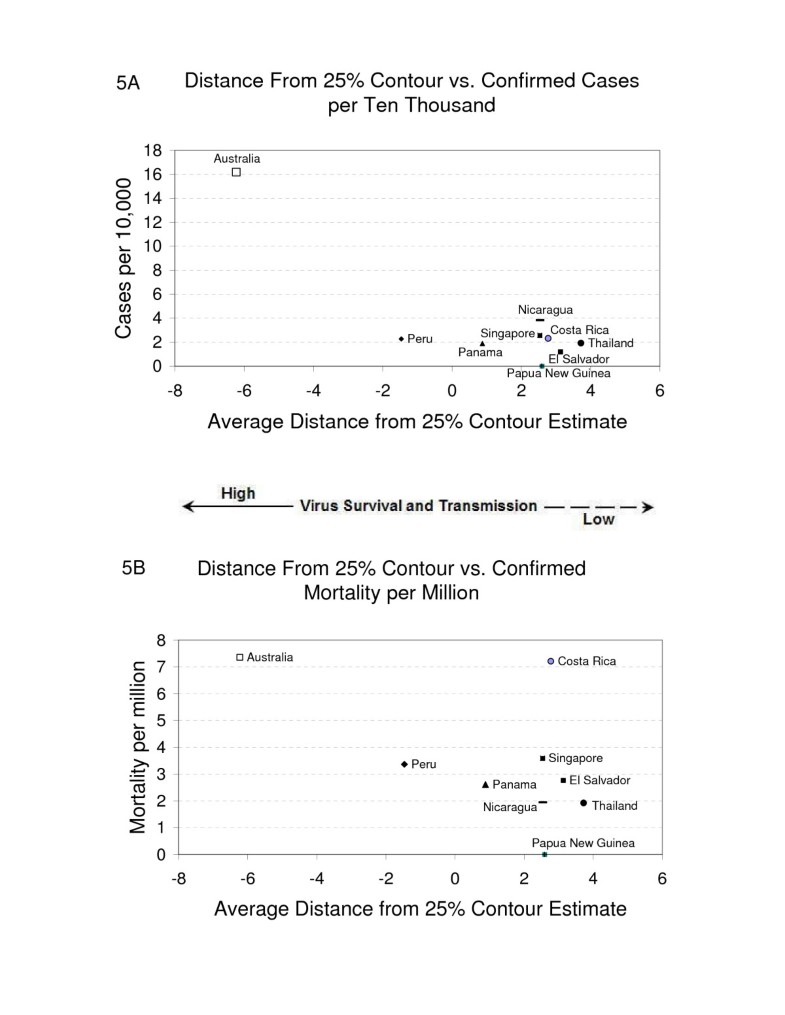 Conclusions
Given the results of this survey and analysis of literature data, we recommend the following to help mitigate the spread of influenza in the broader context of recommending that influenza epidemiological studies try to account for and report temperature and RH data of indoor enclosed locations to the extent this is practical.
Provide inexpensive tools to monitor environment
Digital psychrometers cost on the order of $100 to $160 in single quantities (larger purchases may be possible at lower cost). Based on visualizing the data collected, steps can be taken to attempt to either move higher risk environments in the direction of lower aerosol transmission risk, or else direct the use of other measures in those environments. A chart (Figure 1) should be inexpensive to distribute.
Educate luxury bus, taxicab, and hotel car operators
Luxury buses deserve special attention, as they cross borders and travelers spend upwards of 4 hours in the environment. The close quarters of these vehicles' recirculating air are a good opportunity for aerosol transmission of influenza (and other respiratory diseases).
Vendors to luxury buses represent the potential to be superspreaders of influenza, visiting many buses, speaking and moving systematically through the bus for periods of time per bus from 2 to 45 minutes, spending totals of hours per day in buses in multiple visits. Vendors also have direct contacts with passengers, increasing their chances of acquiring and then transmitting infection. Superspreaders were important for the SARS epidemic, showing an unexpected distribution of infectors[33] and probably are for influenza. Bus companies distributing masks and hand sanitizer to vendors to protect them may yield benefits.
Focus on major hotels, shops, offices, dining, malls and bank branches
Public health can educate maintenance staff of luxury hotels, newer malls (small and large), offices, dining establishments, banks, and colleges about caring for their environmental settings during a flu season. For those locations that have a need to portray an image of higher status, and hence comfort, how to balance that is a question for HVAC engineers.
Influenza transmission on aircraft is probably fairly low
Based on our examination, we think that influenza transmission on aircraft is probably a not a serious risk most of the time, as discussed above, although the passenger numbers are quite large. Most of the risk appears to be off the aircraft, although wake effects can be troublesome, and T and RH may regulate whether wake effects can occur. Lacking viability data for the humidity range common on aircraft, how that works is clearly an open question. However, since the period starting when passengers stand up after landing to emptying the aircraft does fall within our parameters and is quite short, it may be an insignificant cost for airlines to flush cabin air from the end of the runway after landing until passengers leave the aircraft to further lower transmission risk on aircraft.
Public health relative to other disease and temperature vs. RH
Many viruses and bacteria will display viability conditions opposite to influenza. Endemic disease threat such as M. tuberculosis should be weighed since TB is correlated with tropical climates[47], suggesting its aerosol transmission is optimum in high RH and warm temperature. TB is a hardy organism that forms culturable aerosol from coughing[48] but the aerobiology of transmission is not well explored[47]. Guinea pig model TB transmission studies in parallel with influenza exploring variations of temperature and RH relative to HEPA filtration and ultraviolet light as recommended by Nardell and Piessens[47] would be desirable. The TB concern indicates that in TB endemic regions humidity lower than 60% should be targeted on the transmission contour map (Figure 1). There are also commonalities between other measures that can minimize influenza aerosol contagion and measures against TB and other microbial aerosol (such as UV irradiation of upper air [49]).
Summary
Climate control for enclosed spaces should be added to public health to control influenza epidemics. The range between 20% and 80% RH covers most human habitation outside of aircraft, and the region above 80% RH appears to be a low transmission risk, although both these regions should be explored. In the tropics, getting an indoor facility out of the region of highest risk should be simple and low or no cost. In temperate regions, controlling AC to stay out of the optimum transmission region may be more challenging. At a minimum, the low or no cost step of changing climate control parameters should not raise the R 0 (reproductive number) of an influenza epidemic and will lower it considerably if seasonal influenza transmission is any guide. The authors hope for further refinement; however, this is an inexpensive starting point with highly probable benefits, which should be a net savings for nations. For those who perform epidemiological studies, analyzing data in light of temperature and relative humidity will help our understanding of influenza epidemiology.
Authors' information
BB is a PhD biochemist who has worked extensively with guided evolution systems and cellular pathway engineering. BPH is a PhD microbiologist working with assay systems and is also a computer scientist, developer of the Epiflex epidemic modeling software.
List of abbreviations
25%G7:

Contour corresponding to a 25% risk of transmission of influenza from one guinea pig to another over 7 days
25-hD:

25-hydroxyvitamin D
AC:

Air conditioning
C:

Centigrade
HEPA:

High efficiency particle absorbance
HVAC:

Heating ventilating and air conditioning
RH:

Relative humidity
SARS:

Severe acute respiratory syndrome
T:

Temperature
URTI:

Upper respiratory tract infection
UV:

Ultraviolet light
Authors' Affiliations
(1)
Butterfly Bioscience, Davis, USA
(2)
BYK-Chemie GmbH,, Wesel, Germany
Copyright
© Hanley and Borup; licensee BioMed Central Ltd. 2010
This article is published under license to BioMed Central Ltd. This is an Open Access article distributed under the terms of the Creative Commons Attribution License (http://creativecommons.org/licenses/by/2.0), which permits unrestricted use, distribution, and reproduction in any medium, provided the original work is properly cited.