Post-transcriptional control by bacteriophage T4: mRNA decay and inhibition of translation initiation
Virology Journal
2010
7:360
Received: 4 November 2010
Accepted: 3 December 2010
Published: 3 December 2010
Abstract
Over 50 years of biological research with bacteriophage T4 includes notable discoveries in post-transcriptional control, including the genetic code, mRNA, and tRNA; the very foundations of molecular biology. In this review we compile the past 10 - 15 year literature on RNA-protein interactions with T4 and some of its related phages, with particular focus on advances in mRNA decay and processing, and on translational repression. Binding of T4 proteins RegB, RegA, gp32 and gp43 to their cognate target RNAs has been characterized. For several of these, further study is needed for an atomic-level perspective, where resolved structures of RNA-protein complexes are awaiting investigation. Other features of post-transcriptional control are also summarized. These include: RNA structure at translation initiation regions that either inhibit or promote translation initiation; programmed translational bypassing, where T4 orchestrates ribosome bypass of a 50 nucleotide mRNA sequence; phage exclusion systems that involve T4-mediated activation of a latent endoribonuclease (PrrC) and cofactor-assisted activation of EF-Tu proteolysis (Gol-Lit); and potentially important findings on ADP-ribosylation (by Alt and Mod enzymes) of ribosome-associated proteins that might broadly impact protein synthesis in the infected cell. Many of these problems can continue to be addressed with T4, whereas the growing database of T4-related phage genome sequences provides new resources and potentially new phage-host systems to extend the work into a broader biological, evolutionary context.
Keywords
Translation InitiationRibosome Binding SiteTriose Phosphate IsomeraseTranslation Initiation RegionHoming Endonuclease Gene
Introduction
The temporal ordering of bacteriophage T4 development is assured, in great part, by the cascade activation of three different classes of promoters (see [1, 2] in this series). However, control of phage development is also exercised at the post-transcriptional level, in particular by mechanisms of mRNA destabilization and translation inhibition [see earlier reviews [3–6]]. In this review we detail advances in understanding these processes, and summarize some of the other posttranscriptional processes that occur in T4-infected cells.
Posttranscriptional control by mRNA decay
Endoribonuclease RegB and its role in inactivating phage early mRNAs
The end of the early period, 5 minutes after infection at 30°C, is marked by a strong decline in the synthesis of many early proteins. This inhibition is due to the abrupt shut-down of the early promoters by a mechanism that is not completely understood [7, 8]. In addition, the phage-encoded RegB endoribonuclease (T4 regB gene) functionally inactivates many early transcripts and expedites their degradation. As described below, this role of RegB is accomplished in part, with the cooperation of the host endoribonucleases RNase E and RNase G and the T4 polynucleotide kinase, PNK.
The T4 RegB RNase exhibits unique properties. It generates cuts in the middle of GGAG/U sequences located in the intergenic regions of early genes, mostly in translation initiation regions. In fact, the GGAG motif is one of the most frequent Shine-Dalgarno sequences encountered in T4. Some efficient RegB cuts have also been detected at GGAG/U within coding sequences. RegB cleavages can be detected very soon after infection, earlier than 45 seconds at 30°C [5, 9–14].
The RegB endonuclease requires a co-factor to act efficiently. When assayed in vitro, RegB activity is extremely low but can be stimulated up to 100-fold by the ribosomal protein S1, depending on the RNA substrate [9, 15, 16].
T4 Dmd and E. coli RNase LS antagonism
Other activities implicated in RNA decay during T4 infection
The E. coli poly(A) polymerase (PAP), encoded by the pcnB gene, adds poly(A) tails to the 3' ends of E. coli mRNAs and contributes to the destabilization of transcripts [53]. T4 mRNAs are probably not polyadenylated. Indeed, it has been found that after infection with the closely related bacteriophage T2, host poly(A) polymerase activity is inhibited [54]. Also, no poly(A) extension could be detected at the 3' end of the soc and uvsY transcripts after infection with T4 [55], suggesting that bacteriophage T4 infection also leads to PAP inhibition. This could, for example, occur through ADP-ribosylation of the protein.
Growth of bacteriophage T4 on an E. coli strain carrying the rne Δ131 mutation, which is unable to assemble the RNA degradosome, is unchanged relative to infection of a wild-type strain [48] (also, S. Durand and M. Uzan, unpublished data). However, the rne Δ131 mutation has no effect on the growth of E. coli either, despite affecting the stability of several individual transcripts [56–59]. Therefore, the question of whether the degradosome plays a role in the turnover of some T4 mRNAs or is modified after infection remains open. Similarly, whether the host RNA pyrophosphohydrolase, RppH [21, 60] is implicated in T4 mRNA turnover has not yet been determined.
Infection with bacteriophage T4 expedites host mRNA degradation. The two long-lived E. coli mRNAs, lpp and ompA, are dramatically destabilized after infection with T4. The host endonucleases, RNases E and G, are responsible for this increased rate of degradation [61]. Phage-induced host mRNA destabilization requires the degradosome. Indeed, the lpp mRNA is not destabilized after infection of a strain that carries a nonsense mutation in the middle of the E. coli rne gene (encoding RNase E), leading to a protein unable to assemble the degradosome. A viral factor is also involved, since a phage carrying the Δtk2 deletion that removes an 11.3 kbp region of the T4 genome, from the tk gene to ORF nrdC.2, loses the ability to destabilize host transcripts. The gene implicated has not yet been identified [61]. There is certainly an advantage for a virulent phage to accelerate host mRNA degradation immediately after infection, as this provides ribonucleotides for nucleic acid synthesis, frees the translation apparatus for viral mRNAs, and facilitates the transition from host to phage gene expression.
A list of the several endoribonucleases and other enzymes involved in mRNA degradation and modification during T4 infection is presented in Table
1
.
Table 1
Enzymes involved in mRNA degradation and modification during T4 infection.
Enzyme

Origin

Reaction catalyzed. Main properties

Role in T4 development

RNase E

E. coli

Endonuclease. Produces 5'-P termini. Activated by 5'-monophosphorylated RNA. Scaffold of the degradosome

Major role in mRNA degradation throughout the phage developmental cycle.

RNase G

E. coli

Endonuclease. Produces 5'-P termini. Activated by 5'- monophosphorylated RNA.

Cuts in the 5' regions of some early RegB processed transcripts.

RegB

T4

Sequence-specific endonuclease. Produces 5'-OH termini. Requires S1 r-protein as co-factor

Inactivates early transcripts by cleaving in Shine-Dalgarno sequences. Expedites early mRNA degradation.

RNase LS

E. coli

Endonuclease. Its activity depends on rnlA and rnlB loci. Associated in a multiprotein compex.

Cleaves within T4 middle and late transcripts and expedites their degradation.

RNase II

RNase R

Polynucleotide phosphorylase

E. coli

3'-5' exonucleases. PNPase requires 3'-OH termini; the other two are indifferent to the nature of the 3' terminus.

Degrade mRNAs. The relative contribution of each RNase has not been determined.

PrrC

E. coli

tRNAlys anticodon nuclease. Normally silent in E. coli but activated by the T4-encoded Stp polypeptide.

Deleterious to T4 propagation if Pnk or Rli1 enzymes are inactivated.

Polynucleotide kinase (PNK)

T4

Phosphorylation of 5'-OH polynucleotide termini. Hydrolysis of 3'-terminal phosphomonoesters and of 2',3'-cyclic phosphodiesters

Counteracts, together with T4 RNA ligase 1, host tRNA anticodon nuclease PrrC. Makes RegB-processed RNA substrates for RNases E and G.

Dmd

T4

An early product that binds the RnlA protein, a member of RNase LS

Antagonist of RNase LS

Poly(A) polymerase

E. coli

Addition of poly(A) tails to the 3' end of RNAs

Probably inactivated after T4 infection

RNA pyrophospho-hydrolase (RppH)

E. coli

Hydrolysis of a pyrophosphate moiety from the 5'-triphosphorylated primary transcripts.

Not yet investigated
Inhibition of translation initiation
RegA translational repression
Inhibition of middle transcription, some 12-15 minutes post-infection at 30°C, is concomitant with the strong activation of late transcription [62]. This is the consequence of competition among sigma factors and changing the promoter specificity of the modified host RNA polymerase. Indeed, transcription initiation at T4 late promoters requires the phage-encoded late σ-factor, gp55, which replaces the major host σ70, and the T4-encoded gp33, which ensures coupling of late transcription with ongoing viral DNA replication [1, 62–64]. Superimposed on this transcriptional regulation, the translation of a number of transcripts is inhibited by the RegA translational repressor. This small, 122 amino acid protein competes with the ribosome for binding to the translation initiation regions of approximately 30 mRNAs [65]
RegA protein
The crystal structure of T4 RegA is a homodimer, with symmetrical pairs of salt bridges between Arg-91 and Glu-68 and pairs of hydrogen bonds between Thr-92 of both subunits [
66
] (Figure
2
). The monomer subunit has an alpha-helical core and two anti-parallel beta sheet regions. Two of the beta strands in the four-stranded beta sheet region B were identified by Kang
et al
. [
65
] as having amino acid sequences similar to RNP-1 and RNP-2 that are well characterized RNA-binding motifs. In addition, two pairs of lysines, K7-K8 and K41-K42 are in the same position in the proposed RegA RNP-1 domain [
66
] as they occur in the U1A RNA-binding protein, where they comprise basic "jaws" that straddle the RNA. However, none of the
regA
mutations identified in either T4 or phage RB69 prior to the availability of the RegA structure affected these lysine residues [
65
]. Structure-guided mutagenesis summarized below also did not implicate the lysines or the RNP-like domains in direct RNA binding by RegA.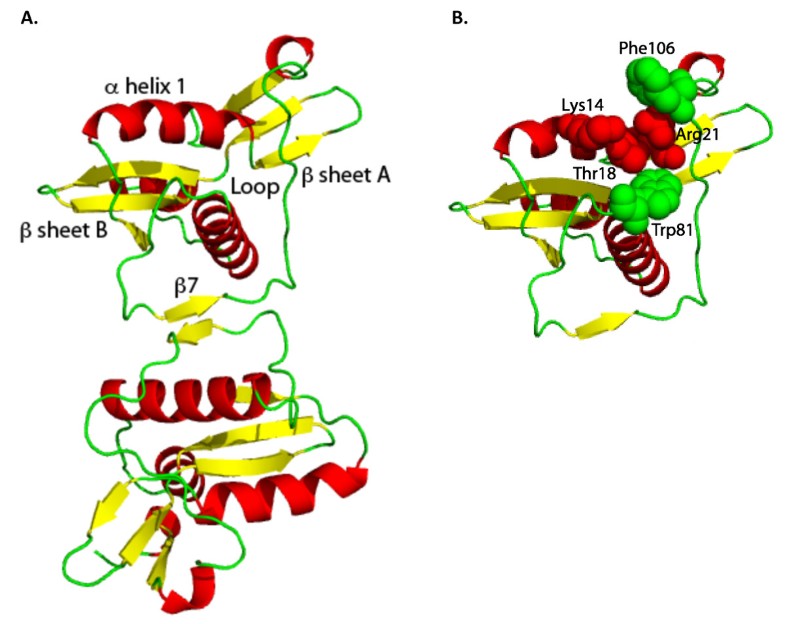 Concurrent with the T4 RegA structure determination, E. Spicer's group reported a terminal deletion mutant having residues 1 - 109 that bound RNA with reduced affinity, with 28% of the free energy of binding attributed to the terminal 10% of the protein [67]. It was also shown by proteolytic cleavage of free RegA, and RegA bound to an RNA oligonucleotide (the gene 44 operator), that conformational change in RegA upon RNA binding affected access to the C-terminal region. The C-terminal region is part of beta sheet region A of RegA [66], appears to be solvent-exposed, and thus potentially could interact with RNA in some manner. However, with the RegA structure available, targeted substitutions in the protein would reveal that specific RNA recognition likely occurs in an entirely different region of the protein.
Structure-guided mutagenesis of RegA was undertaken to evaluate some of these findings and for understanding the specific interactions for RNA binding. Binding stoichiometry of RegA:gene 44 RNA complexes, gluteraldehyde cross-linking of RegA, and mutagenesis of amino acids in the inter-subunit interface showed that T4 RegA is a dimer in solution (as also revealed in the crystal structure), but binds RNA as monomer [68]. A 1:1 RNA:RegA monomer stoichiometry was independently shown using electrospray ionization mass spectrometry [69]. Mutagenesis of Arg91 again suggested that at least some residues in the C-terminal region are involved in subunit interactions and in RNA recognition [66–68]; Arg91 appears more relevant for RNA binding, whereas Thr92 is more relevant for dimerization. Spicer and colleagues further demonstrated that 19 mutations substituting amino acids in T4 RegA surface residues of both beta structures, including residues similar to the RNP-1 and RNP-2 motifs proposed by Kang et al. [66], as well as the two paired lysines, had essentially no affect on RNA binding affinity or on RegA structure [70]. Together with mutations in helix-A, and interpretation of mutations in T4 and RB69 regA that were isolated prior to the structure determination [71], a somewhat unique RNA-binding helix-loop groove (or "pocket") of RegA was proposed to provide the primary RNA recognition element for the protein. Modeling of the 78% conserved phage RB69 RegA protein showed that it also likely contains this unique RNA binding structure [72]. Exposed residues on helix-A (i.e., Lys14, Thr18, Arg21) are conserved and substitutions reduce RNA binding substantially. Additionally, a conserved loop Trp81 to Ala81 substitution in both proteins abolishes RNA binding [72]. Phe106, earlier shown to crosslink with bound RNA, is positioned in a loop bordering the other end of the helix and further defines the apparent binding pocket [67, 70, 72]. Figure 2 summarizes these findings.
In summary, biochemical and structural studies of T4 and RB69 RegA have led from inferences of possible motifs in RNA binding to structure guided mutagenesis revealing a unique protein pocket or groove that, in the monomer form, accommodates the many different mRNAs that RegA proteins bind to cause translational repression. The apparent binding domain and exposed amino acids are largely conserved in RegA proteins from diverse phages sequenced to date (Figure
3
). As for gp32 and gp43, a RegA-RNA complex has not been structurally resolved and additional analysis of RegA-RNA interactions in the helix-loop groove would be of interest.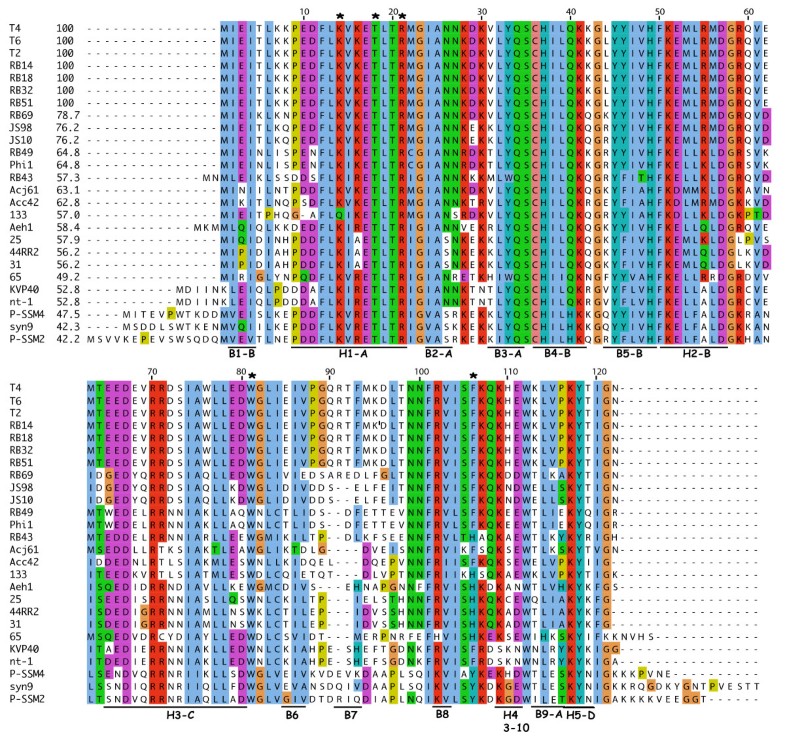 RegA RNA operators
Early genetic and translational repression assays confirmed that RegA binding sites on mRNA overlap the AUG translation initiation codon, or are located immediately 5' to the AUG, and occluding the site reduces formation of the ternary translation initiation complex; decay of the repressed messages is then enhanced [65]. The lack of clear sequence conservation or secondary structure to define RegA binding sites in the ~30 mRNAs repressed, prompted use of RNA SELEX with T4 RegA to capture high-affinity RNA ligands. This RNA binding site selection was thus performed in the absence of constraints imposed on the sequence by 30S ribosome subunits that bind the same region of mRNA for translation initiation [73]. Emerging from multiple rounds of SELEX was an RNA consensus sequence of 5'-aaAAUUGUUAUGUAA-3' that bound RegA with an apparent Kd of 5 nM (the lower case 5' bases were already present in the starting, non-variable regions of the RNA). The sequence showed no apparent structure using nuclease or base-modifying chemical probes and is consistent with earlier observations that biologically relevant RegA binding sites lack clear RNA secondary structure. Although the T4 RegA SELEX sequence is similar to mRNA sequences repressed by RegA (i.e., T4 gene rIIB, AAAAUUAUGUAC; gene 44, AAAUUAUGAUU; dexA, AAAAUUUAAUGUUU), there was no exact match between it and the repressed T4 messages [73]. These findings emphasize that T4 RegA binding sites are A+U rich; include an AUG and a 5' poly(A) tract; lack apparent structure; and in general, illustrate how an RNA binding determinant has evolved for occurring on many different mRNAs where fMet-tRNA and the 30S ribosome subunit also bind.
RNA sequences bound by phage RB69 RegA have also been examined [65, 72, 74, 75]. Translational repression occurs at RNAs from both phages, although binding affinities displayed by the two proteins are different in vivo and in vitro; a hierarchy of early and middle genes repressed by T4 RegA is also seen with RB69 RegA. For RB69 RegA, the protein protected a region between the gene 44 and gene 45 Shine-Dalgarno and AUG, but not the initiator AUG itself [72]. The protein would still compete for the same binding site as the ribosome. Using a stringent but reduced number of selection cycles, RNA SELEX was performed using immobilized RB69 RegA and a variable sequence of 14 bases [75]. The selected RB69 RegA RNAs were predominately 5''AAUAAUAAUAAnA-3', which also did not contain a conserved AUG but were clearly A+U rich. As discussed by Dean et al. [75], a stop codon (i.e, UAA) for an upstream gene within the ribosome binding site region of the adjacent downstream gene, may contribute a relevant sequence for RNA recognition by RegA proteins. All of these findings emphasize the range of RegA repression efficiencies at different sites, lack of RNA structure in binding sites, and the variable mRNA sequences to which the protein binds.
Specific autocontrol of translation: gp32 and gp43
Besides the two general post-transcriptional regulators, RegA and RegB, the T4 DNA unwinding protein, gp32, and the DNA polymerase, gp43, both involved in DNA replication, recombination and repair, autogenously regulate their translation.
Other T4 post-transcriptional control systems
Conclusions
Although post-transcriptional control in T4 development and gene expression has been appreciated and studied for decades, many of the molecular details, especially for specific RNA-protein interactions, have yet to be resolved. For most, crystal or solution structures of bound mRNA-repressor or RNA-nuclease complexes would significantly advance our understanding of complex formation and substrate interactions in catalysis. While clearly germane to T4 and the large diversity of T4-related bacteriophages in the biosphere, continued study of post-transcriptional processes directed by these phages will provide new advances in the biochemistry pertinent to all cellular systems. Undoubtedly new anti-virals and anti-microbials targeting these and related systems in pathogens can be anticipated.
Declarations
Acknowledgements
We thank Virology Journal for their support of this series on phage T4 and its relatives.
Authors' Affiliations
(1)
Acides Nucléiques et Biophotonique, CNRS-Université Pierre, College Station, France
(2)
Department of Microbiology, North Carolina State University, Raleigh, USA
Copyright
© Uzan and Miller; licensee BioMed Central Ltd. 2010
This article is published under license to BioMed Central Ltd. This is an Open Access article distributed under the terms of the Creative Commons Attribution License (http://creativecommons.org/licenses/by/2.0), which permits unrestricted use, distribution, and reproduction in any medium, provided the original work is properly cited.