We're sorry, something doesn't seem to be working properly.
Please try refreshing the page. If that doesn't work, please contact us so we can address the problem.
From actually toxic to highly specific – novel drugs against poxviruses
Received: 10 January 2007
Accepted: 15 January 2007
Published: 15 January 2007
Abstract
The potential use of variola virus, the causative agent of smallpox, as a bioweapon and the endemic presence of monkeypox virus in Africa demonstrate the need for better therapies for orthopoxvirus infections. Chemotherapeutic approaches to control viral infections have been less successful than those targeting bacterial infections. While bacteria commonly reproduce themselves outside of cells and have metabolic functions against which antibiotics can be directed, viruses replicate in the host cells using the cells' metabolic pathways. This makes it very difficult to selectively target the virus without damaging the host. Therefore, the development of antiviral drugs against poxviruses has initially focused on unique properties of the viral replication cycle or of viral proteins that can be selectively targeted. However, recent advances in molecular biology have provided insights into host factors that represent novel drug targets. The latest anti-poxvirus drugs are kinase inhibitors, which were originally developed to treat cancer progression but in addition block egress of poxviruses from infected cells. This review will summarize the current understanding of anti-poxvirus drugs and will give an overview of the development of the latest second generation poxvirus drugs.
Keywords
AdefovirSmallpoxCidofovirPassive ImmunizationSmallpox Vaccination
Background
The worldwide eradication of the naturally occurring smallpox virus, variola, in 1980 resulted in a decreased demand for the development of therapies [1]. Due to recent worldwide political developments, variola is nowadays widely regarded as one of the most significant bioterrorist threats, reestablishing the need for efficient therapy for poxvirus infection [2, 3]. The impact of a smallpox virus attack in the human population today would be even more catastrophic than during the last century, since the vaccination programs were suspended worldwide around 1976 [4]. The lethality of the disease (up to 40%) and its ease of transmissibility have prompted the CDC (Center for Disease Control and Prevention), an agency recognized as the leading United States government agency for protecting public health and safety, to place variola virus at the top of the high-threat (Category A) agents list [5]. In addition to the bioweapon threat, there is a natural public threat arising from monkeypox virus, a virus that produces a disease in man that closely resembles smallpox. Monkeypox exists naturally in western and central Africa, but 72 cases were also reported in the United States in 2003 [2, 6, 7].
Variola and monkeypox viruses belong to the family of poxviridae, which consists of a collection of large, enveloped, double-stranded DNA viruses that are distinguishable by their unique morphology and cytoplasmic site of replication [8]. Poxviruses infect most vertebrates and invertebrates, causing a variety of diseases of veterinary and human medical importance. The poxvirus family is divided into two main subfamilies, the chordopoxvirinae, which infect vertebrates, and the entomopoxvirinae, which infect insects. Chordopoxvirinae are further divided into eight genera. One of these is orthopoxvirus, which includes the human pathogens variola virus and monkeypox virus, and others which infect humans, including cowpox and vaccinia virus (VACV). There are at least two natural strains of variola virus: variola major with a case fatality rate of 30–40% and variola minor, with a much reduced fatality rate of approximately 1%.
Poxviruses enter the oropharyngeal and respiratory mucosa, and proliferate in the regional lymph nodes, multiplying in particular in the reticulo-endothelial system. However, the cellular entry mechanism is unknown in terms of fusion proteins and cell receptors [9, 10].
The 191 kbp VACV DNA genome encodes at least 263 gene products. Their expression is regulated in a temporal fashion during the viral replication cycle, which begins with entry of the virus into the host cell and terminates with the assembly of complex macromolecular structures to form an infectious particle [
11
]. Although the molecular details of poxvirus assembly and differentiation remain controversial, the most widely accepted scenario involves the generation of at least three forms of infectious particles (Figure
1
). The nomenclature used in this review follows a recent proposal by Moss [
9
]. The multiple infectious forms differ from one another by their outer membrane. Directly after the attachment and fusion of the virus with the host cell, the virus is uncoated and the early gene expression is initiated. At this point, the DNA replication occurs and is followed by intermediate and late gene expression. After viral DNA replication, progeny DNA molecules, virion enzymes and structural proteins assemble to form the pre-virion particles now referred to as mature virion (MV). MVs are the simplest and most abundant form and have no additional membranes and have previously been called the intracellular mature virion (IMV). MVs then acquire membranes, whether this is one or two membranes remains controversial; however, the current perception prefers the single membrane model [
9
]. A portion of the MV then become enveloped with additional membranes derived from the trans-Golgi apparatus [
12
,
13
] or endosomal cisterna [
14
]. This MV form, which is surrounded by two membranes, is referred to as a wrapped virion (WV) [
9
] instead of the previous intracellular enveloped virion (IEV), as the MV is already enveloped. Following migration to the cell surface, the outer WV membrane fuses with the plasma membrane resulting in exocytosis, which gives rise to extracellular enveloped virus (EV) [
15
]. The EV can either remain associated with the cell (formerly CEV = cell-associated virus) or become unattached and released as extracellular enveloped virus (EEV) [
16
]. The associated form is usually predominant and primarily responsible for cell-to-cell spread via actin tails [
17
,
18
]. Figure
1
shows a schematic view of the VACV replication cycle and the different virion forms.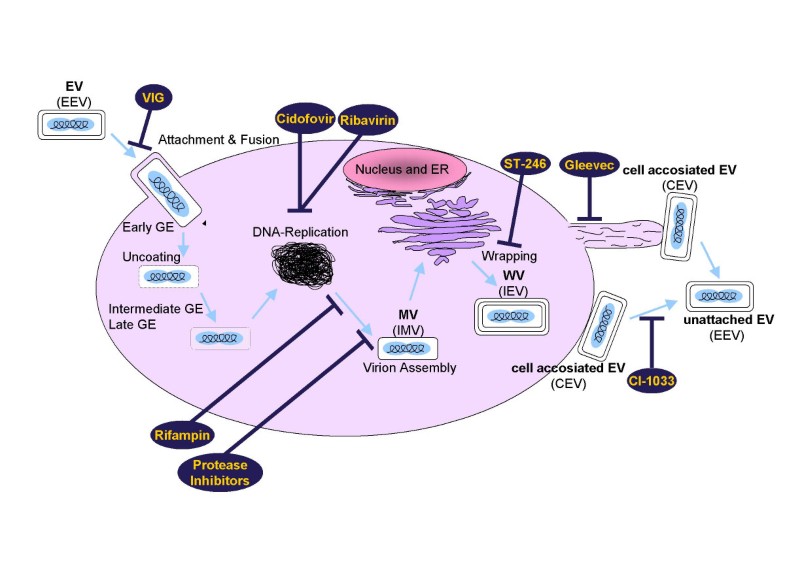 Among the approximately 200 genes encoded by variola virus are many that code for gene products that are needed for cytoplasmic transcription and replication of the virus. Therefore, strategies which block such key enzymes in the replication and maturation of poxviruses provide potential targets for therapeutic intervention.
Conclusion
Currently there are no FDA approved drugs on the market for the treatment of poxvirus infections, however kinases inhibitors show very good anti-poxvirus activity as off-target effect and have the potential for clinical applications. Essential viral gene products in the poxviral replication cycle have been identified that are potential targets for new drug development, but also more basic research is required to identify essential viral enzymes or pathogenicity factors, which will enable the development of more effective and specific anti-poxvirus drugs. Hopefully, these drugs will make poxviruses unattractive as bioweapons.
Authors' Affiliations
(1)
Paul-Ehrlich-Institut, Paul-Ehrlich-Straße 51–59, Langen, Germany
Copyright
© Sliva and Schnierle; licensee BioMed Central Ltd. 2007
This article is published under license to BioMed Central Ltd. This is an Open Access article distributed under the terms of the Creative Commons Attribution License (http://creativecommons.org/licenses/by/2.0), which permits unrestricted use, distribution, and reproduction in any medium, provided the original work is properly cited.