Adeno-associated virus: from defective virus to effective vector
Received: 08 April 2005
Accepted: 06 May 2005
Published: 06 May 2005
Abstract
The initial discovery of adeno-associated virus (AAV) mixed with adenovirus particles was not a fortuitous one but rather an expression of AAV biology. Indeed, as it came to be known, in addition to the unavoidable host cell, AAV typically needs a so-called helper virus such as adenovirus to replicate. Since the AAV life cycle revolves around another unrelated virus it was dubbed a satellite virus. However, the structural simplicity plus the defective and non-pathogenic character of this satellite virus caused recombinant forms to acquire centre-stage prominence in the current constellation of vectors for human gene therapy. In the present review, issues related to the development of recombinant AAV (rAAV) vectors, from the general principle to production methods, tropism modifications and other emerging technologies are discussed. In addition, the accumulating knowledge regarding the mechanisms of rAAV genome transduction and persistence is reviewed. The topics on rAAV vectorology are supplemented with information on the parental virus biology with an emphasis on aspects that directly impact on vector design and performance such as genome replication, genetic structure, and host cell entry.
Keywords
Cystic FibrosisHelper VirusrAAV VectorInverted Terminal Repeat SequenceFibroblast Growth Factor Receptor Type
Adeno-associated virus biology
Genome structure, DNA replication and virus assembly
The human adeno-associated virus (AAV) was discovered in 1965 as a contaminant of adenovirus (Ad) preparations [
1
]. AAV is one of the smallest viruses with a non-enveloped icosahedral capsid of approximately 22 nm (Fig.
1
), the crystal structure of which has been recently determined to a 3-angstrom resolution [
2
]. Because a co-infecting helper virus is usually required for a productive infection to occur, AAV serotypes are ascribed to a separate genus in the
Parvoviridae
family designated
Dependovirus
. Despite the high seroprevalence of AAV in the human population (approximately 80% of humans are seropositive for AAV2) the virus has not been linked to any human illness. The AAV has a linear single-stranded DNA genome of approximately 4.7-kilobases (kb). The AAV2 DNA termini consist of a 145 nucleotide-long inverted terminal repeat (ITR) that, due to the multipalindromic nature of its terminal 125 bases, can fold on itself via complementary Watson-Crick base pairing and form a characteristic T-shaped hairpin structure (Fig.
2
) [
3
]. According to the AAV DNA replication model [
4
] this secondary structure provides a free 3' hydroxyl group for the initiation of viral DNA replication via a self-priming strand-displacement mechanism involving leading-strand synthesis and double-stranded replicative intermediates (Fig.
3
). The virus does not encode a polymerase relying instead on cellular polymerase activities to replicate its DNA [
5
]. The ITRs flank the two viral genes
rep
(replication) and
cap
(capsid) encoding nonstructural and structural proteins, respectively. The
rep
gene, through the use of two promoters located at map positions 5 (p5) and 19 (p19), and an internal splice donor and acceptor site, encode four regulatory proteins that are dubbed Rep78, Rep68, Rep52 and Rep40 on basis of their apparent molecular weights. The Rep78 and Rep68 proteins participate in the AAV DNA replication process via their interaction with Rep-binding element (RBE) and terminal resolution site (trs) sequences located within the ITRs (Fig.
2
). In addition, in response to environmental cues such as presence or absence of a helper virus these proteins either positively or negatively regulate AAV gene expression, respectively [
6
]. The Rep52 and Rep40 proteins are involved in the generation and accumulation of single-stranded viral genomes from double-stranded replicative intermediates [
7
]. The resulting single-stranded genomes with plus and minus polarities are packaged with equal efficiency [
8
]. The economy displayed by AAV is staggering and derives not only from its overlapping genetic organization but also from the integration of various biochemical activities in each of its few gene products. For instance, Rep78 and Rep68 are site-specific DNA binding proteins, as well as strand- and site-specific endonucleases [
9
]. They also exhibit helicase and ATPase activities [
10
], which are shared by Rep52 [
11
] and by Rep40 [
12
].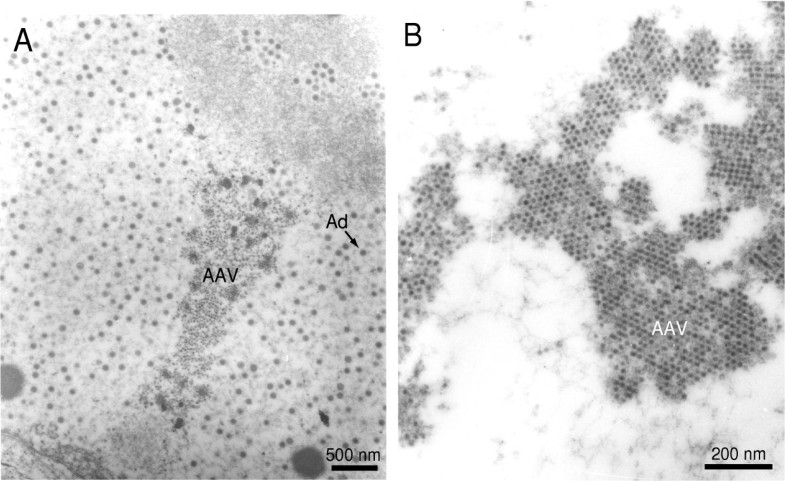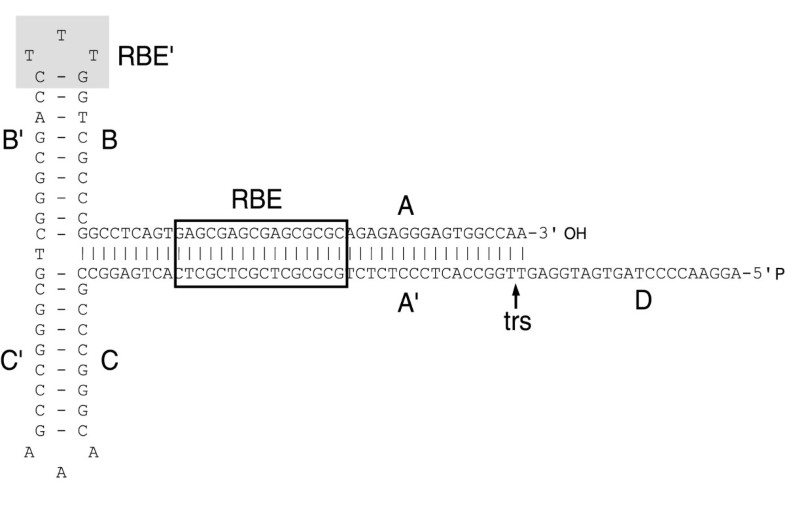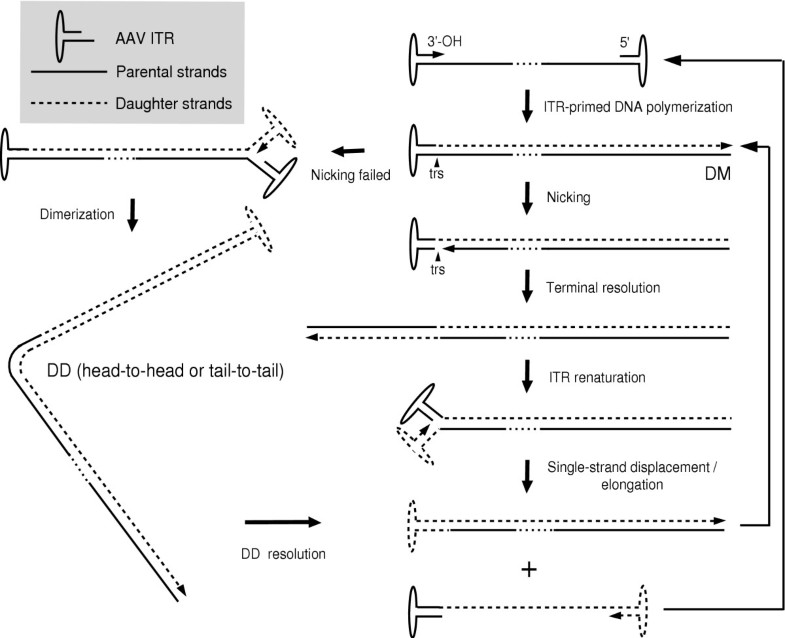 The cap gene is transcribed from a single promoter at map position 40 (p40). Alternative splicing at two acceptor sites originates two transcripts. The larger transcript encodes virion protein 1 (VP1), the biggest capsid protein subunit. The shorter mRNA possesses a noncanonical start codon (ACG), which is utilized to generate VP2, and a downstream conventional initiation codon (AUG) directing the synthesis of VP3. The VP1, VP2 and VP3 proteins differ from each other at their N terminus and have apparent molecular masses of 87, 72 and 62 kDa, respectively. Together they assemble into a near-spherical protein shell of 60 subunits with T = 1 icosahedral symmetry. At the 12 fivefold axes of symmetry lay narrow pores lately shown to be instrumental for virus infectivity and for genome packaging [13]. The molar ratio between VP1, VP2 and VP3 in AAV particles is 1:1:10. This stoichiometry is thought to reflect the relative abundance of the two cap gene transcripts and the relative efficiency of translation initiation at the three start codons for the structural proteins. A conserved phospholipase A2 (PLA2) motif, initially identified within the unique N-terminal region of the parvoviral VP1 proteins [14], was also reported to have a biological significance in AAV2 infection [15]. Specifically, although dispensable for capsid assembly, DNA packaging, and virion internalisation, the VP1-embedded PLA2 activity seems to play a key role at some stage between the translocation of the AAV genome from the endocytic to the nuclear compartment and the initiation of viral gene expression [15]. Lately, mutational analysis of amino acid residues involved in AAV2 capsid pore architecture indicate that conformational changes of the virion structure during infection lead the VP1 N termini to protrude through the capsid pores inducing the PLA2 enzymatic activity needed for successful infection [13]. At the level of virion formation, immunofluorescence data shows that the VP1 and VP2 proteins are found primarily in the nuclei of infected cells, whereas VP3 is nearly evenly distributed between the nucleus and the cytoplasm [16]. However, in the presence of VP1 and/or VP2, VP3 accumulates in the nucleus suggesting transport of the major capsid protein by association with the nuclear localization signal-bearing proteins VP1 and VP2 [17]. Immunofluorescence results suggest that capsid assembly is confined to the nucleoli of infected cells. The involvement of nucleolar chaperones in this process has been postulated [16]. Fully assembled AAV capsids enter the nucleoplasm in an AAV Rep-dependent manner. This redistribution of the structural proteins causes the co-localization of all ingredients necessary for infectious particle formation, i.e., capsids, Rep proteins and viral genomes. Indeed, the AAV DNA packaging process is though to take place in distinct regions of the nucleoplasm [16]. Selective AAV DNA encapsidation is presumably directed by protein-protein interactions between pre-formed empty capsids and complexes of Rep78 or Rep68 with the virus genome [18]. Next, the helicase domains of capsid-docked Rep52 and Rep40 proteins are proposed to act as molecular motors that unwind and transfer de novo synthesized single-stranded DNA into empty particles [19] through the pores located at the fivefold symmetry axes [13].
Host cell infection
AAV2 virions utilize as primary attachment receptor heparan sulphate proteoglycans [20] while internalisation is aided by the co-receptors αvβ5 integrin heterodimers [21], fibroblast growth factor receptor type 1 [22] and the hepatocyte growth factor receptor, c-Met [23]. The use of ubiquitous heparan sulphate proteoglycans as docking sites explains in part the well-known broad tropism of this virus that include, human, non-human primate, canine, murine and avian cell types. AAV5 and AAV4 also bind to charged carbohydrate moieties in the form of N- and O-linked sialic acids, respectively [24]. Expression profiling of AAV5 permissive and non-permissive cells with cDNA microarrays led to the identification of platelet-derived growth factor receptor as another cellular determinant involved in AAV5 infection [25].
The events and processes that regulate the trafficking of AAV particles into the nucleus are still not fully understood, however, some findings have been reported. For instance, infection experiments in HeLa cells expressing a dominant-negative form of dynamin significantly reduced AAV2 entry [26, 27]. These results indicate that one route by which this virus can poke through the plasma membrane involves receptor-mediated endocytosis via the formation of clathrin-coated pits. In addition, lysomotropic agents and proton pump inhibitors greatly hamper AAV2 infection suggesting that internalised virions escape from endosomes and are released in the cytosol by a low pH-dependent process [27]. In addition, a powerful new imaging technique based on single-molecule labelling of discrete AAV particles enabled real-time monitoring of the trajectories of individual virions [28]. In these experiments, it was shown that each endosome carries a single AAV particle. Moreover, the abrogation of vectorial motion of virions in nocodazole-treated cells supported the involvement of microtubule assembly and motor proteins in active AAV intracellular transportation. Finally, it has been suggested that AAV particles due to their very small size can access the nucleus through the nuclear pore complex (NPC). However, recent research points to a nuclear entry process that is not dependent on NPC activity [29, 30] whereas the issue of whether AAV capsids enter nuclei intact or remodelled seems to depend on the presence or absence, respectively, of co-infecting helper Ad particles [30].
Lytic and lysogenic pathways
After entry into the host cell nucleus, AAV can follow either one of two distinct and interchangeable pathways of its life cycle: the lytic or the lysogenic. The former develops in cells infected with a helper virus such as Ad or herpes simplex virus (HSV) whereas the latter is established in host cells in the absence of a helper virus. When AAV infects a human cell alone, its gene expression program is auto-repressed and latency ensues by preferential integration of the virus genome into a region of roughly 2-kb on the long arm (19q13.3-qter) of human chromosome 19 [31, 32] designated AAVS1 [33]. Recent research showed that this locus is in the vicinity of the muscle-specific genes p85 [34], TNNT1 and TNNI3 [35]. Furthermore, the AAVS1 sequence lies in a chromosomal region with characteristics of a transcription-competent environment [36]. Interestingly, an insulator within this locus was recently identified [37]. The targeted integration of the AAV genome, a phenomenon unique among all known eukaryotic viruses, enables the provirus DNA to be perpetuated through host cell division. Moreover, the level of specificity of this process of AAV biology (a single preintegration region within the entire human genome) makes its exploitation highly attractive for achieving the ultimate goal of safe and stable transgene expression [38].
Even if working models for the targeted DNA integration mechanism remain sketchy [39, 40], the viral components needed for the site-specific integration reaction have been identified. They are composed in cis by the AAV ITRs and in trans by either one of the two largest Rep proteins (i.e., Rep78 or Rep68). Recently, another cis-acting sequence was shown to be necessary for high-level site-specific DNA integration [41, 42]. This sequence overlaps with the highly regulated p5 promoter and, like the ITR sequence, harbours an RBE.
Detailed genetic analyses using an AAVS1-containing episome system demonstrated that a 33-bp sequence containing elements related to the RBE and to the trs is sufficient for targeted DNA integration. Their functional relevance was demonstrated by the absence of targeted DNA integration into mutated substrates [39]. In addition, the AAVS1 region behaves as an origin of replication in the presence of Rep proteins both in vitro [43] and in vivo [44]. Finally, the AAVS1-specific RBE and trs are separated by a spacer element whose sequence and length affects the efficiency of the site-specific DNA integration reaction [45]. The human genome has numerous Rep binding sites. However, database searches have revealed that an RBE at a proper distance from a trs sequence occurs only in the AAVS1 locus, which is consistent with the specificity of the integration reaction revealed through biological assays [46]. Moreover, in vitro studies showed that via their interaction with the RBE sequences present in the AAV ITRs and in the AAVS1 locus, Rep78 and Rep68 proteins could tether viral to cellular DNA [47]. Although, as mentioned above, the actual mechanism evolved by AAV to target its DNA to the AAVS1 locus is currently unknown, taken together these observations provide at the molecular level an explanation for the specificity of the reaction and the requirement for RBE-containing sequences in cis and either one of the two largest Rep proteins in trans. Remarkably, only recently a study emerged directly addressing the AAV DNA integration efficiency and the correlation between random versus targeted integration levels [48]. Using a tissue culture system, the authors showed by clonal analyses of target cells and Southern blot hybridisations that 50% of infected cells were stably transduced by AAV when a multiplicity of infection of 100 was used. Raising the dose of virus increased neither the frequency of infected cells nor the integration levels. Although multiplicities of infection of 100 and 10 both yielded approximately 80% infected cells, the frequency of stably transduced cells was below 5% when employing the lower dose. Virtually all integration events targeted the AAVS1 locus. Finally, for each multiplicity of infection, the frequency of AAVS1 site disruption without accompanying DNA insertion was higher than the frequency of site-specific integration by a factor of 2.
When a latently infected cell is super-infected with a helper virus, the AAV gene expression program is activated leading to the AAV Rep-mediated rescue (i.e., excision) of the provirus DNA from the host cell chromosome followed by replication and packaging of the viral genome. Finally, upon helper virus-induced cell lysis, the newly assembled virions are released. The induction of the lytic phase of the AAV life cycle from a stably integrated provirus can also occur in the absence of a helper virus, though with a lower efficiency, when the host cell is subjected to metabolic inhibitors and to DNA damaging agents such as UV irradiation or genotoxic compounds [49]. Moreover, in differentiated keratinocytes of an epithelial tissue culture system modelling skin, AAV2 was shown to initiate and proceed through a complete replicative cycle in the absence of helper viruses or genotoxic agents [50]. Taken together, these phenomena indicate that AAV is not defective in absolute terms.
Adeno-associated virus vectorology
Conclusion
Important strides have recently been made in the optimisation of rAAV technology at the levels of production and performance. Insights from AAV biology have been instrumental in this process and are expected to continue to be the main catalyst behind the further development and efficacious deployment of rAAV. Most of the features initially identified in AAV as being highly desirable in a therapeutic gene carrier such as the seemingly nonpathogenic nature of the wild-type virus and its ability to infect, non-dividing, terminally differentiated cells remain valid and contribute to put rAAV at the forefront of all vector systems that aim at safe and sustained transgene expression in vivo. A notable exception of an AAV attribute not retained by rAAV concerns the loss of AAVS1-targeted DNA integration.
The number of promising reports documenting rAAV-mediated stable transgene expression in immunocompetent recipients is steadily increasing. However, the vast majority of these results have been obtained in inbred rodent models with relatively little genetic diversity. There are several indications (e.g., from research on rAAV-mediated FIX transfer) that the results obtained in mice cannot predict the outcome of experiments carried out in patients. This underscores the need not only for continuous improvement of the vectors themselves but also for deepening the knowledge about vector-host interactions outside the realm of rodent models. The ultimate goal of this research is to accomplish unequivocal clinical benefit by the identification of limitations and corresponding solutions to each particular disease-transgene-vector trilogy.
Declarations
Acknowledgements
I am grateful to Drs. Antoine A.F. de Vries, Shoshan-Knaän Shanzer and Maria Grazia Pau for their critical comments to this manuscript and to my lab colleagues for their enthusiasm and help. I thank Dr. Maria Grazia Pau and Maarten Holkers for making available the images depicted in figure 1 and 2, respectively. I am also thankful to the Fundação Portuguesa para a Ciência e Tecnologia and the Prinses Beatrix Fonds for neuromuscular diseases for previous (PRAXIS XXI/BD/9157/96) and current grants (MAR04-0222), respectively.
Authors' Affiliations
(1)
Gene Therapy Section, Department of Molecular Cell Biology, Leiden University Medical Center, Leiden, the Netherlands
Copyright
© Gonçalves; licensee BioMed Central Ltd. 2005
This article is published under license to BioMed Central Ltd. This is an Open Access article distributed under the terms of the Creative Commons Attribution License (http://creativecommons.org/licenses/by/2.0), which permits unrestricted use, distribution, and reproduction in any medium, provided the original work is properly cited.