Strategies to develop antivirals against enterovirus 71
Virology Journal
2013
10:28
Received: 17 October 2012
Accepted: 2 January 2013
Published: 22 January 2013
Abstract
Enterovirus 71 (EV71) is an important human pathogen which may cause severe neurological complications and death in children. The virus caused several outbreaks in the Asia-Pacific region during the past two decades and has been considered a significant public health problem in the post-poliovirus eradication era. Unlike poliovirus, there is no effective vaccine or approved antivirals against EV71. To explore anti-EV71 agents therefore is of vital importance. Several strategies have been employed to develop antivirals based on the molecular characteristics of the virus. Among these, some small molecules that were developed against human rhinoviruses and poliovirus are under evaluation. In this review, we discuss the recent development of such small molecules against EV71, known drug resistance and possible solutions to it, and animal models for evaluating the efficacy of these antivirals. Although further investigation is required for clinical applications of the existing candidates, the molecular mechanisms revealed for the inhibition of EV71 replication can be used for designing new molecules against this virus in the future.
Keywords
Internal Ribosomal Entry Site
EV71 Infection
EV71 Replication
Human Rhinovirus
Human Enterovirus
Introduction
Enterovirus 71 (EV71) belongs to the genus Enterovirus of the family Picornaviridae. Since the virus was first isolated in California in 1969 [1], a number of EV71 outbreaks have been reported throughout the world, from North America and Europe to Australia and Asia. During the past two decades, the virus has seriously affected the Asia-Pacific area, becoming a public health concern in several countries within this area [2–5]. Most commonly, EV71 causes hand-foot-and-mouth disease (HFMD) in children, which is considered a mild syndrome. However, some young children infected by the virus have developed severe neurological syndromes, such as aseptic meningitis, encephalitis, poliomyelitis-like paralysis, and even death [6]. For example, the 1998 outbreak in Taiwan resulted in 405 cases of severe neurological complications, pulmonary edema or hemorrhage, and myocarditis, with 78 deaths [3]. More recently, a large scale EV71 outbreak associated with HFMD, neurological symdrome, and fatal cases was reported in China [5, 7]. Until 2012, fatal cases caused by EV71 infection were still described in Asia [8].
Similar to other human enteroviruses, such as poliovirus, the transmission of EV71 occurs through the fecal-oral route. The primary replication sites for the virus are presumed to be in the tonsils and intestinal lymphoid tissue. Therefore, the virus can be spread from the gastrointestinal tract of infected people for weeks. This may also explain why most EV71 isolates were recovered from throat swabs and stool specimens. However, clinical features have suggested that the virus can reach the central nervous system (CNS) of people suffering from EV71 infection [5, 9]. The two explanations for how EV71 spreads to the CNS are that virus in the bloodstream somehow penetrates the blood-brain barrier, or that virus reaches the CNS via a neuronal route. Recently, a mouse study supported the proposition that the major transmission route to the CNS may be through retrograde axonal transport in neurons [10].
In past decades, in an effort to eradicate polio, a dramatic reduction of epidemics has occurred through effective vaccines and improvement in public hygiene. However, the emergence of EV71 infection has recently developed into a new threat to children, especially because there are no specific treatments or vaccines to combat this ailment. Supportive therapy is still the primary management for severe cases of EV71 infection. Other than symptomatic treatment, intravenous immunoglobulin (IVIG) is clinically used to neutralize the virus and to nonspecifically suppress inflammation. Nevertheless, although this treatment has been routinely applied to severe cases of EV71 infection, its efficacy requires further evaluation. Therefore, the development of specific antiviral strategies against EV71 has become an urgent issue for the protection of children from the hazards of EV71 infection.
Summary
Over the past 2 decades, eradication efforts have substantially reduced the number of poliomyelitis cases worldwide. Unfortunately, reemerging EV71 infection has become another challenge for public health, especially in the Asia-Pacific region. Unlike poliomyelitis, an effective EV71 vaccine is still not available to provide immunity in children. Therefore, development of anti-EV71 agents has become an urgent issue to relive distress in epidemic areas. Based on the replication characteristics of picornaviruses, several strategies have been developed for designing antivirals against EV71, as summarized in Figure
2
. Certain antivirals originally developed against human rhinoviruses have been tested against EV71 because of the similarity in viral replication mechanisms. Because an experimental mouse model has been established, candidate anti-EV71 drugs can be further evaluated to assess therapeutic efficacy.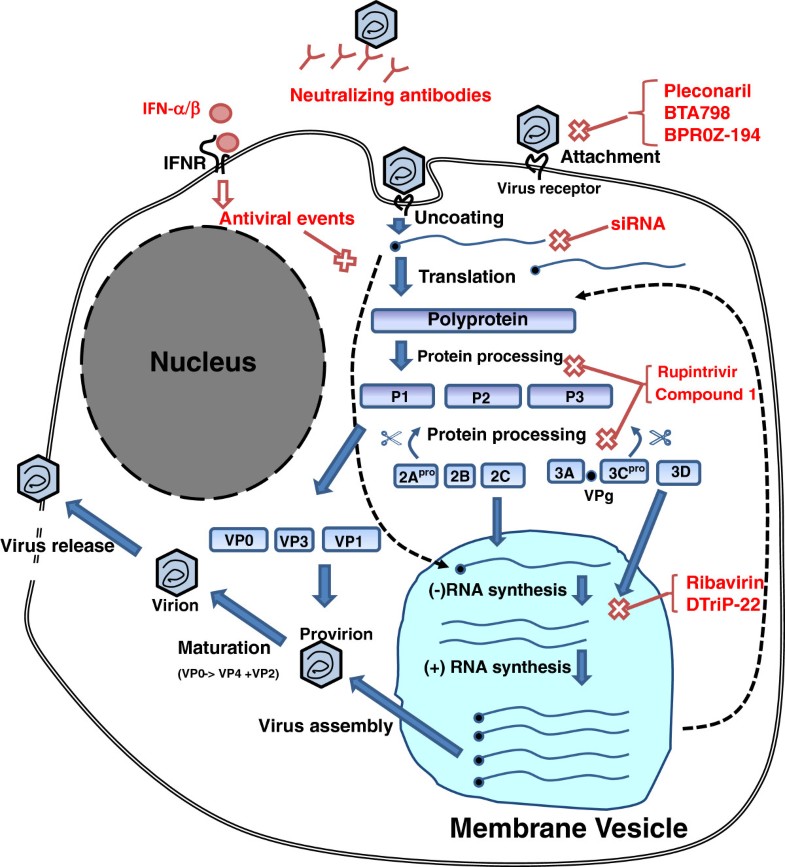 Declarations
Acknowledgements
The authors' researches are supported by grants NSC 100-2320-B-182-019-MY3 from the National Science Council in Taiwan and CMRPD1A0571 and CMRPD1A0671 from Chang Gung Memorial Hospital. We thank Dr. Johan Neyts for kindly providing the structures of Pleconaril, BTA798, Rupintrivir, Compound 1, and Ribavirin.
Authors' Affiliations
(1)
Research Center for Emerging Viral Infections, Chang Gung University, Kwei-Shan, Taoyuan, Taiwan
(2)
Department of Medical Biotechnology and Laboratory Science, College of Medicine, Chang Gung University, Taoyuan, Taiwan
(3)
Institute of Biotechnology and Pharmaceutical Research, National Health Research Institutes, Miaoli, Taiwan
Copyright
© Kuo and Shih; licensee BioMed Central Ltd. 2013
This article is published under license to BioMed Central Ltd. This is an Open Access article distributed under the terms of the Creative Commons Attribution License (http://creativecommons.org/licenses/by/2.0), which permits unrestricted use, distribution, and reproduction in any medium, provided the original work is properly cited.